Is Texas' emotional well empty? Oklahoma State hopes so
Situation Room: Does No. 1 have a problem?
Cowboys-Horns, Bucks-Lions, Dawgs-Tigers headline Week 9
By Rece Davis, ESPN.com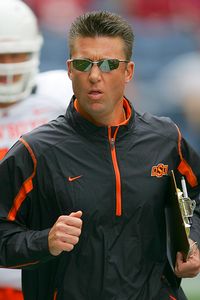 Paul Jasienski/Getty Images
Coach Mike Gundy and Oklahoma State would like to build a lead -- and keep it -- in Austin on Saturday.
How many times can you go to that emotional well and find it full? How many times can a coach warn a team that it must play its best, and it still delivers? Texas will soon find out. The Longhorns hope the number is at least three. Texas has beaten Oklahoma State 10 straight times and 20 of the past 22. The Longhorns even tease the Pokes, just to make it fun. Oklahoma State built leads of at least 19 points three times in the past four years. But Texas won all the games and twice won by 19 or more points. Last year, Texas won by only three points, but Mike Gundy's team had led by 21 … in the fourth quarter! The Longhorns' two greatest comebacks in history were against the Cowboys. Still, I think No. 1 might have a problem on its hands. I think Texas is a better team. But the Horns have been superhuman the past two weeks. That's the intangible reason for the Horns to be wary. The tangible reason is the Cowboys' running game. Texas hasn't seen one like it. The Horns have seen one top-50 rushing attack all season. RB
Kendall Hunter
and the Pokes rank fifth running the ball, averaging 283 yards per game. Oklahoma State is balanced and tough. Keep an eye on how Will Muschamp's defense deals with WR
Dez Bryant
. Last week against Baylor, Oklahoma State completed 13 passes. Eleven of them were to Bryant. He's dangerous. But Texas is even more dangerous, assuming that emotional well still has something in reserve. Even if it doesn't, the Longhorns still have QB
Colt McCoy
. He's enough to beat anybody this season. Just playing in The Shoe has been enough to guarantee Ohio State a victory over Penn State. The Nittany Lions are 0-for-7 in Columbus since joining the Big Ten. Much attention will focus on how
Terrelle Pryor
handles the Penn State pressure. He tends to hold the ball, as young QBs do. That's not a good plan against Penn State defensive end Aaron Maybin, who is tied for second in the nation with 10 sacks. This is a put-up-or-shut-up game for Ohio State's defense. After getting gutted by USC, the Bucks' veteran D has earned another shot at a marquee matchup's big plays. Penn State has made 50 plays of 20 yards or more, second-most in the country. If Ohio State wants to creep back to the edge of the national-title picture, it must limit the number of times it gives up yardage in chunks. I know a two-loss team won the title last year, but like Penn State-Ohio State, Georgia-LSU is a virtual national-title elimination game. Georgia hasn't been the same since Alabama steamrolled it. Here's the Dawgs' chance to put some bite back into their game. Georgia has dominated stats the past couple of games, yet has found a way to let teams hang around. Penalties, red zone turnovers and busted assignments are a recipe for dream-shattering jambalaya on the bayou Saturday. The key matchup is LSU's defensive line against a very green Georgia offensive line. Georgia should have a QB advantage in terms of experience. That edge will be negated if
Matthew Stafford
is running for his life or is flat on his back. Every game is a national-title elimination game for USC. Arizona might be one of the few places where the Trojans could stumble. I don't expect USC to lose, though, because Pete Carroll's team seems pretty locked in after its crash in Corvallis. USC hasn't allowed a point in 10 quarters. The Wildcats have been an offensive juggernaut at home.
Willie Tuitama
and
Nic Grigsby
are threats. If the Trojans have their minds on NFL teams who want to flirt with their coach, the upcoming election or anything but the Wildcats, Arizona could give coach Mike Stoops a signature moment. But let's be realistic. The Trojans usually get knocked off when no one sees it coming. Arizona and USC share first place in the conference. This is when USC likes to flex its muscle and put teams back in their place -- which, to the Trojans, means somewhere behind them in the Pac-10 standings.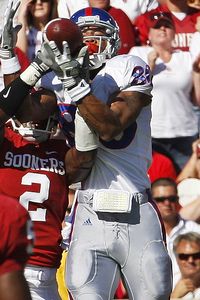 AP Photo/Sue Ogrocki
Dezmon Briscoe and Kansas look to hand Texas Tech its first loss of the season.
A two-loss Big 12 North team and an undefeated Big 12 South squad collide in Lawrence, Kan. Saturday. The Jayhawks put on a show against Oklahoma last week. Quarterback
Todd Reesing
and wide receiver
Dezmon Briscoe
were brilliant. If Texas Tech gets past the Fighting Manginos, it can no longer be called untested. I'll be looking to see whether the Jayhawks have their legs back after their track meet with Oklahoma last week. The Big 12 South has stymied some of the strides that the North made last year. Kansas can regain some of that credibility and establish itself as the team to beat in the division -- with all due respect to Missouri. The focus for Alabama has been on finishing. The Crimson Tide have raced out to first-half leads. Their average lead at the half of 21 points is the best in the nation. But they've let those leads dwindle in the second half and almost let the Ole Miss game get away entirely last week. Some rightfully point out that continuing that trend will eventually bite the Tide, but another trend could be more problematic. If the Tide fail to play well early in the blood-feud match with Tennessee, it would give the struggling Vols confidence, whip that very good Big Orange D into a frenzy and create big upset potential on Rocky Top. Finishing is important. Starting is just as important for Alabama. On the subject of bitter feuds, Ole Miss and Arkansas meet in the best off-the-radar game of the day. Ole Miss coach Houston Nutt returns to his old congregation. It might not go down in the lexicon with "win one for the Gipper," but "win a personal homecoming for the Right Reverend" would be sweet for Nutt. The Rebels are a talented, improving bunch. They still have tough games to play, but a win here would make the Rebs a near-cinch to become bowl-eligible eventually. To Nutt, this game might be more important than any bowl game, although it probably would take truth serum to get him to admit it.
Coach's Corner: SEC D vs. Big 12 O
Former defensive coordinator and head coach Bob Davie shares his thoughts on various topics throughout this season. This week, he discusses the Big 12's offenses and the SEC's defenses.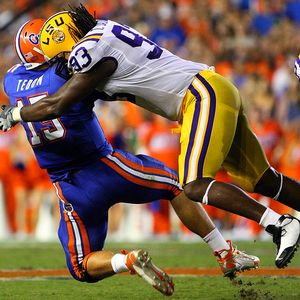 Tim Larson/Icon SMI
Linemen, such as LSU's Tyson Jackson, are the strength of an SEC defense.
1. Why do you think the SEC is known for its defense?
Bob Davie:
It seems as if more quality guys play in the SEC on defense. Recruiting has something to do with it, and in my opinion, it's sexy to play defense in the SEC. As a coach in that league, you take a recruit -- who could be a great player on offense or defense -- you're going to put him on defense. The coaches around the league will tell you that you have to play great defense to win, so I think they really emphasize that side of the ball.
2. Do you believe SEC defenses are that much better than defenses from other conferences?
Davie:
Defenses in other leagues can match up with the ones from the SEC. But I think a couple of factors are at work here. When I call an SEC game, I walk away from it saying that the defensive linemen -- as a group -- are bigger and faster. It starts on that defensive line and the athletes on that line. The second thing is the quality -- and quantity -- of the defensive backs in the SEC. There's no question, when you're talking about the number of quality athletes on defense, that the SEC has a leg up on others. But I don't think you have the quarterbacks in the SEC that you have in the Big 12, so they obviously benefit from that.
3. What factors have led Big 12 offenses to explode this season?
Davie:
It's the QBs. Because the Big 12 defenses don't make you pay as much, they throw the heck out of the ball, and it's contagious. There's less risk when you throw in that league. Everyone watched what Missouri did, and now these teams are spreading it out because truthfully, those defenses haven't been able to catch up. But in the SEC, with the exception of Florida, the offenses are more cautious. Their theory is, "Let's not turn it over and let the defense win the game." Also, when you look at it from an objective standpoint, SEC defenses look better and have more athletes than the Big 12 defense. I don't think there's a truly great defense in the Big 12.
4. Hypothetically speaking, how would you see a matchup of a top SEC defense versus a highly rated Big 12 offense playing out?
Davie:
The Big 12 offense and the SEC defense are way ahead when compared with those of other conferences. It would be a great interconference weekend if these two conferences were to play each other, because I would love to see an SEC defense matched up against a Big 12 offense. Several top defenses exist in the SEC. Alabama and Florida are really good, and South Carolina, although it might be under the radar nationally, has a very good defense. And in the Big 12, you can say the same thing about a number of teams on offense.
Viewer's Guide
(All times ET)
Saturday:
10 a.m.:
College GameDay
from Columbus, Ohio (ESPN)
Noon:
Texas Tech at Kansas (ESPN)
Minnesota at Purdue (ESPN Classic)
Illinois at Wisconsin (ESPN2)
Wake Forest at Miami (ESPNU)
3:30 p.m.:
Oklahoma State at Texas (ABC)
Virginia at Georgia Tech (ESPNU)
Virginia Tech at Florida State (ABC)
UCLA at Cal (ABC)
Michigan State at Michigan (ABC)
7 p.m.:
Middle Tennessee State at Mississippi State (ESPNU)
7:45 p.m.:
Alabama at Tennessee (ESPN)
8 p.m.:
Penn State at Ohio State (ABC)
Notre Dame at Washington (ESPN2)
•
College football schedule
|
ESPN GamePlan
•
Coverage maps:
Week 9
Weekend Appetizer
Blog Network: What to Watch
Each week our bloggers will take a closer look at the story lines you should watch. What's on tap for Week 9?

How many teams will become bowl-eligible? Which Miami QB will get more snaps? Can Virginia's linebackers limit Georgia Tech's big plays?
ACC

Who's got the edge in the trenches between Oklahoma State's and Texas? Will Mizzou rebound? Is Josh Freeman in a slump?
Big 12

Will Louisville contain Matt Grothe and the USF receivers? How will Bearcats QB Tony Pike fare in his return? Is Syracuse coach Greg Robinson at the end of the line?
Big East

Who gets the edge between Terrelle Pryor and Daryll Clark? How will Michigan State respond? Is Bret Bielema under siege?
Big Ten

Can anyone win on the road? Who wants a piece of the USC defense? What's going on with Oregon's and Cal's QBs?
Pac-10

What will Houston Nutt's reception be like in Arkansas? Will Knowshon Moreno come to the rescue? Is it Phil Fulmer's last stand?
SEC

Non-BCS:
Will anyone slow down the nation's top offense? Can ND nab its first road win? Will Boise State be challenged at San Jose?
Around the nation
McShay: Penn State at Ohio State
By The Numbers
By ESPN Research

• Penn State is off to its 10th 8-0 start under Joe Paterno. Only Bear Bryant has had more 8-0 starts among head coaches in major college football history. With a win this week, it also would be the 10th time that Penn State has started a season 9-0 under Paterno.

• Alabama has trailed for only one minute and 15 seconds all season (in the first quarter versus Ole Miss last week). The Crimson Tide have outscored opponents 95-3 in the first quarter and 171-23 in the first half. During its past three games, Alabama has outscored its opponents 69-3 in the first half, but has been outscored 61-13 in the second half.

• LSU's usually dominant defense has been somewhat pedestrian through the first half of the season. The Tigers are allowing 21.5 points per game, their highest total after six games since giving up 22.0 per game in 2000 (Nick Saban's first season). LSU also has given up 28.3 points per game in its four SEC contests.

• Texas Tech QB Graham Harrell has thrown at least one TD pass in 30 consecutive games dating back to 2006. That's five games shy of the NCAA record set by Ty Detmer from 1989 to '91.
Herbstreit: Week 9 preview
Preview: Oklahoma State at Texas
College Football Spotlight