Anticipating a season like no other in recent memory
Ready To Rumble
By Rece Davis, ESPN.com
Toe meets leather. A little dated because it's actually side of the foot that meets leather now, but invoking the no-frills yet exquisite words of Al Ciraldo, the legendary former voice of the Georgia Tech Yellow Jackets, is a perfect way to kick off our season.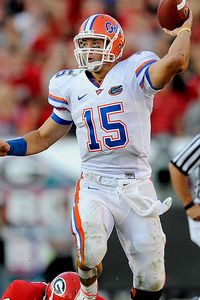 Rob Tringali/Sportschrome/Getty Images
Will Tim Tebow help Florida be crowned a dynasty?
I don't remember a season dripping with such anticipation. Two Heisman winners back for more. The greatest dynasty of the BCS era poised to be unleashed in the Swamp. I know what you're thinking: Didn't you guys at ESPN learn your lesson with USC in 2005? We compared the Trojans to the greatest teams of all time, MacArthur's troops, the Jedi army and a squad filled with Chuck Norris and his clones only to discover that they were great, but not quite as great as Texas. So we won't crown Florida yet, even though Chuck Norris wears Tim Tebow pajamas.
There is a plethora of returning stars in college football: Tebow, Sam Bradford, Colt McCoy, Dez Bryant, Terrelle Pryor and countless others. And you know what I'm most curious about? Offensive line play. Mark May is so proud, I'm sure.
Four new guys will try to protect BYU's Max Hall from a relentless onslaught of Sooners defensive linemen such as Gerald McCoy and Auston English. The Cougars return only one starter, Matt Reynolds, and he'll play with a cast on his broken left hand. The Cougars' collection of newbies might get a baptism by bull rush, speed rush and swim moves. However, BYU might already have claimed a baptism or two of its own in the Sooner State. Remember defensive lineman Eathyn Manumaleuna? He blocked a UCLA game-winning field goal attempt a couple of years ago in the Las Vegas Bowl. He'll be on a mission when the Cougars face the Sooners. Literally. Rather than destroy quarterbacks, Manumaleuna is serving his LDS church mission in Oklahoma City. I'm told the missions leave no time for a little clandestine scouting of what his teammates will face Saturday night.
The Sooners' O-line lost four studs. That line was so good that Bradford won the Heisman, and I'm not sure he realized the defense was allowed to touch the quarterback. Those guys kept him clean. The Sooners' new-look front will have to face Jan Jorgensen, the Mountain West's career leader in sacks.
You assume that Oklahoma just plugs in the next four-star recruits to fill the void. But we won't know until we see them. By the way, watch out for Brody Eldridge, the tight end turned starting center. He's packing jersey numbers 50 and 83. He might wear both to play both positions. Eldridge is said to be as good a blocker up front as OU has.
Alabama versus Virginia Tech will be a demolition derby on the lines. The Tide are replacing Outland Trophy winner Andre Smith and two other starters. I'm looking forward to seeing how they deal with all-world talent pass-rusher Jason Worilds.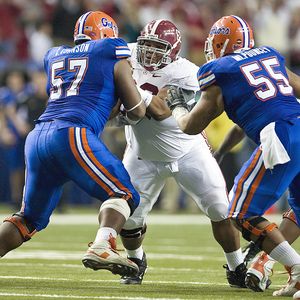 Chris Graythen/Getty Images
Terrence Cody routinely clogs the middle by taking on multiple blockers.
Big Terrence Cody has battled the flu but will try to clog up the Hokies' running game. I know losing RB Darren Evans to injury was a blow, but Ryan Williams and David Wilson were highly touted coming in and have explosive talent. Can the Hokies' line open some running lanes? How much can Tyrod Taylor's offseason improvement as a passer aid that cause?
Watch the special teams in this game, too. Beamer Ball is the gold standard, but the Hokies did allow three punts to go back for touchdowns last year. Alabama's Javier Arenas is the NCAA's active leader in career punt returns for touchdowns with six, just two from the record. Would it be blasphemous to suggest Alabama might have an edge in the kicking game? At worst, it's a push. Either way, the game could turn on who blocks a kick or returns one.
A few other quick hitters:
I can't wait to see Joe Paterno coaching from the sideline for the first time in 11 months.
I want to see how Ohio State deals with Navy's triple option and whether Notre Dame can muzzle Colin Kaepernick and Nevada's pistol.
I want to see how explosive Oklahoma State's triplets are. If they're explosive enough to make a BCS game, billionaire T. Boone Pickens said he might "pee in his pants." I can do without seeing that, but I do want to see the stadium he renovated in Stillwater.
I want to see whether Ole Miss can live up to the hype. I can't wait to get to Tallahassee with Mark and Lou to see who's closer to returning to prominence, the Seminoles or the Hurricanes.
What a great start to the season. Hope you'll join us all weekend. There's nowhere else to be when toe meets leather.
On The Hot Seat
By Pat Forde, ESPN.com
The first game of the season is always big -- but some openers are bigger than others. Some palms will be sweatier than others. Some players and coaches will have a greater urgency to start strong than others.
Where are the pressure points this weekend? I'll tell you. My top-10 list of the men most in need of a great opening game:
10. Steve Kragthorpe. Last time we saw the Louisville coach, his team was quitting on him on national TV, trailing Rutgers 49-0 at halftime. That left the Cardinals with their first losing record since 1997 and brought simmering fan anger to a boil. Year 3 is make-or-break for Kragthorpe, who has a new quarterback (NC State transfer Justin Burke) and has taken over offensive coordinator duties. The good news: Louisville opens against horrific Indiana State, which lost its opener last week to NAIA Quincy and has dropped 51 of its past 52 games.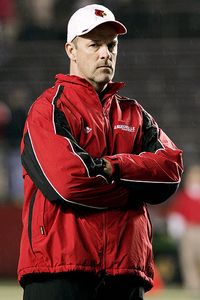 AP Photo/Mel Evans
Louisville coach Steve Kragthorpe needs to pile up wins to keep the coaching reaper at bay.
9. Taylor Potts. He's the Texas Tech quarterback tasked with replacing Graham Harrell, a guy who threw for more than 15,000 career yards and an NCAA-record 134 touchdowns. Fortunately for Potts, Mike Leach never alters his bombs-away philosophy and always schedules cupcake openers. First up: North Dakota.
8. Greg Paulus. The former Duke point guard is trying to prove he's a great story by becoming the starting quarterback at Syracuse. The risk is proving what a mess the Orange's quarterback situation is, with a guy who hasn't strapped on a helmet since 2004 walking in cold and winning the job. First opponent is Minnesota, not a soft re-entry into the game.
7. Jahvid Best. The California running back is trying to bust up the quarterback monopoly on the Heisman Trophy. To do that, he needs an immediate splash against legit opening opponent Maryland -- and he needs to make the most of his carries because coach Jeff Tedford tends to baby his backs by playing at least two. (Best has had more than 20 carries in a game only once in his career.)
6. Mike Gundy and Houston Nutt. They're the coaches of trendy-wendy teams Oklahoma State and Mississippi, and they're recipients of huge preseason hype. Time to start living up to it when the potentially imploding Cowboys host Georgia and the Rebels visit Memphis.
5. Matt Barkley. You're the first true freshman to start at quarterback in the season opener in the history of an all-time top-five program, USC. Doesn't matter whether the opponent is only San Jose State; that's pressure.
4. Gene Chizik and Lane Kiffin. SEC rookie head coaches must demonstrate immediately to demanding fan bases that Auburn and Tennessee didn't make huge mistakes by hiring them. Chizik totes a 5-19 career record into a dangerous opener against Louisiana Tech. Kiffin totes a bushel of offseason blunders into a less stressful opener against Western Kentucky.
3. Cody Hawkins. You have to feel for any starting quarterback who has only tepid fan support on a team with a coach on the hot seat. Then multiply the awkwardness by 1,000 when the coach in question is your dad, Colorado's Dan Hawkins.
2. Charlie Weis. The fifth-year intern -- excuse me, head coach -- at Notre Dame might need a BCS bowl bid to keep his job. Opening with anything less than a dominating victory over Nevada would intensify the pressure and could multiply the snide billboards in South Bend.
1. Rich Rodriguez. Nobody in college football needs a change-the-subject season opener more than the besieged Michigan coach. As long as the Wolverines win their opener -- something they haven't done since 2006. And Western Michigan won't make it easy.
Mel's Matchups To Watch
By Mel Kiper, ESPN.com
There are always intriguing player matchups to look for in college football. Often, players who will meet in the NFL line up across from one another on the college level first. Let's take a look at some of the big individual matchups I'll be keeping an eye on from this week's slate of college games.
Minnesota at Syracuse Sat., Sept. 5 Noon ET (ESPN2, ESPN360.com)
Traye Simmons versus Mike Williams
Minnesota's best defensive player is senior cornerback Traye Simmons, and he'll be matched up with junior wide receiver Mike Williams. Williams has tons of physical and athletic ability with prototypical size. Keep an eye on this battle.
Also in this game, we'll see some other players with NFL potential. Look for Minnesota senior wide receiver Eric Decker (2008 stats: 84 catches, 1074 yards, 7 touchdowns). He has a chance to be a first- or second-round draft choice. On the other side of the ball, keep an eye on Syracuse defensive tackle Arthur Jones. He had a dominant game against Notre Dame last year but was up-and-down the rest of the year. He'll have to play a lot more games the way he did against the Irish if he wants to fulfill his hopes of being a high draft choice; otherwise, his stock will drop.
For six more matchups Mel Kiper is watching this weekend, click here

.
Viewer's Guide
(All times ET)
Thursday:
7 p.m.
South Carolina at NC State (ESPN)
10:15 p.m.
: Oregon at Boise State (ESPN)
Saturday:
10 a.m.:
"
College GameDay
" from Atlanta (ESPN)
Noon:
Navy at Ohio State (ESPN)
3:30 p.m.
Georgia at Oklahoma State (ABC)
Nevada at Notre Dame
San Jose State at USC
7 p.m.
BYU vs. Oklahoma (ESPN)
8 p.m.
Alabama vs. Virginia Tech (ABC)
10 p.m.
Maryland at Cal (ESPN2)
10:30 p.m.
LSU at Washington (ESPN)
Sunday
3:30 p.m.
Mississippi at Memphis (ESPN)
Monday:
4 p.m.
Cincinnati at Rutgers (ESPN)
8 p.m.
Miami at Florida State (ESPN) •
College football schedule
|
ESPN GamePlan
•
Coverage maps:
Week 1
Herbie's Weekend Preview
CFB Live Extra: Biggest Questions
Blog Network: What to Watch
Each week our bloggers will take a closer look at the storylines you should be watching. What's on tap for Week 1?

Who replaces Virginia Tech RB Darren Evans? Can Boston College find a quarterback? Can Miami's defensive line hold up versus Florida State?
ACC

Can Oklahoma State prove it belongs? Does Baylor deserve its early hype? Who QBs Colorado?
Big 12

Watch whom Greg Schiano plays at quarterback. It could change quickly. How will QBs Greg Paulus and Jarrett Brown fare?
Big East

How will Michigan respond to the chaos? There's a new Hope at Purdue. And there are plenty of new backs on the block.
Big Ten

Cal will be looking for revenge versus Maryland. Can the Evergreen State schools compete? Hello, Matt Barkley!
Pac-10

Can the SEC set an immediate tone? Will Mark Richt's road magic work again? Will it be low Tide or high Tide?
SEC

Non-AQs:
Can BYU carry the non-AQ banner? Will Boise State hold off Oregon? Can Western Michigan storm the Big House?
Around the nation
Todd McShay's Weekend Preview
Picking The Winners
By ESPN.com
Want to know what our experts are thinking will happen this weekend? Our bloggers and ESPN The Magazine's Bruce Feldman give their predictions for Week 1.
•
Feldman

|
ACC
|
Big 12
|
Big East
•
Big Ten
|
Pac-10
|
SEC
|
Non-AQs
Forde/Maisel: Bama-Va. Tech; BYU-OU
The Nickel Package
By ESPN Research
Matt Barkley of No. 4 USC will be the first true freshman quarterback to start the opener for a preseason top-five team since Rick Leach did it for No. 3 Michigan in 1975. (The Wolverines were ranked No. 2 by the time they played their first game because of an early Alabama loss.) UM finished that season 8-2-2 and ranked eighth in the final poll.
Each week, ESPN Research will provide five nuggets on the upcoming games. For the rest of the list, click here

.
Drive To The Championship
Fantasy College Football
By ESPN Fantasy
Check out College Football Challenge, our new fantasy game. Each week, our fantasy gurus will provide players or units that should be on Challenge owners' radar.
•
Week 1's top picks
|
Sign up for a team
Forde/Maisel: Games To Watch