Championships are won in November
Here And Now
By Rece Davis, ESPN.com
They remember what you do in November. This is the month when championships are won. Seven teams remain undefeated. While we'll spend a lot of time on BCS ramifications, coaches often preach to their players that they should worry about what they can control. All the players can control is winning their division and/or their conference.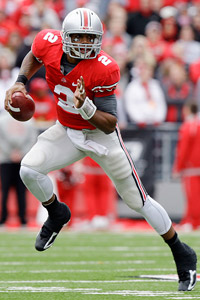 AP Photo/Jay LaPrete
Terrelle Pryor will need to take care of the ball for Ohio State to win in Happy Valley.
Few conferences maintain that focus like the Big Ten. The trip to Pasadena, Calif., for the Rose Bowl is the stated goal and ultimate dream of every Big Ten team.
The conference will be decided over the next two weeks with a pair of blockbuster games, starting with the Happy Valley clash between Penn State and Ohio State on Saturday. Both of those teams are looking up at Iowa and need a little help against the Hawkeyes. The Buckeyes can help themselves Nov. 14 when Iowa visits, but it will be meaningful in terms of a championship only if they help themselves to a win against Penn State.
How can a team be 8-1 like Penn State, yet I still don't have a sense of how good it is? I think the Nittany Lions can play with just about anybody, thanks to one of the stingiest defenses in the country statistically. But they lost to Iowa, and the teams they have beaten are underwhelming. That would change with a win over Ohio State, which, by the way, is in pretty much the same résumé boat as JoePa's team.
Both defenses are outstanding. In turn, Saturday's game will be about the quarterbacks. Both quarterbacks have had some turnover problems. The Buckeyes' Terrelle Pryor has 12 turnovers, including nine interceptions. Daryll Clark has seven interceptions, three of them coming against Iowa.
Against top-50 defenses in his career, Clark has completed about 54 percent of his passes with eight touchdowns and eight picks in seven games. His completion percentage is more than 10 percent better against everybody else, and his touchdown-interception ratio is off the charts at 29-to-5 against lesser defenses. Obviously, you'd expect his numbers to dip some against better teams, but if Clark is going to make a push for national awards, perhaps even inject himself as a late Heisman candidate, he needs a win and a big performance Saturday.
There's no way the Buckeyes will win in State College if Pryor doesn't take care of the ball. How well the Nittany Lions control his scrambles is something I'll be watching closely.
A win won't erase all the criticism aimed at Pryor and the Buckeyes' offense, but a chance to face Iowa next week and win at least a share of the Big Ten as a sophomore might put his development in an entirely different context. For Penn State to have the other top teams in the Big Ten come to its place and lose to both of those teams would relegate the Nittany Lions' season to the disappointing category.
Iowa hardly has an easy time Saturday against Northwestern. Then again, the Hawkeyes don't make anything easy. But as long as the fourth quarter is coming and they've got Ricky Stanzi, anything is possible.
I don't know that I've ever seen anything like Stanzi's disastrous third quarter against Indiana in Week 9 turn into something like his fourth quarter in that game. He and his entire team define resilient. There's a point when your perceived weakness becomes your strength. Iowa has reached that point. So the Hawkeyes can't put anybody away. Big deal. Nobody has beaten them. They believe the next play is the one they're going to make, the one that's going to turn the game in their favor. Just ask Tyler Sash after that bizarre pick-six last week.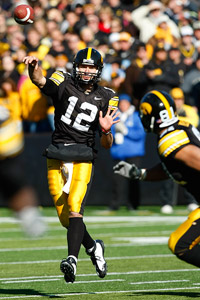 Scott Boehm/Getty Images
If there's a fourth quarter to be played, Ricky Stanzi and Iowa have a chance.
I know I said they remember November. It is safe to say Iowa fans will remember Halloween after that one. One more hurdle to cross before the showdown against Ohio State that could punch Iowa's ticket to Pasadena (for one game or the other one). If Mike Kafka is healthy, Northwestern will give Iowa problems. After all, Northwestern is the only team with multiple victories against Iowa at Kinnick Stadium in the Hawkeyes' past 51 home games. The Cats have won their past two trips to Iowa City.
Georgia Tech takes on Wake and tries not to get caught looking ahead to ... Duke? That's right, Duke. Duke is the only team in the ACC Coastal other than Georgia Tech to control its own destiny. Duke has a more pressing issue against a re-energized North Carolina team Saturday. But assuming the Jackets don't get nicked by the Deacs and the Devils get by the Heels, how weird would it be for Tech and Duke to be a marquee matchup, a title at stake and not have the game played at Cameron Indoor or the Thrillerdome?
The SEC West will be decided or all but decided when Alabama and LSU clash in Tuscaloosa. In most series, home field would be an advantage. Not in this one. LSU hasn't lost in Tuscaloosa since 1999. That would stand to reason in a rivalry in which Alabama once went more than 30 years without losing in Tiger Stadium.
Intense and physical will be the operative adjectives. The key for LSU is establishing some type of running game against Alabama's powerful front seven. The Tide need to generate something down the field in the passing game. Greg McElroy hasn't thrown a TD pass in more than a month.
The Tigers seem to be peaking at just the right time. And despite its recent red zone and passing game woes, Alabama has been steady throughout. No room for the faint of heart. A game with division, conference and national championship hopes at stake is just what November football should be all about.
Weekend Watch
By Mark Schlabach, ESPN.com
1. Can Alabama get its passing game going?
The No. 3 Crimson Tide have to throw the football more effectively to beat No. 9 LSU on Saturday in Tuscaloosa, Ala.
Quarterback Greg McElroy has struggled mightily in his past four games, completing 53 percent of his passes with two touchdowns and two interceptions. He failed to throw for 150 yards in each of the Tide's four games in October.
There might be good news on the way. Tide coach Nick Saban said this week that sophomore receiver Julio Jones is as healthy as he's been all season, and tight end Colin Peek has returned to practice after spraining his knee in warm-ups before Alabama's 12-10 win over Tennessee on Oct. 24.
Jones, the team's leading receiver with 20 catches, had been bothered by a bruised knee.
2. Can Iowa do it again?
The No. 4 Hawkeyes will be looking to avenge a 22-17 loss to Northwestern last season when they host the Wildcats on Saturday (ESPN, noon ET). Iowa quarterback Ricky Stanzi drove the Hawkeyes to the Wildcats' 8-yard line late in the 2008 game but then threw four straight incompletions in the loss.
The Hawkeyes, who have won 13 games in a row, keeping finding ways to win this season. They trailed Indiana 24-14 entering the fourth quarter in Week 9 but scored 28 straight points for a 42-24 victory.
Stanzi threw a career-high five interceptions against the Hoosiers but led another remarkable fourth-quarter comeback. Iowa has trailed in eight of its nine games this season, including four times in the fourth quarter.
3. Will Tony Pike return for No. 5 Cincinnati?
Bearcats coach Brian Kelly faces a difficult decision as Cincinnati tries to improve to 9-0 for the first time since 1951 when it hosts Connecticut on Saturday night (ABC, 8 p.m. ET).
Senior quarterback Pike returned to practice this week after undergoing surgery to replace screws and a plate in his forearm. Zach Collaros has played remarkably well in Pike's absence, throwing seven touchdowns without an interception in two starts.
Does Kelly stick with the hot quarterback or go back to the veteran and team leader? There's only a potential Big East championship and BCS bowl game riding on his decision.
4. Will No. 8 Oregon have a letdown?
The Ducks are coming off one of their most impressive victories in recent history, having thumped Southern Cal 47-20 on Saturday in Eugene.
Oregon has a one-and-a-half-game lead over Arizona in the Pac-10 standings but can't afford to look past Stanford. The Ducks have beaten the Cardinal seven times in a row, including three straight in Palo Alto.
Stanford has won its past four home games and nine of the past 10 in Palo Alto.
Cardinal tailback Toby Gerhart leads the Pac-10 in rushing, and quarterback Andrew Luck is the league's top-rated passer.
5. What will Terrelle Pryor's homecoming be like?
Pryor isn't expecting a warm welcome when No. 16 Ohio State plays at No. 11 Penn State on Saturday (ABC, 3:30 p.m. ET). Pryor, from Jeanette, Pa., was the country's top-rated quarterback in high school in 2007, when he chose the Buckeyes over the Nittany Lions and Michigan.
The Nittany Lions got some revenge last season, when Pryor's third-down fumble helped them hold on for a 13-6 victory in Columbus.
Pryor has endured an inconsistent sophomore season, and Penn State senior Daryll Clark has looked like the better quarterback the past two seasons.
Both teams are 4-1 in Big Ten play, and neither can afford a loss if it's going to stay in the hunt with unbeaten Iowa.
Viewers' Guide
(All times ET)
Thursday:
7:30 p.m.: Virginia Tech at East Carolina (ESPN)
Saturday:
10 a.m.: "College GameDay" from Colorado Springs (ESPN)
Noon: Northwestern at Iowa (ESPN)
Central Florida at Texas
2:30 p.m.: Navy at Notre Dame
3:30 p.m.: LSU at Alabama
Ohio State at Penn State (ABC)
Oregon at Stanford
7:45 p.m.: Florida State at Clemson (ESPN)
8 p.m.: Connecticut at Cincinnati (ABC)
USC at Arizona State (ABC)
Oklahoma at Nebraska (ABC)

•
College football schedule
|
ESPN GamePlan
•
Coverage maps
:
Week 10
Herbie: National Title Implication Games
Blog Network: What To Watch
Each week, our bloggers will take a closer look at the storylines you should be watching. What's on tap for Week 10?

For NC State and Maryland, who happen to be playing each other Saturday in Raleigh, this is it.
ACC

Will Bo Pelini and Shawn Watson chance starting Cody Green against Oklahoma's blitz-heavy defense?
Big 12

Focus: That's the key word this week, as the top three contenders in the Big East all are heavy favorites at home.
Big East

Terrelle Pryor wasn't a huge fan of Happy Valley during the recruiting process, and he probably won't warm up to it Saturday.
Big Ten

Since horrible games against Oregon and then USC, Kevin Riley has been on fire.
Pac-10

For Alabama, it's as simple as winning Saturday against LSU. For the Tigers, a win puts them in a commanding position.
SEC

Non-AQs:
Boise State and TCU don't have tough games this weekend, but they do have games to look forward to next weekend.
Around the nation
McShay: LSU-Alabama Preview
Picking The Winners
By ESPN.com
Want to know what our experts think will happen this weekend? Our bloggers give their predictions for Week 10.
•
ACC
|
Big 12
|
Big East
•
Big Ten
|
Pac-10
|
SEC
|
Non-AQs
McShay: Stock Up, Stock Down
The Nickel Package
By ESPN Stats & Information
Wake Forest takes on No. 10 Georgia Tech on Saturday in a game that holds significant stakes in the ACC. The Yellow Jackets can wrap up the Coastal Division by beating Wake and Duke over the next two Saturdays, while Miami needs a Georgia Tech loss in one of those games to keep its own ACC title hopes alive. History says the Hurricanes shouldn't waste time watching the scoreboard this week. Wake Forest has lost 44 consecutive games against AP top-10 teams, dating back to a 1946 win over fourth-ranked Tennessee.
Each week, ESPN Stats & Information provides five nuggets on the upcoming games. For the rest of the list, click here.

Schlabach: Big Men On Campus
Fantasy College Football
By ESPN Fantasy
Check out College Football Challenge, our new fantasy game. Each week, our fantasy gurus will provide players or units that should be on Challenge owners' radars.
CFB Live Extra: Top One-Loss Teams