Irish-Wolverines hype feels right for a change
Glorious Return
By Rece Davis, ESPN.com
Who knew that turning a pistol into a popgun would shake down the thunder? Who would've imagined that bucking some in-state Broncos would lead to such a hailing of victors valiant? With more than 1,700 wins combined and the top two winning percentages in history, Notre Dame and Michigan pegged the anticipation meter by beating Nevada and Western Michigan.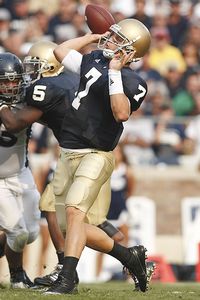 Joe Robbins/Getty Images
Jimmy Clausen looked like a superstar versus Nevada.
You know what? Silly as it seems, that feels just right. It wasn't so much that the Irish and Wolverines won; it was how they won. Notre Dame quarterback Jimmy Clausen was razor-sharp and looked like the leader of a precise offensive attack unit -- not just a scattershot collection of a pretty good passer and receivers.
Michigan looked, well, the way West Virginia used to look. Isn't that why it hired Rich Rodriguez in the first place? The Wolverines have one quarterback who won't tie his shoes and turns broken plays into the best highlight of the first week, and a starter who is buckled up head to toe in Rich Rod's spread option. Denard Robinson and Tate Forcier were the missing links.
Now, the buildup surrounding this game mostly befits the foes' glorious status in college football.
That is until one team's hope turns to despair again Saturday. That's the nature of a rivalry game. It's supposed to break your heart when you lose. Both coaches need to win, although I think Charlie Weis needs it a smidgen more than Rodriguez. I know Rodriguez has controversy swirling around him. But if the Irish lose to a Michigan team guided by two freshman quarterbacks in Rodriguez's second year, I suspect the grumbling will be a little more than just audible from South Bend.
Unlike recent editions that have been marred by blowouts and sloppy play, I expect Saturday's game to be high on the entertainment scale. The past three meetings have been decided by an average of four touchdowns. The Irish and Wolverines are due to play a classic or at least a near classic. Why not Saturday?
I know the Irish shut down a dangerous dual-threat quarterback in the Wolf Pack's Colin Kaepernick last week, but I think Michigan's first win did wonders for its confidence. I still expect to see Michigan move the ball against the Irish. That's a huge key to me. How well will the Wolverines control the ball against the Irish? If they don't, they'll have trouble.
This game represents Clausen's next step in his battle to live up to expectations. If he truly deserves mention alongside Tim Tebow, Sam Bradford and Colt McCoy this season, he must win this game for his team. Period. I have a time-proven theory about quarterbacks: When you throw more touchdown passes than incompletions, you're playing great. Four touchdowns and three incompletions against Nevada means Clausen was awesome. Complex, isn't it?
Michigan might be without CB Boubacar Cissoko, who had an interception in the opener. Going down the depth chart isn't a comforting way to deal with Michael Floyd and Golden Tate. So watch the pass rush. If Michigan puts heat on Clausen, it'll have a shot at the biggest win of the Rodriguez era. If not, Clausen could lay another plank in the foundation for his, dare I say it, Heisman candidacy. Lou Holtz brought up the topic during the Final Verdict segment of "College Football Final" last week, and the judge issued a continuance. Clausen has the early look of a guy ready for a special season. We'll see during the next couple of weeks.
A look at USC-Ohio State
The Collision in Columbus will be more of an actual collision than last year's bug-on-the-windshield act in L.A.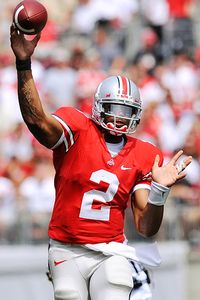 Jamie Sabau/Getty Images
Terrelle Pryor will need to run to keep USC's defense at bay.
How many plays will Terrelle Pryor make with his feet? USC coach Pete Carroll says his team's philosophy against mobile quarterbacks has changed dramatically since Vince Young lit up the Trojans in the 2006 Rose Bowl. Assuming Pryor puts his vastly talented feet to work and doesn't exclusively sit in the pocket, the Trojans' new-and-improved plan should be put to its sternest test. I'm not willing to say Pryor's running is the Buckeyes' only hope, but I think it's their best one. The sophomore signal-caller must carry his team because the Buckeyes' offensive line sprung leaks against Navy, and several of their receivers are young. The Trojans haven't lost a nonconference regular-season road game since 2002. The Buckeyes haven't fared well lately on the big stage. But all you want is a chance, right? Ohio State has one because it has Pryor.
USC freshman QB Matt Barkley says the noise at The Shoe won't bother him. It won't, as long as the Trojans run the ball as well as they did in the opener.
Around the country
Don't sleep on a couple of other games this weekend. Oklahoma State's defense passed the Georgia test with flying colors. Now come Houston and Case Keenum. The Cougars quarterback puts up video game numbers. Freshman RB Charles Sims is a new weapon in Keenum's arsenal.
UCLA at Tennessee is full of quality subplots. Norm Chow versus Monte Kiffin. The revelation that Ed Orgeron isn't fond of UCLA's colors and Coach O's proclamation that "nobody wants to beat UCLA more than [Lane] Kiffin and me." Oh, and the fact that UCLA started Tennessee's train wreck last season. You'll also see two of the best defensive backs in the land: the Vols' Eric Berry and the Bruins' Alterraun Verner. Rahim Moore had three picks in UCLA's opener, but Verner is the star in the secondary.
Baylor got its bowl hopes off to a stirring start at Wake Forest. Stanford might do the same thing. Running back Toby Gerhart is a bull. QB Andrew Luck has hopes soaring on The Farm.
And finally, they're not who we thought they were. Colorado. Illinois. Rutgers. Virginia. Really? That's the best you've got? Consider yourselves called out.
You are called in to join us on an early defining weekend highlighted by the Collision in Columbus and underscored by season shapers everywhere.
Weekend Watch
By Mark Schlabach, ESPN.com
Which team has the most at stake in Week 2 of the 2009 college football season? Which coach needs a victory more than most? Which league needs to rescue its reputation with a weekend full of stellar performances?
Here's a list of five things to watch in college football this weekend:
1. Is USC freshman Matt Barkley ready to take his show on the road?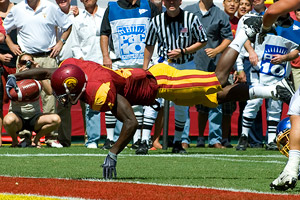 AP Photo/Chris Carlson
Stopping Joe McKnight and the USC running backs will be key for the Buckeyes.
Barkley, who became the first freshman to start at quarterback in a USC opener, was pretty impressive in the Trojans' 56-3 rout of San Jose State. He completed 15 of 19 passes for 233 yards with one touchdown and largely avoided big mistakes.
But playing at Ohio State in a nationally televised game Saturday night (ESPN, 8 p.m. ET) is an entirely different matter. The Trojans might rely heavily on their stout offensive line and deep stable of running backs, which produced 342 rushing yards against the Spartans. Joe McKnight ran for 145 yards with two touchdowns against San Jose State, and he had 105 rushing yards in USC's 35-3 rout of the Buckeyes at the Coliseum in 2008.
Ohio State's defense will have to be better than last week, when it allowed Navy to gain 186 rushing yards in the Buckeyes' closer-than-expected 31-27 victory.
2. Are Michigan and Notre Dame really that much better?
The Fighting Irish had a surprisingly easy time shutting out Nevada 35-0 in last week's opener. The Wolverines were equally impressive in a 31-7 rout of Western Michigan.
Saturday's game at Michigan (ABC, 3:30 p.m. ET) will go a long way toward deciding which program is closer to getting back among college football's elite teams.
Notre Dame quarterback Jimmy Clausen has been terrific in his past two games, completing 37 of 44 passes for 716 yards with nine touchdowns and no interceptions. Receiver Michael Floyd has emerged as a big-time threat, with four catches for 189 yards with three touchdowns against the Wolf Pack last week.
Michigan coach Rich Rodriguez played three quarterbacks against the Broncos, but freshman Tate Forcier seems ready to grab the starting job. He completed 13 of 20 passes for 179 yards with three touchdowns against Western Michigan. Freshman quarterback Denard Robinson, who ran 11 times for 74 yards and one score last week, will continue to play, too.
Michigan has won four of its past five games against Notre Dame at the Big House.
3. Will Georgia or South Carolina find its offense?
Both SEC offenses were equally bad in their openers last week. Both teams head into Saturday night's SEC opener at Sanford Stadium (ESPN2, 7 p.m. ET) trying to improve in a hurry.
Georgia, playing its first game without star quarterback Matthew Stafford and tailback Knowshon Moreno, had only three first downs in the fourth quarter of a 24-10 loss at Oklahoma State. The Bulldogs produced only 177 yards of offense after their 80-yard touchdown drive to open the game. Quarterback Joe Cox, who was battling flu-like symptoms, completed 15 of 30 passes for 162 yards with one touchdown and one interception. He also lost a fumble on a sack.
The Gamecocks were just as bad on offense in their 7-3 victory at NC State this past Thursday night. Carolina had 256 yards of offense and only 16 first downs. Quarterback Stephen Garcia went 13-for-22 for 148 yards with one interception.
4. Will Auburn and Tennessee maintain momentum?
The Tigers and Volunteers turned in pretty impressive performances in the debuts of their new coaches, Gene Chizik and Lane Kiffin. Auburn blasted Louisiana Tech 37-13 last week, and the Volunteers crushed Western Kentucky 63-7 at Neyland Stadium.
Auburn, which had one of the country's worst offenses in 2008, produced 556 yards of offense, including 301 rushing. Quarterback Chris Todd threw for 255 yards, and tailback Onterio McCalebb ran for 148 yards and one touchdown. It might not come as easy against SEC West foe Mississippi State on Saturday night (ESPN360.com, 7 p.m. ET) at Jordan-Hare Stadium.
The Volunteers hope their game against UCLA at Neyland Stadium on Saturday (ESPN, 4 p.m. ET) is another warm-up before next week's showdown against No. 1 Florida. Vols fans had to be encouraged by quarterback Jonathan Crompton's five touchdown passes against the Hilltoppers, along with a pair of 100-yard rushing performances from Montario Hardesty (160 yards) and freshman Bryce Brown (104).
5. Can Oklahoma State stay this high?
The No. 5 Cowboys seemed to focus a lot of their energy on their opener against Georgia, but Houston will be a dangerous opponent in Stillwater, Okla., on Saturday.
Oklahoma State trailed the Cougars 16-14 at the half last season before scoring 42 points in the second half of a 56-37 victory. Houston quarterback Case Keenum threw for 387 yards and four touchdowns in that meeting, but the Cougars had no answer for OSU's running game. The Pokes ran for 379 yards, with Kendall Hunter gaining 210 yards and scoring two touchdowns.
Viewer's Guide
(All times ET)
Thursday:
7 p.m.
Clemson at Georgia Tech (ESPN)
Saturday:
10 a.m.: "College GameDay" from Columbus (ESPN)

Noon: Fresno State at Wisconsin (ESPN)
North Carolina at UConn (ESPNU)

3:30 p.m.: Notre Dame at Michigan (ABC)
Houston at Oklahoma State

4 p.m.: UCLA at Tennessee (ESPN)

7 p.m.: South Carolina at Georgia (ESPN2)
Mississippi State at Auburn (ESPN360)

8 p.m.: USC at Ohio State (ESPN)

•
College football schedule
|
ESPN GamePlan
Herbie's Weekend Preview
CFL Extra: QB Showdown In Columbus
Blog Network: What To Watch
Each week, our bloggers will take a closer look at the storylines you should be watching. What's on tap for Week 2?

Week 1 essentially was a disaster. But as Frank Beamer keeps saying, there's still a lot of football left to play.
ACC

Will Colorado be able to handle adversity? How will Landry Jones' first career start go?
Big 12

West Virginia's toughness will be on the radar against ECU. So will UConn's punt protection and QB Zach Frazer's accuracy.
Big East

A full slate of games is on tap Saturday, and the Big Ten has several excellent opportunities to improve -- or worsen -- its national reputation.
Big Ten

We have three marquee nonconference road games, Oregon trying to bounce back and Washington trying to end a 15-game losing streak.
Pac-10

Joe Cox gets his second shot at quarterback. Can Steve Spurrier find a happy medium with his offense and defense?
SEC

Non-AQs:
Last week was a great opener for the non-AQs. Now can some other conferences shake things up beyond the MWC?
Around the nation
Todd McShay's Stock Report
Picking The Winners
By ESPN.com
Want to know what our experts think will happen this weekend? Our bloggers and ESPN The Magazine's Bruce Feldman give their predictions for Week 2.
•
Feldman

|
ACC
|
Big 12
|
Big East
•
Big Ten
|
Pac-10
|
SEC
|
Non-AQs
McShay Breakdown: USC-OSU
The Nickel Package
By ESPN Stats & Information
This Saturday will be the 31st meeting between Notre Dame and Michigan, and it will be only the second time that a ranked Notre Dame team has faced an unranked Michigan team. The previous occasion was 1985, when the Wolverines beat the 13th-ranked Irish in Ann Arbor. Michigan went on to finish that season 10-1-1, while Notre Dame ended 5-6 and relieved Gerry Faust of his coaching duties.
Each week, ESPN Stats & Information will provide five nuggets on the upcoming games. For the rest of the list, click here.

CFB Live Extra: Irish-Wolverines
Fantasy College Football
By ESPN Fantasy
Check out College Football Challenge, our new fantasy game. Each week, our fantasy gurus will provide players or units that should be on Challenge owners' radar.
•
Week 2's top picks
|
Sign up for a team
Pete Carroll Talks USC
Mel's Matchups To Watch
By Mel Kiper
No. 18 Notre Dame at Michigan
Brandon Graham vs. Sam Young or Paul Duncan
Donovan Warren vs. Michael Floyd or Golden Tate

Wolverines senior defensive end Brandon Graham, who plays on the left side in their base defense, will square off against Sam Young. If they move him to the other side for this game, he'll face senior left tackle Paul Duncan. Either way, it'll be pivotal for the Irish, who have a pass-oriented offense and will need to keep junior quarterback Jimmy Clausen upright to have success. Graham will be the key for Michigan's defense. If he can harass Clausen sufficiently, he'll help the secondary.
Michigan junior cornerback Donovan Warren is very physical but will have his hands full with physically gifted sophomore wide receiver Michael Floyd or outstanding junior wideout Golden Tate. Either way, it will be a tough assignment, especially when you look at what that Irish passing attack did last week against Nevada.
For five more matchups Mel Kiper is watching this weekend, click here.

Kiper: Players To Watch