BCS is ultimate prize, but conference play is where it's at
Soul Of College Football
By Rece Davis, ESPN.com
As much griping as you hear about the BCS system, my only real beef with it is that it takes our focus off the soul of college football: conference play. Conference games come against the teams that know you the best, hate you the worst and want to beat you the most.
They are the most intense. They create the most unique atmosphere. Sure, the BCS Championship is the ultimate prize. But that's for later, and only an elite few have a real shot at that prize. As September draws to a close, let the blood feuds in conference play commence.
Richard C. Lewis/Icon SMI
Jacory Harris' play has put him in the Heisman race.
Miami has been the story of the early season. Jacory Harris has looked like Jim Kelly, Bernie Kosar, Vinny Testaverde and Ken Dorsey rolled into one. OK, that's a little over the top, but it's been so long since the Canes have had excellent quarterback play, you can forgive a little hyperbole.
The real test for Miami comes Saturday at Virginia Tech. I know the Hokies are sporadic, to put it kindly, on offense. But to use one of the most reliable quotes, if you want to be the man, you've got to beat the man. One dollar to "The Nature Boy" Ric Flair. The Hokies are the men in the ACC. They've been in the conference five years and won three championships. This is the test to see how close the Canes really are to being back.
Former Pitt WR and current USC assistant Yogi Roth spent a lot of time breaking down Miami tape. He tells me the best thing offensive coordinator Mark Whipple has done is create favorable matchups for Harris to exploit. The sophomore QB has done it masterfully thus far.
I'm curious to see whom the Hurricanes try to pick on in the Virginia Tech secondary. Alabama successfully targeted Kam Chancellor on a few deep balls. He struggled to keep up with the Tide receivers. Virginia Tech defensive coordinator Bud Foster believes Miami's offense has even more speed. How will the Hokies compensate? Will Whipple and Harris keep their magic touch of finding the most advantageous matchup? I already have Harris sitting second on my ESPN.com Heisman Watch ballot. Another big game might move him to the top of the heap.
Washington has a test perhaps as daunting as playing USC. Can the Huskies handle prosperity? It's been a long time since they've had any. The Huskies float into Stanford for a game featuring a running back among the nation's top 20 rushers and a quarterback in the top 25 in passing efficiency. Both play for Stanford. Toby Gerhart is a bull. Redshirt freshman QB Andrew Luck is a star in the making. I don't put an inordinate amount of stock in statistical rankings this early in the season, but Luck does sit 22 spots ahead of Jake Locker in passing efficiency. I'm just saying.
Watch out for special teams in this game. Again, this early, a long return or two can skew the numbers, but the Cardinal have the nation's leading kickoff return man in Chris Owusu and the fourth-ranked punt returner in Richard Sherman. Both Jim Harbaugh and Steve Sarkisian appear to be on course with the job of rebuilding. Both have beaten USC. This will be a test of Washington's maturity and important as a measuring stick for the rapidly improving Cardinal.
Remember how last week was all about revenge? I'm a little tired of the revenge motif. Glad to see Joe Paterno agrees. Iowa, which visits the Nittany Lions on Saturday, knocked them out of a likely national title shot last season.
Asked about the "R" word, Paterno said, "I don't know what revenge has got to do with it in football. It's not like they sneaked up on us and stuck us in the back with a knife or something. They played a good football game and they beat us."
He also said of last year's game, "We got licked." That's my favorite Paterno-ism. Every time I hear it, I think of life in black and white, and players donning single-bar facemasks running the wing-T. It's so old school, they ought to make that phrase hip again. Is it hip or fresh now?
Anyway, Penn State has gotten licked a lot by Iowa. The Hawkeyes have won six of seven in the series. In the preseason, I thought their schedule was the only thing keeping them from being Big Ten contenders, and they seem to be rounding into form after a lucky escape in the opener against Northern Iowa. Kirk Ferentz's teams always improve.
Penn State is a little banged up on D. Sean Lee and Navorro Bowman are nursing injuries. Even so, it's hard to imagine Penn State getting licked by Iowa again, especially in that Saturday night setting.
It's clear to me. I've seen enough. Arkansas QB Ryan Mallett has the strongest arm in the land. I'm not sure it's close. He leads the nation in passing efficiency and guides the high-powered Hogs into Tuscaloosa to face Alabama on Saturday.
For my money, you won't find two head coaches better on their respective sides of the ball than Bobby Petrino and Nick Saban. Petrino's offense is dynamic and diverse. The same is true of Saban's complex and stifling defensive schemes.
Saban told me the key to affecting and disrupting Mallett will be to disguise fronts and coverages, and to change it up. When Alabama brings pressure, it has to make Mallett get rid of the ball and avoid giving up the big play.
The game often is a tone setter in the SEC West. An 0-2 conference start quickly would reduce Arkansas from sleeper in the division to spoiler. An Arkansas win could signal chaos in the division all season.
It's not a conference game anymore, but what if Houston beats Texas Tech? The Cougars would be 2-0 versus the Big 12 South. That would trump anything Boise State is going to put on its resume. Oops. There I go again. Putting all the focus on the BCS picture. But this renewal of an old Southwest Conference battle should be fun.
Two quarterbacks from Abilene, Texas -- Taylor Potts and Case Keenum -- in a Texas-sized shootout. Each will throw for a million yards. Keenum told me this week it's been fun seeing the fans get energized about Cougars football again.
I'll also be eager to see whether Kansas has as much fight against Southern Mississippi as it did against its own basketball team. The football and basketball Jayhawks brawled on campus this week. Seriously? Did somebody take the last Wang burger at the Wheel? It's a hamburger with a fried egg on it from this great dive in Lawrence, and it wouldn't take much to make me fight for one. You'd think the Jayhawks would save that type of aggression for Missouri.
Kidding aside, the fight or fights were beyond stupid and a complete embarrassment for both the basketball and football programs, not to mention the entire university. It's even more embarrassing than being distracted all week by something dumb and letting a team come into your house and mess up your season. Rock, chalk, warn the Jayhawks.
Join us all weekend through "College Football Final" Saturday night after Notre Dame-Purdue.
Weekend Watch
By Mark Schlabach, ESPN.com
Here's a list of five things to watch in college football this weekend:
1. Can Virginia Tech slow down Miami?
All eyes will be on Hurricanes quarterback Jacory Harris, who has emerged as a Heisman Trophy candidate during Miami's surprising 2-0 start. But slowing down tailbacks Javarris James and Graig Cooper might be No. 11 Virginia Tech's top priority when it hosts the No. 9 Hurricanes on Saturday at Lane Stadium (ABC, 3:30 p.m. ET).
Virginia Tech's defense ranks 107th nationally against the run, allowing 200.3 rushing yards per game. Three running backs already have gained 100 yards or more against Bud Foster's defense, which hadn't happened since 2002. Under Foster, the Hokies ranked in the top seven nationally in total defense in each of the past five seasons. They have to play better to beat Miami.
2. Will Penn State avenge its devastating 2008 loss to Iowa?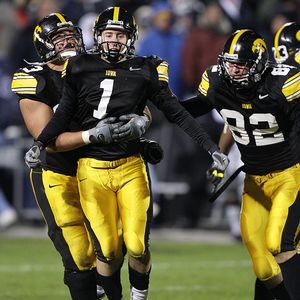 AP Photo/Charlie Neibergall
Daniel Murray's last-second field goal spoiled Penn State's undefeated season.
The Hawkeyes dashed the Nittany Lions' BCS title hopes with a stunning 24-23 victory in Iowa City last season. Iowa won on backup kicker Daniel Murray's 31-yard field goal with one second left.
The teams play again Saturday in Happy Valley (ABC, 8 p.m. ET), and the No. 5 Nittany Lions undoubtedly will have revenge on their minds. Penn State has dominated three lesser opponents (Akron, Syracuse and Temple) but probably has had this game circled for a while.
The Hawkeyes won't have tailback Shonn Greene, who ran for 117 yards and two touchdowns against Penn State last season. Adam Robinson, a 5-foot-9 freshman, ran for 170 yards and two touchdowns in Iowa's past two games combined. Quarterback Ricky Stanzi, who threw an interception and lost a fumble against Penn State last season, will have to play well for Iowa to pull off an upset for the second season in a row.
3. Will Florida play better at Kentucky?
The No. 1 Gators still are battling the flu, and there seems to be a hangover from Saturday's 23-13 victory over Tennessee. Florida was supposed to steamroll the Volunteers, but its 10-point victory seemed to leave more questions than answers.
Who's going to replace departed receivers Percy Harvin and Louis Murphy? Who's going to run the ball other than quarterback Tim Tebow? Why did Tennessee run the football so effectively?
If nothing else, Florida will be looking for a more complete performance when it plays Kentucky on Saturday night at Commonwealth Stadium (ESPN2, 6 p.m. ET). Kentucky typically has been Florida's best remedy for its woes. The Gators have beaten the Wildcats 22 times in a row, the second-longest winning streak by one team over another in the country. Florida won 63-5 in The Swamp last season.
4. Is Cal the best team in the Pac-10?
After USC's stunning 16-13 loss last week at Washington, the No. 6 Bears sure look like the team to beat in the Pac-10. We'll know a lot more about Cal after it plays Oregon on Saturday at Autzen Stadium in Eugene (ABC, 3:30 p.m. ET).
The Ducks, who are coming off a 31-24 upset of then-No. 18 Utah last week, are expected to wear retro uniforms -- including yellow helmets, like the ones they wore in the 1994 Rose Bowl. Ducks coach Chip Kelly is hoping for a throwback performance, too.
Cal has won four of the past five games in the series, after Oregon won seven in a row from 1994 through 2003. The past three games between the teams at Autzen Stadium were decided by a touchdown or less.
5. Will the Trojans bounce back?
The Trojans are circling the wagons after last week's loss to the Huskies, who had the country's longest losing streak at 15 games until posting back-to-back victories over Idaho and USC.
Freshman quarterback Matt Barkley, who missed the Washington game because of a bruised right shoulder, is expected to start Saturday night's game against Washington State. USC coach Pete Carroll wants to restore his team's confidence before it begins a brutal four-game stretch.
After playing the Cougars, the Trojans play at Cal on Oct. 3, at Notre Dame on Oct. 17, home against Oregon State on Oct. 24 and at Oregon on Oct. 31.
Viewers' Guide
(All times ET)
Thursday:
7:30 p.m.: Mississippi at South Carolina (ESPN)

Saturday:
10 a.m.: "College GameDay" from State College (ESPN)

Noon: Michigan State at Wisconsin (ESPN)
Indiana at Michigan (ESPN2)
South Florida at Florida State (ESPNU)
North Carolina at Georgia Tech (ESPN360)
Fresno State at Cincinnati (ESPN360)

3:30 p.m.: Miami at Virginia Tech (ABC)
Cal at Oregon (ABC)
TCU at Clemson (ESPN360)
Arkansas at Alabama

6 p.m.: Florida at Kentucky (ESPN2)

7 p.m.: Arizona State at Georgia (ESPNU)

8 p.m.: Iowa at Penn State (ABC)
Notre Dame at Purdue (ESPN)

9:15 p.m.: Texas Tech at Houston (ESPN2)

•
College football schedule
|
ESPN GamePlan
•
Coverage maps
:
Week 4
Herbie's Weekend Preview
CFL Extra: Saturday Shakedown
Blog Network: What To Watch
Each week, our bloggers will take a closer look at the storylines you should be watching. What's on tap for Week 4?

Keep an eye on struggling offenses, including how many times Tyrod Taylor and Ryan Williams carry the ball for Virginia Tech.
ACC

Be sure to check out Taylor Potts versus Case Keenum in the weekend's best aerial battle.
Big 12

It's the quest for respect, Part 2. And there's the debut of South Florida quarterback B.J. Daniels.
Big East

Conference play kicks off Saturday. The health in Happy Valley and Indiana's trip to the Big House are must-sees.
Big Ten

After a strong showing in nonconference games, the Pac-10 slate gets rolling in earnest this week, with a couple of marquee matchups in Oregon.
Pac-10

It's all about matchups this weekend: Stephen Garcia versus Jevan Snead on Thursday night, and Bobby Petrino versus Nick Saban on Saturday.
SEC

Non-AQs:
Could be a double dose of BCS busters with Houston and Southern Miss taking on Big 12 teams.
Around the nation
Matich: Buy Or Sell
Picking The Winners
By ESPN.com
Want to know what our experts think will happen this weekend? Our bloggers and ESPN The Magazine's Bruce Feldman give their predictions for Week 4.
•
Feldman

|
ACC
|
Big 12
|
Big East
•
Big Ten
|
Pac-10
|
SEC
|
Non-AQs
CFL Extra: Conference Clashes
The Nickel Package
By ESPN Stats & Information
USC's loss at Washington on Saturday shocked most people, but did you really expect the Trojans to go unbeaten in the Pac-10? In the past three seasons, only one of the 18 BCS automatic-qualifying-conference champions (Ohio State in 2006) was undefeated in league play. And those expecting the winner of this Saturday's Miami-Virginia Tech game to become a permanent fixture in the BCS title chase should be aware that no team has run the table in the ACC since 2000, the longest drought among the 11 FBS conferences.
Each week, ESPN Stats & Information will provide five nuggets on the upcoming games. For the rest of the list, click here.

SEC Nuggets: Arkansas-Alabama
Fantasy College Football
By ESPN Fantasy
Check out College Football Challenge, our new fantasy game. Each week, our fantasy gurus will provide players or units that should be on Challenge owners' radars.
•
Harris: Week 4 preview
CFL Extra: What We Know
Mel's Matchups To Watch
By Mel Kiper
Arizona State at No. 21 Georgia
Omar Bolden versus A.J. Green

In terms of size, this is a mismatch, because Green is about 6-foot-4, 210 pounds and Bolden is a little over 5-foot-9 and about 195 pounds. As a physical battle, though, Bolden will be tough and will have to do everything he can to disrupt Green at the line of scrimmage. Bolden's on the edge of being in my top five at his position for juniors. Green is still a sophomore, but has been a dominant player since got to Athens.
For eight more matchups Mel Kiper is watching this weekend, click here.