Don't get caught looking ahead
The Task At Hand
By Rece Davis, ESPN.com
"It's a different team every week." How many times do I hear my studio partner Lou Holtz say that? Yet every time the unexpected happens, I manage to be somewhat surprised.
Florida State, Cal, Miami and Oregon (sometimes different is good) are a lot like Jerry Seinfeld's girlfriend, who would go from gorgeous to hideous the instant the light changed in the episode. The light changes often in college football.
At the moment, three teams are a cut above the rest: Florida, Texas and Alabama. A wad of 30 or so teams are capable of beating those three if they bring their A-plus games while the big three deliver B's or B-minuses. Then there probably are 50 teams that can beat that middle tier under the same circumstances. The result? Chaos.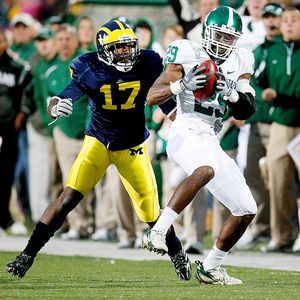 Gregory Shamus/Getty Images
It's hard to fathom that Michigan could overlook Michigan State after losing to the Spartans last year.
What feeds the chaos is not staying focused on the task at hand, because that's when the dreaded "look-ahead" games rear their ugly heads. I'm not saying upsets can't happen this week, but the likely candidates to look ahead are playing games with factors that should keep them locked in.
Michigan won't peek ahead to its trip to Iowa on Oct. 10. Not when the Wolverines are spending the weekend on the banks of the old Red Cedar River complete with a chance to unite Spartans fans all over the state for a common cause: the start of basketball season. If Michigan State loses to Michigan, the Spartans' football season might not be over, but it will be all but impossible to keep it from being a profound disappointment. The rivalry should keep Rich Rod's team focused.
Michigan QB Tate Forcier's health is of paramount importance after he sprained his right shoulder last week. Backup Denard Robinson is exciting, but he's not yet a threat to hurt you with his arm. There's no way the Wolverines can look past the Spartans. Look down their noses at them? Maybe. Meanwhile, Michigan State's players are motivated by their perception that Michigan has little regard for their school. No two ways about it: This is a season-saving opportunity for the Spartans.
Wisconsin will play at Ohio State next week. Who cares? The Badgers are playing for Paul Bunyan's Axe against Minnesota this week. Sure, beating the Buckeyes could put the stamp of legitimacy on Wisconsin's season. But you don't get an Axe for that; beating the Gophers is how you get an Axe. I love trophy games. I'll never forget watching Rhys Lloyd kick a field goal to beat the Badgers in 2003, then sprint over and claim that Axe. Passion like that will keep Wisconsin from looking ahead.
LSU has a matchup against Florida looming next week, but the Tigers' plate is plenty full with Georgia right now. The two best individual performances of last week's games came from Tigers safety Chad Jones and Bulldogs receiver A.J. Green. Each came as close as you can to single-handedly saving his team in myriad ways. Which guy can grab this game by the throat? LSU needs to crank up its offense. A couple of teams have used Georgia's D as the perfect group to crank up their offense against this season.
Alabama will roll to Ole Miss next week, but the Tide's first SEC road game and their need to pay attention to detail in replacing injured LB Dont'a Hightower should keep their minds from wandering away from Kentucky. By the way, the impact of Hightower's absence could be vastly underrated.
The look-ahead factor might be offset by mitigating factors, but the bounce-back opportunities in this week's games could be huge.
Cal had better hope it's huge. Nobody is more thankful for the "different team every week" philosophy than Bears coach Jeff Tedford. The light that shone on the Bears last week exposed all kinds of ugly. But Cal will be better against USC because it simply can't be worse. Against Oregon, tackling appeared optional, and the Bears couldn't run or pass. Other than that, though, they were great. The Bears will bounce back and prove they're legitimate or will show they're just the same old Bears. It's a half century and counting since their last Rose Bowl trip.
Decoding Florida State's psyche would drive Freud, Frasier Crane and Dr. Lou to give up counseling. The Noles, who travel to BC, are primed for a bounce-back performance after losing to South Florida. Why? Because that's what they do. They're good one week, bad the next. Then good. Then bad. Good Noles are due to show up this week.
Auburn versus Tennessee is a huge barometer for both. The Tigers are piling up prolific offensive numbers under coordinator Gus Malzahn, who says Tennessee's defense has no weakness. Auburn ranks fifth in the nation in rushing, and although a win in this game wouldn't be like beating a vintage Volunteers team, it would show that the Tigers haven't simply preyed on lesser competition. If the Tigers win, they should be ranked in the top 15 or 20. For the Vols, who face a daunting schedule ahead, this game is nearly a must-win to keep the season from unraveling. Or at least it would unravel if you had the same team every week.
Weekend Watch
By Mark Schlabach, ESPN.com
It's a slim menu of marquee matchups in college football this weekend, which might be a prelude to the Oct. 10 battles in the SEC.
Here's a look at five things to watch around the country this weekend: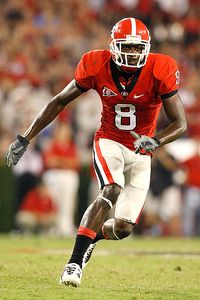 Kevin C. Cox/Getty Images
A.J. Green is in the nation's top 20 in both receptions per game and yards per game.
1. Can LSU stop Georgia receiver A.J. Green?
Green was one of the country's top freshman receivers last season, and he's well on his way to becoming one of the best playmakers in the country this year.
In only four games, Green has totaled nearly half his production from 13 games in 2008, with 25 catches for 428 yards with four touchdowns. He had eight catches for 153 yards and a touchdown in last week's 20-17 victory over Arizona State and even blocked the Sun Devils' potential go-ahead field goal late in the fourth quarter.
Bulldogs coach Mark Richt said he believes Green is better than last season despite getting most of a defense's attention now that star tailback Knowshon Moreno and receiver Mohamed Massaquoi are playing in the NFL. Richt said Green added about 20 pounds during the offseason but didn't lose much of his speed or agility.
"I think he's earning every yard he has, maybe more than he did a year ago," Richt said.
Green figures to get a stiff test from No. 4 LSU's defense in Saturday's SEC showdown at Sanford Stadium. The Tigers have one of the country's biggest secondaries. Patrick Peterson is a 6-foot-1, 211-pound cornerback, and Chad Jones is a 6-3, 225-pound safety.
"I like big challenges like that," Green said. "It takes my game to a new level."
2. Will reigning Heisman Trophy winner Sam Bradford play against Miami?
Oklahoma coach Bob Stoops won't confirm it, but there seems to be a chance that Bradford, the reigning Heisman Trophy winner, will be back in action for the No. 8 Sooners' game at No. 17 Miami on Saturday night (ABC, 8 p.m. ET).
Bradford hasn't played since spraining the acromioclavicular joint in his right shoulder in Oklahoma's season-opening 14-13 loss to BYU. He visited orthopedic surgeon Dr. James Andrews in Birmingham last week but reportedly has thrown the football well in practice.
Stoops won't say whether Bradford will play against the Hurricanes, but he hasn't ruled his star quarterback out of the game, either.
"He has not had any setbacks," Stoops told reporters in Norman, Okla. "That part is encouraging, but it's too early to determine his status for Saturday."
If Bradford doesn't play, redshirt freshman Landry Jones will make his third straight start for the Sooners. Jones has played well, completing 60.5 percent of his passes for 673 yards with nine touchdowns and three interceptions.
3. Can Penn State's offense get it going against Illinois?
Nittany Lions coach Joe Paterno sure needs more from his team's offense when it plays at Illinois on Saturday (ABC, 3:30 p.m. ET). Quarterback Daryll Clark has completed 59.7 percent of his passes with nine touchdowns and six interceptions. Tailback Evan Royster has been held to fewer than 70 yards in each of the past three games.
Illinois' defense might be just what the No. 15 Nittany Lions need. The Illini are giving up 28 points and 386 yards per game, both second-worst in the Big Ten.

4. Which California team will show up against USC?
Will it be the Bears team that looked so good in its first three games or the team that largely failed to show up for last week's embarrassing 42-3 loss at Oregon? The No. 24 Bears will need a much better effort when they host No. 7 USC at Memorial Stadium on Saturday night (
ABC, 8 p.m. ET
).
Cal had only 77 rushing yards against the Ducks, and USC's vaunted defense is allowing fewer than 60 rushing yards per game. The Trojans rebounded from their 16-13 loss at unranked Washington with a 27-6 win over Washington State. USC has beaten Cal five times in a row.
5. Which team will win the battle of Michigan?
Michigan was supposed to be rebuilding after last season's 3-9 debacle. Michigan State was supposed to be a dark-horse contender for a Big Ten title this season after playing in a New Year's Day bowl game.
Instead, the teams have reversed roles after four games. The No. 22 Wolverines are 4-0 and back in the national rankings. The Spartans are 1-3 and look like one of the country's most disappointing teams.
Michigan will try to avenge last season's 35-21 loss to the Spartans that ended the Wolverines' six-game winning streak in the intrastate series. Michigan quarterback Tate Forcier should be OK after spraining his right shoulder in last week's 36-33 win over Indiana. He'll face an MSU defense that has allowed a Big Ten-high 10 touchdown passes.
Viewers' Guide
(All times ET)
Saturday:
10 a.m.: "College GameDay" from Chestnut Hill (ESPN)
Noon: Wisconsin at Minnesota (ESPN)
Michigan at Michigan State
12:21 p.m.: Alabama at Kentucky (ESPN360)
3:30 p.m.: LSU at Georgia
UCLA at Stanford (ABC)
Florida State at Boston College (ABC)
7 p.m.: Ohio State at Indiana
7:30 p.m.: Texas A&M at Arkansas (ESPN2)
7:45 p.m.: Auburn at Tennessee (ESPN)
8 p.m.: Oklahoma at Miami (ABC)
USC at Cal (ABC)

•
College football schedule
|
ESPN GamePlan
•
Coverage maps
:
Week 5
CFL Extra: Weekend Preview
Blog Network: What To Watch
Each week, our bloggers will take a closer look at the storylines you should be watching. What's on tap for Week 4?

Last week, it was the Coastal Division that highlighted conference play. This week, it's the Atlantic.
ACC

Will Oklahoma QB Sam Bradford play? Plus, Texas A&M faces its first big test of the season.
Big 12

Big East league play began on Labor Day, then took the rest of September off. It returns this week.
Big East

Michigan, Wisconsin and Penn State hit the road for the first time this season after enjoying varied degrees of success on their home fields.
Big Ten

The Bay Area is the center of the Pac-10 universe on Saturday, although Oregon State's visit to Arizona State feels underrated.
Pac-10

Is LSU overrated? Is Auburn for real? Can Ole Miss get back on track before Alabama visits Oxford next week?
SEC

Non-AQs:
Idaho will find out how good it is, Houston will hit the road and TCU will try to avoid the upset.
Around the nation
Preview: Oklahoma-Miami
Picking The Winners
By ESPN.com
Want to know what our experts think will happen this weekend? Our bloggers and ESPN The Magazine's Bruce Feldman give their predictions for Week 5.
•
Feldman

|
ACC
|
Big 12
|
Big East
•
Big Ten
|
Pac-10
|
SEC
|
Non-AQs
Preview: LSU-Georgia
The Nickel Package
By ESPN Stats & Information
Ohio State enters Saturday's game against Indiana having posted back-to-back shutouts for the first time since 1996. The last time the Buckeyes had three consecutive shutouts was in 1973, when it blanked Northwestern, Illinois and Michigan State.
Each week, ESPN Stats & Information provides five nuggets on the upcoming games. For the rest of the list, click here.

CFL Extra: Needing A Bounce-Back
Fantasy College Football
By ESPN Fantasy
Check out College Football Challenge, our new fantasy game. Each week, our fantasy gurus will provide players or units that should be on Challenge owners' radars.
McShay: Stock Up, Stock Down
Mel's Matchups To Watch
By Mel Kiper
South Florida at Syracuse
USF CB Jerome Murphy versus Syracuse WR Mike Williams

Don't be completely distracted by the line play, where South Florida has a pair of future NFL defensive ends in George Selvie and Jason Pierre-Paul and Syracuse has great defensive tackle Arthur Jones. Keep an eye on Murphy, a big corner at 6 feet, 185 pounds, and Williams, who at 6-2 and 204 pounds has had a huge year so far (28 receptions for 437 yards). If Murphy can neutralize Williams at all, Syracuse could have a really tough time scoring.
For eight more matchups Mel Kiper is watching this weekend, click here.