Saturday full of heavyweight matchups and contenders on the rise
Flipping Scripts
By Pat Forde, ESPN.com
In the four biggest games of the week in college football, role reversals are the central theme.
Specifically, quarterback role reversals.
Before the season began, most sentient beings looking ahead to Oct. 10 would have given the clear-cut edge at that most crucial of positions to: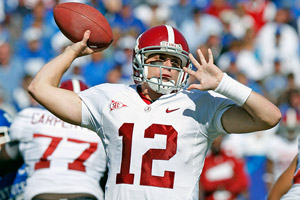 AP Photo/James Crisp
Greg McElroy has stepped right in for Alabama, replacing John Parker Wilson at quarterback.
Florida (Tim Tebow) over LSU (Jordan Jefferson). Heisman winner and three-year starter versus true sophomore who saw limited action in 2008.
Mississippi (Jevan Snead) over Alabama (Greg McElroy). Heisman candidate versus a guy who barely had been on the field -- in college or high school.
Ohio State (Terrelle Pryor) over Wisconsin (Whoever Wins the Job). Heisman candidate and physical freak versus an unheralded signal-caller named the starter just days before the season opener.
Iowa (Ricky Stanzi) over Michigan (True Freshman of Choice). Tough-minded incumbent starter versus a kid accustomed to playing on Fridays.
Today, you could argue that all four of those matchups have flip-flopped -- at least if Tebow's muddled mind has not cleared sufficiently for him to play Saturday in Baton Rouge.
Reversal No. 1: Florida backup John Brantley, with zero career starts and precious little sweaty-palms playing time when outcomes were in doubt, is not as prepared for a klieg-light game as Jefferson. The LSU sophomore isn't exactly Brett Favre in terms of experience, but he has started seven games -- most recently leading the Tigers to a thrilling win at Georgia.
Even if Tebow does play, significant questions remain as to whether he'll play like his normal, wrecking-ball self. That's another factor that could tilt the QB matchup in favor of the Tigers.
Reversal No. 2: Snead has started 2009 much the way he started 2008. Last year through four games, Snead completed 54 percent of his passes with six touchdowns, seven interceptions and two sacks. This year he's completing 51 percent of his passes with nine touchdowns, five interceptions and seven sacks, including a memorable struggle in the upset loss at South Carolina.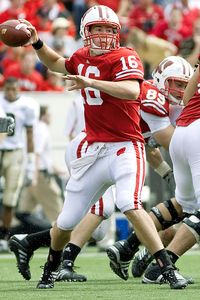 David Stluka/Icon SMI
Scott Tolzien has come out of nowhere to become the Big Ten's top-rated quarterback.
To have a chance against Alabama, the Rebels will need the kind of quarterbacking the Crimson Tide have gotten from former eternal clipboard carrier McElroy.
After backing up former Missouri star Chase Daniel for years in high school in Texas and John Parker Wilson for years at Alabama, McElroy is performing like a leading man. He's thrown nine touchdown passes and hasn't thrown an interception since the second quarter of the season opener.
Reversal No. 3: It isn't as though Pryor has played poorly for the 4-1 Buckeyes, but he hasn't played to the full extent of his athletic talents. That was painfully evident in Ohio State's lone loss, at USC, when Pryor completed just 44 percent of his passes, threw no touchdowns and one interception and failed to break any big runs.
Meanwhile, the previously pedestrian Scott Tolzien has led Wisconsin to a 5-0 start. Tolzien didn't officially win the job until just more than a week before the opener, but he's played like a stud ever since. The junior ranks 18th nationally in pass efficiency and has been a serviceable runner in the past two games as well.
Reversal No. 4: Stanzi didn't make anyone forget about Chuck Long last season, but he played well down the stretch as the Hawkeyes won their final five games. So far this season, he's been a bit error-prone (seven interceptions in his past four games) without costing Iowa a game.
Even with the significant edge in experience, Stanzi will be the less heralded quarterback in Kinnick Stadium on Saturday. That's because Michigan freshman Tate Forcier has taken the position and the Wolverines fans by storm.
Forcier freelanced his way to a memorable comeback drive to beat Notre Dame, then led an even wilder comeback to tie Michigan State last week. The kid canceled it out with an overtime interception that tilted the game in favor of the Spartans, but rarely has a true freshman quarterback made this kind of impact at such a high-profile program.
Thinning The Herd
By Mark Schlabach, ESPN.com
Who's staying? Who's going?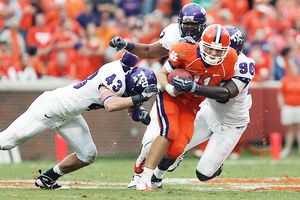 Brian Schneider-US PRESSWIRE
It's no surprise that TCU is being led by a stout defense again.
Two of Saturday's games will go a long way in determining which teams remain dark horses in the BCS championship race. Unbeaten TCU faces one of its toughest challenges when it opens Mountain West play at Air Force. Undefeated Auburn also plays a potentially difficult road game at Arkansas, which is trying to avoid an 0-3 start in SEC play.
But much of the weekend's attention will be focused on struggling teams. Florida State, which has lost consecutive games to fall to 2-3 for the first time since coach Bobby Bowden's first season in Tallahassee in 1976, hosts No. 22 Georgia Tech. All eyes will be on Bowden, 79, who is under more scrutiny than ever during his 34-year tenure at the school.
Earlier this week, Jim Smith, chairman of the university's trustees, called for Bowden to retire after this season. Bowden is under contract at FSU through the 2010 season. On Wednesday, FSU president T.K. Wetherell issued a statement saying Bowden's job is safe for now and would be evaluated at the end of the season.
"If I was 40 years old I'd be shakin' in my boots," Bowden told reporters Wednesday. "But I'm 79. I've been through it. Most of my coaching is behind me. It don't bother me that much. The only thing I worry about or am concerned about, Is it a distraction for my team? And it isn't. I tell them what to listen to, what not to."
The last thing the Seminoles needed was a distraction as they prepared for Georgia Tech's triple-option spread offense. The good news for FSU? The Yellow Jackets have never won in six trips to Doak Campbell Stadium.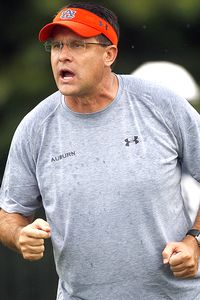 AP Photo/Dave Martin
Gus Malzahn brings his offense to his old stomping grounds.
Defending Big 12 champion Oklahoma, which lost two of its first four games without injured quarterback Sam Bradford, might have the reigning Heisman Trophy winner back when it hosts Baylor on Saturday. Bradford hasn't played since spraining the AC joint in his shoulder in the Sooners' opening 14-13 loss to BYU.
No. 10 TCU might have a legitimate chance at a BCS bowl bid if it finishes unbeaten because its schedule is more difficult than No. 6 Boise State's slate. The Horned Frogs are playing at Air Force, but the game probably will be decided on the ground. The Falcons rank second in the country in rushing with 291.8 yards per game; TCU leads the country in run defense, allowing only 47 yards per game.
Auburn's offense also has been potent under first-year coach Gene Chizik. The Tigers scored 207 points in their first five victories -- only one fewer than they had in 12 games last season. Offensive coordinator Gus Malzahn returns to Arkansas, where he worked under former Hogs coach Houston Nutt. Chizik and Razorbacks coach Bobby Petrino were once coordinators on Tommy Tuberville's staff at Auburn.
Viewers Guide
(All times ET)
Thursday:
9 p.m.: Nebraska at Missouri (ESPN)

Saturday:
10 a.m.: "College GameDay" from Baton Rouge (ESPN)
Noon: Auburn at Arkansas (ESPN)
Boston College at Virginia Tech (ESPN360)
12:30 p.m.: Oklahoma State at Texas A&M
3:30 p.m.: Alabama at Mississippi
Wisconsin at Ohio State (ABC)
Baylor at Oklahoma (ABC)
Oregon at UCLA (ABC)
7:15 p.m.: Colorado at Texas (ESPN)
7:30 p.m.: TCU at Air Force
8 p.m.: Florida at LSU
Michigan at Iowa (ABC)
Georgia Tech at Florida State (ESPN2)
•
College football schedule
|
ESPN GamePlan
•
Coverage maps
:
Week 6
CFB Live Extra: SEC Preview
Blog Network: What To Watch
Each week, our bloggers will take a closer look at the storylines you should be watching. What's on tap for Week 6?

Miami running back Javarris James is moving up the charts, and Tyrod Taylor needs to keep the interceptions down.
ACC

It's the battle of young guns in Columbia, Mo. And how will Oklahoma State react without Dez Bryant?
Big 12

The forward pass is not the favorite option of either Randy Edsall or Dave Wannstedt.
Big East

Iowa's defense goes streaking, and John Clay heads to Columbus to be a star.
Big Ten

Just four games this weekend, but three of them figure to have significant ramifications in the Pac-10's pecking order.
Pac-10

This Saturday in the SEC needs no buildup. There are marquee matchups everywhere.
SEC

Non-AQs:
Both Louisiana Tech and Nevada got big wins last week with the run, but facing each other this week should produce a very different result.
Around the nation
Preview: Florida & Tebow
Picking The Winners
By ESPN.com
Want to know what our experts think will happen this weekend? Our bloggers and ESPN The Magazine's Bruce Feldman give their predictions for Week 6.
•
Feldman

|
ACC
|
Big 12
|
Big East
•
Big Ten
|
Pac-10
|
SEC
|
Non-AQs
McShay: Auburn's Offense
The Nickel Package
By ESPN Stats & Information
Not that Alabama wants to lose at Ole Miss this weekend, but it might not be such a bad omen. Since 1977, Ole Miss is 2-13 versus AP top-five teams. Both teams the Rebels beat, Notre Dame in 1977 and Florida in 2008, went on to win the national championship that season.
Each week, ESPN Stats & Information provides five nuggets on the upcoming games. For the rest of the list, click here.

CFB Live Extra: Big Ten Preview
Fantasy College Football
By ESPN Fantasy
Check out College Football Challenge, our new fantasy game. Each week, our fantasy gurus will provide players or units that should be on Challenge owners' radars.