Trojans, Fighting Irish ready to see if either is champion material
Great Theater
By Rece Davis, ESPN.com
How close was USC-Notre Dame to being a mammoth/blockbuster/Armageddon-type of showdown? One more Trojans defensive stop of Washington and one tackle of Tate Forcier by the Irish D would have done it.
How close was USC-Notre Dame to being insignificant nationally? One Ohio State defensive stand versus Matt Barkley & Co. -- or, in the Irish's case, an accurate throw by Michigan State's Kirk Cousins, one more yard on a QB sneak for Jake Locker at the Irish goal line, or maybe if Purdue coach Danny Hope could have kept himself from calling timeout. You get the picture.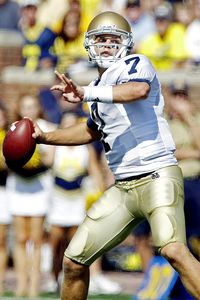 Icon SMI
A win over USC and Jimmy Clausen might vault to the top of the Heisman race.
The Trojans and Irish might be a total of two plays from being undefeated. They're also about four plays from having six losses between them. This game is always great theater. What we're about to find out is whether either team is championship-caliber. USC appears to be rounding into that type of form. But the Trojans haven't seen an offense as powerful as the Irish attack. By the same token, Notre Dame hasn't seen anything in the same stratosphere as USC's defense.
For seven years, Notre Dame has had an itch it couldn't reach to beat the Trojans. With the exception of the "Bush Push" game, it has been ugly.
The difference has largely been quarterback play. USC's signal-callers have completed about 65 percent of their passes, routinely burned the Irish for 300-plus yards and given Traveler a workout by beating the Irish by an average of four touchdowns. But this year, the quarterback edge belongs to Notre Dame. The Johnny Rotten hairstyle, the stretch Hummer and high school ring-flashing immaturity of a young Jimmy Clausen have given way to a dynamic leader and the most efficient passer in the nation.
Clausen is living up to his considerable hype and has been as sharp, tough and explosive as anyone. This is his time. This is his moment to legitimize his Notre Dame career as more than a compiler of stats but as a winner. That's the nature of the quarterback beast. But let me hasten to point out, I won't blame Clausen if he puts up winning numbers and his pass defense, ranked 110th in the nation, doesn't hold up its end of the bargain. Quarterbacks might be the most important component to winning, but they aren't starting pitchers. They can't control everything. But with Clausen running the Notre Dame offense against a team with a true freshman quarterback (albeit an immensely talented one) on what should be a chilly gray day in South Bend, if the Irish don't beat the Trojans on Saturday, when will they beat them? You get the idea that I think this is a defining moment for Notre Dame? You bet. Not to mention Clausen could end the day as the leading contender for the Heisman.
Oklahoma-Texas is also two points away from being the latest game of the century. Boom or bust for Oklahoma's season Saturday. As is the case every year, the loser faces a de facto two-game deficit in the Big 12 South.
The Sooners' national title dreams are gasping for air, hoping for 2007-like chaos and a plethora of 2-loss teams. But the Big 12 crown is something they still control. Sam Bradford's return was solid even if his receivers had the drops against Baylor.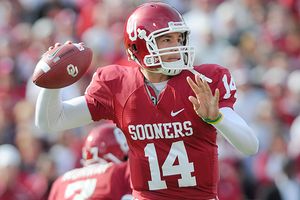 Jackson Laizure/US Presswire
After knocking off the rust against Baylor, Sam Bradford will be ready for Texas on Saturday.
Oklahoma is nicked up on the offensive line, and winning the running battle is always important in this game. Texas is dinged in the backfield. Jordan Shipley turned this game around with a kickoff return last year. He's making the most of his sixth year of eligibility. Shipley didn't room with Earl Campbell. It only seems as if he's been at Texas that long. Colt McCoy's roommate might have something else in common with Earl if he keeps up his stunning level of play. He should get serious consideration for the Heisman. I know it's a long shot. But with his penchant for "Wow" moments in the return game and the prolific numbers he's putting up receiving, it's tougher to find reasons to leave him out than reasons to put him in.
If Virginia Tech beats Georgia Tech, put a wrap on the ACC Coastal and punch Virginia Tech's ticket to the Hokie Invitational, also known as the ACC championship game. Look at Virginia Tech's schedule. Two conference wins among their four remaining opponents after Georgia Tech.
Dealing with the option and the improved big-play passing game of Josh Nesbitt and Demaryius Thomas will be a full day's work. The Hokies cut some individual drills out of the practice plan this week to spend extra time on the option. But a successful trip to Atlanta lets Virginia Tech put a submission hold on the division while holding its position on the edge of the national title picture.
Speaking of that, Lou Holtz and I called the Boise State-Tulsa game Wednesday night. The question has come up: What would the Broncos have to do to make not just "a" BCS game but "the" BCS game? I don't think it will happen. Boise State is a very good team. But short of everybody losing twice and Boise being undefeated, I just can't envision the Broncos playing for the title.
The Oregon win looks better and better all the time. As misleading as comparing scores can be, it's hard to ignore that Oklahoma trounced Tulsa with its backup quarterback, while the Broncos were in a fight to the final possession. Boise State doesn't have a marquee game left on its WAC schedule. I have a ton of respect for Boise State and really admire its program. But I don't think there's anything the Broncos can do that would make their résumé worthy of playing in the national championship game. I think you're more likely to see one-loss teams from power conferences start to pass Boise State than see the Broncos move up any higher.
The BCS standings come out Sunday. We'll give you a good idea of what they'll look like on "College Football Final" on Saturday night. See you then.
Weekend Watch
By Mark Schlabach, ESPN.com
All eyes are on Dallas this weekend, where No. 3 Texas tries to keep its BCS national championship hopes alive against No. 20 Oklahoma in the Red River Rivalry game.
Longhorns quarterback Colt McCoy will be trying to energize his Heisman Trophy campaign, and reigning Heisman Trophy winner Sam Bradford will be trying to save the Sooners' season.
Elsewhere, No. 1 Florida and No. 2 Alabama might be tested by SEC upstarts Arkansas and South Carolina, respectively.
1. Which quarterback steps up in Dallas?
At this point, Florida quarterback Tim Tebow seems to be running away with his second Heisman Trophy.
But that could change if Texas' McCoy has a big day against Oklahoma in the Red River Rivalry game in Dallas. McCoy still hasn't had his signature moment this season for the Longhorns, but he'll have to play big to beat the Sooners.
Texas might not have running backs Tre' Newton (concussion) and Vondrell McGee (shoulder), who have emerged as the team's best runners. So McCoy and roommate Jordan Shipley might have to make some big plays in the passing game.
Texas, which ranks No. 1 in the country in run defense, will try to make Bradford beat them, too. Bradford returned to action last week after missing three games with an injured right shoulder, and he looked a little rusty in a 33-7 rout of Baylor.
2. Should No. 1 Florida be on upset alert against Arkansas?
Probably not. The defending BCS national champion Gators are playing the Hogs in the Swamp, and it's hard to imagine them not being ready to play after losing to Ole Miss in similar circumstances last season.
But keep these stats in mind: Florida coach Urban Meyer is only 7-6 against SEC West foes, and the Gators have lost to at least one opponent from the SEC West in each of the past 10 seasons.
The Razorbacks have played much better in coach Bobby Petrino's second season, upsetting Auburn 44-23 at home last week. The Hogs have scored 40 points or more in all but one of their five games (a 35-7 loss to Alabama), and quarterback Ryan Mallett is playing really well in Petrino's pass-happy offense.
Arkansas' defense has played better the past two weeks, but it's been victimized by big passing plays. Florida doesn't throw the ball down the field like it used to do, but the offense is still potentially explosive.
3. Will South Carolina compete with Alabama?
The Gamecocks are playing pretty well right now, but I think the Crimson Tide are too good on offense and defense to lose at home.
Alabama coach Nick Saban and defensive coordinator Kirby Smart are as good as anyone in confusing quarterbacks with pre-snap movement and varied blitzes. South Carolina is winning because quarterback Stephen Garcia isn't making the mistakes he made in the past. He'll have to make a lot of quick decisions against Alabama, though.
South Carolina's depth is becoming an issue again, too, especially on defense. Since losing middle linebacker Rodney Paulk and defensive tackle Travian Robertson to season-ending knee injuries, the Gamecocks have given up a lot of rushing yards. FCS foe South Carolina State ran for 170 yards, and Kentucky had 205 last week.
The Tide run the ball as well as anyone, and Mark Ingram and Trent Richardson could have big games.
Viewers Guide
(All times ET)
Thursday:
7:30 p.m.: Cincinnati at South Florida (ESPN)

Saturday:
10 a.m.: "College GameDay" from Dallas (ESPN)
Noon: Oklahoma vs. Texas (ABC)
Iowa at Wisconsin (ESPN)
3:30 p.m.: Arkansas at Florida
USC at Notre Dame
Minnesota at Penn State (ABC)
Texas Tech at Nebraska (ABC)
6 p.m.: Virginia Tech at Georgia Tech (ESPN2)
7:45 p.m.: South Carolina at Alabama (ESPN)
9:15 p.m.: Missouri at Oklahoma State (ESPN2)
•
College football schedule
|
ESPN GamePlan
•
Coverage maps
:
Week 7
Herbie Preview: OU-Texas
Blog Network: What To Watch
Each week, our bloggers will take a closer look at the storylines you should be watching. What's on tap for Week 7?

Saturday's game between Georgia Tech and Virginia Tech will feature the ACC's top three rushing leaders.
ACC

Colt McCoy versus Sam Bradford is the highlight, but there are also still some hard feelings about last season's three-way tie.
Big 12

For Louisville to have any chance of winning a Big East road game, it's going to have to both stop and start the run.
Big East

The Big Ten's showcase matchup takes place in Madison, as longtime rivals Iowa and Wisconsin square off on homecoming for the Badgers.
Big Ten

The three Pac-10 games may establish season trajectories for teams trying to move up in the conference pecking order.
Pac-10

We know Alabama and Florida can play. What about everybody else?
SEC

Non-AQs:
Idaho is one win away from its sixth win and its first potential bowl since 1999.
Around the nation
Herbie Preview: USC-ND
Picking The Winners
By ESPN.com
Want to know what our experts think will happen this weekend? Our bloggers and ESPN The Magazine's Bruce Feldman give their predictions for Week 7.
•
Feldman

|
ACC
|
Big 12
|
Big East
•
Big Ten
|
Pac-10
|
SEC
|
Non-AQs
ACC QBs To Watch
The Nickel Package
By ESPN Stats & Information
Urban Meyer is 49-9 as Florida head coach, and a win Saturday vs. Arkansas would tie him with Alabama's Frank Thomas for the fewest games needed to reach 50 wins as an SEC head coach. Thomas was already running the Crimson Tide program when the SEC was founded in 1933, and he went 50-5-4 in the next 59 games.
Each week, ESPN Stats & Information provides five nuggets on the upcoming games. For the rest of the list, click here.

Film Breakdown: OU-Texas
Fantasy College Football
By ESPN Fantasy
Check out College Football Challenge, our new fantasy game. Each week, our fantasy gurus will provide players or units that should be on Challenge owners' radars.
ACC Preview: Ga. Tech-Va. Tech