Virtual playoff begins as road games make champions
Playoffs Start Now
By Rece Davis, ESPN.com
You want a playoff in college football? With the release of the initial BCS standings, the playoffs are in full swing. It might not be in the tidy tournament format the new Playoff Action Committee wants, but let me ask you this. How often do you hear gripes about teams left out of the NCAA basketball tournament? My point is a playoff format wouldn't fix everything. The fifth-best team or ninth-best team or 17th-best team would be griping. To illuminate my point, if you used the BCS standings at the moment, Cincinnati wouldn't make a four-team playoff. LSU would be squeezed out of an 8-team field. In a never-going-to-happen-in-our lifetime 16-team bracket, Oklahoma State would be in, Houston out. Remember what happened on the field in Stillwater?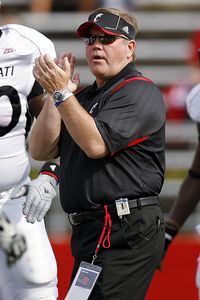 AP Photo/Mel Evans
If a four-team playoff started this week, Cincinnati coach Brian Kelly would not be clapping.
How about if we celebrate what we do have, the most significant regular season in sports? And one in which if LSU wants to play for a national championship, the Tigers have that chance. If LSU can beat Alabama then take down Florida in the SEC championship game, the Tigers would be hard to squeeze out of Pasadena. LSU would even get a second shot at the Gators along the way. Just like a playoff.
I'm not really trying to convince you this is as clean as a seeded playoff would be. I'm just saying the pined-for playoff wouldn't necessarily be college football utopia. It also would reduce the impact of mammoth upsets, like Washington over USC. To me, that weekly drama playing out in unlikely places is compelling. I'm not opposed to playoffs. In fact, I'd love to see them seed 1-4 in the bowls and have the winners play. But I also put a great deal of value on the pursuit of a championship we witness every week. By the way, I wouldn't contribute to that new Playoff Action Committee's fundraising efforts. Your money would be better spent investing in the Heene family's new reality show "Little Falcon's Hot Air Balloon Hoaxes." Then again, that Playoff Action Committee likely will have the most hot air this side of Falcon's balloon. We digress.
Nine of the top 15 in the BCS standings hit the road this week. Several invade treacherous spots where dreams could die. In 1987, a horde of crickets infested Amon Carter Stadium in the fourth quarter of the BYU-TCU game. No crickets in Provo on Saturday night.
There will be plenty of reaction to what has become a bit of a testy Mountain West rivalry. The Frogs have a tackling dummy in their weight room that sports a BYU helmet. Sometimes he wears other headgear, but usually it's a Cougars helmet.
The Frogs are poised to roar past Boise State in the BCS standings if they can take care of their business. Max Hall is a dangerous playmaker, but he has thrown 10 interceptions this season and has struggled with pressure in his career. Nobody brings the heat like Jerry Hughes of TCU. Last year, the Frogs sacked Hall six times and picked him off twice. In fact, watch the Horned Frogs' D and you'll see a defense that holds its own in speed and nastiness with the elite defenses in the power conferences.
The Cougars will be eager to atone for their Florida State face-plant as well as the flogging the Frogs put on them last year. TCU has an occasional habit in big games of seemingly dominating opponents yet somehow letting them stay close on the scoreboard. Sometimes the Frogs get away with it, as they did against Boise State in the Poinsettia Bowl last year. Sometimes they don't, as when Utah gigged the Frogs in the waning moments last year.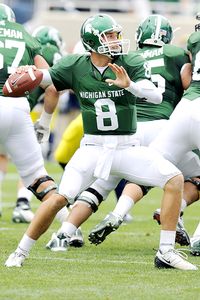 Eric Bronson/Icon SMI
The Hawkeyes had better be ready for an improving Michigan State team led by QB Kirk Cousins.
Watch to see whether TCU gets off to a good start and, more importantly, whether it can build a big lead if it does. Oh, and when Jeremy Kerley gets the ball for TCU, don't blink. That guy leaves opposition lingerie on the turf. Ankles are snapped (figuratively), egos are bruised (literally) just trying to lay a hand on him.
I believe Iowa is the best team in the Big Ten. I also believe the Hawkeyes are vulnerable in East Lansing on Saturday night. After the Spartans lost to Central Michigan, blew a chance to win at Notre Dame and nearly spit up the Michigan game in vintage "That's why you're Sparty" style, look at coach Mark Dantonio's troops now. All that stands between Michigan State and first place in the Big Ten is a win over the Hawkeyes.
The Spartans are playing with confidence. Kirk Cousins seems to have assumed command at quarterback. He's 25th in the nation in passing efficiency and is coming off a 281-yard, two-touchdown, no-interception day against Northwestern. He'd better take care of the football. Iowa leads the nation in interceptions (15) and is second in takeaways (22).
State has been resilient, but nobody has been tougher-minded than Iowa this season. The Hawkeyes have this weird knack for being at their best in the worst situations. They have several big plays and explosive touchdowns on third-and-long. They'd better bring their A-game Saturday night. I have a feeling the Green and White will bring theirs.
Al Groh is the Wayne Fontes of college football. You just can't finish him off. After a horrific 0-3 start, his Virginia team hasn't allowed a TD in two ACC games, and the Cavaliers are the only team unbeaten in ACC play. Georgia Tech is coming off an emotional win against Virginia Tech. It's an early game in Charlottesville, where the Jackets haven't won since their national championship season in 1990. Spin the ACC wheel of destiny and get a surprise winner. It happens nearly every week.
Oregon takes a perfect Pac-10 record to Washington, plus a five-game winning streak against the Huskies. The Ducks have routinely blown out their rivals to the north lately. USC looms next week. The ingredients are percolating, with Jake Locker stirring the upset pot.
Championship teams win on the road. Who shows that type of mettle this weekend? We'll see on "College Football Final" on Saturday night.
Weekend Watch
By Mark Schlabach, ESPN.com
Saturday's schedule of college football games lacks a classic heavyweight battle, but that doesn't necessarily mean there won't be drama.
Several of the country's best teams hit the road, where potential upstarts and upsets might be awaiting them.
Here are some things to watch Saturday:
1. Should No. 1 Florida be worried about Mississippi State?

Probably not, but the Gators have to jump-start their sputtering offense at some point before the Dec. 5 SEC championship game in Atlanta's Georgia Dome.
Quarterback Tim Tebow hasn't been especially sharp since coming back from a concussion, and few coaches know him better than first-year Mississippi State coach Dan Mullen.
Mullen worked as Tebow's quarterbacks coach in his first three seasons at Florida, and the two are especially close. Mullen also knows the ins and outs of Gators coach Urban Meyer's offense (the coaches also worked together at Notre Dame, Bowling Green and Utah), which might give him an edge in Saturday's game at Davis Wade Stadium (ESPN, 7:30 p.m. ET).
Believe it or not, the Gators have lost their past four games at Mississippi State and haven't won in Starkville since 1985.
The Bulldogs have been surprisingly competitive in Mullen's first season, losing to LSU 30-26 and Houston 31-24. Mississippi State has been undone by turnovers, which is what plagued the Gators in last week's 23-20 win over Arkansas.
2. Can Iowa stay unbeaten?
To move to 8-0, the No. 6 Hawkeyes will have to beat fast-improving Michigan State at Spartan Stadium in East Lansing, where they haven't won since 1995.
The Spartans have won four straight games against Iowa at home. Michigan State has won three games in a row overall, and its defense is a big reason for the turnaround, with 12 sacks in the past three games.
The Hawkeyes have won 11 games in a row dating to last season, and they'll be aiming for the first eight-game winning streak to start a season in school history.
3. Can Washington knock off another Pac-10 heavyweight?
The Huskies already have a 16-13 upset of Southern California to their credit, and now No. 11 Oregon makes the dangerous trip to Seattle on Saturday (ABC, 3:30 p.m. ET). More than anything, Oregon can't get caught looking ahead to its Oct. 31 showdown against No. 7 USC.
Washington is coming off a gut-wrenching defeat, having lost 24-17 at Arizona State. All but two of the Huskies' seven games have been decided by eight or fewer points, including three of their losses. Washington hasn't beaten Oregon since a 42-10 victory in 2003.
The Ducks might have junior quarterback Jeremiah Masoli, who hasn't played since Oct. 3 because of a knee injury.
Viewers' Guide
(All times ET)
Saturday:
10 a.m.: "College GameDay" from Provo (ESPN)
Noon: South Florida at Pitt (ESPN360)
Minnesota at Ohio State (ESPN)
UConn at West Virginia (ESPNU)
Georgia Tech at Virginia (ESPN360)
3:30 p.m.: Tennessee at Alabama
Clemson at Miami (ABC)
Penn State at Michigan (ABC)
7 p.m.: Iowa at Michigan State
7:30 p.m.: TCU at BYU
Auburn at LSU (ESPN2)
8 p.m.: Texas at Missouri (ABC)
Oregon State at USC (ABC)

•
College football schedule
|
ESPN GamePlan
•
Coverage maps
:
Week 8
Herbie on BCS, Week 8
Blog Network: What To Watch
Each week, our bloggers will take a closer look at the storylines you should be watching. What's on tap for Week 8?

Something's gotta give on third down when the Georgia Tech offense meets Virginia's defense.
ACC

Will Texas' run defense continue its punishing ways against Big 12 teams? How resilient will Missouri be?
Big 12

All eyes will be on Connecticut after the stabbing death of its starting cornerback, Jasper Howard.
Big East

Iowa is halfway through one of the nation's toughest road schedules, and it doesn't get much easier Saturday night at Michigan State.
Big Ten

Jacquizz Rodgers won't back down versus USC, and UCLA's secondary will challenge Arizona QB Nick Foles.
Pac-10

Mark Ingram's romp into the middle of the Heisman Trophy race has been fueled by his ability to get so many yards on his own.
SEC

Non-AQs:
Boise State had a tough test against Tulsa last week, and now it's time for TCU to face one of its fiercest foes on this year's schedule.
Around the nation
CFB Live Extra: Second-Half Preview
Picking The Winners
By ESPN.com
Want to know what our experts think will happen this weekend? Our bloggers and ESPN The Magazine's Bruce Feldman give their predictions for Week 8.
•
Feldman

|
ACC
|
Big 12
|
Big East
•
Big Ten
|
Pac-10
|
SEC
|
Non-AQs
Forde: Big Men On Campus
The Nickel Package
By ESPN Stats & Information
Several teams outside the SEC need a Texas loss to open their door to a BCS title run, and for those teams, this isn't good news: Under Mack Brown, Texas has never lost the game after the Red River Rivalry (11-0) and has won at least the next two games after playing Oklahoma in all 11 of those seasons. The next two games this year are at Missouri and at Oklahoma State -- the only remaining regular-season games in which the Longhorns figure to be favored by less than two touchdowns.
Each week, ESPN Stats & Information provides five nuggets on the upcoming games. For the rest of the list, click here.

SEC Midseason Breakdown
Fantasy College Football
By ESPN Fantasy
Check out College Football Challenge, our new fantasy game. Each week, our fantasy gurus will provide players or units that should be on Challenge owners' radars.
ACC Midseason Breakdown