Expect The Unexpected This Season
"As scripted." That's a phrase one of our television producers barks (or gently intones) in our ears when everything is to proceed as planned. It hardly ever happens on a college football Saturday. It would never happen every Saturday. But the 2009 season largely went "as scripted."
Did you know that from the AP poll on Sept. 20 through the poll just before conference championship weekend that the same three teams occupied the top three spots? Alabama, Texas and Florida were the dominant trio pretty much wire to wire.
Those three finished in the top three in the final rankings as well. The lone aberration came when the Gators slipped to No. 5 after falling to the Crimson Tide in the SEC championship game. That's 12 of the final 13 polls with the same three teams perched at the top.
That is precisely the reason I expect this season to be far more chaotic, more wide open and have more of a turnstile feel at the top. History might repeat itself, but not in consecutive years and not in college football.
That's not to discount Alabama's chances of repeating or the opportunities of the Gators and Longhorns to be in the mix again. I just think there will be more potholes and unexpected detours along the way.
[+] Enlarge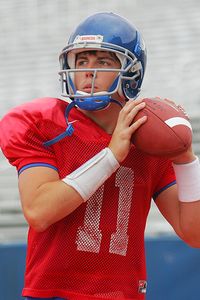 Brian Losness/US PresswireCould a weak schedule bring Kellen Moore and Boise State down?
The opening weekend might not be burgeoning with blockbuster games, but there is potential for the tone to be set for what we will -- or won't -- see Jan. 10 in Glendale, Ariz.
Eyes have zipped right past much of the weekend to the Labor Day night clash between No. 3 Boise State and No. 10 Virginia Tech.
The Broncos return nearly the entire starting lineup that put together their current 14-game winning streak, tied for the nation's longest with Alabama. The Hokies ride in with a stable of running backs (Ryan Williams, a healthy Darren Evans and David Wilson) that match up favorably with any unit of backs in the nation. Tech's new faces on defense will be tested by perhaps the savviest quarterback in college football, Kellen Moore.
But this game is all about the big picture. It might as well be a championship game for Boise State. Beat the Hokies and the rest of the season will be reduced to avoiding potholes and getting past Oregon State. Let's be honest. Aside from the Beavers, there are no potholes on the Broncos' schedule, just speed bumps.
If Boise State hopes to play for the BCS title, it needs to be perfect and hope the rest of the nation repeats the chaotic 2007 season when two-loss LSU played for the crown.
While I recognize the Broncos' scheduling difficulties, I'd contend they should be more willing to adopt the old Bobby Bowden/current Gonzaga basketball scheduling model and not worry about getting home-and-home agreements.
Just go play. Anywhere. Anytime.
It could also help to be willing to play with or without the king's ransom some visiting teams get for "guarantee" games. Schools don't like it when you beat them and help bankroll your program. I'm not saying Boise State isn't willing to do that now. I'm just saying that's what the Broncos' approach should be. Chalk it up to the cost of doing business to permanently move to the elite.
The Virginia Tech game is a good start. Every non-WAC game should be of that ilk. To play in the title game, the Broncos can't afford otherwise.
The good news is some of this issue will be alleviated when the Broncos move to the Mountain West. But for this season, the only way I could rank an undefeated Boise State team above a one-loss team from the six automatic qualifying conferences is if both Virginia Tech and Oregon State turn out to be at least 10-win teams.
The Broncos can beat anybody, but at some point rankings evaluations should be based on this: Who did you play? Who did you beat?
This analogy is the best I can think of: Even in years when I believe Gonzaga can make the Final Four or win the national championship, it's likely I'd believe the Bulldogs' West Coast Conference schedule would weigh down their résumé enough to keep them from getting a 1-seed or 2-seed to get there. That's not an argument for a playoff. It's just an analogy.
It hardly should be construed as insulting that I think Boise State could be BCS worthy but not championship game worthy. College football is littered with undefeated, uncrowned teams that didn't get a chance to play for the title. Sometimes, those teams were denied for silly reasons. I can't think of a more justifiable one than a weak overall schedule.
But there's a long way to go. Chris Petersen knows there's no discussion to be had unless the Broncos beat the Hokies. Boise State is fast, physical and skilled. In no way do I think it will be overmatched or overwhelmed by the moment.
---
This is a big opening week for other potential BCS busters.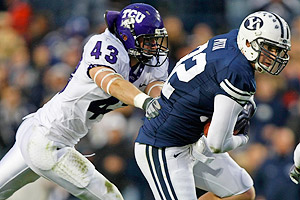 AP Photo/George FreyTank Carder and TCU's defense have confounded plenty of offenses over the years.
TCU gets Oregon State. The Beavers often struggle early in the season. Talking to Mike Riley about it in the preseason, it seems many of those slow starts have come when he's breaking in a new quarterback, as the Beavers are this year with Ryan Katz.
Playing TCU is nightmare enough for veteran quarterbacks, but Quizz and James Rodgers will likely have a little extra gear playing the opener in their home state of Texas. The Frogs could stake their claim to return to the BCS with a win over the Beavers.
Utah is a buster for one more year before moving to the Pac-10. The Utes will have their work cut out for them against Pitt. Dion Lewis is a legit Heisman candidate. He was effusive (as much as the quiet Lewis can be) about the leadership of new quarterback Tino Sunseri. Tino is a coach's son. His dad, Sal, is a former Pitt standout who tutors linebackers at Alabama. Sal says Tino grew up watching quarterbacks like Jake Delhomme when the elder Sunseri was a coach in the NFL and understands how to prepare and lead. Managing the nerves in a raucous Rice-Eccles could be key to the Panthers getting off to a winning start.
There are a few other season-shaping openers I'm anxious to see. LSU faces North Carolina or potentially what's left of the Tar Heels if myriad suspensions gut Butch Davis' defense. Carolina was an offseason ACC darling rife with future NFL players on defense. Now investigations of academic misconduct and improper benefits have dampened enthusiasm. LSU is under immense pressure to return to championship form. The Tigers' quarterbacks might catch a break if the Heels can't put their best defensive foot forward.
UConn is generating buzz as a Big East contender. The Huskies go to the Big House to take on Michigan. UConn has arrived as a legit football program. Can you imagine the résumé boost of beating Notre Dame in South Bend; South Carolina in a bowl game played in Birmingham, Ala., home of the SEC headquarters; and Michigan in Ann Arbor all in less than a calendar year? Needless to say Rich Rodriguez can't afford to have the Huskies enhance their rep at his expense.
I can't wait to kick it off Thursday night in Columbia, S.C., with Craig James, Jesse Palmer and Jenn Brown to see the Gamecocks and Southern Mississippi.
This weekend, Mark May, Lou Holtz and I are back in the studio. Can't wait to try on the judge's robe again for the verdict in "College Football Final"! The most significant regular season in sports is here and not a moment too soon.
Weekend Watch
If this season is anything like most, then in the next two weeks, special teams will feature more pratfalls than the Three Stooges. In the rush of August, the kicking game doesn't get as much care and feeding as offense and defense. Young players taught to cover kicks in the preseason don't adjust to game speed.
Until the transition is complete, kicks will be blocked (see Appalachian State 34, Michigan 32, 2007).
[+] Enlarge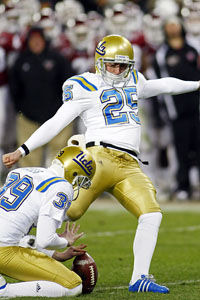 Geoff Burke/US PresswireKai Forbath is considered the best kicker in college football.
Returns will finish in the end zone (see Stanford's Chris Owusu, who took kickoffs for touchdowns three times in the first four games last season).
Upsets will lead "SportsCenter" (see this weekend).
None of the above, however, applies to UCLA, where the kicking game is in midseason form -- for the NFL. If that's an exaggeration, it's not much of one.
Senior kicker Kai Forbath won the Lou Groza Award last season. He has made 37 consecutive field goals inside of 50 yards, and in his career is 9-of-12 from 50 yards or longer. If this season is anything like the past three, he will own just about every NCAA record for field goals.
Senior long-snapper Christian Yount, a four-year starter, has machine-like speed and accuracy. He is, in the best tradition of long-snappers, invisible.
"He's terrific," UCLA coach Rick Neuheisel said, "because you don't notice how the ball is where it's supposed to be. We keep punting balls. It's a real, real comforting thing to have."
Sophomore punter Jeff Locke averaged 43.6 yards per kick last season, and the Bruins led the Pacific-10 Conference in net punting (38.04). Locke made a few freshman All-America teams, and the coaches voted him second-team All-Pac-10.
Forbath has been in the right place at the right time. The Bruins have struggled on offense in Neuheisel's two seasons. Injuries and inexperience can be hazardous to your scoreboard. Neuheisel, at times, has used Forbath because he was all the offense the Bruins had. At other times, he has used him to keep from taking chances.
"Definitely we play to that," Neuheisel said, "not to be conservative but to have an advantage. You don't take unnecessary chances. It's practical. You get points because you're going to make it. You got the percentages in your pocket."
Viewer's Guide
All times ET
Thursday
7:30 p.m.
Southern Miss at South Carolina (ESPN)
8:30 p.m.
: Pitt at Utah
11 p.m.
: USC at Hawaii (ESPN)
Saturday
9 a.m.
: "
College GameDay
" from Atlanta (ESPNU)
10 a.m.
: "
College GameDay
" from Atlanta (ESPN)
11 a.m.
: "College Football WhipAround" (ESPNU)
Noon
: Miami (Ohio) at Florida (ESPN)
Samford at Florida State (ESPNU)
12:30 p.m.
: Illinois vs. Missouri
3:30 p.m.
: Texas at Rice (ESPN)
New Mexico at Oregon
UConn at Michigan (ABC)
Kentucky at Louisville (ABC)
UCLA at Kansas State (ABC)
Purdue at Notre Dame (NBC)
7 p.m.
: San Jose State at Alabama (ESPN3)
Washington at BYU
Northwestern at Vanderbilt (ESPN3)
7:45 p.m.
: Oregon State at TCU (ESPN)
8 p.m.
: LSU at North Carolina (ABC)
10 p.m.
: Cincinnati at Fresno State (ESPN2)
11 p.m.
: Wisconsin at UNLV
Sunday
2 p.m.
: Tulsa at East Carolina (ESPN2)
3:30 p.m.
: SMU at Texas Tech (ESPN)
Monday
4 p.m.
: Navy at Maryland (ESPN)
8 p.m.
: Boise State at Virginia Tech (ESPN)
BCS Bowl Game Predictions
Blog Network: What To Watch
Each week, our bloggers will take a closer look at the storylines you should be watching. What's on tap for Week 1?

There's plenty on tap this weekend in the ACC, starting with UNC's lineup woes to first-year coaches to first-year quarterbacks.
ACC

Who knows who will take the first snap for the Huskers? Well, Bo Pelini seems to have a pretty good idea, for one.
Big 12

Much is expected of Pitt this season. It won't take long to find out how good they are, as they open at Utah.
Big East

Two of the league's traditional powers -- Michigan and Penn State -- likely will be evaluating multiple quarterbacks in their openers.
Big Ten

It's no longer about Jake Locker's extraordinary potential, which has NFL scouts salivating. Now it's about Locker performing.
Pac-10

There are more than a few anxious coaches and players at a number of locales thanks to all of the NCAA investigations hovering out there.
SEC

Boise State defense vs. Virginia Tech running game: What happens here could largely determine who wins the game.
Non-AQs

Coach Brian Kelly won't be the only high-profile debut for the Irish. Quarterback Dayne Crist makes his first-ever start
Notre Dame
What Scouts Are Watching
Here's a look at five things that Scouts Inc. will be watching closely this week.
Can TCU keep Rodgers in check?
Oregon State RB Jacquizz Rodgers averaged 27 touches per game last season and goes just 5-foot-7 and 191 pounds. While the majority of his touches are of the three-to-seven yard variety, Rodgers springs his fair share of big-gainers. We went back and studied 14 of his longest plays from scrimmage last season -- nine carries of 30-plus yards and five receptions of 20-plus yards -- to see if there are any noteworthy trends and uncovered a few the Horned Frogs are surely preparing for.
To read the rest of this breakdown, plus four others, click here

.
Fantasy College Football
By ESPN Fantasy
Check out College Football Challenge, our new fantasy game. Each week, our fantasy gurus will provide players or units that should be on Challenge owners' radars.
Scouts' Edge: Week 1 Previews
Get in-depth scouting reports of key games as Scouts Inc. breaks down what to watch.

• Boise State-Virginia Tech » UConn-Michigan »
• Washington-BYU » SMU-Texas Tech »
• LSU-North Carolina » Purdue-Notre Dame »
• Pitt-Utah » Oregon State-TCU » Scouts' home »