Every game matters
Roadblock Saturday altered the periphery of the national championship landscape but did not serve to change the basic premise. If Oregon and Auburn win out, they'll meet in Glendale, Ariz., for the national championship.
The Ducks and Tigers seem to have breathers this week, but as former Alabama coach Gene Stallings used to say before his team took on a perceived tomato can, "If you don't think this is a big game, just try losing it and see how big it gets." Let's be honest, Auburn couldn't lose the Chattanooga game if it spotted the Mocs 40 points. There's a better chance of John Boehner telling Nancy Pelosi, "Why don't you just keep that Speaker thingy" than there is of the Tigers stumbling against the Mocs.
Oregon appears to be in the same boat. Traditionally, Washington is a rivalry game for the Ducks. No one has beaten Oregon more often than the Huskies (58 times in all), but Washington will play without Jake Locker, who has injured ribs. That all but squashes the upset potential in this one.
[+] Enlarge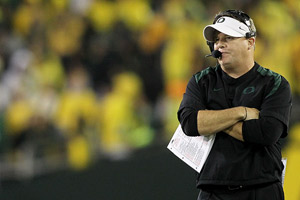 Jonathan Ferrey/Getty ImagesOregon coach Chip Kelly has taken an even-keel approach this season.
Craig James, Jesse Palmer and I were invited to check out one of Chip Kelly's team meetings before the UCLA game. During his talk to the team, Kelly stressed a Ducks mantra. We play "a faceless opponent." Not too high. Not too low. The goal is always to strive to meet Oregon's standard of excellence no matter who it plays.
Kelly said this week, "We have 12 rivalries. We've got to approach everybody the same way. It's simple. It sounds like a cliché, but it's not."
It's simple if you can get your team to do it. From what I could tell in the meeting and from talking to several players, the Ducks aren't talking the talk, they're walking that walk. They've scored at least 42 points in every game. They've won every game by at least 11. As much respect as I have for the direction Steve Sarkisian is taking Washington, this particular "faceless opponent" is likely to take several shots right in the mouth. The Ducks look like a lock to keep that 42 points and 11 point margin of victory streak alive.
Somebody's national title dreams will crash. TCU and Utah meet at Rice-Eccles Stadium where the Utes have won 21 in a row. If you enjoy the vengeance motif, both sides have cause.
The Frogs gigged the Utes 55-28 last year, but a loss to the Utes two years ago in Salt Lake City still sticks in Gary Patterson's craw. And it should. Remember, that's the Utah team that went undefeated and beat Alabama in the Sugar Bowl.
Mark May, Lou Holtz and I called TCU's Poinsettia Bowl victory over Boise State that season. In preparation for the game, I watched the '08 TCU-Utah game a couple of times on DVD in addition to having watched it live. I remember asking Patterson, "How did you guys lose that game?" The pain and frustration was evident then.
This week Patterson said, "I don't think you can come close to expressing in words how the kids felt." The Frogs dominated everywhere except the scoreboard. The Utes had one drive longer than 40 yards in the first 57 minutes of the game. That one didn't even end in points. Utah hung in on the strength of an interception; two devastating, drive-killing sacks that took TCU out of field goal range; a missed connection on a sure-fire touchdown pass; and two shanked field goals inside the 35.
With 2:48 left, Brian Johnson led a virtuoso drive that delivered the game-winning, perfect season-saving TD as the Utes won it, 13-10.
I bring that up not to open old wounds for the Frogs or to diminish Utah's resolve to find a way to win when it didn't play its best. Instead, it underscores how tough it is to beat the Utes at Rice-Eccles under any circumstance.
[+] Enlarge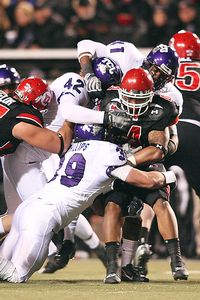 Vladimir Cherry/US PresswireThe last time TCU and Utah met in Salt Lake City, the game was a heartbreaker for the Frogs.
TCU has already passed Boise State in the BCS standings and is gaining steam as the team from a non-AQ conference that could make the strongest case for inclusion in the BCS Championship Game. The Frogs' early-season blowout of Baylor looks better by the week.
But Utah can make its own statement. The Utes are third in the nation in scoring and sixth in scoring defense and total defense. They have the top punt returner in the nation in Shaky Smithson, who averages more than 23 yards per return and has taken two to the house.
The Utes can come from under the radar and burst on to the title talk scene Saturday afternoon. While voters should only consider this season, don't think they won't be reminded that Utah's recent history matches Boise State's with two perfect seasons ending with wins in BCS bowl games.
There are two one-loss teams that could have the greatest impact on the BCS standings during the final month of the regular season. Each deals with its roadblock this week.
The first one is obvious. Alabama starts a gauntlet of three top 20 opponents in its final four regular season games this week at LSU.
As Les Miles said this week, the Tigers defense matches up with Alabama's style of offense much better than it did against Auburn. In other words, don't expect the Tide to roll the LSU defense for 440 yards on the ground the way Cam Newton and Co. did.
This game will feature a great individual matchup. It's one that LSU stud cornerback Patrick Peterson is calling "Julio vs. Peterson: Round 3." Peterson shut down Tide wide receiver Julio Jones for much of last year's game, but when Peterson went to the bench with cramps, Jones took a screen pass 73 yards for the game-deciding touchdown.
As freshmen in 2008, Julio had seven catches for 128 yards including a 24-yard catch over Peterson on the Tide's first play of overtime that set up the game-winning touchdown. Peterson hasn't been shy about expressing his desire for revenge. While Alabama has its hands full with LSU, from a big picture standpoint it would be hard to deny the reigning champs a spot in the national title game should they win out. Two things. First, Alabama has miles to go before they win out. Second, they aren't the only UA in that situation.
Have you locked in on the opportunity in front of Arizona? Like Alabama, the Wildcats could bring chaos to the BCS standings.
It starts for the Cats at Stanford on Saturday. Three weeks later, Mike Stoops takes his team to Oregon on the same day Auburn visits Alabama. The Friday after Thanksgiving could be for more than leftovers in the BCS pecking order.
[+] Enlarge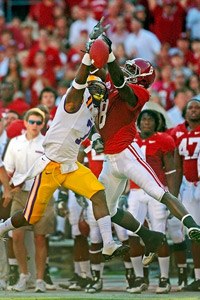 AP Photo/Dave MartinIt's Round 3 between superstars Patrick Peterson and Julio Jones.
I'm not making predictions, but should Arizona win both of those games the Cats would have road wins at Stanford and Oregon and a home victory over Iowa. Among one loss teams, the Cats' resume would be competitive with anyone's, including the Crimson Tide.
Also like Alabama, Arizona would be wise not to dwell on the big picture right now. The Cats have to deal with Andrew Luck and the Cardinal. So much for the notion that Stanford wouldn't be able to run without Toby Gerhart because Stepfan Taylor has five straight 100-yard rushing games. The potent running game makes Luck, the Pac-10's most efficient passer and total offense leader, all the more dangerous.
Stoops isn't tipping his hand as to whether Matt Scott or Nick Foles will start at quarterback. Scott has been huge since Foles went down with a knee injury. Scott is a bigger running threat than Foles and has rushed for 136 yards in his two starts. He's completed 42-of-58 passes for 552 yards and three touchdowns. Both can get the job done. Watching either duel against Luck should be great fun Saturday night.
With a 7-2 record, Mississippi State's resurgence has been one of the great stories of the season. The Bulldogs have the week off, and they need it to mourn the loss of their teammate Nick Bell. As you have probably read, the 20-year-old died this week after a short battle with cancer.
We saw Bell play early this season against Auburn. He started and recorded a couple of tackles in that game, including one on Newton.
He was a fine young man and a great teammate according to so many who knew him well. Coaches often remind players that they never know which play will be their last. That's a reality of the sport. That's a reality of life. When a young man so promising, so joyful is taken so suddenly, that reality is particularly cruel. My prayers and condolences go out to Bell's family and teammates.
Weekend Watch
By Mark Schlabach
ESPN.com
Five things I'll be watching this weekend:
1. South Carolina's home game against Arkansas on Saturday night will have no bearing on the SEC East race. As long as Florida wins at Vanderbilt on Saturday, next week's game between the Gamecocks and Gators in the Swamp will decide which team wins the division and plays in the SEC championship game in Atlanta's Georgia Dome.
But the Gamecocks have never won the SEC East and losing to the Razorbacks might make winning at Florida even more difficult. Arkansas leads the SEC and is No. 2 nationally in passing with 360.3 passing yards. Quarterback Ryan Mallett is coming off one of his best games, throwing for a school record 409 yards with three touchdowns in last week's 49-14 victory over Vanderbilt. South Carolina's secondary has been its Achilles' heel all season, and it'll have to play the Hogs without cornerback Chris Culliver, who will miss the rest of the season with a torn pectoral muscle.
2. Maryland is one of the country's biggest surprises, as the Terrapins are 6-2 and tied with Florida State and NC State in the loss column of the ACC's Atlantic Division going into Saturday's game at Miami. The Terrapins haven't beaten a formidable opponent yet, but last week's 62-14 victory over Wake Forest suggested they might have some say in the ACC race.
Terrapins coach Ralph Friedgen, who came into the season on the hot seat, finally seems to have found a consistent quarterback. Freshman Danny O'Brien has thrown seven touchdowns in his last two games and has 13 touchdowns and three interceptions this season. Miami will play without starting quarterback Jacory Harris (concussion) and leading rusher Damien Berry (undisclosed injury). The Hurricanes threw five interceptions in last week's 24-19 loss at Virginia. The Canes will start freshman Stephen Morris at quarterback.
3. Who knew Baylor's trip to Oklahoma State on Saturday would have such an impact on the Big 12 South race? The No. 21 Bears and No. 17 Cowboys are tied with Oklahoma in the loss column of the Big 12 South standings, and each team would win the division if it wins out.
The Bears, who have finished last or tied for last in the division in 13 of the previous 14 seasons, have won three games in a row and are ranked for the first time since 1993. Behind quarterback Robert Griffin III, Baylor is averaging 34.3 points and 490.4 yards of offense. The Pokes are averaging 45.3 points and 527.3 yards of offense and get back star receiver Justin Blackmon, who missed last week's 24-14 victory at Kansas State after he was arrested for DUI.
4. Oklahoma has struggled in true road games this season, winning 31-29 at Cincinnati and losing 36-27 at Missouri two weeks ago. Now the No. 8 Sooners have to play at Texas A&M, which found a red-hot quarterback on its bench.
The Aggies benched starting quarterback Jerrod Johnson last week, and backup Ryan Tannehill passed for a school record 449 yards with four touchdowns on 36-for-50 passing in a 45-27 victory over Texas Tech. He'll test an Oklahoma defense that is allowing 232.5 passing yards per game, which ranks No. 83 in the country. The Aggies won't have leading rusher Christine Michael, who will miss the rest of the season with a broken right tibia.
5. How will No. 24 Florida State react after fumbling away its chance to take control of the ACC's Atlantic Division in the final minute of last week's 28-24 loss at NC State? The Seminoles have never lost to North Carolina at home, but they'll have to rebound from last week's devastating loss in which quarterback Christian Ponder fumbled at the Wolfpack's four-yard line in the final minute.
The Seminoles, who haven't played in the ACC championship game since 2005, will need some help in winning the division. The Tar Heels' lack of depth from suspensions and injuries finally seems to be catching up with them. They trailed FCS foe William & Mary 17-7 going into the fourth quarter of last week's 21-17 victory.
Viewer's Guide
All times ET
Thursday
7:30 p.m.
Georgia Tech at Virginia Tech (ESPN)
Friday
8 p.m.
UCF at Houston (ESPN2)
Saturday
9 a.m.
: "
College GameDay
" from Salt Lake City (ESPNU)
10 a.m.
: "
College GameDay
" from Salt Lake City (ESPN)
11 a.m.
: "College Football WhipAround" (ESPNU)
Noon
: Illinois at Michigan (ESPN)
NC State at Clemson (ESPN3.com)
Louisville at Syracuse (ESPN3.com)
Maryland at Miami (ESPN3.com)
Air Force at Army (CBS College Sports)
12:30 p.m.
: Baylor at Oklahoma State (FSN)
3:30 p.m.
: TCU at Utah (CBS College Sports)
Alabama at LSU (CBS)
North Carolina at Florida State (
ABC
)
Nebraska at Iowa State (
ABC
)
Northwestern at Penn State (
ABC/ESPN2
)
Washington at Oregon (
ABC/ESPN2
)
Hawaii at Boise State (ESPNU/ESPN3D)
7 p.m.
: Arkansas at South Carolina (ESPN) Oklahoma at Texas A&M (FSN)
8 p.m.
: Arizona at Stanford (
ABC
)
Missouri at Texas Tech (
ABC
)
Texas at Kansas State (ESPN2)
Blog Network: What To Watch
Each week, our bloggers will take a closer look at the storylines you should be watching. What's on tap for Week 10?

As if losing their starting quarterback wasn't enough, Miami will also be without their leading rusher, Damien Berry.
ACC

Texas Tech has reopened the competition between Steven Sheffield and Taylor Potts and hasn't officially announced a starter.
Big 12

Louisville has been surprisingly good against the run, holding Pitt and UConn well below their normal numbers in the rushing game.
Big East

Joe Paterno can become the third college football coach to record 400 career victories, and he can become the first in I-A/FBS history.
Big Ten

Washington would have had no chance at Oregon even with Jake Locker. It will have even less of no chance without him. Right?
Pac-10

Can the Tigers find enough firepower in their passing game to keep Alabama's defense honest?
SEC

You have to love the national spotlight being placed on two teams from non-automatic-qualifying conferences on Saturday.
Non-AQs
Preview: Arkansas-South Carolina
What Scouts Are Watching
Here's a look at five things Scouts Inc. will be watching closely this week.
Hawaii's options against Boise State
Hawaii runs the vast majority of its offense out of the Pistol formation with QB Bryant Moniz in a shallow shotgun and one of a handful of contributing running backs two yards behind him. The Warriors will run a lot of four-wide receiver sets with the Pistol, and there are a couple things to watch out of that formation against Boise State.
To read the rest of this breakdown, plus four others, click here

.
Scouts' Edge: Week 10 Previews
Get in-depth scouting reports of key games as Scouts Inc. breaks down what to watch.

•
Baylor-Oklahoma St.
|
Arkansas-South Carolina
•
Arizona-Stanford
|
Hawaii-Boise State
•
Alabama-LSU
|
TCU-Utah
|
Scouts' home
Fantasy College Football
By ESPN Fantasy
Check out College Football Challenge, our new fantasy game. Each week, our fantasy gurus will provide players or units that should be on Challenge owners' radar screens.
Kiper/McShay: Best Non-AQ