Now is the time for South Carolina
One time. It was 1969. Just months after a man had walked on the moon and more than half a million probably felt some similar type of weightlessness at Woodstock.
In Columbia, S.C., the euphoria was over an ACC championship. It's the only football championship the Gamecocks have ever won. Granted, they were an independent for a number of years, but South Carolina didn't win a bowl game until 1995 and has never finished in the top ten. Let that sink in. Never.
They haven't played 400 years yet, Lee Corso, but the 117 seasons of Gamecock football have been decidedly lukewarm. On Saturday, that could change. South Carolina will be in The Swamp to take on Florida for the SEC East crown.
[+] Enlarge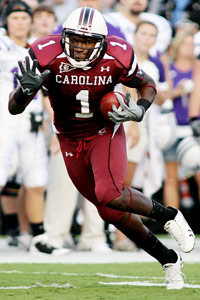 Jeremy Brevard/Icon SMIAlshon Jeffery and South Carolina are on the verge of history.
It is completely poetic that the Gamecocks have to win to be a winning program. At this moment, South Carolina is one game over .500 in its entire football history. A loss in Gainesville, where the Gamecocks are 0-12, means -- to borrow Steve Spurrier's phrase -- "same old South Carolina" and an all-time record of 540-540-44.
The Gamecocks have not handled success well this season. Rather than using their upset of then-No. 1 Alabama as a springboard, they've played more as if it were a plateau.
South Carolina is 2-2 since, with its two wins coming against Vanderbilt and Tennessee, which have combined for one SEC win. Both of those teams pushed the Gamecocks into the fourth quarter. Last week's performance against Arkansas was hardly championship-worthy.
Florida, on the other hand, seems to have figured things out. Chris Rainey's return has given the Gators a lift. It bears noting that Florida's improvement has come against Vanderbilt and Georgia, so we'll know what type of strides the Gators have made after this game.
Either team is capable of upsetting Auburn (assuming the overwhelming likelihood that the Tigers win the SEC West) in the SEC championship game.
For many years, the SEC West had the rap of being the weaker overall division. I don't think it's a stretch at all to say that five of the six SEC West teams are better than anyone in the East this season.
Still, there's a championship to be won. One that South Carolina covets and desperately needs. For Florida, there's always "wait 'til next year." The Gators never stray far from national contention.
There will be no better chance than this one for South Carolina. Could the Gamecocks win it another year? Sure; anything is possible. But what will the perception of the program be, how devastating a shot to morale, if the Gamecocks can't win the division in a year when Florida lost three conference games and Tennessee hasn't won one?
The Gamecocks blew a two-touchdown lead at Auburn and an 18-point lead at Kentucky, or they'd already have their ticket to the SEC title game in Atlanta punched. One more chance. It might not be their last chance ever. But it's certainly their best one to upgrade the perception of the program from also-ran to champion, at least of their division.
The SEC championship game could be completely set by Saturday night if Auburn beats Georgia.
The Tigers are in a maelstrom of off-the-field issues surrounding Heisman front-runner Cam Newton. Their on-the-field issue is snapping the Dawgs' four-game winning streak in the rivalry.
[+] Enlarge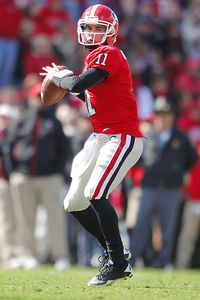 Todd Kirkland/Icon SMIAaron Murray and Georgia's offense could pose problems for Auburn.
Auburn has handled the pressure of its lofty ranking beautifully. Players are acknowledging what's at stake. "These are the two most important games [Georgia and Alabama] of any career that you play at Auburn," Mario Fannin said.
Defensive end Antoine Carter added "It will make or break us."
Georgia's A.J. Green, with improving young quarterback Aaron Murray, could give the SEC's 11th-ranked pass defense problems. But Auburn has had that issue before. Newton simply outscores whoever is in his path.
The Bulldogs' defense has been good. Georgia very quietly ranks 15th in total defense and 13th in rush defense. But it hasn't seen a weapon like Newton.
Georgia gave up more than 200 yards rushing to Florida. Trey Burton had more than 100 yards running part time from the quarterback position. That doesn't bode well for dealing with Auburn's full-time running threat at quarterback. I wouldn't be surprised to see yet another shootout on the Plains.
The Big Ten is far more complicated. Four teams still have just one conference loss.
Michigan State will take its bye this weekend and hope for some carnage.
Wisconsin faces Indiana in Madison. You have to wonder if the Hoosiers' spirit slipped to the ground as the ball slipped through Damarlo Belcher's fingers in the end zone against Iowa last week. The Badgers' running backs are a little banged up, but James White could return this week.
Ohio State faces Penn State. Joe Paterno has victory No. 400 but isn't dwelling on it. "I'm hoping to get to 401, for crying out loud," he said.
Quarterback Matthew McGloin will get the start against the Buckeyes. He's given the Nittany Lions offense a spark. They'll need it against one of the stingiest defenses in the nation. Ohio State is in the top four in rush defense, pass defense, pass efficiency defense, total defense and scoring defense.
The Buckeyes have to be agonizing over what one bad night in Madison could cost them: a chance at the national championship, a Rose Bowl bid and maybe a Heisman Trophy. Terrelle Pryor is putting together a sensational season that would be getting far more attention if the Buckeyes were still No. 1 in the polls.
To be fair, Wisconsin is probably agonizing over what one tough afternoon in East Lansing cost it.
[+] Enlarge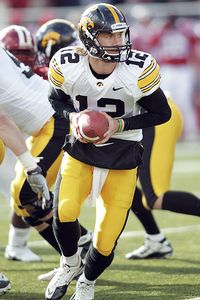 AJ Mast/Icon SMIRicky Stanzi will be seeking revenge after last season's loss to Northwestern.
Iowa might be in the most danger of the one-loss Big Ten crowd. Northwestern has had the Hawkeyes' number. Pat Fitzgerald's team has knocked off Iowa in four of the past five meetings.
Last year the Wildcats handed Iowa its first loss and knocked out quarterback Ricky Stanzi. Iowa hasn't scored in the second half against Northwestern since 2007.
The bright spot for Kirk Ferentz might be that it's a road game. Iowa's only win in the past five meetings came in Evanston. Northwestern let a three-touchdown lead get away at Penn State last week, but typically, the Cats are a resilient bunch.
Remember in the preseason, the Hawkeyes thought they had a three-headed monster at running back. Jewel Hampton got hurt. Brandon Wegher had personal issues. Adam Robinson is dinged up and suddenly the monster had no head at all. In stepped freshman Marcus Coker against Indiana. He bulled his way for 129 yards and the Hawkeyes escaped Bloomington with their Big Ten dreams intact. Getting out of Evanston might prove to be just as tricky.
Oklahoma State could take a giant step toward the Big 12 title game by beating Texas. I had ESPN Stats & Info try to find the last time a team played for the national championship one year and then didn't make a bowl the next. It hasn't come close to happening in the BCS era. The researchers decided it was an exercise in futility once they got more than three decades back and there were often multiple bowls that figured in the national title outcome.
You don't need research and history to tell you it's bad in Austin. A loss to the Cowboys would mean that Texas A&M would come to town Thanksgiving night trying to keep the Longhorns home for the holidays.
As surprising as Texas' free fall has been, the Cowboys' rise has been just as unexpected. They are putting up video-game numbers on offense. The quarterback, 26-year-old former Yankees farmhand Brandon Weeden, is 12th in passing efficiency and fourth in the nation in total offense. Justin Blackmon is a straight beast. He's averaging nearly 161 yards per game receiving. Kendall Hunter is the nation's third-leading rusher.
It's hard to imagine a Horns team that hasn't scored more than 24 points since the second week of September being able to keep up Saturday. Think about this: Texas hasn't scored more than 34 points in a game all season. Oklahoma State has been held under 34 once. But Texas did somehow beat Nebraska. By the way, add Nebraska to that list of teams agonizing over what could have been if not for one bad day.
Will South Carolina's day finally come? What sort of clarity, if any, will we have in the Big Ten? Will the ACC Wheel of Destiny spin off its axis? Join Mark May, Lou Holtz and me on "College Football Final" late Saturday night around 2:30 a.m. ET.
Weekend Watch
By Mark Schlabach
ESPN.com
I'll be keeping an eye on five teams that are desperately trying to qualify for a bowl game:
1. Notre Dame
The Fighting Irish are coming off consecutive losses to Navy and Tulsa and will play No. 14 Utah at Notre Dame Stadium on Saturday without starting quarterback Dayne Crist and tailback Armando Allen Jr. Freshman quarterback Tommy Rees, who threw for 334 yards with four touchdowns and three interceptions in a 28-27 loss to the Golden Hurricane, makes his first start.
With a 4-5 record, the Irish have to win two of their last three games to get to 6-6. After playing Utah, which was exposed in last week's 47-7 loss to TCU, Notre Dame plays Army and closes the regular season at Southern California.
2. Ole Miss
The Rebels (4-5) have lost three of their past four games heading into Saturday's game at Tennessee and will have to win two of their last three games to go bowling. Ole Miss quarterback Jeremiah Masoli suffered a concussion last week, and his status is uncertain. The Rebels can't afford to lose to the Volunteers, with upcoming games at No. 5 LSU and against No. 19 Mississippi State at home in the Egg Bowl looming large.
Even with a 3-6 record, Tennessee might actually have a chance to make the postseason in coach Derek Dooley's first season. After hosting Ole Miss, the Vols play at woebegone Vanderbilt and then host Kentucky, which has lost to UT in 25 consecutive seasons. Three straight victories would earn the Vols an unlikely bowl invitation.
3. BYU
The Cougars opened the season by losing four of their first five games, but they've won three of four games to climb back into the bowl picture with a 4-5 record. They play at Colorado State on Saturday, before hosting New Mexico and playing at Utah in the regular-season finale. Freshman quarterback Jake Heaps has thrown three touchdowns with only one interception in his past two games.
4. Oregon State
The Beavers, who have lost two of their past three games to fall to 4-4, are among a handful of Pac-10 teams trying to get to 6-6 or better to play in the postseason. They host Washington State on Saturday and USC next week, before finishing the regular season with a road game at No. 6 Stanford and a home game against No. 1 Oregon in the Civil War.
Arizona State (4-5) hosts No. 6 Stanford on Saturday and UCLA next week before finishing the regular season at No. 18 Arizona. California (5-4) gets to play three straight home games -- against No. 1 Oregon, No. 6 Stanford and Washington -- and has to win one to get to 6-6. UCLA (4-5) plays at Washington next Thursday and then at Arizona State, before hosting Southern California in its finale.
5. Georgia Tech
The defending ACC champions will have to play their last three regular-season games without starting quarterback Josh Nesbitt, who broke his right forearm in last week's 28-21 loss at Virginia Tech, and will have to win one of them to go bowling. Freshman Tevin Washington will make his first start in Saturday's home game against Miami. The Yellow Jackets (5-4) host Duke next week and then close the regular season at rival Georgia.
Viewer's Guide
All times ET
Thursday
7:30 p.m.
Pitt at UConn (ESPN)
Friday
9 p.m.
Boise State at Idaho (ESPN2/ESPN3D)
Saturday
9 a.m.
: "
College GameDay
" from Columbus, Ohio (ESPNU)
10 a.m.
: "
College GameDay
" from Columbus, Ohio (ESPN)
11 a.m.
: "College Football WhipAround" (ESPNU)
Noon
: Iowa at Northwestern (ESPN)
Miami at Georgia Tech (ESPN3.com)
Southern Miss at UCF (CBS College Sports)
12:30 p.m.
: Kansas State at Missouri (FSN)
3:30 p.m.
: Georgia at Auburn (CBS)
Virginia Tech at North Carolina (
ABC/ESPN
)
Penn State at Ohio State (
ABC/ESPN
)
Texas Tech at Oklahoma (
ABC
)
4 p.m.
: San Diego State at TCU (Versus)
7 p.m.
: UTEP at Arkansas (ESPNU)
Texas A&M at Baylor (FSN)
7:15 p.m.
: South Carolina at Florida (ESPN)
Mississippi State at Alabama (ESPN2)
7:30 p.m.
: Oregon at Cal (Versus)
8 p.m.
: USC at Arizona (
ABC
)
Clemson at Florida State (
ABC
)
Oklahoma State at Texas (
ABC
)
10:30 p.m.
: Nevada at Fresno State (ESPN)
Preview: Penn State-Ohio State
Blog Network: What To Watch
Each week, our bloggers will take a closer look at the storylines you should be watching. What's on tap for Week 11?

Clemson at Florida State will feature two of the ACC's top pass-rushers in Clemson's Da'Quan Bowers and FSU's Brandon Jenkins.
ACC

What can we expect from Colorado under interim coach Brian Cabral? We'll get a good idea after the ISU game.
Big 12

Not a single Big East team has qualified for a bowl yet, but that will change this week.
Big East

There's no time for Illinois to wallow in what might have been last week at the Big House.
Big Ten

The loss at UCLA hit Oregon State hard. Suddenly, a team that was in the Rose Bowl race is now fretting about earning bowl eligibility.
Pac-10

Auburn can clinch the West Division title and its first trip to the SEC championship game since 2004 by taking care of Georgia.
SEC

Now that TCU has passed Boise State in the human polls, the race is on to see whether the Horned Frogs can stay there.
Non-AQs

True freshman Tommy Rees will make his first career start, coming off a four-TD, three-INT performance against Tulsa.
Non-AQs
The Experts: TCU or Boise?
What Scouts Are Watching
Here's a look at five things Scouts Inc. will be watching closely this week.
Auburn's dilemma against A.J. Green
It won't surprise us to see the Bulldogs give the Tigers a fight to the very end. One of the biggest factors, of course, will be Georgia WR A.J. Green
Green is the most talented wide receiver in the nation and the best pro prospect at his position since Calvin Johnson came out of Georgia Tech in 2007, and there are two things that separate him from everyone else.
To read the rest of this breakdown, plus four others, click here

.
Scouts' Edge: Week 11 Previews
Get in-depth scouting reports of key games as Scouts Inc. breaks down what to watch.

• Georgia-Auburn | Virginia Tech-UNC
• Penn St.-Ohio St. | A&M-Baylor | Scouts' home