Time is running short for some
With the Cam Newton saga still unfolding, Boise State and TCU playing leapfrog in the BCS standings and the Big Ten in a logjam, perhaps you didn't notice: We will know who will play for the national championship two weeks from Sunday night. Three weekends of football are all that's left in the regular season. It's amazing.
Time is running short. Nowhere is it running shorter than at TCU, where the Frogs are about to close out another perfect regular season. TCU, which already has 11 wins for the fifth time in the past six years, has a bye this week and will finish with a virtual bye against lowly New Mexico next week.
Although TCU is about to go out of sight, out of mind, Boise State likely will step into the forefront. The Broncos can make their case on a national stage the next two weeks, most notably against Nevada the day after Thanksgiving.
The national championship game is the ultimate dream for both TCU and Boise State, but since when is going to the Rose Bowl considered a snub? BCS rules would put one of those two teams in Pasadena this season, assuming that Oregon, the likely Pac-10 champion, plays for the national title.
Lurking and hoping for some upsets among the four undefeated teams are one-loss teams. Only eight teams have stumbled once, and half of them face tricky road tests Saturday.
It's no secret that Ohio State has its work cut out for it in Iowa City. The Hawkeyes have to be spitting nails after what has become their customary meltdown against Northwestern. Last week's loss probably knocked Iowa out of a chance to share the Big Ten title. I know it's a silly thing to say, but Iowa is easily the best three-loss team in the country. The Hawkeyes are an elite team with a less-than-elite record.
[+] Enlarge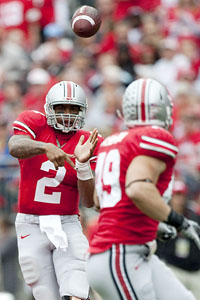 Greg Bartram/US PresswireTerrelle Pryor and Ohio State need to come out of the gate strong vs. Iowa.
The Buckeyes tend to hit the snooze button early in games. Ohio State has been tied (not counting 0-0) or trailed in all three of its road games this season. The Bucks didn't awaken at home last week until Penn State took a 14-3 lead to halftime. To their credit, though, they smashed the Nittany Lions 35-0 in the second half.
The Buckeyes fell into a 21-3 pit at Wisconsin, and it cost them. It'll cost them again if they start that slowly at Kinnick Stadium.
Iowa managed only 35 points in its past two games against Indiana and Northwestern. Both of those games were on the road. At home, however, Iowa is averaging a little more than 30 points per game against conference opponents. That's despite having the toughest home conference schedule in the league. Penn State, Wisconsin and Michigan State have all visited the pink locker rooms. Now the Buckeyes come calling.
It's frustrating that Iowa won't turn an advantageous home schedule into a title-winning season. The minuscule bit of hope that's left for a share of the conference crown totally depends on derailing Terrelle Pryor and the Buckeyes. It also will be the difference between a good season with a few near misses and a mediocre season.
Fresh off hanging just as many points on Indiana as its basketball team did last season, Wisconsin rolls into the Big House to take on Michigan. Fortunately for Michigan, Wolverines senior cornerback James Rogers said, "I guarantee they're not going to score 83 points on us." Unfortunately, Michigan fans might not believe him.
At times this season, calling the Michigan defense a sieve has been an insult to sieves everywhere. Sieves at least slow the flow.
To accomplish the worthy goal of keeping Wisconsin under 83, Michigan had better keep the Badgers out of the red zone. Wisconsin, with its power running attack, leads the nation in scoring touchdowns 81 percent of the time when it gets inside the 20-yard line. The Badgers are even better against Big Ten opponents, punching the ball into the end zone 25 times in 28 red zone trips. That's a cool 89 percent.
Michigan ranks 93rd in the country in red zone touchdown defense, allowing opponents to score touchdowns 67.5 percent of the time. Among Big Ten teams, only woeful Minnesota has allowed more trips to the red zone than the 40 surrendered by Michigan.
Yet, why do I get the feeling that Michigan has more than a puncher's chance? First, defensive players say they've accepted the challenge to make sure the season doesn't end with a whimper the way the past two seasons did. The Wolverines played well against Purdue. They say they're having fun and gaining swagger.
Rather than swagger, they'd better get ready to run through the ball, not to the ball -- one step wrap, two steps squeeze, bring your feet ($1 to Chris Spielman) -- if they plan to be more than a bug on the windshield of the Badgers' running game.
[+] Enlarge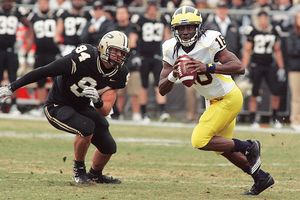 Michael Heinz/US PresswireMichigan quarterback Denard Robinson could pose a problem for Wisconsin's defense.
Wisconsin been strong against the run, but it has faced only one quarterback, Pryor, who approximates the threat that Denard Robinson poses as a runner. Pryor ran for only 56 yards and was sacked three times in the Badgers' win over Ohio State. A closer look at the stats shows Pryor gained 94 yards rushing but had 38 yards in losses.
Based on Michigan's bigger commitment to run the quarterback, you'd figure those sacks and tackles for loss would be harder to come by against Robinson. Plus, Wolverines coach Rich Rodriguez hasn't really had a signature win at Michigan.
The road has been rough on Big Ten teams this season. Wisconsin has the inside track to the Rose Bowl, but holding position might not be as easy as the stats make it look.
Over in the Big 12, the more Texas slides, the more you wonder how in the world it beat Nebraska. It's the only loss the Cornhuskers have suffered. Another huge test from a Lone Star State team will come Saturday at Kyle Field, where Nebraska will take on a rejuvenated Texas A&M team.
People say that a quarterback gets too much blame and too much credit. Sometimes he earns the credit.
The Aggies are a different team since Ryan Tannehill took over at quarterback. Tannehill waited patiently behind Jerrod Johnson most of the past three years. He played some receiver and can catch punts. Aggies coach Mike Sherman told us earlier in the season that Tannehill would be an outstanding quarterback at some point. He just expected that point to come after Johnson left College Station.
Johnson is the Aggies' all-time leader in total offense with 8,888 yards. But the senior struggled with turnovers and could not find his rhythm this season.
Tannehill hit the field in rhythm and got the Aggies into a groove. Since taking over midway through the Kansas game four weeks ago, Tannehill has thrown for more than 1,100 yards, 10 touchdowns and only three interceptions. He threw for 449 yards against Texas Tech, his childhood favorite and the team for which his dad played receiver.
It's not just Tannehill who has the Aggies on a roll. A week after turning in three goal-line stands against Oklahoma, Texas A&M kept Baylor's Robert Griffin pretty much under wraps. Nebraska quarterback Taylor Martinez poses an even bigger running threat and is said to be looking much healthier after dealing with an ankle sprain the past couple of weeks. The Huskers will need his big-play capability to stay among the one-loss teams.
The ACC wheel of destiny could clinch Virginia Tech a spot in the conference championship game if the Hokies can beat Miami. We'll also keep an eye on Florida State and Maryland in the wacky ACC Atlantic race. By the way, Ralph Friedgen has done a job worthy of ACC coach of the year consideration to have the Terps sitting pretty in the race.
Although there is no obvious blockbuster game on the schedule, it seems that's when things go craziest. Join Mark May, Lou Holtz and me for "College Football Final" on Saturday around midnight ET.
Weekend watch
By Mark Schlabach
ESPN.com
Five things I'll be watching in college football this weekend:
1. Can Appalachian State do it again against Florida at The Swamp on Saturday?
The Mountaineers are 9-1, were ranked No. 1 in the country among FCS schools earlier this season and won the Southern Conference championship for the sixth season in a row. Appalachian State is led by quarterback DeAndre Presley, who looks a lot like Armanti Edwards, who led the Mountaineers to their stunning 34-32 upset of Michigan in the 2007 opener.
Presley, a junior from Tampa, is completing 62.7 percent of his passes for 2,066 yards with 17 touchdowns and four interceptions. He also is the team's leading rusher with 72.7 yards per game and 11 touchdowns.
The Gators might be reeling after a 36-14 loss to South Carolina last week, which was their third straight defeat at home and cost them a trip to the Dec. 4 SEC championship game in Atlanta's Georgia Dome.
2. Which Pac-10 teams will take a step toward going bowling?
The Pac-10 currently has only three bowl-eligible teams with three weeks left in the regular season. No. 1 Oregon, No. 6 Stanford and No. 22 Arizona have won enough games to go bowling, but California still needs one more win, and Oregon State and UCLA still need two more victories.
Even though the Pac-10 might end up with only four bowl-eligible teams, it could still place two of them in lucrative BCS bowl games. If Oregon plays either Boise State or TCU in the BCS National Championship Game, there's a good chance Stanford would be selected to play the Big Ten champion in the Rose Bowl, as long as the Cardinal finish 11-1.
3. Will Stephen Morris make Miami coach Randy Shannon's job even tougher?
Morris, a freshman, has played remarkably well while filling in for injured starting quarterback Jacory Harris, who is expected to miss his third straight game when the Hurricanes host Virginia Tech on Saturday.
Harris returned to practice for the first time since suffering a concussion at Virginia on Oct. 30, but his availability against Virginia Tech is still in question. Morris has led the Hurricanes to back-to-back wins, throwing for more than 200 yards in each of his first two starts. Harris has thrown for 1,646 yards with 14 touchdowns and 11 interceptions in eight games, but Shannon might opt to stick with the hot hand down the stretch.
4. Can Tennessee continue its late run toward a bowl game?
The Volunteers have won back-to-back games against Memphis and Ole Miss to improve their record to 4-6, and they'll have to beat Vanderbilt on the road on Saturday and Kentucky at home next week to go bowling. Freshman quarterback Tyler Bray has sparked life into Tennessee's offense, and the Volunteers have manhandled the Commodores and Wildcats, who have lost 25 games in a row against UT.
5. Can Illinois rebound?
Illinois has backed itself into a corner after losing consecutive games to Michigan and Minnesota, and it has a 5-5 record with two games to go. The Illini will play Northwestern at Wrigley Field on Saturday, the first football game played at the Friendly Confines since the Chicago Bears moved out after the 1970 NFL season.
Illinois will play at Fresno State in its regular-season finale, so it might need to beat the Wildcats, who won't have their starting quarterback. Dan Persa will miss the rest of the season after tearing his Achilles tendon in last week's upset of Iowa.
Viewer's guide
All times ET
Thursday
7:30 p.m.
Georgia State at Alabama (ESPNU)
Friday
9:30 p.m.
Fresno State at Boise State (ESPN2)
Saturday
9 a.m.
: "
College GameDay
" from Chicago (ESPNU)
10 a.m.
: "
College GameDay
" from Chicago (ESPN)
11 a.m.
: "College Football WhipAround" (ESPNU)
Noon
: Wisconsin at Michigan (ESPN)
Pitt at South Florida (ESPN2)
NC State at North Carolina (ESPN3.com)
12:21 p.m.
: Troy at South Carolina (ESPN3.com)
3:30 p.m.
: Ohio State at Iowa (ABC)
Virginia Tech at Miami (ESPN)
Stanford at Cal (FSN)
Illinois at Northwestern (ESPNU)
7 p.m.
: Arkansas at Mississippi State (ESPN)
Army vs. Notre Dame (NBC)
UConn at Syracuse (ESPNU)
7:15 p.m.
: South Carolina at Florida (ESPN)
Mississippi State at Alabama (ESPN2)
8 p.m.
: Nebraska at Texas A&M (
ABC
)
Florida State at Maryland (
ABC
)
Oklahoma at Baylor (ESPN2)
10 p.m.
: Utah at San Diego State (The Mtn.)
Preview: Nebraska-Texas A&M
Blog Network: What to watch
Each week, our bloggers will take a closer look at the storylines you should be watching. What's on tap for Week 12?

The most important and most obvious thing to watch this week is the ACC standings, and somebody will be eliminated.
ACC

The buildup in College Station this week for the Aggies' game against Nebraska on Saturday night at Kyle Field has been pretty palpable all week.
Big 12

Five teams truly appear to be in the Big East race heading into the weekend. By Saturday night, we could be down to as few as two true contenders.
Big East

Don't adjust your TVs. Football is back at Wrigley Field for the first time in 40 years, and Northwestern and Illinois play the first college game at Clark & Addison since 1938.
Big Ten

In big games, you often get special performances out of nowhere. Can Cal's Brock Mansion be next?
Pac-10

Who says the SEC is a defensive league? The scoring is up considerably this season, led by Auburn.
SEC

As the only undefeated team playing this weekend, Boise State has a big chance to make a big impression.
Non-AQs

The story of the game is whether the Irish can defend the triple option any better than they did against Navy.
Irish
What scouts are watching
Here's a look at five things Scouts Inc. will be watching closely this week.
Pryor holds the key
The outcome of Ohio State's trip to Iowa will depend in part on how well the Buckeyes' coaching staff and QB Terrelle Pryor anticipate the Hawkeyes' pass rush rather than reacting to it.
The Ohio State offensive line struggled against tough defensive lines from Wisconsin and Illinois, and with Iowa bringing Adrian Clayborn, Christian Ballard and Karl Klug to the party Pryor could be facing pressure much of the day.
To read the rest of this breakdown, plus four others, click here

.
Scouts' Edge: Week 12 previews
Get in-depth scouting reports of key games as Scouts Inc. breaks down what to watch.

• Nebraska-Texas A&M | Wisconsin-Michigan
• Fresno State-Boise State | Virginia Tech-Miami
• Ohio St.-Iowa | Stanford-Cal | Scouts home