Friday's loaded menu
Black Friday. It's a day for leftovers from the previous day's Thanksgiving feast and door-busting specials for the latest coveted holiday presents. This is your lucky Black Friday. You won't have to fight anyone for the last GI Joe with a kung-fu grip or whatever is hot this year. And no leftovers. Friday's college football menu is loaded with main courses so delectable they'd make an Iron Chef drool. Or at least a chef with a taste for what he cooks up in an Iron Bowl.
The ingredients for an epic showdown are in place for the Auburn-Alabama clash. It's easily the Tigers' biggest road test of the season as they head in to face the team they hope to succeed as national champions, archrival Alabama.
[+] Enlarge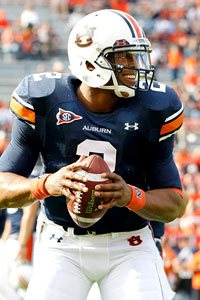 Kevin C. Cox/Getty ImagesThe Alabama defense hasn't faced a threat like Cam Newton this season.
First of all, if anyone tells you to drag the record books to the recycle bin when these two play, be warned: That's probably a waste of a good file. Typically, the team that has the most to gain wins this rivalry game. Jon Solomon of the Birmingham News included this nugget in a recent article: Since 1948, when the records of the two teams are separated by two games or more, the team with the better record is 35-7. Auburn has 11 wins; Alabama has nine.
As the team with the worse record, Auburn won in 1989, and there are some parallels to this year's matchup. In 1989, Alabama was undefeated and ranked second, and it rolled into the Iron Bowl with an innovative, high-powered offense but some holes on defense. Meanwhile, a couple of tough road losses to Tennessee and Florida State had knocked the Tigers out of the national championship race. Buoyed by the home crowd, Auburn turned back the Tide 30-20.
This year, however, Cam Newton's unique ability probably makes any comparison purely coincidental.
The Tide's defense is outstanding statistically. It leads the SEC in scoring defense and has allowed only two offensive touchdowns at Bryant-Denny Stadium this season. However, it hasn't dealt with a threat like Newton.
Make no mistake: Although this defense is very good, it's not the same type of dominant unit that helped the Tide win the national championship last season. They've been more vulnerable to occasional busts and big plays, and in losses to South Carolina and LSU, they couldn't get off the field in key third-down situations. That's not the formula for success against Newton and the Tigers.
Auburn is second in the nation with 36 plays of 30 yards or longer. The Tigers convert better than 53 percent of their third downs, good for third in the nation. The Gus Malzahn-orchestrated, Newton-fueled attack has averaged nearly 40 points in seven SEC games.
Alabama's hopes of knocking off Auburn probably hinge on its own offense. The reigning Heisman winner, Mark Ingram, and his running mate Trent Richardson have to power a more productive rushing game than the Tide have had recently to keep Newton's possessions to a minimum. Greg McElroy and Julio Jones will need to take advantage of Auburn's suspect secondary and hit a few big plays. Whether they can do those things is probably contingent on the Tide's offensive line handling the SEC leader in tackles for loss, DT Nick Fairley.
My colleague Kirk Herbstreit deserves major props for picking Auburn to win the SEC West in the preseason. I suspect part of Herbie's reasoning was a favorable road schedule for the Tigers. This crowd will be larger and far more hostile than those encountered in trips to Mississippi State, Ole Miss and Kentucky. The Tigers have hurdled distractions, deficits and deficiencies in the secondary this season. The major road test is the lone remaining question.
Similarly, Boise State will face its toughest true road test Friday. The Broncos go to Reno to face once-beaten Nevada in a clash that's far more than a side dish.
The question for Boise State isn't whether it can win the game. When you've lost exactly four WAC games in 10 years in the conference, you know you can win. The real question is how impressive the Broncos have to be.
[+] Enlarge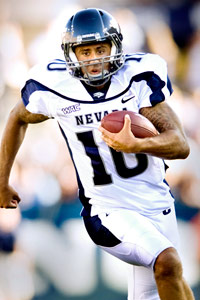 Douglas C. Pizac/US PresswireHow will the Boise State defense deal with the running ability of Nevada QB Colin Kaepernick?
Boise State needs to win, be impressive enough to pass TCU in the BCS standings and potentially impressive enough to hold off a once-beaten team from a major conference should Oregon or Auburn lose.
This Nevada team is explosive. Corralling Colin Kaepernick is at least in the same realm as dealing with Cam Newton or Michigan's Denard Robinson.
Nevada is fourth in the nation in rushing, while Boise State leads the nation in rush defense. Before you dismiss that totally as being against WAC competition, consider that the Broncos held Virginia Tech's Ryan Williams to 40 yards on 20 carries and the Hokies to 128 yards on Labor Day. The Hokies have gone on to average well more than 200 yards per game, ranking 19th in the nation.
Tyrod Taylor did have some success running in the Labor Day game. That could bode well for Kaepernick, who ranks fourth in the nation with five runs of 40 yards or longer. Among quarterbacks, only Nebraska's Taylor Martinez (seven) has more.
Boise State coach Chris Petersen won't need stats to make him a believer in Kaepernick. Three years ago, Nevada nearly beat Boise State on the blue turf, but the Broncos survived 69-67 in quadruple overtime. In that game, the freshman Kaepernick threw for 243 yards and three touchdowns while running for 177 and two more scores.
The Pack fell behind by two touchdowns early in that game. In fact, that's happened in the past three meetings. This Boise State defense isn't prone to allowing comebacks, and playing catch-up isn't exactly the Pack's strong suit, even though their pistol offense isn't entirely one-dimensional. Kaepernick has thrown for more than 2,400 yards and 19 touchdowns, and Vai Taua is the nation's seventh-leading rusher, averaging more than 124 yards per game.
As good as Nevada is, a win over the Wolf Pack won't be enough to bolster Boise State's résumé to the point where it would be worthy to play the national championship game. I believe this is a purely subjective decision. If the eyeball test tells you the Broncos are good enough to play for the title, fine. But even a win over a good Nevada team won't let them pass the "whom did you play?" and "whom did you beat?" tests. I do think Nevada is good enough that the style-points standard for Boise State should be relaxed this week.
[+] Enlarge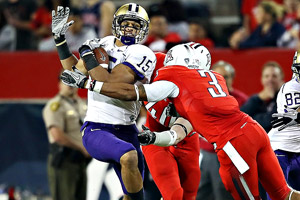 Christian Petersen/Getty ImagesWill Arizona take a page out of Cal's playbook and slow down Oregon?
Oregon has had a week off; so has Arizona. The Wildcats are playing up their role as underdogs.
Everyone has wondered whether Cal provided the blueprint for slowing down the Ducks' offense on Nov. 13. The Bears loaded the box and played a lot of press man coverage in that game. Oregon's passing attack made too many mistakes, and as a result, the Bears stayed close. Some of the Ducks' problems against Cal seemed self-inflicted.
The Cats have the nation's 12th-best scoring defense. Watch to see whether they employ any of the tactics Cal used so effectively. Also, check the health of LaMichael James. The nation's leading rusher banged up his left knee and had a boot on his foot after the Cal game. He rehabbed a couple of times a day during the bye week and says he'll be ready to go.
Three weeks ago in this space, I touted Arizona as a team having a golden opportunity to move to the top of the heap among once-beaten clubs. I didn't predict it would happen; I just said the chance was there. The Cats proceeded to get destroyed by Stanford and nipped by USC. Zona is now just a spoiler, but it's a dangerous one. Mike Stoops' team ruined Oregon's title hopes in 2007, obviously aided by the unfortunate injury to QB Dennis Dixon. The Wildcats would love to avoid going 0-for-November and in the process spoil the Ducks' chances at a title again.
Black Friday was given its name because it started the shopping season that retailers believe was crucial for finishing the year with profits -- in the black. For Oregon, Auburn and Boise State, their national-championship balance sheet is dependent on finishing in the black Friday. Forget the leftovers; gorge yourself on this fresh feast of games.
Weekend watch
By Mark Schlabach
ESPN.com
Five things I'll be watching this weekend:
1. Can Oklahoma State finally beat Oklahoma in the Bedlam game?
It's one of the most lopsided series in the country, with the Sooners owning an 80-24 record over their in-state rivals. For only the fourth time in history, the No. 9 Cowboys enter the game as the higher-ranked team. The Pokes can win the Big 12 South if they defeat the No. 13 Sooners for the first time in the past eight tries. Oklahoma can earn a share of the Big 12 South title -- and probably punch its ticket to next week's Big 12 championship game -- by beating the Cowboys in Stillwater, Okla.
2. Will Jimbo Fisher end FSU's drought against Florida?
The Seminoles are hoping Maryland upsets NC State on Saturday, because that would put FSU into the ACC championship game. But the Seminoles would really like to end a six-game losing streak against Florida, which is 14-1 in rivalry games (versus Georgia, Florida State, Tennessee) under coach Urban Meyer. The Gators have clobbered FSU in the past five years, winning four games by 27 points or more. Fisher can take a big step out of Bobby Bowden's shadow by ending the Seminoles' drought against Florida in his first season.
3. Will LSU survive its trip to Arkansas?
The No. 5 Tigers can't afford a loss to No. 12 Arkansas if they're going to stay in the hunt for a BCS at-large bid. The series has been one of the most competitive in the country in the past few years, with each of the past five games being decided by five points or fewer and two of the past three ending in overtime. Arkansas, which has won five games in a row, might pass the Tigers in the SEC's bowl pecking order if it beats LSU for the third time in four seasons.
4. Can Michigan's defense slow down Ohio State?
Then again, can the Wolverines slow down anyone? Michigan goes into Saturday's game at Ohio State ranked 92nd or worse among FBS teams in every defensive statistic. Michigan ranks 92nd in rush defense (181.3 yards per game), 99th in scoring defense (33.6 points), 111th in pass defense (263.9 yards) and 112th in total defense (445.2 yards). That's not a good recipe for ending a six-game losing streak against the Buckeyes, who have scored 38 points or more in three of their past four games.
5. Which traditional powers will become bowl-eligible?
A handful of high-profile teams have to win games on Saturday to go bowling. Georgia (5-6) will host Georgia Tech at Sanford Stadium. Tennessee (5-6) has to beat Kentucky for the 26th straight time to finish .500. California (5-6) has to beat Washington at home to qualify for a bowl game.
Viewer's guide
All times ET
Thursday
8 p.m.
Texas A&M at Texas (ESPN)
Friday
Noon
: West Virginia at Pitt (ABC)
2:30 p.m.
: Auburn at Alabama (CBS)
7 p.m.
: Arizona at Oregon (ESPN)
10:15 p.m.
: Boise State at Nevada (ESPN)
Saturday
9 a.m.
: "
College GameDay
" from Stillwater, Okla. (ESPNU)
10 a.m.
: "
College GameDay
" from Stillwater, Okla. (ESPN)
11 a.m.
: "College Football WhipAround" (ESPNU)
Noon
: Michigan at Ohio State (ABC)
Michigan State at Penn State (ESPN2)
Boston College at Syracuse (ESPN)
3:30 p.m.
: LSU at Arkansas (CBS)
Florida at Florida State (
ABC/ESPN
)
Northwestern at Wisconsin (
ABC/ESPN
)
NC State at Maryland (ESPN2)
BYU at Utah (The Mtn.)
7 p.m.
: South Carolina at Clemson (ESPN2)
7:30 p.m.
: Oregon State at Stanford (Versus)
7:45 p.m.
: Georgia Tech at Georgia (ESPN/ESPN2)
8 p.m.
: Oklahoma at Oklahoma State
(ABC)
Notre Dame at USC
(ABC)
Blog Network: What to watch
Each week, our bloggers will take a closer look at the storylines you should be watching. What's on tap for Week 13?

Andre Williams is good, but he's a true freshman, and he's not Montel Harris. Not yet, anyway.
ACC

You saw once again last week how Nebraska's offense looks without Taylor Martinez at full strength. It's not pretty.
Big 12

The three-team jostling match for the Big East's BCS bid could be down to two or just one team by Saturday.
Big East

Wisconsin, Ohio State and Michigan State all can claim at least a share of the Big Ten title by winning on Saturday.
Big Ten

UCLA QB Richard Brehaut didn't play well at Washington last week, but it became clear when he was forced out that the Bruins have no shot without him.
Pac-10

A bevy of juniors could be playing their final regular-season games in the SEC.
SEC

Does Boise State finally pass TCU in the BCS standings? Does a non-AQ still have a national title shot?
Non-AQs

USC will be a true road test not just for Tommy Rees but also for the other youngsters who have played big roles.
Irish
What scouts are watching
Here's a look at five things Scouts Inc. will be watching closely this week.
How will Alabama's running game fare?
South Carolina played Auburn tough for four quarters earlier this season, and after watching the tape of that game it became clear that the Gamecocks figured out how to run the ball against the Tigers.
To read the rest of this breakdown, plus four others, click here

.
Herbstreit: Week 13 preview
Scouts' Edge: Week 13 previews
Get in-depth scouting reports of key games as Scouts Inc. breaks down what to watch.

• Auburn-Alabama | Arizona-Oregon
• Oklahoma-Oklahoma St. | Boise St.-Nevada
• Michigan-Ohio State | Scouts home

Preview: Boise State-Nevada
Fantasy College Football
By ESPN Fantasy
Check out College Football Challenge, our new fantasy game. Each week, our fantasy gurus will provide players or units that should be on Challenge owners' radar screens.