High Stakes Saturday
In conference championship games, there is the SEC and there is everyone else.
I know those who get sick of hearing about SEC superiority aren't going to love that sentiment, but this game is the one that every SEC player and coach sets as a gigantic goal.
Phillip Fulmer once told me that the national championship game didn't match the atmosphere of the SEC championship game. Of course it's helped that the last two years it has served as a de facto national semifinal. That's not quite the case this year. It is merely a potential stumbling block for Auburn.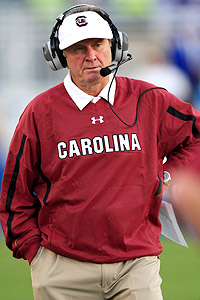 John Sommers II/Icon SMISteve Spurrier knows what's at stake in the SEC championship game.
But Steve Spurrier, echoing Fulmer's sentiment, said this week the BCS National Championship Game is only a "tiny little bit bigger" than the SEC championship game. "For us in the SEC, this is as big as it gets," the Head Ball Coach said.
Then-Florida coach Spurrier used to enrage Florida State by openly saying the conference title game was more important than that rivalry. Perhaps not coincidentally, the Head Ball Coach was 1-5-1 versus the Seminoles when the Gators went on to the SEC title game.
Of course another reason for that record was that the Noles were in their heyday. For all of the wonderful things that the SEC championship game is, it's not the haven for giant upsets that derail team's national title hopes. The last two gargantuan tilts between Alabama and Florida don't count because the winner was set to play for the title. A three-loss LSU team knocked Tennessee out of national title contention in 2001. It is the only instance in which a big underdog scored the shocker and directly knocked an SEC team out of the national championship picture. In rematches, the regular season winner is 4-1. The exception is the 2001 LSU-Tennessee game.
There is no certain parallel between the 2001 game and this one. South Carolina could win, get the trophy, go to the Sugar Bowl and Auburn might still play for the national title. In that sense, could this game be more reminiscent of the 2003 Big 12 title game in which Oklahoma got blasted by Kansas State and still played LSU for the national title? Depending on poll voters, Auburn could be in that position.
Half of Auburn's 12 wins have been decided by 8 points or fewer, including the first meeting with the Gamecocks. South Carolina had no answer for Cam Newton during that September game. No one has. He ran for 176 yards and three touchdowns and threw for two more scores. Auburn gashed the Gamecocks for 334 yards on the ground, or about 3.5 times what the nation's fifth-ranked rush defense (93 yards per game) has allowed on average this season.
Whether Ellis Johnson and the Gamecocks' defense offers more resistance in Round 2 remains to be seen. I would bet that Marcus Lattimore gets more than three second-half carries, unless the Gamecocks are way behind.
This is the biggest game in South Carolina history. That's the second time this season I've written that. The last time was before Spurrier's bunch beat Florida to win the SEC East. South Carolina has one conference title in its history. The Gamecocks won the ACC in 1969. You could make a good argument this is the biggest game in Auburn history, too. The Tigers' lone national championship came in 1957. Pollsters thwarted national title hopes in 1983 and 2004. Its myriad miraculous rallies give Auburn the look of a team of destiny. This time, for a change, Auburn controls its destiny.
The polar opposite in terms of a team on the radar is another squad that controls its destiny: the UConn Huskies. Typically, Husky nation is turning its attention to Kemba Walker or Maya Moore about now, but Jordan Todman is demanding center stage at the Conn.
The nation's second-leading rusher (148 yards per game) will try to run UConn into a BCS game as Big East champions. All the Huskies have to do is beat South Florida and the man who helped lay the foundation for their move to FBS (division 1-A at the time), Skip Holtz. The Huskies have only been in the FBS slightly over a decade. Randy Edsall was hired to follow Holtz in 1999, after Holtz left to work with his dad and my Hall of Fame running mate, Lou Holtz, at South Carolina.
Since then, Edsall has built a legitimate program. They're tough-minded, fundamentally sound and relentless. He's put guys such as Donald Brown and Darius Butler in the NFL. He's won bowl games. He's handled crises and tragedy as well as anyone could imagine. The remaining hurdle: his team to earn its way to a BCS game. /p>
[+] Enlarge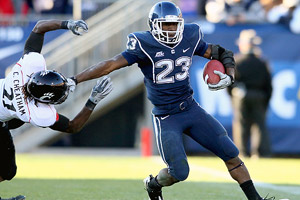 Elsa/Getty ImagesJordan Todman and the Huskies are a win away from a BCS bowl berth.
The Huskies won a share of the Big East in 2007 but didn't go to the BCS. Look, I know the Big East is down. When starting the Big East highlights on "College Football Final," we put up the graphic entitled Big East Bound and Down and I say, "Somebody from this conference is going to the BCS." Are we poking fun? Absolutely. There is a part of me that would get a kick out of seeing a 5-way tie for the Big East championship. It's possible. But you know what? UConn would win that tiebreaker, too. The Huskies deserve major props for coming back from a shaky start, being forced to play three quarterbacks and still putting themselves in position to be a champion. South Beach and the Discover Orange Bowl is a possibility if the Huskies can make the trip a little farther north in South Florida a winning one.
From a new face to a couple of old, familiar ones, Oklahoma and Nebraska.
The Sooners-Huskers rivalry was a casualty from the forming of the Big 12. Fitting that conference realignment will again deal a blow to the long-time combatants. But before the Huskers head off to the Big 10, there's one more episode of the "Children of the Corn" against Sooner nation. I'll be a little nostalgic. From Johnny Rogers to Eric Crouch, or maybe I should say Mike Stuntz to Crouch (look up the 2001 game), from Billy Sims to Dante Jackson to Josh Heupel, these games always delivered passion, drama and excellence.
Oklahoma is riding high after its wild bedlam win. The Huskers have quarterback questions. Taylor Martinez has had an ankle and toe problem and what appeared to be a clash with his head coach during -- and after -- the loss to Texas A&M. Whether Maritnez or Cody Green gets the majority of the snaps could be a game-time decision. OU's defense is playing much better.
The Sooners' magic was apparent on offense against Oklahoma State. The matchup I can't wait to see is the Huskers' star-studded secondary trying to check Ryan Broyles. Broyles leads the nation with 9.5 catches per game. He's hauling in 116 yards worth of passes per game -- that's third best in the country. Broyles versus Prince Amukamara and/or Alfonso Dennard will make the final Big 12 title game a must-see for more than historic ramifications.
After a wacky season in the ACC Atlantic, Florida State thanked Maryland for some help and slipped in the back door to the championship game for the first time in five years. The Noles face Virginia Tech. It's the best possible matchup for the conference from a marquee standpoint.
[+] Enlarge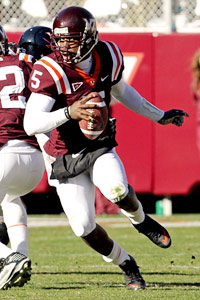 Andrew Shurtleff/US PresswireTyrod Taylor earned ACC Player of the Year honors after helping the Hokies turn their season around.
The Hokies were left on the disappointment pile after the Boise State heartbreaker and James Madison debacle. Virginia Tech hasn't lost since. Tyrod Taylor is the ACC player of the year, and the Hokies' trio of running backs, Ryan Williams, Darren Evans and David Wilson have been devastating during their 10-game winning streak. In recent years, it seems "Beamer Ball," the Hokies trademark special teams moments, at least in terms of blocked kicks, hasn't been as prominent this season. But there is one special teams area in which the Hokies have an edge: kickoff returns. Wilson has housed a pair of them. Florida State is in the bottom 20 in the nation in kickoff coverage.
Jimbo Fisher's first season has been a rousing success. Think about this: The Noles are a fluke fumble against NC State and a missed field goal against North Carolina away from being a one-loss team. The Noles need to take care of the ball. Virginia Tech leads the nation in turnover margin. The Hokies just don't give it away. Taylor has thrown four interceptions all season, none in his last 65 passes.
Christian Ponder christened his career getting thrown into the fire as a freshman against Virginia Tech. He tossed a couple of picks in the fourth quarter, as the Hokies closed with a 20-0 final period and won, 40-21. Ponder can close out his career with a coveted ACC title. Of his dual with Taylor, Ponder said earlier this week, "We're both finishing strong. I'm here to win."
Oregon's last hurdle before the national title game is Oregon State in Corvallis. The Beavers only chance would seem to be the emotion of the rivalry.
That's what TCU will hope for, too.
Join us for a championship Saturday edition of "College Football Final" Saturday night. We'll unveil the final BCS standings and the bowl matchups starting Sunday night at 8:15 ET on "BCS Countdown."
Weekend watch
By Mark Schlabach
ESPN.com
Five things I'll be watching on Championship Saturday:
1. Auburn's defense hardly looks to be championship-caliber going into Saturday's SEC championship game against No. 19 South Carolina in Atlanta's Georgia Dome.
The Tigers rank 106th nationally in pass defense (255.2 yards per game) and 57th in scoring defense (25 points per game), but their defense has been pretty darn good after halftime. In the No. 1 Tigers nine games that really mattered (eight SEC contests and Clemson), two opponents had more yards in the second half than the first half. In fact, Auburn's opponents converted 50 percent of their third-down plays in the first half but 25 percent in the second half.
2. Will No. 15 Virginia Tech's offensive line be able to protect Tyrod Taylor from No. 21 Florida State's fierce pass rush in Saturday's ACC championship game at Bank of America Stadium in Charlotte, N.C.?
Florida State's defense has been the primary reason for its resurgence under first-year coach Fisher. The Seminoles lead the country in quarterback sacks with 43 and are 15th in tackles for loss with 7.2 per game. Sophomore Brandon Jenkins is tied for third in the country with 12 sacks, and Markus White has 7.5. Taylor's mobility should help him elude some of FSU's pass rush.
3. Which quarterback takes snaps for No. 13 Nebraska in Saturday's Big 12 championship game at Dallas Cowboys Stadium in Arlington, Texas?
Freshman Martinez didn't play in last week's 45-17 victory over Colorado because of a sprained right ankle and turf toe injury. Martinez was wearing a boot on his left foot after practice this week and is questionable to play against the Sooners. Sophomore Green started against the Buffaloes and completed 10 of 13 passes for 80 yards with two touchdowns. The Cornhuskers need Martinez's running to exploit OU's defense.
4. Can South Florida spoil Connecticut's Big East title hopes?
If the Huskies defeat the Bulls at Raymond James Stadium in Tampa, Fla., on Saturday night, they'll play in their first-ever BCS bowl game. But if the Bulls win, West Virginia will win the Big East title, as long as the Mountaineers defeat Rutgers on Saturday.
South Florida coach Skip Holtz coached at Connecticut from 1994-98. The Bulls are hot, having won four of their last five games, including a 23-20 overtime victory at Miami last week. The Huskies opened Big East play with an 0-2 record but have won their last four games to climb into the driver's seat in the conference race.
5. Illinois' trip to Fresno State on Friday night will hardly get noticed nationally, but the Illini might help themselves with a victory over the Bulldogs.
Illinois might move up the Big Ten's bowl pecking order by finishing 7-5. Look for Illinois coach Ron Zook to continue to ride junior running back Mikel Leshoure, who ran for 591 yards in the last three games. Leshoure had 330 yards with two touchdowns in the Illini's 48-27 victory over Northwestern at Wrigley Field on Nov. 20.
Viewer's guide
All times ET
Thursday
8 p.m.
Arizona State at Arizona (ESPN)
Friday
7 p.m.
: Northern Illinois vs. Miami (Ohio) (ESPN2)
Saturday
9 a.m.
: "
College GameDay
" from Corvallis, Ore. (ESPNU)
10 a.m.
: "
College GameDay
" from Corvallis, Ore. (ESPN)
11 a.m.
: "College Football WhipAround" (ESPNU)
Noon
: Rutgers at West Virginia (ABC)
SMU at UCF (ESPN2)
Pitt at Cincinnati (ESPN)
3:30 p.m.
: Oregon at Oregon State (ABC)
4 p.m.
: Auburn at South Carolina (CBS)
7:45 p.m.
: Florida State at Virginia Tech (ESPN)
8 p.m.
: UConn at South Florida (ESPN2)
Oklahoma at Nebraska
(ABC)
Preview: Oklahoma vs. Nebraska
Blog Network: What to watch
Each week, our bloggers will take a closer look at the storylines you should be watching. What's on tap for Week 14?

Two of the ACC's highest scoring offenses and two of the stingiest scoring defenses meet in the championship game.
ACC

Cody Green played well against Colorado, but there's no doubt (Taylor) Martinez gives Nebraska an offensive edge.
Big 12

The Big East doesn't have a title game, but this week works the same. Which team will be BCS bowling?
Big East

Illinois is the only Big Ten team suiting up this weekend, but there are plenty of reasons to check out the Illini.
Big Ten

If Oregon State is going to pull off the upset against Oregon in the Civil War, it has to convert on third down.
Pac-10

Auburn's secondary has faced its share of marquee receivers this season. South Carolina's Alshon Jeffery takes his second shot at the Tigers.
SEC

How will Boise State and Nevada respond after last week's thriller? Can Northern Illinois make it 10 in a row?
Non-AQs
Wisconsin coach Bret Bielema
Preview: Auburn vs. South Carolina
What scouts are watching
Here's a look at five things Scouts Inc. will be watching closely this week.
How will Virginia Tech's defense fare?
Virginia Tech enters its ACC championship game matchup with Florida State ranked seventh in the ACC in both total defense (348.8 ypg) and rushing defense (156.9 ypg). Will the Hokies be able to contain Florida State?
To read the rest of this breakdown, plus four others, click here

.
Herbstreit: Week 14 preview
Scouts' Edge: Week 14 previews
Get in-depth scouting reports of key games as Scouts Inc. breaks down what to watch.

• South Carolina-Auburn | Oklahoma-Nebraska
• Florida St.-Va. Tech | Oregon-Oregon St.
• UConn-USF | Scouts home

Oregon State coach Mike Riley