Season-long Implications
The national championship can't be won Saturday. But it sure does feel as though it could be. A monster slate of games is highlighted by two "rematches" of BCS title games and another whose tradition is steeped in national title clashes in bowl games. Throw in Michigan and Notre Dame and you have as compelling a September Saturday as you can find.
Let's start with Penn State and Alabama. Saturday would've been Paul "Bear" Bryant's 97th birthday. But 83-year-old Joe Paterno wasn't interested in reminiscing about his championship clashes with the Bear this week. While visiting with Joe, I did find him razor sharp and excited about the here and now. I hope you'll check out my conversation with Paterno on "College Gameday" on Saturday morning.
It's been accepted in some quarters that Nittany Lions freshman Rob Bolden will be overwhelmed by the atmosphere in Bryant-Denny Stadium and the Tide defense. But Bolden doesn't carry himself like a normal freshman. The word that kept popping up when talking about why Bolden won the job was maturity. He has the belief of the coaches and his teammates after his performance through fall camp and in the openers. His baptism by fire comes Saturday night.
[+] Enlarge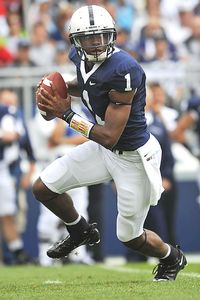 Randy Litzinger/Icon SMIRob Bolden will face a horse of a different color when he sees Crimson across from him Saturday.
Paterno compared this Alabama squad to the great Miami team of 1986 in terms of speed and talent. You'll recall that Penn State beat that Hurricanes team of Michael Irvin, Jerome Brown and Vinny Testaverde in a national championship game.
The Nittany Lions also throttled a previously unbeaten and second-ranked Alabama in Bryant-Denny Stadium along the way. Coincidence that Joe made the comparison to a team Penn State beat? Probably. Almost certainly. But the potential foreshadowing of what could happen Saturday night is worth nothing.
The Crimson Tide also will be without their best offensive player, Mark Ingram, and their best defensive player, Marcell Dareus. Alabama is the favorite and should be, but Penn State will arrive with a little chip on its shoulder and a slice of history on its side.
Adding to the theatre, Bobby Bowden is expected to be in Tuscaloosa to watch his old buddy Paterno clash with the team he grew up rooting for.
The team Bowden spent most of his professional life coaching, Florida State, is in Norman to tangle with Oklahoma. Against Utah State last week, the Sooners didn't play like the national title contender they are expected to be.
This is an early proving ground for Jimbo Fisher's team. I expect plenty of explosive plays from both teams. With guys like Christian Ponder, Greg Reid, Ryan Broyles and DeMarco Murray on the field, the scoreboard could get a workout. Ponder faces a Sooners defense that forced four turnovers against Utah State but also gave up 341 yards passing.
Sooners quarterback Landry Jones wasn't sharp in the opener, but Murray ran for more than 200 yards.
The Sooners at least ought to have great insight into the mind of the Noles' defensive coordinator. Bob Stoops' brother, Mark, is in charge of revamping the FSU defense, which finished 108th in total defense last season, but is playing more zone and multiple fronts. The trick will be outwitting Bob's staff. After its lukewarm opener, this is a chance for Oklahoma to prove the preseason hype was justified and rediscover its swagger.
It's not a do-over for Miami, but some of the 2002 Hurricanes are treating the trip to Ohio State that way. The current crop of Canes has gotten the message. It's payback time. Miami has had a disdain for the Buckeyes based largely (solely?) on a certain interference call seven and a half years ago. Current Canes defensive end Olivier Vernon says, "I was a little young, but I remember it. It's revenge time. Nobody's forgotten about it. I feel like I was playing that game."
Payback for the "honor" of long gone players pales in comparison to Miami's current stakes. The titles of instant national championship contender and Heisman Trophy front-runner could be on their way back to Coral Gables if Miami could knock off the Buckeyes. That's a tall, tall task. Terrelle Pryor and the Buckeyes have a laser focus. They've had a few extra days to prepare after opening on a Thursday night. I'll be most interested in seeing how Miami's Jacory Harris handles the pressure from Ohio State's talented and nasty front. That will likely be the key to whether Miami can hang in.
Michigan's "Shoelace," quarterback Denard Robinson, is loose and the Wolverines made a statement by ripping a good defensive team in UConn. Now Robinson and the Wolverines have to carry the momentum into South Bend. Robinson is going to get his against the Irish. The question is whether Michigan defensive coordinator Greg Robinson can keep the Irish from getting a bunch.
Brian Kelly told me this week that the one thing he'd like to see his team improve upon is finishing off an opponent when it's down. The Irish missed chance after chance to step on Purdue's throat. The Irish had better keep 'em laced up tight all day, or Michigan's loose Shoelace might just tie a knot in Notre Dame's hopes for a quick start.
It'll be a great Saturday. Mark May, Lou Holtz and I will have the final verdict on the day on "College Football Final" on Saturday night.
Weekend Watch
By Mark Schlabach
ESPN.com
1. I never thought I'd see the day when Penn State coach Joe Paterno started a freshman quarterback. For years, Paterno was reluctant to start a freshman at any position, and now he's taking quarterback Robert Bolden to No. 1 Alabama on Saturday.
Bolden completed 20 of 29 passes for 239 yards with two touchdowns and an interception in a 44-14 victory over FCS program Youngstown State last week, but he'll face an entirely different animal against Alabama, the defending BCS national champion. Crimson Tide coach Nick Saban and defensive coordinator Kirby Smart are great at confusing quarterbacks with multiple looks and blitzes. The Tide will load up the box to stop Nittany Lions running back Evan Royster and make Bolden beat them with his arm.
2. I was surprised by Notre Dame's defense in last week's 23-12 victory over Purdue. Using a new 3-4 scheme under defensive coordinator Bob Diaco, the Fighting Irish did a great job containing Boilermakers quarterback Robert Marve.
But Michigan quarterback Denard Robinson will really test the Fighting Irish defense in Saturday's game at Notre Dame Stadium. In his first start against Connecticut last week, Robinson set a single-game record for a Michigan quarterback by rushing for 197 yards. Notre Dame has enough offensive firepower to be successful in coach Brian Kelly's first season, but its defense has to perform better than it did under former coach Charlie Weis.
3. If new Florida State coach Jimbo Fisher wants to escape former coach Bobby Bowden's enormous shadow, he needs a signature victory early in his career. Saturday's road game at Oklahoma is the perfect opportunity.
Winning road games at schools like Oklahoma was how Bowden put the Seminoles on the map during the late 1970s. The Seminoles have the key ingredient for a big road upset: quarterback Christian Ponder. Oklahoma's defense was surprisingly porous in last week's 31-24 victory over Utah State, allowing 341 passing yards. If FSU's defense can slow down Sooners running back DeMarco Murray, the Seminoles might be capable of ending OU's 31-game home winning streak, the longest such streak in the country.
4. Ohio State quarterback Terrelle Pryor looked like a legitimate Heisman Trophy candidate in the Buckeyes' 45-7 rout of Marshall in last week's opener. He completed 17 of 25 passes for 247 yards against the Thundering Herd.
But if the Buckeyes are going to beat Miami at Ohio Stadium on Saturday, their offensive line will have to protect him from what looks to be the Hurricanes' best defensive line in years. The Hurricanes had eight sacks in a 45-0 rout of FCS program Florida A&M last week, including a career-high 3½ by sophomore defensive end Olivier Vernon. Ohio State's offensive line was its Achilles' heel in recent seasons and will have to block well against Miami.
5. I'll be curious to see how much improvement Florida makes from Week 1 to Week 2. The Gators were terrible on offense in last week's 34-12 win over Miami (Ohio), fumbling eight times and gaining only 26 yards of offense through the first three quarters. If Florida plays that poorly against South Florida on Saturday, it might very well lose the game.
The Gators really missed former quarterback Tim Tebow in short-yardage running plays, and their offensive line seemed out of whack with four players starting at new positions. Florida has to find ways to get young receivers like Andre Debose and Deonte Thompson more involved in the passing game, too.
Something To Prove
By Bruce Feldman
ESPN The Magazine
In honor of what I'm calling Step-up Saturday, this week's Top 10 list is about the 10 people with the most to prove this weekend.
1. Mark Stoops, Florida State Seminoles defensive coordinator
The Noles' D has been awful the past few years. Stoops replaced long-time FSU DC Mickey Andrews and is incorporating more zone coverages in hopes of solving so many of the issues that have hindered the Noles in recent years. He has some great talent -- but much of it is very, very young. Last year, the Seminoles ranked 110th nationally, allowing more than 443 yards per game. They looked much better in Week 1, but now we'll actually find out something about the FSU D because the Sooners are nasty at home and have a ton of weapons, starting with RB DeMarco Murray and WR Ryan Broyles.
Oh, and Stoops will be coaching against his big brother, Oklahoma head man Bob.
To read about the nine other players and coaches with something to prove, click here

.
Viewer's Guide
All times ET
Thursday
7:30 p.m.
Auburn at Mississippi State (ESPN)
Friday
7 p.m.
West Virginia at Marshall (ESPN)
Saturday
9 a.m.
: "
College GameDay
" from Tuscaloosa (ESPNU)
10 a.m.
: "
College GameDay
" from Tuscaloosa (ESPN)
11 a.m.
: "College Football WhipAround" (ESPNU)
Noon
: San Jose State at Wisconsin (ESPN)
Georgia at South Carolina (ESPN2)
12:21 p.m.
: South Florida at Florida (ESPN3)
3:30 p.m.
: Michigan at Notre Dame
Florida State at Oklahoma (ABC)
Iowa State at Iowa (ABC)
3:40 p.m.
: Miami at Ohio State (ESPN)
7 p.m.
: Penn State at Alabama (ESPN)
Oregon at Tennessee (ESPN2)
10:30 p.m.
: Stanford at UCLA (ESPN)
Virginia at USC
Preview: Miami-Ohio State
Blog Network: What To Watch
Each week, our bloggers will take a closer look at the storylines you should be watching. What's on tap for Week 2?

FSU and Miami's rise -- or fall. This is it. The weekend that determines which one -- if either -- is ready to make a statement.
ACC

Kansas has kept it positive this week after the embarrassing debut in Week 1, but how will that translate on the field?
Big 12

South Florida made its case for inclusion into its state's Big Boys club last year by winning at Florida State. Florida is a different story.
Big East

Two Heisman Trophy contenders will share the field as Ohio State's Terrelle Pryor goes up against Miami's Jacory Harris.
Big Ten

UCLA's run defense needs to bounce back, and Washington's offense needs to play better at home.
Pac-10

Tennessee is a two-touchdown underdog at home, which is unheard of at Neyland Stadium.
SEC

Can Air Force put pressure on BYU's two quarterbacks, and how does Wyoming handle its tragedy?
Non-AQs

The No. 1 story is whether Notre Dame will be able to contain Michigan's electric sophomore quarterback, Denard Robinson.
Notre Dame
Schlabach's Upset Special
What Scouts Are Watching
Here's a look at five things that Scouts Inc. will be watching closely this week.
Can Harris remain poised in Columbus?
Miami will need a big performance from QB Jacory Harris in order to win on the road at Ohio State. Harris has proved he can be an accurate passer and put good touch on the deep ball when given time to throw, but he still shows a lack of pocket presence and doesn't feel pressure as early as he should, something the Buckeyes will surely try to take advantage of.
To read the rest of this breakdown, plus four others, click here

.
Kiper/McShay: Players To Watch
Fantasy College Football
By ESPN Fantasy
Check out College Football Challenge, our new fantasy game. Each week, our fantasy gurus will provide players or units that should be on Challenge owners' radar screens.
Scouts' Edge: Week 2 Previews
Get in-depth scouting reports of key games as Scouts Inc. breaks down what to watch.

• Miami-Ohio State » Florida State-Oklahoma »
• Michigan-Notre Dame » South Florida-Florida »
• Penn State-Alabama » Auburn-Mississippi St. »
• Georgia-South Carolina » Stanford-UCLA »