Everyone deserves a good scare
>
"It's Halloween, I guess everyone's entitled to one good scare." -- Sheriff Leigh Brackett, "Halloween"
At first glance, the Week 10 schedule doesn't offer many games that would lead you to expect a major fright for a giant. But the definition of fright involves a sudden quality and implies the unexpected. And as Sheriff Leigh Brackett knows well, the poor saps never see the knife headed for their Adam's apples.
Saturday looks like a terrifying night in Tallahassee for Miami. Florida State is a three-touchdown favorite, the largest spread ever between two undefeated top-10 teams.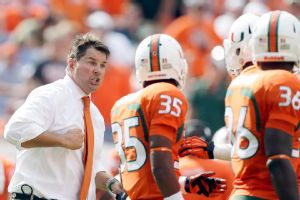 AP Photo/Alan DiazAl Golden's Miami team might just have to run for cover this weekend against Florida State.
The Hurricanes' mascot is the ibis because that brave bird is the last to seek shelter in the face of the most menacing storm. But let's be honest: Sebastian will be looking for cover by the middle of the second quarter.
Watching the Hurricanes venture into Doak Campbell figures to be like watching the group of teenagers in "Friday the 13th." You'll be screaming at the screen, "What are you doing?! Don't stay at the camp! Get out of there!"
Al Golden and his staff are doing remarkable things in Coral Gables. Soon, Miami will not only play in games like this, it will be the heavy favorite and will deliver. Saturday is not that day. The Seminoles attack with the ferocity of Michael Myers and relentlessness of Jason Voorhees, or better, Jameis Winston.
Winston has made everything about Florida State's offense more potent. His numbers are on par with recent Heisman-winning quarterbacks, but the statistics aren't what separate him. It's his demeanor and his confidence -- his swagger, if you prefer.
Winston's innate ability to understand when to push the ball down the field and when to check it down leaves defenses in a perpetual quandary. He's thrown 23 touchdown passes in 183 attempts. That's the highest percentage in the country.
Winston's prowess helps the running game, too. Devonta Freeman has a shot at being Florida State's first 1,000-yard rusher since Warrick Dunn in 1996.
Even though I'm sure my slightly exaggerated metaphors have stoked the Hurricanes fan base's ire to Category 5, any time rivals step on the field, crazy things can happen.
There is one tangible thing that Miami must do to have any chance against Florida State. Stephen Morris has to be better on third down. He's converting on just 30 percent of third-down pass plays. That ranks 95th in the country. He ranks 108th out of 127 quarterbacks in QBR on third down. He's been responsible for six turnovers and only two touchdowns on third down.
On the other hand, Winston leads the nation with a near-perfect third-down QBR of 99.5 and a 63 percent conversion rate on pass plays. He's accounted for six touchdowns and only one turnover on such plays.
That's a lot of numbers to digest. Put simply, Morris has to play like the fifth-year senior he is in clutch moments, and Miami has to do what no one has been able to do so far, pull the superhero costume off Winston and reveal his identity as a redshirt freshman quarterback. That's the task if the Canes want to give the Noles their "one good scare."
Much like returning to Elm Street, Michigan returns to the scene of its Nightmare on Shaw Lane, the address of Spartan Stadium. Two years ago, in a 28-14 Michigan State win, Sparty bullied the Wolverines like Ghostface going after teenagers in "Scream."
"No one likes to get bullied, and that's what they did two years ago," Michigan left tackle Taylor Lewan said this week. "They bullied us. That's tough, for me, to admit. ... We're not going to get bullied this year."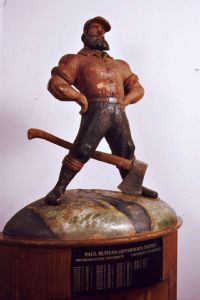 AP PhotoThe Paul Bunyan Trophy will go to whoever can make it out of the Michigan-Michigan State game alive.
Michigan State's defense leads the nation in fewest yards allowed per play and total yards allowed per game. Tough guys like Max Bullough and Denicos Allen will try to kick sand in the Wolverines' faces again, figuratively speaking, of course.
Michigan QB Devin Gardner guides an offense that has put up prolific scoring numbers at times, but he has been responsible for a whopping 14 turnovers. That's dangerous against any team but particularly one like Michigan State, which leads the nation in defensive touchdowns with five.
If Gardner takes care of the ball, Michigan has the weapons to move it, even against a D as stingy as the Spartans'. If Michigan feeds the green monster with turnovers and a short field, it'll just be a sequel to the bullying that took place on the banks of the Red Cedar two years ago.
Ultimately, the winner of the Paul Bunyan Trophy will probably be decided when Michigan State has the ball. Will the Spartans' D be good enough to allow the offense to get away with a game plan so conservative it seems it were devised by Glenn Beck?
Michigan has given up 40 or more points in its past two Big Ten games. Granted, the Penn State loss came in four overtimes, but the point remains the same. The defense needs to be stout enough to take some heat off Gardner & Co. because nobody is going to hang a big number on Michigan State's defense. If the Spartans win, they will have beaten the Wolverines three straight times in East Lansing for the first time. Is it just me or is the sequel sounding a lot like the original?
Jacksonville will look a lot like the aftermath of one of those horror flicks. This year the Georgia-Florida game will be the World's Largest Outdoor Orthopedic Rehab Center.
Combined, these two teams have lost roughly 20 starters for the season or an extended period of time. If Todd Gurley returns to take some of the heat off Aaron Murray, Georgia has a chance to finish the season strong. If things fall just right, it could get back in the SEC East race.
Should Florida turn in another putrid offensive performance against what has been a porous Dawgs defense, the shrieking from Gators fans will make Jamie Lee Curtis' blood-curdling screams in "Halloween" sound like a puppy's whimper.
Oklahoma State and Texas Tech are embracing Halloween perhaps more than any other matchup. The Cowboys wear orange, and Red Raiders coach Kliff Kingsbury is encouraging fans to don their costumes using the hashtag #LetsGetWeird. I doubt Kingsbury thinks this costume is weird. He probably thinks the little guy oozes cool.
Kingsbury isn't just embracing costumes. He's also extolling the revenge motif that drives most of the destructive forces in scary movies. Kingsbury has posted "98" signs in the locker room, referring to the combined scoring margin of Tech's past two losses to Oklahoma State.
The Red Raiders are coming off their first loss of the season to Oklahoma. Nothing like a chance at redemption to get a team refocused, assuming it's not distracted by mini-Kliffs in the stands.
October may be the month for ghosts, ghouls, monsters and psychos on the silver screen. But in college football, the most frightful things emerge in November. The final full month of the regular season is upon us. Let's Get Weird.
College Basketball and Football studio host; SportsCenter anchor/reporter
Rece Davis joined ESPN in March 1995 and currently serves as studio host for college football and college basketball, including his duties as host of the NCAA Women's Basketball Championship and the college basketball version of College GameDay.
Five things to watch in Week 10
Five things we'll be watching in college football on Saturday:
1. Will No. 7 Miami's luck run out against No. 3 Florida State?
The Hurricanes have been living on the edge lately, falling behind by 10 points or more in each of their past three games. Last weekend, the Hurricanes trailed Wake Forest 14-3 in the second quarter before rallying for a 24-21 victory behind Duke Johnson's two touchdowns in the fourth quarter. On Oct. 17, Miami trailed North Carolina 23-13 in the fourth quarter on the road before scoring twice in the last 11½ minutes of a 27-23 win. And on Oct. 5, the Hurricanes fell behind Georgia Tech 17-7 in the first quarter before pulling away for a 45-30 victory.
The Hurricanes can't afford to fall behind the Seminoles, who have blown out each of their past three opponents. FSU has won the past three games in the series by a combined score of 101-56.
"This is Miami," FSU coach Jimbo Fisher said. "They know each other. They're [No. 7] in the country, so I don't think you have to sell them on anything. This team is undefeated. You look at the film and you see a very well coached, very good football team."
2. Which side wins: No. 21 Michigan's offense or No. 22 Michigan State's defense?
Michigan's offense is averaging 42.4 points per game, tied for eighth-best among FBS teams and second-best in the Big Ten. Michigan State's defense is allowing only 12.3 points per game, third-best among FBS teams and tops in the Big Ten.
The Wolverines are coming off a 63-47 win over Indiana on Oct. 19 in which they set a school record with 751 yards of offense. Quarterback Devin Gardner set Michigan records with 584 yards of total offense and 503 passing yards, and Jeremy Gallon set a Big Ten record with 369 receiving yards. But the Wolverines haven't yet faced a defense as good as MSU's.
The Spartans are coming off victories over Purdue and Illinois, in which they allowed only three points combined. MSU hasn't yet faced an offense as good as Michigan's, either. The teams will play at Spartan Stadium on Saturday, and the Wolverines can't afford to fall two games behind the Spartans in loss column of the Legends Division standings. Michigan won 12-10 in Ann Arbor last season to end a four-game losing streak in the series.
"Well, we don't necessarily like them, either," Michigan coach Brady Hoke said. "This isn't an admiration society. It's a great rivalry. You've got two teams that are about 45 miles apart, and that's what it is."
3. Can No. 15 Texas Tech bounce back against No. 18 Oklahoma State?
The Red Raiders suffered their first loss under coach Kliff Kingsbury last week, falling 38-30 at then-No. 15 Oklahoma. Neither the Red Raiders nor the Pokes can afford another defeat in Big 12 play if they want to maintain pace with Baylor, Texas and Oklahoma in the conference standings.
Texas Tech has to do a better job of taking care of the football in Saturday night's game at Jones AT&T Stadium in Lubbock. The Red Raiders turned the ball over three times last week and have 19 turnovers in eight games, which is tied for ninth-worst among FBS schools. Freshman quarterbacks Davis Webb and Baker Mayfield have combined to throw 12 interceptions.
Oklahoma State's defense has been very good at producing turnovers this season, with six fumble recoveries and 13 interceptions. The Pokes created 12 turnovers in their past three games alone.
4. Will Georgia or Florida regroup on Saturday?
One of college football's great border rivalry games lost a lot of its luster because of injuries and losses this season. Both teams entered the season with high expectations, but each has already suffered three losses heading into Saturday's game in Jacksonville, Fla. UGA is coming off back-to-back losses to Missouri and Vanderbilt; UF has dropped consecutive games against LSU and Missouri.
Both the Bulldogs and Gators still have an outside shot of winning the SEC East thanks to South Carolina's 27-24 win at Missouri in double overtime last week. The Tigers still have a one-game lead in the loss column of the East standings.
The Bulldogs had climbed back to No. 7 in the polls before falling to the Tigers 41-26 on Oct. 12. Georgia is hoping to have back tailback Todd Gurley, who has missed the past three games with a sprained ankle. Receiver Michael Bennett also is expected back after missing two games with a knee injury, and safeties Tray Matthews (hamstring) and Josh Harvey-Clemons (foot) are possibilities to play against the Gators.
The Gators also have been ravaged by injuries this season, losing eight players to season-ending injuries since preseason camp. After losing 18 of 21 games against Florida, UGA has won the past two meetings. Gators coach Will Muschamp, a former UGA defensive back, has yet to defeat his alma mater.
5. Will Missouri recover from last week's collapse?
There's no question it's going to take some time for the No. 9 Tigers to mentally recover from last week's collapse against South Carolina, in which they blew a 17-0 lead in the fourth quarter and lost when kicker Andrew Baggett missed a 24-yard field goal in the second overtime.
But Missouri, which hosts Tennessee at Faurot Field in Columbia on Saturday night, still sits in the driver's seat in the SEC East. The Tigers just don't have much room for error if they want to reach the SEC championship game in only their second season in the league. If No. 14 South Carolina wins its remaining SEC home games against Mississippi State and Florida, Missouri will have to win its last four SEC games to win the East. After hosting the Vols, the Tigers play Kentucky (road), Ole Miss (road) and No. 12 Texas A&M (home).
The Tigers really can't afford a divisional loss, so beating the Volunteers is paramount to their title hopes. The Volunteers are expected to start freshman Josh Dobbs at quarterback because starter Justin Worley has a thumb injury. It will be the third consecutive game in which Missouri has faced a backup quarterback, although South Carolina's Connor Shaw came off the bench in the second half last week.
ESPN Senior Writer
Senior college football writer
Author of seven books on college football
Graduate of the University of Georgia
Talking football

ESPN.com columnist and uniform guru Paul Lukas and ESPN's national recruiting expert Tom Luginbill join host Chantel Jennings at 2 p.m. ET. Big Ten reporter Adam Rittenberg and ACC reporter David Hale also stop by to break down the weekend's biggest games. Kickoff show

What to watch in Week 10
Click below to see what our reporters think you should be watching for in each conference this weekend.
---

The nation will have its eye on Tallahassee, where two top-10 teams, Miami and Florida State, face off. Meanwhile, Clemson will look to avoid a road loss to struggling Virginia and the battle of the two North Carolina schools unexpectedly at the bottom of the barrel -- UNC and NC State -- is on. ACC
---

It's a light week in the Big 12, but one matchup involving ranked teams has everyone's blood boiling. Oklahoma State's potent offense will travel to Lubbock in hopes of taking down Kliff Kingsbury's Red Raiders, who played with Oklahoma until the end last weekend and showed promising upside. Big 12
---

The Paul Bunyan Trophy is up for grabs in East Lansing. The game will feature ranked Michigan and Michigan State teams for the second time in three seasons. Elsewhere, a week after upsetting Northwestern, Iowa will look for the same result with No. 24 Wisconsin in town. Big Ten
---

Four teams are off this week as the conference will try to catch its breath before Oregon and Stanford take the stage next Thursday. This Thursday night, Arizona State will try to avoid slipping up at Washington State, then UCLA looks to get back in the win column on Saturday against Colorado. Pac-12
---

A week after a heartbreaking home loss to South Carolina, Missouri will try to get back on track when it welcomes Tennessee to Columbia. Florida and Georgia will meet in their annual neutral-site rivalry in Jacksonville but neither team will be at full strength. Auburn is hoping that not the case when it travels to Arkansas. Nick Marshall was injured last week but is expected to start. SEC
Upset Watch: Oklahoma St.-TTU
Prime-time Pregame: Miami-FSU
Fantasy college football
Make GameDay your game day with three ways to play fantasy football.