Clash Of The Titans Is Here
No need for conference schedulers to build momentum for later in the season when you can have your titans clash on the first Saturday of October. What a great schedule of games, complete with a couple that are guaranteed to shake up the top 10.
The SEC and the Pac-10 will hog the spotlight this weekend, and rightfully so. The Pac-10 can also fully insert itself into the best-conference debate. Let's stipulate one thing: Winning four consecutive national championships with three different teams trumps any argument until another conference knocks off the SEC.
Frankly, it trumps the argument until another conference at least approximates that feat. Then there's this little secret: Nonconference games, even bowl games, really don't prove much. The results typically center primarily around matchups, location and motivation.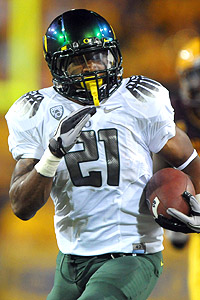 Kirby Lee/Image of Sport/US PresswireWill Stanford be able to slow down LaMichael James, who is averaging nearly 8 yards per carry?
Even so, the Pac-10 has at least staked a claim in the conference superiority argument with the Stanford-Oregon matchup. How? Well, after what Alabama and Florida have done the past two seasons by playing in de facto national semifinals (some would say basically deciding the national title in the SEC championship game), the Cardinal and Ducks have -- at the very least -- forced the Tide and Gators to share top billing. That's a win for the Pac-10. I'm not saying it's a better game. But Stanford-Oregon takes a backseat to no matchup so far this season.
The battle at Autzen Stadium should be a great clash of style. The hurry-up, nearly-a-point-a-minute Ducks against the brutally efficient Cardinal. It's not that Stanford wants to slow you down with pace. It wants to slow you down by breaking your will. It wants you to quit. The Ducks impose their physicality in a far different way. They use their blinding speed to make teams cave mentally (see Tennessee) by believing that they just can't keep up. Notice I didn't say "finesse." Oregon will bring the lumber. It's just the speed and tempo that ultimately break its opponents.
Stanford's defense is much improved, but I still wonder how they'll handle LaMichael James and Kenjon Barner in space. Stanford would like to play the game in a phone booth. The Ducks expand the confining walls of any defense.
Oregon will be challenged to stand up to Stanford's pounding and play-action game. That's something the Ducks didn't do well last year when Andrew Luck threw for 251 and two touchdowns as the Cardinal hung 51 on the board. Luck has emerged as an even bigger running threat this year, averaging over 9 yards per rush, albeit on only 17 carries, mostly scrambles. Even though Luck has 11 TD passes and only two interceptions, he'll need to be sharper against Oregon than he's been so far this season. He has said he's thrown too many passes off his back foot. It's hurt his accuracy at times. As good as Stanford is, the Cardinal can't afford to miss shots at big plays when they're available against the Ducks.
The two teams combined for 93 points last year. Expect more of the same Saturday night. Still, key stops by the defenses will play a huge role. Stanford likes to hog the ball. It leads the Pac-10 in time of possession. Granted, Oregon doesn't need a lot of time to score, but if Stanford can hold the ball and cash in on long drives, the Ducks might start feeling some pressure.
It's time to do these Florida-Alabama games justice.
Someone suggested putting Roman numerals after them. Sounds good to me: "Florida-Alabama III." I know they've played more often than three games, but in the Meyer-Saban era, these games have taken on an epic nature. Nothing will be different Saturday night in Tuscaloosa. Many of the Gators have toed the party line about just trying to get better each week. But my basketball partner Digger Phelps never lets us forget that "payback" is a powerful motivator. Some Gators have let that sentiment slip out. They've been gunning for Alabama since the Tide dismantled their repeat title hopes last year in the SEC championship game. Florida has shown some five defensive linemen looks in order to better defend the run. Hmmmm. Wonder who that is geared toward?
If Alabama is going to extend its 18-game winning streak, Greg McElroy will have to make some plays in the passing game. He did it last year on his way to MVP honors in the SEC championship game. These Gators are better than ever at ball-hawking. Florida leads the nation with 12 interceptions. The Gators don't just catch them; they do something with them. Florida averages 17.5 yards per return and has housed three of the picks.
It'll be a great spectacle but will lack the "be all, end all" feel of the past two games. Nobody is eliminated from anything. Both will still control their own destiny in their respective division races. Ultimately, both could still control their national championship destiny, assuming we don't finish the season with a lot of undefeated teams. Plus, the postgame handshake between Nick Saban and Urban Meyer might carry the unspoken message of "See you in Atlanta for Florida-Alabama IV."
Who are you and what have you done with the Red River Rivalry? Texas and Oklahoma have been reduced to the "also playing" line on the marquee. It's weird. It's tough to get a real feel for this game. The Longhorns are coming off an embarrassing and puzzling performance against UCLA. The meltdown was mostly fueled by five Texas turnovers.
[+] Enlarge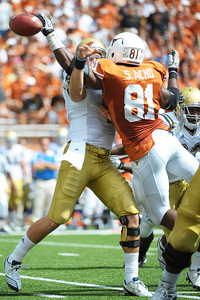 Brendan Maloney/US PresswireSam Acho and Texas' defense will need to have a big day against Oklahoma in the Red River Rivalry.
Oklahoma's record is perfect even if its performances have kept the blood pressure of Sooner Nation a little high. OU has won three of its games by a touchdown or less. The Sooners are outgaining their opponents by only 8 yards per game. So the defense has given up a lot of ground, but they've been outstanding at forcing turnovers. Oklahoma has a dozen takeaways and ranks fourth in the nation in turnover margin. That has to be Texas' focus Saturday: Take care of the ball. Will Muschamp's defense gave up some big runs in the second half to the Bruins, but at the half Texas had allowed 77 yards and trailed by 10. The Horns defense is still ranked second in the nation. They'll show up in a bad mood.
What the Horns really need is an offensive identity. Texas coaches say they remain committed to developing a physical running attack. But the Horns still don't have a back averaging 50 yards per game. Mack Brown and offensive coordinator Greg Davis have made successful midseason offensive adjustments before. If they have any magic for this season, now is the time to start conjuring. By the way, a Texas win here would even Brown's record against Bob Stoops at 6-6. Remember when Texas had an Oklahoma problem? Somebody's problem will feel as if it's been solved Saturday. The loser's problem will be smothering. That's the beauty of the rivalry -- even in years when it doesn't top the marquee.
Michigan State and Wisconsin will be a slugfest. Sparty has a couple of stud running backs in Edwin Baker and Le'Veon Bell. Mark Dantonio wants to be there in some capacity. Wisconsin could be running into a buzzsaw. The winner establishes itself as a Big 10 contender. Remember, Michigan State doesn't play Ohio State. The Spartans play Michigan next week. The Badgers get Ohio State the week after that. The Big 10 is about to take shape in a hurry.
I know the ACC hasn't been stellar in nonconference games, but don't let a couple of games slip under your radar this week. Miami-Clemson and Virginia Tech-NC State will be entertaining. Both the Canes and Tigers missed great opportunities to get benchmark wins at Ohio State and Auburn respectively. The opportunity to rebound starts in Death Valley. Russell Wilson might be the best player in the country few people talk about. The reason? NC State hasn't won enough. If it beats Virginia Tech to start 5-0, that changes.
The first BCS standings are still two weeks away. Jockeying for position starts in earnest Saturday.
Weekend Watch
By Mark Schlabach
ESPN.com
A few players, coaches and teams around the country will be looking for redemption and revenge this weekend.
1. Florida coach Urban Meyer has probably had this week's road game at No. 1 Alabama circled since the Crimson Tide rolled the Gators 32-13 in last season's SEC championship game in the Georgia Dome.
[+] Enlarge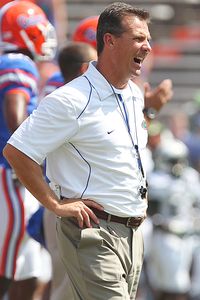 Kim Klement/US PresswireUrban Meyer hopes his offense can deliver some big plays at Alabama.
The Crimson Tide struggled in the first half of last week's 24-20 victory at Arkansas, in which the Razorbacks tested Bama's young secondary. The No. 7 Gators finally looked like themselves in last week's 48-14 rout of Kentucky, with freshman quarterback Trey Burton scoring six touchdowns.
But Florida's offense will have to be much better to upset the Tide at Bryant-Denny Stadium. The Gators have to find a way to run the ball effectively between the tackles, which might be difficult with tailback Jeff Demps nursing a bruised left foot.
2. Oregon has had its way against Stanford at Autzen Stadium in Eugene, Ore., winning the past four games played there by an average of 26.8 points.
The No. 4 Ducks and No. 9 Cardinal are playing as well as any teams in the country, and the winner of Saturday night's game will move ahead of the pack in the Pac-10. Stanford defeated the Ducks 51-42 in Palo Alto, Calif., last season.
Oregon is averaging close to 57.8 points per game and ranks third in the country in rushing offense and total offense. But the Ducks' defense showed some cracks in last week's 42-31 win at Arizona State, allowing 597 yards of offense.
3. A year ago, Oklahoma was the team on the ropes heading into the Red River Rivalry game in Dallas. The Sooners had already lost two games after quarterback Sam Bradford injured his shoulder in the opener, and Bradford didn't play long before he was reinjured in the Sooners' 16-13 loss to the Longhorns.
Now it's Texas which seems to be reeling heading into Saturday's game at the Cotton Bowl. The Longhorns' 16-game home winning streak ended with last week's stunning 34-12 loss to UCLA. The Longhorns have struggled to run and suddenly couldn't stop the run against the Bruins.
Last year, Oklahoma quarterback Landry Jones was thrust into action in Dallas, and Longhorns sophomore Garrett Gilbert will make his first start in the rivalry Saturday.
4. Games against Iowa have become a nightmare for Penn State coach Joe Paterno. The No. 22 Nittany Lions are 1-7 against No. 17 Iowa since the start of the 2000 season, and the Hawkeyes have knocked them out of the BCS national championship and Big Ten races a couple of times.
The Nittany Lions return to Kinnick Stadium on Saturday. The most recent time they played there, Iowa upset the No. 3-ranked Nittany Lions 24-23 on a last-second field goal, knocking Penn State out of the 2008 BCS National Championship Game. Last season, Iowa came back from a 10-point deficit to defeat Penn State 21-10 on the road.
Iowa and Penn State both lost early nonconference games, but the winner of Saturday's game moves ahead in the Big Ten race.
5. Georgia wide receiver A.J. Green was suspended for the first four games of the season for selling his 2009 Independence Bowl jersey to someone the NCAA classified as an agent. Without their star receiver, the Bulldogs are off to a 1-3 start, including an 0-3 start in the SEC.
Green finally returns to the field in Saturday's game at Colorado. His return should help jump start the Bulldogs' offense, which has been plagued by poor offensive line play and turnovers. Green's return will make redshirt freshman quarterback Aaron Murray better, but his presence might not be enough to save the Bulldogs' season.
Viewer's Guide
All times ET
Thursday
7:30 p.m.
Texas A&M at Oklahoma State (ESPN, ESPN3.com)
Friday
8 p.m.
BYU at Utah State (ESPN, ESPN3.com)
Saturday
9 a.m.
: "
College GameDay
" from Eugene, Ore. (ESPNU)
10 a.m.
: "
College GameDay
" from Eugene (ESPN)
11 a.m.
: "College Football WhipAround" (ESPNU)
Noon
: Ohio State at Illinois (Big Ten Network)
Louisiana-Monroe at Auburn (ESPNU)
Miami at Clemson (ESPN2, ESPN3.com)
Northwestern at Minnesota (ESPN, ESPN3.com)
3:30 p.m.
: Texas vs. Oklahoma (ABC, ESPN)
Wisconsin at Michigan State (ABC, ESPN)
Michigan at Indiana (ESPNU)
Virginia Tech at NC State (ABC)
6 p.m.
: Duke at Maryland (ESPN3.com)
7 p.m.
: Georgia Tech at Wake Forest (ESPNU)
7:30 p.m.
: Louisiana-Lafayette at North Texas (ESPN3.com)
8 p.m.
: Boise State at New Mexico State (ESPN3.com)
Stanford at Oregon (ABC, ESPN2)
Washington at USC (ESPN2, ESPN3.com)
Notre Dame at Boston College (ABC)
8:05 p.m.
: Penn State at Iowa (ESPN, ESPN3.com)
•
TV coverage maps
Blog Network: What To Watch
Each week, our bloggers will take a closer look at the storylines you should be watching. What's on tap for Week 4?

Clemson's O-line vs. Miami's D-line, BC's quarterback and the record books are in the spotlight.
ACC

The Red River Rivalry takes center stage Saturday, but some other teams have plenty at stake.
Big 12

Cody Endres looked good in relief last week, but can he duplicate his success against an SEC D?
Big East

The Big Ten's top RB goes up against the league's top LB in a matchup football purists will love.
Big Ten

Power vs. speed in Autzen Stadium. Will the real Jake Locker please step up? What about a UCLA hangover?
Pac-10

Alabama vs. Florida III, regular-season style, Cameron Newton's law, and how will Mike Hartline respond?
SEC

How will Air Force's defense handle Navy quarterback Ricky Dobbs? Which winless team can break through?
Non-AQs

The running game will be the focus this weekend. Can the Irish run the ball and force BC to be one-dimensional?
Notre Dame
What Scouts Are Watching
Here's a look at five things Scouts Inc. will be watching closely this week.
Can Stanford slow down Oregon's dynamic offense?
The two biggest concerns for Stanford against the explosive Oregon offense are the loss of S Michael Thomas to an ankle injury and the lack of athletic ability in its linebacker corps. Thomas brings versatility and speed to the secondary, while only ILB Shayne Skov is capable of handling Ducks RBs LaMichael James and Kenjon Barner one-on-one in space.
To read the rest of this breakdown, plus four others, click here

.
CFBL Extra: Leaders Of The Pac
Scouts' Edge: Week 5 Previews
Get in-depth scouting reports of key games as Scouts Inc. breaks down what to watch.

• Penn State-Iowa » Florida-Alabama »
• Stanford-Oregon » Texas-Oklahoma »
• Miami-Clemson » Wisc.-Michigan State » Scouts home »