Back With The Big Boys
For big chunks of the 1980s, 1990s and early this century, no rivalry was more important on the national landscape than Florida State-Miami. From the various incarnations of wide right and left to intense rematches in bowl games to the utter frustration of watching your rival ultimately emerge from the game as national champion, no contest was more captivating.
Even in recent years, the matchup has been rife with drama. Nine straight meetings have been decided by fewer than 10 points, including last season, when the Noles came agonizingly close to scoring the winning touchdown in the waning seconds. Christian Ponder had his team on the doorstep, but his last pass grazed grass milliseconds before Jarmon Fortson scooped it up. Incomplete. It was the last bit of agony the Canes could inflict on former coach Bobby Bowden. At least it wasn't a missed field goal, right?
Saturday's match will be hard-pressed to match last season's heart-stopping finish, but the Noles and Canes appear to be on their way back to the high-stakes table.
[+] Enlarge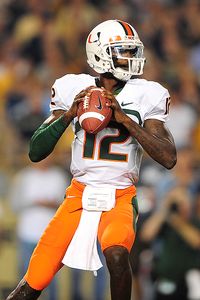 Andrew Weber/US PresswireEventually, Jacory Harris will have to cut down on his mistakes.
When the ACC expanded, the notion was that this rivalry would serve as the cornerstone and, more often than not, would be the ACC title game. It hasn't happened yet, but at the moment, Florida State and Miami look like the two best teams in the league.
Granted, given the ACC's nonconference performance, that's akin to beating out Les Miles in a clock-management contest, but both have shown considerable improvement.
Jimbo Fisher's team has responded beautifully since the beatdown at Oklahoma. Miami, meanwhile, is still having the same ball-security issues that plagued it at Ohio State, but the Canes' defense is stifling and pretty good at getting the ball back if its offense gives it away.
Miami actually is plus-one in turnovers despite Jacory Harris' eight interceptions.
The Canes have blamed several of the picks on their receivers, but it reminds me of a story I heard about Steve Spurrier from his Florida days. A freshman quarterback threw a pick late in a blowout win. As the quarterback came back to the sideline, Spurrier said, "That was a bad call. I shouldn't have called that ball play. I should've let you change it. We can't run that play against that defense." The Head Ball Coach paused a couple of seconds, then said, "But it's your fault, too. You threw it." For the record, the quarterback wasn't Jesse Palmer.
So although I understand that maybe the Canes receivers share a lot of blame, Harris still makes too many throws that send offensive coordinator Mark Whipple's blood pressure into orbit. Harris is too talented and too experienced to continue making such mistakes. He'll need to clean that up against a feisty Noles defense that is taking to defensive coordinator Mark Stoops' schemes.
Still, Oklahoma quarterback Landry Jones passed the Noles silly last month. Saturday's game represents by far the biggest aerial challenge that the Noles will face since then. This game will gauge how far the Noles' D has come.
Saturday is also a prove-it game for Ponder. After the debacle at Oklahoma, Ponder could really generate some momentum for the second half of the season with a big performance against a topflight defense. The senior ranks 52nd in the nation in passing efficiency and has just one 200-yard game this season. Florida State can run the ball, but if the Noles are to win in South Florida, I suspect they will need Ponder to look more like the star quarterback we expected to see this season.
Michigan State and Michigan also have elevated their in-state rivalry in prominence. It's the first time this century that the Wolverines and Spartans will meet as unbeatens. Spartans coach Mark Dantonio plans to lead his team from the press box after missing last week's win over Wisconsin while dealing with a blood clot in his leg in the aftermath of the heart attack he suffered Sept. 19.
Dantonio said, "You can't keep me down Michigan week." But the real question is, Can Sparty keep Denard Robinson down?
Before you answer, consider this: The best rush defense Robinson has faced is Notre Dame, and the Irish rank in the bottom half of the country.
The bottom line is this: Robinson has firmly established himself as the most exciting player to watch so far this season. However, he has not established that he can run wild against solid rush defenses. His first chance will come Saturday.
Michigan State gives up 101 yards per game on the ground, and that ranks 20th in the nation. Sparty was solid if not spectacular against Wisconsin's power game, a type of attack that would seem to suit linebackers Greg Jones and Eric Gordon. Finding Robinson in space will be an entirely different challenge. Whether the Spartans can do that likely will determine whether they can beat the maize and blue in three straight games for the first time since 1965 to 1967, before the Bo Schembechler era.
The Spartans had better slow down the Michigan quarterback, because there's no evidence to suggest that the Wolverines will be anything more than a speed bump on defense to Michigan State's running back duo of Edwin Baker and Le'Veon Bell.
Robinson would top my Heisman ballot if I were to vote today But before I concede the entire race, as my partner Mark May urges, I want to see how Robinson fares this week against the Spartans and next week against Iowa, the nation's second-ranked rush defense.
You'd be hard-pressed to find a tougher three-game stretch than the one Alabama will finish Saturday. The reigning champs head into Williams-Brice Stadium to take on South Carolina on Saturday. The Tide rallied at Arkansas, rolled over Florida and now face their third straight ranked opponent.
For the Tide, this is the game that would seem to be most challenging from an emotional and mental standpoint. It also starts a stretch of six straight SEC games in which Alabama faces a team coming off a bye week.
Bama coach Nick Saban has rightly downplayed the significance, saying his research shows that the 11 other SEC teams are 29-29 coming off a bye week in the past five years. What's he supposed to tell his team? "Guys, the other team is all rested up and put in a bunch of stuff we haven't seen on tape, so it's a huge disadvantage"?
But the post-bye-week record doesn't tell the entire story. The circumstances of each game are unique. When a bad team plays a good team, a bye week probably doesn't help much.
South Carolina had a week to recover from the bitter disappointment at Auburn. The Gamecocks' physical receivers, Alshon Jeffery and Tori Gurley, will challenge Alabama's young cornerbacks.
After Mark Ingram ran for 246 yards and jump-started his Heisman run against the Gamecocks last year, South Carolina will have its sights set on stopping No. 22.
A win over the Tide easily would be the biggest win in Gamecocks history. If South Carolina wins, having a bye immediately beforehand might not be the reason, but you can be sure it didn't hurt.
LSU and Florida will clash, and both are licking their wounds. Has there ever been a more maligned undefeated team than Les Miles' Tigers? The coach has taken a beating over the latest clock-management foible at the end of the Tennessee game last week. But remember what happened the last time Miles was under such fire? The week after last year's "want for another timeout" situation against Ole Miss, the Tigers handled the clock brilliantly and played perhaps their best game of the year to beat Arkansas.
On the other hand, remember what happened after Florida got smashed by Alabama last year? The Gators took out their frustration on an undefeated Cincinnati team in the Sugar Bowl, annihilating the Bearcats. I know. They don't have Tim Tebow anymore, but I'm just saying The Hat had better travel smartly and efficiently while in The Swamp.
Weekend Watch
By Mark Schlabach
ESPN.com
Five things to watch this weekend:
1. Will No. 9 Arizona need another late-game miracle to beat Oregon State on Saturday night?
The Wildcats are ranked in the top 10 for the first time in a decade and are coming off a bye week after two emotionally draining victories over Iowa and California. Arizona hasn't had much success against Oregon State at home, losing four of its past six games against the Beavers at home.
Beavers quarterback Ryan Katz will be tested by Arizona's stingy defense, which ranks No. 2 in the country in total defense (230.8 yards per game), No. 3 in scoring defense (11 points per game) and No. 4 in pass defense (129.5 yards per game).
The good news for the Beavers: Tailback Jacquizz Rodgers broke loose with 145 rushing yards and two touchdowns in last week's 31-28 victory over Arizona State. Even better news: His brother James is expected back after suffering a concussion at Boise State two weeks ago.
2. Will No. 14 Florida bounce back against No. 12 LSU in The Swamp on Saturday night?
The Gators are coming off perhaps their worst loss under coach Urban Meyer, falling 31-6 at No. 1 Alabama last week. The Tigers are 5-0, but coach Les Miles is under fire again for his late-game management in last week's 16-14 victory at Tennessee.
LSU's offense has struggled to throw the ball, and it won't be any easier against Florida's defense. The Tigers are rotating quarterbacks Jordan Jefferson and Jarrett Lee, who combined to throw three interceptions against the Volunteers last week. LSU had only 162 yards of offense in a 13-3 loss to the then-No. 1 Gators last season.
3. Can Ohio State quarterback Terrelle Pryor do what Denard Robinson did to Indiana?
Pryor is nursing a strained left quadriceps, but he might run wild against Indiana's defense when the No. 2 Buckeyes try to beat the Hoosiers for the 16th consecutive time at Ohio Stadium on Saturday. The Hoosiers allowed Robinson to run for 217 yards in last week's 42-35 loss, and the Wolverines ran for 297 yards in the game. If Pryor feels good, he might have a similar effort against Indiana's smallish defense.
Indiana quarterback Ben Chappell set Indiana records with 45 completions and 64 pass attempts against Michigan last week. He'll test an Ohio State defense that will be without safety Tyler Moeller, who suffered a season-ending pectoral injury last week.
4. Will Arkansas quarterback Ryan Mallett put the Alabama loss behind him when the No. 11 Razorbacks play Texas A&M at Cowboys Stadium in Arlington, Texas, on Saturday?
The Razorbacks haven't played since blowing a 13-point lead in the second half of a 24-20 loss to No. 1 Alabama two weeks ago, after Mallett threw two interceptions in the fourth quarter.
Texas A&M also blew a late lead in a 38-35 loss at Oklahoma State last week, after quarterback Jerrod Johnson threw four interceptions for the second game in a row. Mallett had his way with the Aggies' defense in a 47-19 victory last season, throwing for 271 yards with four touchdowns.
5. Will USC get revenge against No. 16 Stanford at Stanford Stadium on Saturday night?
The Cardinal handed USC its worst loss in 43 seasons last year, beating the Trojans 55-21 at the Coliseum in Los Angeles. Cardinal coach Jim Harbaugh added salt to the Trojans' wounds by going for a two-point conversion late in the game, prompting then-USC coach Pete Carroll to ask, "What's your deal?"
Both the Cardinal and Trojans are reeling after bad defensive performances last week. The Cardinal blew a 21-3 lead against Oregon, which had a whopping 626 yards of offense in a 52-31 victory. The Trojans gave up 536 yards in a 32-31 loss to Washington.
Viewer's Guide
All times ET
Thursday
7:30 p.m.
Nebraska at Kansas State (ESPN)
Friday
8 p.m.
UConn at Rutgers (ESPN)
Oklahoma State at La.-Lafayette (ESPN2)
Saturday
9 a.m.
: "
College GameDay
" from Columbia, S.C. (ESPNU)
10 a.m.
: "
College GameDay
" from Columbia, S.C. (ESPN)
11 a.m.
: "College Football WhipAround" (ESPNU)
Noon
: Indiana at Ohio State (ESPN)
Syracuse at South Florida (ESPN3.com)
3:30 p.m.
: Michigan State at Michigan (
ABC, ESPN
)
Arkansas vs. Texas A&M (
ABC
)
Alabama at South Carolina (CBS)
6 p.m.
: Oregon State at Arizona (Versus)
7 p.m.
: Utah at Iowa State (Fox College Sports)
Colorado at Missouri (FSN)
7:30 p.m.
: LSU at Florida (ESPN)
Auburn at Kentucky (ESPN2)
8 p.m.
: USC at Stanford (
ABC
)
Florida State at Miami (
ABC
)
Preview: Michigan St.-Michigan
Blog Network: What To Watch
Each week, our bloggers will take a closer look at the storylines you should be watching. What's on tap for Week 6?

Miami freshman offensive tackle Seantrel Henderson, defenses in Miami and ailing quarterbacks are in the spotlight.
ACC

Taylor Martinez was mistake-prone against South Dakota State, but he'll have to play well to beat Kansas State.
Big 12

The Big East was brutal in nonconference play, but the plus side of that is every team must think it can compete for the league title.
Big East

No one has slowed down Michigan quarterback Denard Robinson this season. Can MSU change that?
Big Ten

It's now clear that the USC of 2010 is closer to the 2009 version than a rebirth of 2002 to 2008. Or is it?
Pac-10

Whether or not Georgia's Mark Richt is genuinely coaching for his job, he said the reality is that you always are, especially in this league.
SEC

Does Boise State need to win 100-0 to get a little respect around here? Ditto for TCU?
Non-AQs

The Irish did a great job holding the run last week against Boston College, but Pittsburgh is a different challenge.
Notre Dame
What Scouts Are Watching
Here's a look at five things Scouts Inc. will be watching closely this week.
Huskers' defense will challenge K-State
Nebraska's 4-2-5 defensive scheme and personnel should combine to slow down Kansas State's offense, particularly RB Daniel Thomas.
To read the rest of this breakdown, plus four others, click here

.
Heismanology: Leading candidates
Scouts' Edge: Week 6 Previews
Get in-depth scouting reports of key games as Scouts Inc. breaks down what to watch.

• Bama-South Carolina » Nebraska-Kansas St. »
• FSU-Miami » MSU-Michigan » Scouts home »

Fantasy College Football
By ESPN Fantasy
Check out College Football Challenge, our new fantasy game. Each week, our fantasy gurus will provide players or units that should be on Challenge owners' radar screens.