Ohio State's Clear Path
The initial BCS standings come out Sunday (ESPN, 8:15 p.m. ET). As surprising as it will be to see Boise State atop those standings, it will be even more jolting for me to see Ohio State sitting in fifth place (per the projection of ESPN's Brad Edwards).
Now there's nowhere to go but up for the Buckeyes as they hit the rough portion of the Big Ten schedule. Coach Jim Tressel seems acutely aware that there's nowhere to go but down when you're the new No. 1 team in the land.
During my conversation with the Vest on Sunday on our BCS countdown show, it was pretty apparent that Tressel wanted nothing to do with the hype of being No. 1. His mindset is the proper one. If he and his team focus on the details, the big picture will follow suit.
[+] Enlarge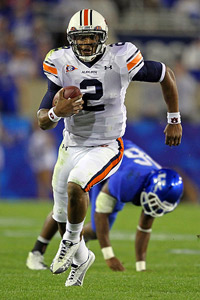 Andy Lyons/Getty ImagesCam Newton is first in the SEC in both rushing and passing efficiency.
The big picture starts to come into focus for Ohio State on Saturday night. The Buckeyes seem jacked about the trip to Wisconsin. Terrelle Pryor started doing his own version of the Badgers' post-third quarter anthem "Jump Around" when asked about the game during his post-Indiana interview session. DeVier Posey remembers his helmet visor vibrating due to the noise during a trip to the Badgers' house during his freshman season.
So with a raucous Camp Randall awaiting and the Buckeyes wearing a giant No. 1 bull's-eye, how is it that Senator Tressel's men have the Badgers right where they want them? Ohio State covers Big Ten night road games as deftly as Limp Bizkit covers "Jump Around." The Buckeyes have won their past six Big Ten night road games, including W's at Iowa, Penn State and, yes, Camp Randall.
Often those streak nuggets are as relevant as the wing-T, leather helmets and Limp Bizkit references. But this one is significant to me because it speaks to the Buckeyes' mindset and confidence in such games. They know how to silence crowds. They know how to take the air out of an opponent's stadium. They win.
Pryor is going to get his yards. Wisconsin's John Clay and James White will get theirs too. What might determine who is jumping around at the end is who gets the best of the hidden-yardage battle.
Both teams are among the worst in the nation at covering punts. Both have already allowed touchdown returns on both a punt and a kickoff. The Badgers allowed two 90-plus-yard returns to Arizona State. Ohio State's Jaamal Berry is a dangerous kickoff return man. The Badgers gave up a back-breaking 96-yard kickoff return to the Buckeyes' Ray Small last year. Wisconsin coach Bret Bielema is emphasizing the importance of covering kicks in practice. Wisconsin needs a break or two and must avoid a breakdown in the kicking game to deliver consecutive weeks of seeing the No. 1 team in the nation stumble in a hostile conference road trip.
---
Arkansas and Auburn will help shape the SEC West. The Tigers are poised to emerge as a dark-horse national title contender if they can beat Arkansas. That has been problematic recently. The Hogs have won three of the past four in the series, and last season they started Auburn's season-ending swoon of five losses in seven games by handing Gene Chizik's team its first loss.
Auburn gives up yards through the air. The Tigers rank 91st in the country in pass defense, allowing more than 239 yards per game. The Razorbacks can play pitch and catch. QB Ryan Mallett is second in the nation in passing yards per game.
[+] Enlarge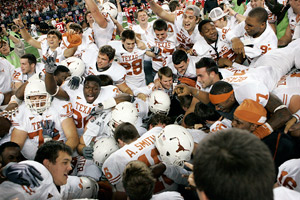 Brett Davis/US PresswireThe last time Texas and Nebraska met, the Longhorns ended up with the last laugh.
But those issues are mere subplots to the issue that I expect to be of paramount importance. Can the Arkansas defense get off the field on third down?
The Hogs are in the Top 25 in the country in third-down defense. Auburn is 20th in third-down conversions. But Tigers QB Cam Newton makes third-and-short-to-medium a double-XL issue for defenses.
In watching Auburn this season, it's amazing how many times a defense will have receivers blanketed and Newton contained only to see big Cam run just enough to move the sticks. On third-and-1-to-3 yards to go, Newton averages 3.2 yards per carry. On third-and-4-to-6 yards to go, he averages 6.14 yards per carry. It isn't the long run that makes Newton lethal, it's the runs that are often just long enough against defenses which are otherwise perfectly positioned.
Sometimes forgotten in the aftermath of games, it's those chain-moving runs that break the spirit of opposing defenses. Just ask Kentucky after Newton nearly single-handedly drained the clock and broke the back of the Wildcats on the drive to the game-winning field goal last week. Newton can really give his fledgling Heisman hopes a boost with another big performance.
Auburn has won three games by exactly three points this season. Expect another barn-burner Saturday against the Hogs.
Kentucky was one of those to fall just short to Auburn. The Cats get South Carolina on Saturday. Forget numbers. This one is strictly mental. Can the Gamecocks handle success and the adulation they've received since beating Alabama?
Steve Spurrier has said the Gamecocks need to avoid being "the same old South Carolina." This game is the difference in the win over Alabama being a benchmark that announces the arrival of Cocky to the proverbial next level, or just another upset.
Michigan State is the Big Ten's version of South Carolina in terms of this weekend being all about handling success. The Spartans did a great job defending Michigan's Denard Robinson. Historically, beating the Wolverines can deliver a "mission accomplished" attitude for the Spartans.
Illinois is riding high after thumping Penn State in Happy Valley. The Fighting Zookers quietly bring the nation's 20th-ranked defense to East Lansing to face the Spartans' running combo of Edwin Baker and Le'Veon Bell, who are combining for more than 200 yards per game on the ground. Toss in the ninth most efficient passer in college football, Kirk Cousins, and you could make a pretty good case that Michigan State has the nation's most balanced offense. The difference in Michigan State's total passing yardage and total rushing yardage is a mere 139 yards. That's by far the smallest disparity among the nation's top 15 offenses.
Michigan State and South Carolina would like avoid the Lou Holtz adage of "it's a different team every week." Sparty and Cocky would like something closer to the teams that showed up last week.
A couple of things as you await the BCS standings to be unveiled Sunday night on ESPN. What if Arkansas beats Auburn, which beat South Carolina, which beat Alabama, which beat Arkansas? How do you rank the SEC teams then? Under that scenario, if South Carolina and Alabama win Saturday, the pollsters' view will be fascinating. Head-to-head will be out the window. You might have seen a lot squawking about where teams were ranked last week. As Jesse Palmer said on our BCS countdown show last week, it can't just be head-to-head. Otherwise, James Madison has to spend the season ranked ahead of Virginia Tech.
The Boise State issue will continue to be a hot-button topic. My studio partner Mark May and Thursday night partner Craig James have been among those steadfastly maintaining that the Broncos are a very good team who simply aren't challenged in the same way as teams from the SEC, Pac-10, Big Ten and Big 12. Evidence is underscored the next couple of weeks.
Boise State's next two WAC foes, San Jose State and Louisiana Tech, have a combined one win against FBS opponents. That won't help Boise State in the computers. But it also won't deter those who believe the Broncos are worthy of a spot in the title game. We're just approaching halftime of the season. It will be interesting to see whether the Broncos are the team perched on top of those first BCS standings. But remember, it will only be a snapshot at this moment of the season. There's an entire second half of the season before this portrait is complete. The canvas figures to get a little messy before we're done.
Weekend Watch
By Mark Schlabach
ESPN.com
Five things I'll be watching this weekend:
1. Don't be surprised if No. 5 Nebraska has a hard time putting away Texas in Saturday's game at Memorial Stadium in Lincoln, Neb. It's going to be the final game between the traditional powers for a while, and there's a lot of emotion on both sides with the series seemingly coming to an end.
The Cornhuskers (5-0, 1-0 Big 12) would like nothing more than to beat the Longhorns in their final season in the Big 12 and are still fuming about the way the 2009 Big 12 championship game ended. Nebraska seemed to have the Longhorns beat 12-10, after Texas quarterback Colt McCoy threw the ball out of bounds as time expired. But officials put one second back on the clock, which allowed the Longhorns to kick a last-second field goal for a 13-12 victory.
The Longhorns (3-2, 1-1 Big 12), who are mired in a two-game losing streak after losing to UCLA and Oklahoma, would like nothing more than to send the Cornhuskers to the Big Ten with another loss in their series.
2. If No. 21 Missouri is going to stay in the Big 12 North hunt with No. 5 Nebraska, the Tigers will need QB Blaine Gabbert to stay healthy. Gabbert is battling a high right hip pointer going into Saturday's road game at Texas A&M. The Tigers (5-0, 1-0 Big 12) play three of their next four games on the road and are entering the most difficult part of their schedule.
After playing the Aggies (3-2, 0-1 Big 12) at Kyle Field, the Tigers host No. 6 Oklahoma on Oct. 23, play at Nebraska on Oct. 30 and play at Texas Tech on Nov. 6. The Aggies have lost their past two games by a combined 10 points and need better play from QB Jerrod Johnson, who has thrown seven touchdowns and nine interceptions in his past three games.
3. No. 20 Oklahoma State will try to end a nine-game losing streak at Texas Tech on Saturday. Both offenses are explosive, which is a good thing because neither defense has been very good.
The Cowboys fell behind Louisiana-Lafayette last week before rallying for a 54-28 victory. The Cowboys (5-0, 1-0 Big 12) might be without three of their top wide receivers. Michael Harrison will miss the game with a fractured finger, and Hubert Anyiam (ankle) and Josh Cooper (concussion) are both questionable.
The Red Raiders (3-2, 1-2 Big 12) are coming off a 45-38 victory over Baylor, but they allowed 114 points in their first three Big 12 games.
4. Everyone has circled No. 19 Nevada's Nov. 26 home game against No. 3 Boise State as the WAC game of the year, but the Wolf Pack's trip to surging Hawaii late Saturday night won't be easy.
Nevada (6-0, 1-0 WAC) hasn't won at Hawaii since a 73-12 rout in 1948. The Warriors (4-2, 2-0 WAC) have won three games in a row, beating FCS foe Charleston Southern, Louisiana Tech and Fresno State by a combined score of 156-55. The Warriors lead the country in passing with 421.7 passing yards per game, and QB Bryant Moniz has already thrown for 2,245 yards with 18 touchdowns.
Hawaii will have to try to contain Nevada QB Colin Kaepernick and tailback Vai Taua, who have combined to run for more than 1,400 yards with 22 touchdowns.
5. One of the best coaching jobs in the country is taking place at Syracuse, which hadn't won more than four games since 2004. Second-year coach Doug Marrone has guided the Orange to a 4-1 record going into Saturday's game against struggling Pittsburgh (2-3, 0-0 Big East).
The Orange (1-0 Big East) are coming off a 13-9 victory at South Florida last week, which was their fifth victory in their past seven games going back to last season. Syracuse is getting it done with defense, allowing 14 points or fewer in four of five games. QB Ryan Nassib is also playing well, completing 57.5 percent of his passes with 10 touchdowns and only two interceptions.
Viewer's Guide
All times ET
Thursday
7:30 p.m.
South Florida at West Virginia (ESPN)
Saturday
9 a.m.
: "
College GameDay
" from Madison, Wisc. (ESPNU)
10 a.m.
: "
College GameDay
" from Madison, Wisc. (ESPN)
11 a.m.
: "College Football WhipAround" (ESPNU)
Noon
: Boston College at Florida State (ESPN)
Illinois at Michigan State (Big Ten Network)
Missouri at Texas A&M (FSN)
3:30 p.m.
: Iowa at Michigan (
ABC, ESPN
)
Texas at Nebraska (
ABC, ESPN
)
Arkansas at Auburn (CBS)
Cal at USC (FSN)
Oklahoma State at Texas Tech (FSN Plus)
6 p.m.
: South Carolina at Kentucky (ESPN2)
7 p.m.
: Ohio State at Wisconsin (ESPN/ESPN3D)
Mississippi State at Florida (ESPNU)
9 p.m.
: Ole Miss at Alabama (ESPN2)
11:30 p.m.
: Nevada at Hawaii (ESPN3)
Blog Network: What To Watch
Each week, our bloggers will take a closer look at the storylines you should be watching. What's on tap for Week 7?

A few potential record breakers: Georgia Tech quarterback Joshua Nesbitt, Clemson running back Andre Ellington and Maryland wide receiver Torrey Smith.
ACC

Texas is one of a handful of teams across the country with the personnel to completely limit Nebraska quarterback Taylor Martinez's effectiveness.
Big 12

Which seemed less likely before the season: that Louisville would be leading the league in rushing at this point, or that the Bearcats would have the top rushing defense?
Big East

Ohio State's ability to win Big Ten road games under Jim Tressel is one of the more overlooked trends in college football.
Big Ten

Here's a guess that the winner of California's visit to USC will finish in the top-half of the Pac-10, while the loser will end up in the bottom-five.
Pac-10

Ryan Mallett vs. Cam Newton: It's the best matchup of quarterbacks in college football to this point.
SEC

This is a classic reverse matchup -- a Nevada team that loves to run in the Pistol offense versus a Hawaii team that loves to pass in the Run N Shoot offense.
Non-AQs

Maintaining offensive momentum and playing a complete game remain issues for Notre Dame.
Notre Dame
Kiper/McShay: Dangerous Players
What Scouts Are Watching
Here's a look at five things Scouts Inc. will be watching closely this week.
Ohio State's advantage in the trenches
After breaking down the coaches' tape of both teams in the trenches we think the matchup between the Wisconsin offensive line and Ohio State's defensive line will decide which team comes out on top in Madison.
To read the rest of this breakdown, plus four others, click here

.
Scouts' Edge: Week 7 Previews
Get in-depth scouting reports of key games as Scouts Inc. breaks down what to watch.

• Oregon St.-Washington | Missouri-Texas A&M
• Iowa-Michigan | Nebraska-Texas | OSU-Wisc.
• Arkansas-Auburn | Scouts' edge home

Heismanology: Leading candidates
Fantasy College Football
By ESPN Fantasy
Check out College Football Challenge, our new fantasy game. Each week, our fantasy gurus will provide players or units that should be on Challenge owners' radar screens.