On The Road Again
The most meaningful word in college football this week is the one word that has wreaked more havoc on the rankings than any other: at. As in undefeated Michigan State at Iowa, unbeaten Missouri at Nebraska and No. 1 in the human polls, unblemished Oregon at USC. In all, six of the remaining seven undefeated teams have to get through Roadblock Saturday to remain perfect.
Roadblocks have bounced a No. 1 team from its perch atop the AP poll or BCS standings in each of the past three weeks. Auburn is next to sample life as the No. 1 target in the BCS.
The Tigers are at Ole Miss. Unlike the previous toppled top teams, Auburn doesn't have to deal with a ranked opponent. Instead, the Tigers face a team that has already lost at home to Jacksonville State and Vanderbilt. That doesn't mean the Rebels should be construed as more speed bump than roadblock.
[+] Enlarge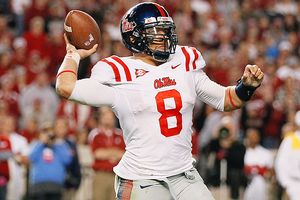 Kevin C. Cox/Getty ImagesJeremiah Masoli had his best game for the Rebels last week.
Ole Miss is playing much better offensively. Jeremiah Masoli is coming off his best game for the Rebels against Arkansas. Masoli threw for 327 yards and three touchdowns and ran for 98 more yards in the loss.
This is a vulnerable spot in the schedule for Auburn, too. After tough, emotional home wins against Arkansas and LSU, Gene Chizik eased up a bit in practice this week to help the Tigers recharge the batteries.
It might be the perfect time for Auburn to take some of the burden off of Cameron Newton's legs and put more of it on his arm. With his spectacular rushing performances, the presumptive Heisman front-runner hasn't needed to throw often in the past two games. He completed only 10 passes each against Arkansas and LSU. But don't be surprised if Auburn attacks up top a little more.
Ole Miss has a decent rush defense, but the Rebels give up more than 245 yards per game through the air, ranking them No. 99 in the country, and have the worst pass efficiency defense in the SEC.
The past three weeks, you could look at the tasks facing the previous No. 1 teams (Alabama, Ohio State and Oklahoma) and almost smell the upset brewing. Given Ole Miss' inconsistent play (to put it kindly), this one doesn't feel the same, but strange things happen on the road at night.
Auburn plays away from home for just the third time this season. The previous two trips -- to Mississippi State and Kentucky -- were each decided by a field goal. Watch to see whether the Rebels' defensive front can keep Newton contained and turn him into more of a passer. Considering Ole Miss' pass defense, that wouldn't figure to be an appealing strategy.
After winning the first game it played outside the state of Michigan this season by beating Northwestern, Michigan State now faces a supersized roadblock: Kinnick Stadium.
Michigan State hasn't won in Iowa City since the George Perles era in 1989. The Hawkeyes figure to be in a surly mood after dumping a game against Wisconsin. They also could get a jolt of energy if longtime defensive coordinator Norm Parker is in the house to watch his charges play. Parker has missed most of the season while dealing with complications of diabetes.
Did you notice Kirk Ferentz took full responsibility for mismanaging the clock at the end of the 31-30 loss to the Badgers? Ferentz said it was his fault the Hawkeyes weren't in punt-safe defense when Wisconsin pulled off a crucial fake punt in the fourth quarter. You think a guy who steps up to take the heat like that will have his players breathing fire to atone? I do. Don't forget, Iowa is still in the thick of the Big Ten race.
Michigan State is undefeated largely because it pulled off two fake kicks -- one against Notre Dame and the other this past week against Northwestern.
The Spartans have as balanced an offense as there is in college football, but they have a more important commodity: belief. Someone in the Michigan State program told me this week that everyone bristles when the SOS talk comes up: "Same Old Sparty." The Spartans want to show that this year is different. Winning this game would bury SOS and give birth to a brand-new Sparty, one that would have to absolutely spit the bit not to win the league.
After Iowa, Michigan State has Minnesota and Purdue at home before the finale at Penn State. I know how dangerous it is to say this because so much can happen, but basically this game should decide whether Michigan State plays in a BCS game and whether it stays in the mix for the BCS game.
As formidable as Michigan State's challenge is, it would seem no one faces a roadblock as sizable as the one in front of Missouri. The undefeated Tigers have to come down from the euphoria of beating Oklahoma for a game at Nebraska.
But the at seems just as big a problem for the home team. The Huskers inexplicably lost at home to Texas and looked sluggish against South Dakota State. In fact, Bo Pelini has lost three of his past five Big 12 home games. The Huskers have averaged less than 12 points per game in that span and haven't scored more than 17 points in a Big 12 home game since 2008 against Colorado.
Pelini's road record is better than his home record. Although acknowledging that the recent home woes might be coincidence, Pelini is tweaking the home routine a touch, just in case. He wants to limit distractions. He would be wise to limit turnovers.
Missouri played opportunistic football and took advantage of Oklahoma gaffes to beat the Sooners. Few teams have given opponents as many opportunities as the Huskers with their 24 fumbles, tied for worst in nation. Nebraska has lost nine of those fumbles.
This past week, Wisconsin completed the rare "beat No. 1, then go on the road to beat a ranked opponent" combo. The previous four teams to beat No. 1 at home lost their next road game.
Missouri tries to follow Wisconsin's lead. The Tigers got clutch QB play from Blaine Gabbert in the fourth quarter this past week. Gabbert hit eight of his nine passes in the final period for 95 yards and a touchdown to cap a 308-yard night in the 36-27 win over Oklahoma. Like Iowa, Nebraska is playing for its conference-title life. With a loss, the Huskers would have a de facto three-game deficit to Mizzou in the Big 12 North.
Oregon faces its toughest test thus far at USC.
Why aren't we talking about Matt Barkley for the Heisman? He's not the reason the Trojans are on probation. Barkley has thrown for nearly 1,900 yards, 20 TD passes and 4 interceptions. Sure, Newton is the leader, but Barkley should at least be in the conversation.
The Trojans will try to run it right at the Ducks. Time of possession could be key. The Ducks care about that stat as much as they do bland uniforms, but USC is second in the conference in time of possession. The more the Trojans hog the ball, the more antsy the Ducks' offense could get. Getting the ball away from USC could be the mini roadblock that determines whether Oregon is an upset victim as the No. 1 team in the polls.
Because it's Halloween weekend, let's have a look at all the previously downtrodden programs dressing up as postseason contenders. Maryland, Syracuse and San Diego State are all one win from bowl eligibility. Baylor already has six wins. Northwestern is a win from likely going to three straight bowls for the first time.
Milestones and upsets are delivered on "College Football Final" on Saturday night. How those things impact the BCS standings will be unveiled on "BCS Countdown" on Sunday night at 8:15 ET on ESPN. There are no roadblocks to keep you from making yourself at home with us this weekend.
Weekend Watch
By Mark Schlabach
ESPN.com
Five things I'll be watching in college football this weekend:
1. Can Georgia end its drought against Florida?
The Bulldogs have lost 17 of their last 20 games against the Gators, who go into Jacksonville, Fla., riding a three-game losing streak for the first time since 1999. Georgia has won three games in row and has climbed back into the SEC East race after opening the season with a 0-3 record.
Florida's offense ranks 89th nationally in total offense, and it has had twice as many negative plays (58) as touchdowns (26). But the Gators have had their way against Georgia during the last two decades, scoring 30 points or more 12 times, 40 points or more six times and 50 points or more twice.
Georgia has scored 40 points or more in each of its last three games and has looked much better on offense since receiver A.J. Green returned from a four-game suspension.
2. Will Auburn have its way at Ole Miss?
Rebels coach Houston Nutt has long thrived in games like this one, but Ole Miss probably isn't good enough on defense to slow down Tigers quarterback Cameron Newton, who has emerged as the front-runner to win the Heisman Trophy.
Auburn ran for 440 yards against LSU in last week's 24-17 victory. Ole Miss ranks 10th in the SEC in total defense, allowing 370.6 yards per game. Arkansas gained 464 yards -- 197 on the ground -- in last weeks 38-24 victory.
Auburn coach Gene Chizik hopes his team does a better job winning the field-position battle. Against LSU, Auburn's offense started drives at its 9-, 20-, 2-, 1-, 20- and 10-yard line. The Tigers' sometimes-porous secondary might be tested by Rebels quarterback Jeremiah Masoli, who threw for 327 yards with three touchdowns against the Hogs.
3. Will No. 8 Utah get caught looking ahead?
The Utes host No. 4 TCU in Salt Lake City on Nov. 6, but first they'll have to slow down Air Force's high-powered running game at Falcon Stadium in Colorado Springs, Colo., on Saturday.
The Utah-Air Force series has involved exceptionally close games, with 12 of the last 13 meetings being decided by 10 points or fewer. Utah won 23-16 in overtime in Salt Lake City last season, and the Utes won 30-23 in 2008, scoring the winning touchdown with 58 seconds to go.
The Utes are coming off a 59-6 rout of Colorado State, and they've won each of their last six games by 24 points or more. The Falcons were walloped by TCU 38-7 last week.
4. Who wins the battle of Pac-10 quarterbacks?
Washington's Jake Locker and Stanford's Andrew Luck might each have a chance to become the No. 1 pick in next spring's NFL draft, and they'll face each other Saturday at Husky Stadium in Seattle.
Luck has a chance to break Stanford's single-season record of 27 touchdown passes, which is currently shared by John Elway (1980) and Steve Stenstrom (1993). He leads the Pac-10 in total offense (283 yards per game) and is second in touchdown passes (19) and passing efficiency (165.4).
Locker has been slowed by a bruised thigh and sore ribs and hasn't been nearly as effective the last few weeks. He was sacked four times and held to minus-24 rushing yards in last week's 44-14 loss at Arizona.
Luck got the better of Locker in the Cardinal's 34-14 victory over Washington last season. Luck passed for 103 yards and rushed for 59 with one touchdown. Locker was limited to 20 rushing yards and threw two interceptions in the loss.
5. Will there be any defense played in Manhattan, Kan.?
Kansas State averaged 50.5 points and 438.5 yards of offense in its last two games. Oklahoma State has averaged 48.3 points and 529.6 yards of offense for the season.
The Wildcats rank 100th nationally in total defense, allowing 428.3 yards per game. The Pokes are allowing 423.9 yards and 30.6 points per game.
The scoreboard operator might be winded after the Pokes travel to play the Wildcats on Saturday. Oklahoma State is coming off a 51-41 loss to Nebraska and will play the Wildcats without star receiver Justin Blackmon, who was suspended one game after being arrested for DUI early Monday morning.
The Cowboys have lost their last six games at Kansas State and haven't won there since 1988, when coach Mike Gundy was their quarterback.
Viewer's Guide
All times ET
Thursday
7:30 p.m.
Florida State at NC State (ESPN)
Friday
8 p.m.
West Virginia at UConn (ESPN2)
Saturday
9 a.m.
: "
College GameDay
" from Los Angeles (ESPNU)
10 a.m.
: "
College GameDay
" from Los Angeles (ESPN)
11 a.m.
: "College Football WhipAround" (ESPNU)
Noon
: Miami at Virginia (ESPN)
Purdue at Illinois (ESPN2)
Oklahoma State at Kansas State (FSN)
3:30 p.m.
: Missouri at Nebraska (
ABC, ESPN
)
Michigan State at Iowa (
ABC
)
Texas Tech at Texas A&M
Florida at Georgia (CBS)
6 p.m.
: Auburn at Ole Miss (ESPN2)
7 p.m.
: Baylor at Texas (FSN)
Stanford at Washington (Versus)
7:30 p.m.
: Utah at Air Force (CBS College Sports)
8 p.m.
: Oregon at USC (
ABC
)
Michigan at Penn State (ESPN)
9:15 p.m.
: Colorado at Oklahoma (ESPN2)
Blog Network: What To Watch
Each week, our bloggers will take a closer look at the storylines you should be watching. What's on tap for Week 9?

Christian Ponder and Russell Wilson are two of the veterans in the league, but they've both struggled with interceptions recently.
ACC

Oklahoma State won't have suspended receiver Justin Blackmon. How many more touches will that provide for running back Kendall Hunter?
Big 12

Syracuse has already won at South Florida and at West Virginia. Can the Orange do it again at Cincinnati on Saturday?
Big East

It's not the first so-called "must-win" for Rich Rodriguez at Michigan, but the Wolverines and their constantly scrutinized coach would benefit from a victory at Beaver Stadium.
Big Ten

Stanford's defense has been OK this year, but it looked bad against Oregon and lost focus late versus Washington State.
Pac-10

This will be the ninth straight week that Auburn has played without a bye. Will it catch up to the Tigers?
SEC

Do No. 4 TCU and No. 8 Utah stay undefeated headed into their big showdown next week?
Non-AQs

Notre Dame begins life without Ian Williams this week, as Williams may miss the rest of the regular season with an MCL sprain.
Notre Dame
Preview: Michigan State-Iowa
What Scouts Are Watching
Here's a look at five things Scouts Inc. will be watching closely this week.
Can USC handle Oregon's passing game?
Oregon QB Darron Thomas had his best passing performance of the season last week against UCLA, and the outstanding protection the Ducks' offensive line has been providing is one of the most underrated aspects of their high-powered offense.
To read the rest of this breakdown, plus four others, click here

.
Scouts' Edge: Week 9 Previews
Get in-depth scouting reports of key games as Scouts Inc. breaks down what to watch.

• Michigan State-Iowa | Mizzou-Nebraska
• Florida-Georgia | Auburn-Ole Miss
• Oregon-USC | FSU-NC State | Scouts' home

Fantasy College Football
By ESPN Fantasy
Check out College Football Challenge, our new fantasy game. Each week, our fantasy gurus will provide players or units that should be on Challenge owners' radar screens.
McShay/Kiper: Luck or Lucker?