Alabama, Penn State Renew Rivalry Of Respect
After an opening weekend marred by bizarre weather and scarred by uniforms ranging from gaudy (Georgia) to garish (Maryland), the only game matching ranked teams features unis from the timeless classic collection.
Neither Alabama nor Penn State is particularly concerned about making a fashion statement. Make no mistake, statements will be made, but it will have nothing to do with the Nits' sweet blue jerseys or the numbers on the Tide's headgear.
I was in State College this summer to host the "Life Lessons with Paterno & Krzyzewski" interview show. The Nittany Lions people were already talking about the Tide rolling in. Paternoville opened for business Monday and Jay Paterno tweeted a picture to prove it.
There is such a rich history between these traditional giants that any meeting is going to create a buzz. The periodic rivalry is refreshingly cordial and based on mutual respect of the other's tradition. That's not to say there aren't some old wounds.
[+] Enlarge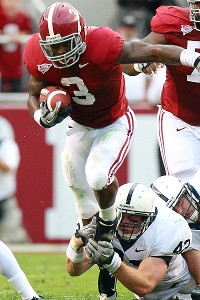 Kevin C. Cox/Getty ImagesTrent Richardson ran for 144 yards and a score in last season's game vs. Penn State.
No non-Big Ten opponent has beaten Joe Paterno's team more often than Alabama. No one has burned the Nittany Lions to their soul the way Alabama has.
Barry Krauss stopped Mike Guman in the 1979 Sugar Bowl's famous goal-line stand. The hit denied Guman the end zone and Joe Paterno his first national title.
The Nittany Lions won the title in '82 with one loss. It came to Alabama.
In the Tide's last trip to State College in 1989, Penn State lined up for a chip-shot FG to win the game, only to see Alabama's Thomas Rayam block it.
Penn State jumped out 34-7 on Alabama in 1983 and snuffed out a furious Tide rally to hold on 34-28.
Paterno's 1986 title team mauled a top-five Alabama squad, squashing any designs the Tide had on a title run.
Comparatively, last season's game was rather mundane, except for the fact that it wounded the pride of the Penn State defense. The D has seen the tape of Trent Richardson running by, through and over them for 144 yards in an easy 24-3 Tide win.
Saturday afternoon, in whiteout conditions, is the Nittany Lions' chance at redemption.
Richardson's violent running style isn't the only reason to expect the Nittany Lions to force new Tide QBs AJ McCarron and Phillip Sims to beat them. While the duo combined to throw for just less than 300 yards in Bama's opening rout of Kent State, they also tossed four picks. WR Julio Jones is gone. Other than Marquis Maze, the Alabama receivers are unproven.
Penn State has a similar quarterback situation. Neither Rob Bolden nor Matt McGloin reached the 80-yard mark passing against Indiana State. Then again, when Silas Redd is running wild, why throw? The Nittany Lions will have to show some balance against the Tide's fast and ferocious defense.
Expect the hitting to be fierce. Expect the crowd to be electric. Expect the stars to come from the defenses. Drew Astorino, Michael Mauti, Devon Still for the Nittany Lions. Dont'a Hightower, Courtney Upshaw and Mark Barron for the Tide.
These two have played 14 times. Four times the winner scored nine points or fewer. I know. History doesn't mean a thing come Saturday, but that's just the way the Nittany Lions and the Tide go about their business. And both will be impeccably dressed.
---
The polar opposite of that game will be the one Craig James, Jesse Palmer, Jenn Brown and I will call Thursday night in Stillwater. Arizona rolls in to face Oklahoma State (ESPN, 8 p.m. ET).
[+] Enlarge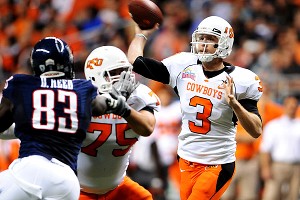 Icon SMIBrandon Weeden threw for 240 yards and two touchdowns vs. Arizona in last season's Alamo Bowl.
Two of the top three pass-catch combinations in the country were going to be on display -- Brandon Weeden to Justin Blackmon for Oklahoma State, Nick Foles to Juron Criner for Arizona -- but Criner did not make the trip to Stillwater.
Each QB threw five touchdown passes in Week 1. Two of Weeden's were touchdowns for UL-Lafayette, but his three-interception, two pick-six game is a hiccup for the strong-armed senior. The Cowboys thumped the Wildcats 36-10 last season in the Alamo Bowl. The Pokes' triumph has served as motivation for Arizona in the offseason. Let's just say Blackmon's Cadillac stroll into the end zone during the Alamo Bowl has been a staple of Arizona's summer movie collection.
The Cats haven't beaten an FBS opponent since getting past UCLA the day before Halloween last season. They lost five straight to finish last season. By the way, if you think Arizona limped to the finish last year, wait until you see the Pony (James) and the Quarterback (Palmer) try to finish their weekly workout with the Cowboys' conditioning staff.
It's far too easy to overreact to the first week of the season. There's a perfectly logical reason for it. We've all invested so much energy anticipating the season that an emotional reaction is logical. That's the main reason for the outcry over Georgia's performance in its loss to Boise State. It has upped the ante for the Dawgs' game against South Carolina. An 0-2 start isn't insurmountable. Georgia's schedule is conducive to turning it around. The question will be, is their psyche capable of it?
As for Boise State, anyone who questions whether the Broncos can play with and defeat the "big boys" -- even those in the SEC -- either has blinders on or isn't paying attention. However, that's a completely different question from evaluating their merit for a spot in the national championship game. It's far too early to worry about that, but I thought I'd get it out there early. Being capable and being worthy based on schedule, accomplishment and severity of the tests along the way are completely separate discussions. The Broncos have proved one. The other is fair debate.
This weekend marks the 10th anniversary of the Sept. 11 tragedies. While those scars will never completely heal, I'll never forget the way American pride and resilience was displayed at college football stadiums across the country when the games returned. Lou Holtz coached South Carolina against Mississippi State in the first game played after Sept. 11. The unity, sportsmanship and subsequent escape by enjoying competition displayed what's best in sports. Hopefully, we'll all take a moment to remember that Saturday.
I continue to urge you to let Mark May, Lou and me know what you think on Twitter. I've coached up Lou on how to use his iPad. We want your thoughts on "College Football Final." Join us Saturday. Plenty from the first night game at the Big House, the Tide's visit to the white house and all points across college football.
Weekend Watch
By Mark Schlabach
ESPN.com
Here are five things to watch this weekend:
STATS & INFO: NICKEL PACKAGE
The nation's two longest intrastate winning streaks are on the line this week. Ohio State enters its game with Toledo riding a 37-game winning streak against teams from the state of Ohio, and a 43-game unbeaten streak (42-0-1). The Buckeyes haven't lost to an Ohio team since dropping a 7-6 decision to Oberlin in 1921. Meanwhile, LSU hosts Northwestern State having won 27 straight against teams from the state of Louisiana. The Tigers haven't lost to an intrastate team since 1982 against Tulane.

For more of this story, click here.
1. Will Georgia protect quarterback Aaron Murray in Saturday's SEC opener against No. 12 South Carolina at Sanford Stadium? The Bulldogs surrendered six sacks in last week's 35-21 loss to Boise State. The Gamecocks, who were tied for the SEC lead with 27 sacks in eight league games in 2010, didn't have a sack in last week's 56-37 victory over East Carolina. But South Carolina's defensive line is more athletic than Boise State's, so UGA's offensive line will have its hands full.
2. Can Notre Dame quarterback Tommy Rees pick up where he left off in 2010? Rees didn't lose as a starter in four games after replacing injured Dayne Crist last season, and Rees is the starter again after Crist struggled in a 23-20 loss to South Florida last week. Rees' mobility might be a factor in Saturday night's game at Michigan, which seems to be better on defense under first-year coach Brady Hoke.
3. Can defending BCS national champion Auburn slow down Mississippi State's high-octane offense? The Tigers' defense looked atrocious in last week's 42-38 victory over Utah State, allowing 448 yards of offense, including 227 rushing. The No. 16 Bulldogs gained 645 yards of offense in less than 23 minutes of time of possession in last week's 59-14 rout of Memphis.
4. Will No. 13 Oregon regain its footing in Saturday's home opener against Nevada? The Ducks, the defending Pac-12 champions, had four turnovers and 12 penalties in last week's 40-27 loss to LSU. The Ducks need to get tailback LaMichael James going, after he ran 18 times for only 54 yards with one touchdown against LSU. James' slow start forced quarterback Darron Thomas to attempt 54 passes against the Tigers.
5. Has No. 24 Texas really fixed its problems after a 5-7 finish in 2010? The Longhorns started slow in last week's 34-9 victory over Rice, but there are reasons for optimism heading into Saturday night's game against BYU. Quarterback Garrett Gilbert, who struggled mightily in his first season as a starter, completed 56.5 percent of his passes for 239 yards with one touchdown and no interceptions against the Owls. The Longhorns ran for 229 yards and their defense allowed only 224 yards of offense. They'll get a stiffer test from the Cougars.
For more things to watch this weekend, click here.
Viewer's guide
All times ET
Thursday
8 p.m.
: Arizona at Oklahoma State (ESPN)
Friday
10:30 p.m.
: Missouri at Arizona State (ESPN)
Saturday
9 a.m.
: "
College GameDay
" from Ann Arbor, Michigan (ESPNU)
10 a.m.
: "
College GameDay
" from Ann Arbor, Michigan (ESPN)
11 a.m.
: "College Football WhipAround" (ESPNU)
Noon
: Oregon State at Wisconsin (ESPN)
Florida Atlantic at Michigan State (ESPN2)
Iowa at Iowa State
12:21 p.m.
: Mississippi State at Auburn (ESPN3)
3:30 p.m.
: Alabama at Penn State (ABC)
Cincinnati at Tennessee (ESPN2)
Stanford at Duke (ESPNU)
Virginia Tech at East Carolina
4:30 p.m.
: South Carolina at Georgia (ESPN)
7 p.m.
: BYU at Texas (ESPN2)
Fresno State at Nebraska
7:30 p.m.
: Utah at USC (Versus)
8 p.m.
: Notre Dame at Michigan (ESPN)
Preview: Notre Dame-Michigan
Blog Network: What to watch
Each week, our bloggers will take a closer look at the storylines you should be watching. What's on tap for Week 2?

Coach Frank Beamer is one win shy of 200 during his career at Virginia Tech.
ACC

Starting safety Johnny Thomas is ineligible for the entire season, so it's up to senior Markelle Martin to lead a very young group of cornerbacks.
Big 12

The big story this week has been the way the league went 8-0 in Week 1. Can that be replicated in Week 2?
Big East

Michigan has played 520 games at Michigan Stadium, but none has kicked off at night. History will be made Saturday.
Big Ten

While everyone knows Stanford QB Andrew Luck is the best player in college football, he's going to have to put up some numbers to win the Heisman Trophy.
Pac-12

Week 2 is highlighted by a couple of key conference clashes, one of those involving Georgia.
SEC
Upset watch
Defending Rose Bowl champion TCU has won 36 of its past 40 games, but the No. 25 Horned Frogs will fall to 0-2 after playing at Air Force on Saturday.
TCU's rebuilt defense was exposed in last week's 50-48 loss at Baylor, allowing 564 yards of offense. Falcons quarterback Tim Jefferson, a senior from Atlanta, doesn't throw the ball like Baylor star Robert Griffin III, but he runs the triple-option offense to near perfection.
The Falcons ran for 391 yards in last week's 37-20 victory over FCS opponent South Dakota.
Scouts' Edge: Week 2 previews
Get in-depth scouting reports of key games as Scouts Inc. breaks down what to watch.

• Alabama-Penn State | Notre Dame-Michigan
• South Carolina-Georgia | Scouts' home
McShay, Kiper review Week 1
What scouts are watching
Here's a look at five things Scouts Inc. will be watching closely this week.
Arizona's protection problems vs. Oklahoma State
Arizona heads to Oklahoma State on Thursday for a rematch of last season's Alamo Bowl, and after reviewing tape of that game it's clear the Wildcats need to shore up their passing game to pull off the upset on the road this time around.
To read the rest of this breakdown, plus four others, click here

.
Fantasy college football
By ESPN Fantasy
Make GameDay your game day with three ways to play.


• Pick 'Em: How confident are you?
• College Challenge: Build the best team
• College Showdown: Choose wisely