Mirror Images Meet In Madison
Legends meet Leaders. Nebraska meets Wisconsin. The christening of a new era in the Big Ten has everyone seeing red in Madison.
As a public service announcement, I would like to remind you that the Legends division of the Big 10 is comprised of all schools which begin with "M," "N" and Iowa. The Leaders division is all the rest. You can remember that by noting that there is an "n" in "legends" but not "leaders." That's less confusing than why we use these division names in the first place.
Ordinarily, I wouldn't even bring it up before such a legendary event, but I'll be more than slightly stunned if these two aren't the leaders in their respective divisions come season's end. Put simply, I think it's highly likely this is the first of two meetings between the programs that dress alike, act alike and -- since Nebraska alum Barry Alvarez revived Wisconsin football and built it in the image of his alma mater -- the two largely win alike.
[+] Enlarge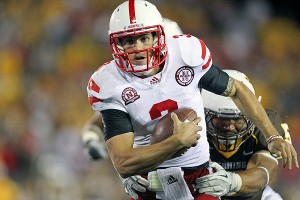 Zuma Press/Icon SMIWill Nebraska QB Taylor Martinez be able to run the ball effectively against South Carolina's speedy defense in the Capital One Bowl?
Before we punch Herbie and Bucky's ticket to Indianapolis to represent the Legends and Leaders in the Big Ten championship game, let's savor this one. Alvarez told me earlier this year that there's never been a ticket for a game in Camp Randall as coveted as this one.
After beating Wyoming last week, the Huskers started whooping it up about being in Big Ten play now. Badgers running back Montee Ball called it the "big stage." Only Bo Pelini rained on the parade, saying "it's just the next game." Process-oriented, that Pelini guy is.
Though Wisconsin is extraordinarily balanced with Russell Wilson at the helm, it's obvious both want to run the ball. The Badgers run with all the deception of a steamroller. You see it coming. You hope you don't get mashed. You usually do.
Nebraska is a bit different stylistically, but the Huskers cover earth like a combine devouring all in its path. Trickeration and deception have little place in this game.
Beyond the hype, there are things to watch. When Craig James, Jesse Palmer and I saw Wisconsin in its first game against UNLV, the Badgers allowed some runs on the edge. Nebraska quarterback Taylor Martinez lives to show his speed outside.
[+] Enlarge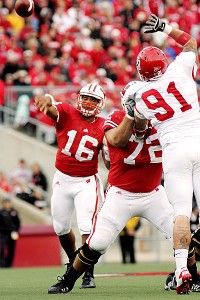 Patrick S Blood/Icon SMIRussell Wilson brings a new element to the Wisconsin attack.
Since the start of last season, Martinez is averaging 9.7 yards per carry on runs designed to go outside the tackles. It's not that he's bad inside. He's found big enough gaps between the tackles to average only a half-yard less per carry. But if Nebraska finds it can exploit the Wisconsin D outside, Martinez and
Rex Burkhead
will be lethal. To be fair, it was Wisconsin's first game and the Badgers have been good against the run, allowing 89 yards per game. But UNLV and Northern Illinois are hardly Nebraska.
The Huskers' defensive numbers won't yet be etched in the annals of Blackshirt lore. Nebraska has been mediocre, giving up about 350 yards per game to mostly suspect competition. The Huskers have also allowed 29 or more points in two of their four games.
But for the first time, Nebraska expects to have defensive tackle Jared Crick, linebacker Lavonte David and cornerback Alfonzo Dennard on the field at the same time. So maybe we just haven't seen the real Blackshirts yet. Crick and Dennard have battled injuries. The trio need to perform at their expected all-conference level to contain the Badgers' near-perfectly balanced attack.
Wisconsin has found running early in games tough at times. But that's why the Badgers have Wilson. He's responded by carving up defenses through the air. Funny how that opens alleys for Ball and James White to gash teams thereafter.
Other than Dennard, Nebraska's secondary is young. Wilson is throwing for 284 yards per game. He's played in big games, though perhaps none with an atmosphere that will approximate this one. Still, I expect his experience and unflappable demeanor will be a huge plus.
Should Wilson have a huge game on this stage, he immediately becomes a very serious Heisman Trophy candidate. He could become "legendary" for the leaders of the Leaders when Wisconsin meets Nebraska again for the Big Ten title in December. Did I say when? I meant if. Really, I meant if. Go ahead, rest of the Big Ten. I can feel the Twitter bombs going off now.
---
Texas A&M gets an early taste of SEC play when the Aggies take on Arkansas. It's not a conference game yet.
The Aggies celebrated their inclusion into the SEC this week even as they mourned a gut-wrenching loss to Oklahoma State. A&M squandered a 17-point lead with a turnover- and miscue-glutted third quarter.
While the Aggies are largely worried about their bruised egos, the Razorbacks just had to tend to plain old bruises. Alabama bludgeoned the Hogs 38-14. Quarterback Tyler Wilson took a pounding. Now comes an angry Aggies defense, which leads the nation in sacks. However, it's also an Aggies D that gave up more than 400 yards passing to Brandon Weeden. Despite being throttled by the Tide, the Razorbacks have a potent passing game and they've won the last two against their soon-to-be SEC West rival.
---
Fresh off the impressive win over Arkansas, Alabama rolls into the Swamp to take on Florida. It is not quite at the level of their back-to-back SEC title tilts and de facto national semifinal games of 2008 and '09, but it's still huge.
While we could hurl superlatives at Trent Richardson and Eddie Lacy, Chris Rainey and Jeff Demps, Jaye Howard and Dont'a Hightower, quarterbacks will decide the game.
AJ McCarron and John Brantley have played it close to the vest through September. When their defenses have played as well as they have and running games have been as explosive as those of the Tide and Gators have been, that's smart. But on Saturday night, one of the quarterbacks will be forced to make a play. These defenses will demand it. Make the quarterback beat us. Maybe it'll be converting a clutch third down. Maybe it will be leading a late drive. But if quarterback is still a question mark for these two teams, answers will come Saturday night.
In September, teams establish an identity. In October, they position themselves to pursue championships. Mark May, Lou Holtz and I will be in position Saturday on "College Football Final." How will Virginia Tech handle Sammy Watkins of Clemson? Are the Tigers legit? We'll deliver Saturday night around midnight ET on ESPN. Follow the three of us on Twitter. Think of it as your backstage pass to our day in the studio. See you then.
Weekend Watch
By Mark Schlabach
ESPN.com
Here are five things to watch this weekend:
[+] Enlarge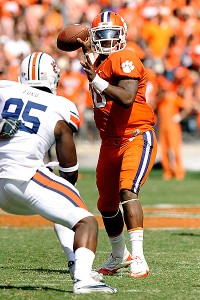 David Allio/Icon SMICan Tajh Boyd and Clemson win at Virginia Tech for the first time in over two decades?
1. Can Clemson win on the road?
The No. 13 Tigers were perhaps the country's biggest surprise during the first month of the season, after ending defending BCS national champion Auburn's 17-game winning streak and knocking off preseason ACC favorite Florida State. But each of Clemson's four victories came at Death Valley, and it hasn't won at No. 11 Virginia Tech since 1989. Will Tigers quarterback Tajh Boyd and the Tigers' high-paced offense be able to operate as smoothly at rowdy Lane Stadium?
2. Should No. 15 Baylor be on upset alert?
It's been almost too easy for Baylor quarterback Robert Griffin III, who has thrown more touchdowns (13) than incomplete passes (12) through three games. But Griffin will probably face his stiffest test from Kansas State's defense in Saturday's game in Manhattan, Kan. The Wildcats rank No. 6 nationally in total defense (246.3 yards per game) and No. 11 in pass defense (157.3 yards).
3. Can South Carolina get its passing game going?
The No. 10 Gamecocks seem to be living on borrowed time going into Saturday's game against Auburn. Senior quarterback Stephen Garcia has struggled mightily, throwing seven interceptions with only three touchdowns in four games. South Carolina coach Steve Spurrier doesn't seem to have much confidence in backup Connor Shaw, either. Receiver Alshon Jeffery, who had 88 receptions in 2010, has caught only two passes in each of the past two games. Spurrier might simplify his play calling in an attempt to revive his passing game against the Tigers.
4. Will Michigan State or Ohio State start Big Ten play on the right foot?
The Buckeyes have concerns at quarterback, where freshman Braxton Miller will make his second start in Saturday's game against the Spartans. Michigan State's offensive line is still suspect, although it played well in last week's 45-7 rout of Central Michigan. The Spartans haven't beaten OSU since 1999 and they're 0-2 against the Buckeyes under coach Mark Dantonio, who was OSU's defensive coordinator under former coach Jim Tressel during a national championship season in 2002.
5. Will Boise State get revenge?
The No. 4 Broncos shouldn't have too many problems against the Wolf Pack, who will be playing their fourth straight road game to start the season. Nevada dashed Boise State's BCS title hopes last season, upsetting the Broncos 34-31 on Nov. 26. The Wolf Pack will need a big performance from freshman quarterback Cody Fajardo, who has run for 197 yards and three touchdowns this season.
For more things to watch this weekend, click here.
Viewer's guide
All times ET
Thursday
8 p.m.
: South Florida at Pitt (ESPN)
Friday
8 p.m.
: Utah State at BYU (ESPN)
Saturday
9 a.m.
: "
College GameDay
" from Madison, Wis. (ESPNU)
10 a.m.
: "
College GameDay
" from Madison, Wis. (ESPN)
11 a.m.
: "College Football WhipAround" (ESPNU)
Noon
: Texas A&M vs. Arkansas (ESPN)
Northwestern at Illinois (ESPN2)
Rutgers at Syracuse (ESPN3)
Air Force at Navy (CBS)
3:30 p.m.
: Baylor at Kansas State (
ABC/ESPN
)
Auburn at South Carolina (CBS)
Georgia Tech at NC State (
ABC/ESPN
)
Michigan State at Ohio State (
ABC/ESPN
)
Bowling Green at West Virginia (ESPN)
SMU at TCU
6 p.m.
: Clemson at Virginia Tech (ESPN2)
7 p.m.
: Texas at Iowa State (FX)
Washington at Utah
Duke at FIU (ESPNU)
8 p.m.
: Nebraska at Wisconsin (ABC)
Alabama at Florida (CBS)
Notre Dame at Purdue (ESPN)
Blog Network: What to watch
Each week, our bloggers will take a closer look at the storylines you should be watching. What's on tap for Week 5?

Virginia Tech's third-down defense and UNC's defense in the first quarter will be worth keeping an eye on.
ACC

Texas A&M can't abandon its running game against Arkansas, especially with the Aggies' defense now fighting a few key injuries.
Big 12

Coach Charlie Strong said this week that Will Stein is questionable with a shoulder injury, leaving the door open for true freshman Teddy Bridgewater to start.
Big East

After months of anticipation and a smooth transition into the conference, Nebraska finally plays its first league game as a Big Ten member.
Big Ten

Utah QB Jordan Wynn is understandably tired of talking about his surgically repaired shoulder, but many will continue to wonder about it until he looks 100 percent in an A-list performance.
Pac-12

If a rough start in Oxford, Miss., isn't bad enough, Ole Miss has to travel across the country to take on Fresno State.
SEC
Kiper/McShay: Week 5 preview
Upset watch
No. 13 Clemson hasn't yet played a game away from home.
No. 11 Virginia Tech hasn't yet played an opponent that really matters.
The Hokies have blasted four lesser opponents, beating FCS foe Appalachian State, East Carolina, Arkansas State and Marshall by a combined score of 139-40. New quarterback Logan Thomas has been steady, and speedy tailback David Wilson has been spectacular at times.
The Hokies will finally be tested by the Tigers on Saturday night at Lane Stadium in Blacksburg, Va. Clemson has greatly benefited from playing its first four games at home, but quarterback Tajh Boyd will find ways to crack the Hokies' vaunted defense in a close upset victory.
Scouts' Edge: Week 5 previews
Get in-depth scouting reports of key games as Scouts Inc. breaks down what to watch.

• Nebraska-Wisconsin | Clemson-Virginia Tech
• Alabama-Florida | Auburn-South Carolina
Fantasy college football
By ESPN Fantasy
Make GameDay your game day with three ways to play.


• Pick 'Em: How confident are you?
• College Challenge: Build the best team
• College Showdown: Choose wisely