Notre Dame Could Start Run
Since Knute Rockne's wife convinced her husband that a winter trip to Los Angeles would be a nice escape from South Bend, Ind., the Notre Dame-USC series has been a staple of the college football season.
There actually is another explanation (and likely the true one) for how the series started that had a lot less to do with Rockne's wife and a lot more to do with the sides realizing that such a series could be lucrative, but that doesn't create the mystique befitting the Irish and the Trojans. The financial explanation for the series origin does prove capitalism and the free market aren't recently embraced phenomenons by those in college football.
Whether it be teams from the Pac-12's ancestor, the Pacific Coast Conference, budging on snobbishly refusing to play Notre Dame due to its then supposedly inferior academic status in order to make a few bucks, or the Irish caving on their stance against playing bowl games to fight commercialism in intercollegiate athletics, or the current culture of conference realignment, the motivation of money is not a new thing in college football.
[+] Enlarge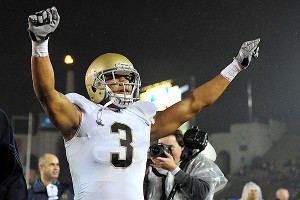 Matt Cashore/US PresswireMichael Floyd and Notre Dame went into the Coliseum last season and came out with a win.
While the Irish certainly won't be motivated by BCS money on the field Saturday night, their administration could be excused if it casts an eye toward the bottom line. Since Notre Dame went for the proverbial bird in hand and took guaranteed money from the BCS (even if they don't play in a BCS game), the financial gap between making a BCS game and not making it is no longer the virtually all-or-nothing financial proposition it was a few years ago. It could easily be argued that making a BCS game now defines a successful season for the Irish considering they have no conference to win.
Notre Dame needs to make the top 14 of the BCS standings in order to be considered for an at-large berth. At the moment, they aren't in the Top 25, I see no way how it vaults high enough without a win over USC. So maybe Lane Kiffin was right. This is Notre Dame's Super Bowl. At least for now. Kiffin called last season's loss to Notre Dame the worst one he's been associated with as a head coach. It put the brakes on an eight-year run of Trojan dominance and gave the Brian Kelly regime some momentum going into the offseason. It might not be the Super Bowl to Kiffin, but the Trojans will not lack for motivation or intensity.
The Irish could stand a dose of Gordon Gekko. Greed is good because they should've had their fill of benevolence in giving away the football. The Irish have had a negative turnover margin in four of their six games. They are minus-seven for the season. But Notre Dame hasn't turned it over in its past two games.
Until the Cal game, USC had been lousy at taking it away. Half of the 10 turnovers forced by the Trojans this season came against the Bears' sputtering offense. The Trojans are still in the red by two turnovers themselves this season.
Though Notre Dame's turnover woes have been thoroughly documented, I think the man who carries the biggest onus for taking care of the ball is USC quarterback Matt Barkley.
The Trojans have no running game to speak of. They run a lot of bootlegs and waggles to mask some weakness on the offensive line and protect the quarterback. Barkley, as talented as he is, has had a tendency to throw picks, dating back to his high school days. In fact, in about 300 fewer pass attempts, Barkley has thrown seven more interceptions than former USC QB Matt Leinart. Barkley's done a very good job taking care of the ball this season, but two of his four interceptions came in the Trojans' only loss to Arizona State. But Barkley can also make big plays. Robert Woods and Marqise Lee, assuming the latter's shoulder is OK, are dangerous down-the-field threats.
Was the turnover-plagued September illustrative who the Irish really are? Or are they a threat to make a late run toward a BCS bowl behind the running of Cierre Wood and Jonas Gray and the relentless tackling of Manti Te'o? The latest edition of the venerable rivalry with the Trojans will provide an answer Saturday night.
---
Stanford gets its first real test of the season when Washington heads to the Farm. Andrew Luck is the Heisman frontrunner, but UW's Keith Price has more touchdown passes. Price has 21 scoring tosses to Luck's 18. Nationally, only Robert Griffin III (22) has more. Price, running back Chris Polk, who's averaging 121 yards per game rushing, and receiver Jermaine Kearse will give Stanford's Pac-12-leading defense a challenge.
Pass defense has been shaky at times for the Huskies. That's not a great résumé to bring in against Luck. But Steve Sarkisian has the Huskies on their way back to prominence. That trip may be a little closer to its destination should they pull the upset.
Washington wasn't overwhelmed during its trip to Nebraska. A serious self-inflicted wound on the kickoff return team squashed any hope Sark's squad had of knocking off Big Red. There's a difference between an upset and a landmark win. Beating USC in Sarkisian's first season was an upset. Beating Stanford would be a landmark.
---
There have been precious few major upsets this season. Oklahoma State has a tricky trip to Missouri. The Tigers are 0-for-3 versus solid competition, losing to Arizona State in overtime, Oklahoma by 10 and Kansas State by seven. But all of those games were on the road. Missouri is much better than its 3-3 record indicates. Next week, Missouri opens its SEC road schedule against Texas A&M. Sorry. Just trying to get you used to the idea.
I've placed dibs on the first official LSU-Alabama countdown clock. Our producers are working feverishly to have one ready. Maybe we should have a giant football dropping like the New Year's Eve ball except we're counting down to Nov. 5. Should the Bayou Bengals take out Auburn and Alabama rolls past rival Tennessee, it will be time to synchronize our watches and hype it for two weeks. It will be a game that -- barring a significant upset later in the season -- will function as a de facto national semifinal. Another piece of evidence that shows why college football owns the most significant regular season in all of sports.
Weekend Watch
By Mark Schlabach
ESPN.com
Here are five things to watch this weekend:
1. Can Wisconsin's mammoth offensive line handle Michigan State's aggressive defense?

[+] Enlarge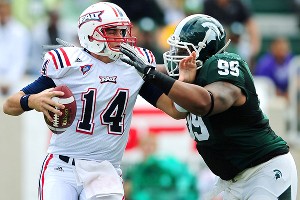 Andrew Weber/US PresswireMichigan State's defense has been terrorizing QBs this season.
The No. 6 Badgers have one of the country's biggest offensive lines, with their five starters averaging 322 pounds. The No. 16 Spartans' starting four defensive linemen have an average weight of 282 pounds, but they're very aggressive and exceptionally quick. Whichever team controls the line of scrimmage in Saturday night's game at Spartans Stadium figures to have a big advantage. MSU ranks No. 2 nationally in total defense (186.1 yards per game) and No. 8 in sacks (3.5 per game).
2. Does No. 20 Auburn have a chance at No. 1 LSU?
The Tigers will go into Saturday's game at Tiger Stadium with a new quarterback, after Auburn coach Gene Chizik benched Barrett Trotter in favor of sophomore Clint Moseley. Moseley, who is more of a running threat than Trotter, provided a spark in the second half of last week's 17-6 victory over Florida. Chizik can only hope Moseley performs better than the last two quarterbacks who faced LSU's defense: Florida freshman Jacoby Brissett and Tennessee's Matt Simms. LSU will probably stack the line of scrimmage to slow down Auburn's running attack, so Moseley will have to make some throws down the field.
3. Can Tennessee's defense slow down Alabama's Trent Richardson?
The Volunteers seem to be reeling and Saturday night's trip to No. 2 Alabama isn't good a remedy. The Volunteers rank No. 8 in the SEC in run defense, allowing 155.8 yards per game. Richardson has run for 100 yards or more in six straight games, matching Shaun Alexander's 12-year-old school record. Richardson had 183 yards and four touchdowns in last week's 52-7 rout of Ole Miss. If he reaches 100 yards before halftime, Alabama coach Nick Saban might sit him down in the second half to rest for the Tide's Nov. 5 showdown against LSU.
4. Does No. 4 Oklahoma State have anything to worry about at Missouri?
The Tigers have won 10 consecutive home games and they're coming off their best performance of the season. Missouri quarterback James Franklin had 289 passing yards and 84 rushing yards in last week's 52-17 rout of Iowa State. The Pokes have been spectacular on offense this season, but their defense is allowing 426.7 yards of offense per game. OSU will also have to slow down Missouri tailback Henry Josey, who ran for 100 yards or more in three of the last four games.
5. Where does No. 3 Oklahoma need to improve?
The Sooners haven't had problems beating Texas Tech or winning at home. OU has defeated the Red Raiders seven straight times and it has won 39 games in a row at home. But OU coach Bob Stoops would like to see his offense become more consistent in the red zone. The Sooners have scored only 19 touchdowns in 31 trips inside opponents' 20-yard line. OU settled for four short field goals in last week's 41-17 victory over Kansas.
For more things to watch this weekend, click here.
Viewer's guide
All times ET
Thursday
9 p.m.
: UCLA at Arizona (ESPN/ESPN3D)
Friday
8 p.m.
: West Virginia at Syracuse (ESPN)
Saturday
9 a.m.
: "
College GameDay
" from East Lansing, Mich. (ESPNU)
10 a.m.
: "
College GameDay
" from East Lansing, Mich. (ESPN)
11 a.m.
: "College Football WhipAround" (ESPNU)
Noon
: North Carolina at Clemson (ESPN)
Illinois at Purdue (ESPN2)
Cincinnati at South Florida (ESPN3)
Oklahoma State at Missouri (FX)
12:21 p.m.
: South Carolina at Mississippi State (ESPN3)
3:30 p.m.
: Auburn at LSU (CBS)
Texas A&M at Iowa State (
ABC
)
Maryland at Florida State (
ABC/ESPN2
)
Georgia Tech at Miami (ESPN)
7:15 p.m.
: Tennessee at Alabama (ESPN2)
7:30 p.m.
: USc at Notre Dame (NBC)
8 p.m.
: Wisconsin at Michigan State (ESPN)
Washington at Stanford (
ABC
)
Texas Tech at Oklahoma (
ABC
)
SMU at Southern Miss (CBS Sports)
Preview: Wisconsin-Michigan State
Blog Network: What to watch
Each week, our bloggers will take a closer look at the storylines you should be watching. What's on tap for Week 8?

For the only time this year, the schedule will feature an all-ACC lineup, with six league games.
ACC

Oklahoma State is going to score at least 30 points. Period. So, how does Missouri combat that?
Big 12

Cincinnati, Rutgers and West Virginia all have a chance to become bowl eligible this week.
Big East

Two of the nation's elite units clash Saturday night at Spartan Stadium in a game that likely will determine the Big Ten's top team.
Big Ten

USC QB Matt Barkley and WR Robert Woods are the best pass-catch combination in the Pac-12, and one of the two or three best in the nation.
Pac-12

For the third straight week, LSU will be facing a quarterback that didn't open the season as the starter.
SEC
Preview: OK State-Missouri
Upset watch
Penn State is back in the national rankings with a 6-1 record and leads the Big Ten's Leaders Division with a 3-0 record in conference play. Northwestern has lost four games in a row and sits in the basement of the Legends Division at 2-4, 0-3. But the Nittany Lions' trip to Ryan Field on Saturday night smells and looks like a trap. The Wildcats are desperate to save their season.
To read the rest of this entry, click here.
Scouts' Edge: Week 8 previews
Get in-depth scouting reports of key games as Scouts Inc. breaks down what to watch.

Preview: Washington-Stanford
Fantasy college football
By ESPN Fantasy
Make GameDay your game day with three ways to play.


• Pick 'Em: How confident are you?
• College Challenge: Build the best team
• College Showdown: Choose wisely