Sooner than expected
Tommy Grady could be the Oklahoma quarterback, but he ran into Rhett Bomar.
Bomar could be the Oklahoma quarterback, but he ran into the NCAA manual.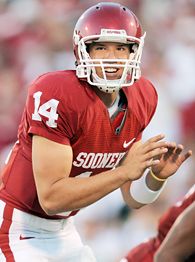 J.P. Wilson/Icon SMI
Sam Bradford threw three TD passes against the Mean Green.
Grady will start Saturday for Utah, Bomar will start Saturday for Sam Houston State, and Oklahoma fans have no worries at all. They have a redshirt freshman named Sam Bradford to start Saturday against Miami (ABC, noon ET).
During the entire offseason, as fans and media wondered whether inexperience at quarterback would hold back Oklahoma, Sooners coach Bob Stoops professed no worries. Of course, Stoops professes no worries about most everything, but still.
Maybe Stoops knew something. Bradford made his collegiate debut Saturday against North Texas, and completed 21 of 23 passes for 363 yards and three touchdowns.
After the game, which Oklahoma won 79-10, Bradford described his performance as "all right."
All right?
Stoops, who gives compliments only to those who earn them, called Bradford "fantastic." Oklahoma quarterbacks coach Josh Heupel said Tuesday night that Bradford graded higher Saturday than senior Paul Thompson did in any game last season, when Oklahoma went 11-3.
Unfortunately, Bradford's postgame comments are all we will hear from him until after Oklahoma plays Miami on Saturday. Stoops is willing to play freshmen. He's not as willing to subject them to ego massage. Three years ago, Stoops rolled out Adrian Peterson as if were an iPhone -- a lot of hype, followed by limited statements.
The same goes for Bradford, a multisport high school star from Oklahoma City. Heupel, driving home from the office Tuesday night, described Bradford as "a perfectionist. He's always striving to be better."
"For him to come out and play the way he did was encouraging," Heupel said. "He didn't grade out perfect. He graded out extremely well. He took care of the ball. He threw the ball on time. When they were blitzing and he was hit, he got rid of the ball. He knew where to throw. He took shots in the mouth, got himself up and played the next play. Those are things you want to see from a young guy."
The guess here is that the Hurricanes' defense will be faster than the Mean Green defense. Miami has one of the best defensive lines in the nation, and an All-American free safety in Kenny Phillips. It's worth noting that Oklahoma's defense is pretty fast, and Bradford has played against the Sooners more than he has any other team.
How to count to 85
Since school is just starting, let's whip a little algebra on you. Pull out your No. 2 pencil and solve this equation: X plus O equals 85. Define X and O.
Every season, coaches must figure out how many players to have at each position while keeping the sum at 85 or fewer. Every coach has a different ideal answer, which is how USC begins this season with nine tailbacks. Here's how they do the math at Oklahoma and Florida State, courtesy of recruiting coordinators Cale Gundy and John Lilly, respectively.
| | | |
| --- | --- | --- |
| Position | OU | FSU |
| RB | 5 | 4 |
| WR | 8 | 10 |
| OL | 17 | 16 |
| QB | 3 | 4 |
| TE/FB | 7 | 7 |
| ST | 4 | 3 |
| DL | 15 | 15 |
| LB | 9 | 11 |
| DB | 14 | 15 |
| Total | 82 | 85 |
Gundy on the position he coaches: "You need to have at least four or five running backs. I have five on scholarship. Two of those guys are leaving this year. We have two young men who have already committed. The last two years, I've had to play four running backs, due to injuries." (Perhaps you've heard of Adrian Peterson).
Lilly on special teams: "The one thing that most people come together on is three for special teams: kicker, punter, deep snapper."
Gundy, disagreeing with Lilly: "You probably have three kickers and punters, and a long snapper."
Lilly on the effect of offensive evolution: "Right now, we've got more wide receivers and [fewer] tight ends. You'll see that more and more. Our tight end and fullback positions are starting to merge with Jimbo [Fisher, the new offensive coordinator]. You cheat a little bit there."
Gundy on 14 players for four secondary positions: "Those are athletes. They are going to play on a lot of special teams. Receivers, linebackers, secondary … They're your gunners, jammers, return guys. You can't have enough of those guys."
Lilly on adding up to 85: "We try to go 41, 41 and 3. A lot of people like to go 42 on defense, 40 and 3. You figure you got more guys involved in the kicking game on defense"
Gundy, on adding up to 82: "You sign a couple of kids who are athletes, guys who can play wide receiver and/or defensive back. A high school quarterback who is a very athletic guy may not be a college quarterback. He may play as a wide receiver or defensive back. … You don't ever turn down a great player, even if you have too many players at that position. … If we take five or six running backs, if another Adrian Peterson comes along, we're going to take him."
Changing Tide
On his first kickoff return of the season, Alabama sophomore Javier Arenas went 30 yards to the Western Carolina 47. On his second, he set a personal record, taking the kickoff 45 yards to the Catamounts' 36. Both returns set up touchdowns in the Tide's 52-6 victory, and the Bama coaches named Arenas the special teams player of the week.
"Saturday was like a big party," Arenas said.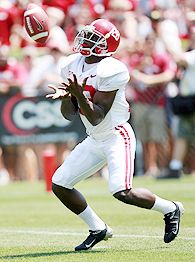 Marvin Gentry/US Presswire
Javier Arenas shined on special teams for the Tide in Week 1.
Not bad for a player who talked to head coach Nick Saban last month about quitting the team.
It is easy to forget that 19-year-olds who shimmy through and around opposing tacklers go through emotional crises.
"I was just thinking negative as far as my playing defense," said the 5-foot-9, 193-pound reserve free safety from Tampa and a cousin of NBA All-Star Gilbert Arenas. "I just can't really explain it. I wasn't being treated unfairly. It was just me. I had to make a decision in my life. I had to question whether I wanted to play or not. … Basically, I didn't know if I wanted to proceed."
Arenas said his dissatisfaction had nothing to do with his teammates, whom he didn't want to let down. Arenas met with Saban, who said that he would respect whatever decision Arenas made.
"He wanted me to think it over," Arenas said. "I told him I was questioning a lot of things."
Over the next three or four days, Arenas just sat and thought. He kept coming back to what Saban had told him. And he reminded himself that he had never quit.
"I know he's been around it for many, many years," Arenas said. "He's seen a lot of situations like that. He told me I would regret it. … [What Saban said] wasn't even about playing football. It was about academics and a great opportunity in my life. I couldn't let that go."
It sounds as if Arenas re-recruited himself to Alabama all over again. He said he felt more relaxed on the field Saturday, which may explain the two kickoff returns past midfield.
"I am more confident," Arenas said. "Everything is in place."
All of which made his August crisis seem as if it belongs to a different person. Maybe it does.
"I look back and think, 'What was I thinking?'" Arenas said.
Ivan Maisel is a senior writer for ESPN.com. Send your questions and comments to Ivan at ivan.maisel@espn3.com.
3-point stance

1. Did Appalachian State's upset of Michigan ruin the I-A gravy train for all I-AA teams? Southern Conference commissioner John Iamarino believes the paycheck writers will perform more due diligence. Said Iamarino: "I find it curious … that Michigan's first [I-AA] opponent would be the two-time national champion with a lot of people coming back." Curious? Polite guy, that Iamarino.

2. North Carolina opened against James Madison with 13 new starters: one junior, six sophomores, five redshirt freshmen, one true freshman -- take a bow, H-back Zack Pianalto. Now that strong linebacker Chase Rice is out for the season with an ankle injury, add one more redshirt freshman (Bruce Carter). They'll be doing more losing than shaving in Chapel Hill. But I bet they learn.

Flynn
3. Old school: a quarterback who loses a battle for the starting job should remain as a backup and good teammate. New school: take off! Sam Keller (Arizona State to Nebraska), Ben Mauk (Wake Forest to Cincinnati), Harrison Beck (Nebraska to NC State) and Tommy Grady (Oklahoma to Utah) have all become starters. I'm old-school enough to root for seniors who waited their turn like Matt Flynn (LSU) and Tyler Donovan (Wisconsin).
Soapbox moment

Give credit to the NCAA Football Rules Committee. In 2006, it became apparent in the first week of the season that the changes it made to shorten the game didn't work. In the first week of this season, it is just as apparent that the changes it made to correct the problems did work. In 2005, teams averaged 70.6 plays per game. In 2006, that average dropped to 64.0.
I added up the plays from scrimmage of the 23 complete games involving the Top 25 (No. 12 Cal played No. 15 Tennessee, and severe weather curtailed No. 6 Florida). In those 23 games, the teams averaged 68.5 plays per game. That's only two snaps per team fewer than 2005. In other words, we have our game back.
Volunteer autopsy

Jackson
Speed killed Tennessee on Saturday night. Defensive coordinator John "Chief" Chavis usually doesn't have the slower team. But take a look at the game's big plays from scrimmage. By the traditional definition -- 20 yards or more -- Cal had eight big plays, and by five different players. That doesn't include
DeSean Jackson
's 77-yard punt return for a touchdown. That's also nearly twice as many big plays as Tennessee allowed per game (54 in 13 games) a year ago.
What in the name of Ty Detmer?
This is not a misprint: Five of the eight teams in the Mountain West Conference, the league with the all-offense, all-the-time legacy, allowed 10 points or fewer last week.

"The old WAC [the predecessor of the MWC] was wide-open. There was virtually no defense being played," said Utah head coach Kyle Whittingham, who worked on the Utes' defensive staff from 1994 to 2004 before being promoted to replace Urban Meyer. "It was like street football, people winning 52-49."
Whittingham believe the transformation, though slow to develop, is rooted in two things: one, the 85-scholarship limit, and two, a change in offensive philosophy in the league to accommodate tougher defense. An offense that airs out the ball doesn't give its defense much time to rest.
"If you play good defense, you have to have an offense that will control the ball and move the chains, rather than drop back and throw the ball 50 to 60 times," Whittingham said. "People [in the MWC] emphasize ball control more than they used to."
Medical center
During spring practice in April, New Mexico kicker John Sullivan didn't just tear his left ACL, the one in the leg he plants before swinging his right foot through the ball. He imploded it. Shortly after the injury, Sullivan had an MRI taken of his knee.
"There's usually a black streak where the ACL is," Sullivan said Monday, "and there's nothing."
Sullivan, all 5-foot-10, 152 pounds of him, suffered the injury trying to make a tackle. He thought his career had ended before it started. Sullivan had never kicked in a game.
But New Mexico assistant athletic trainer Bob Waller did some research. The ACL provides stability when a knee rotates. Kickers don't do the twisting required of other players.
"If we fixed it [surgically]," Waller said, "he would probably be ready in the middle of the season."
Sullivan didn't want to wait that long.
"I really want to do this," he said. "I wasn't going to let anything stop [me]."
Waller devised a regimen of weightlifting and balance work to strengthen the muscles surrounding the knee. Sullivan worked out every day, several hours a day, all summer.
But all the strength in the world wouldn't matter if the knee didn't hold when he planted to kick. Shortly before preseason practice, Sullivan got a tee and a ball and put three months of work to the test.
"It was weird," he said. "I don't know how to explain. I didn't think about my knee. I focused on the ball."
Sullivan felt nothing, except joy.
That brings us to Saturday night, when Sullivan made 2 of 4 field goals in the Lobos' 10-6 loss at UTEP. Sullivan missed his first attempt, a 32-yarder.
"It was my first game experience since my senior year in high school," Sullivan said. "I was completely nervous."
Once Sullivan settled, he made a 20-yard field goal, hit the right upright from 37 yards and made a 40-yarder.
And on the opening kickoff, the first play of his long-awaited college career, Sullivan ignored how he hurt himself in April 2006. Sullivan made the tackle.