Does Practice Make Perfect?
No. 14 Nebraska has been preparing for its game against No. 1 USC for 29 years, ever since the last top-ranked opponent played in Lincoln. USC has been preparing for this game for two weeks. They just feel like 29 years.
In the last two weeks of August, you hear it from every coach and every player: We're tired of hitting each other. We need to hit someone else.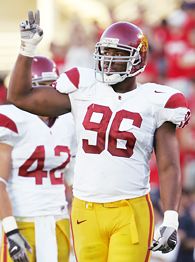 Lisa Blumenfeld/Getty Images
Lawrence Jackson and the Trojans are ready to get back on the field.
The Trojans opened the season on Sept. 1 by hitting Idaho with a 38-10 victory. But USC got last week off, which meant two more weeks of hitting each other and not hitting someone else.
Both Trojans head coach Pete Carroll and offensive coordinator Steve Sarkisian spoke of the benefits of having an off week after the opener. Carroll likes it so much that this is the fourth consecutive season that USC has set up the schedule this way.
"It's kind of a nice thing," Carroll said. "It's such a big deal to play that first game and then you get a chance to regroup and get ready again."
Sarkisian used redshirt freshman wide receiver David Ausberry as an example. Ausberry, who made five catches for 46 yards against the Vandals, played hard and played fast in his first start, Sarkisian said, but has spent the week-plus of practices focusing on "the details of some shorter routes."
It's as close as Carroll, a longtime NFL coach, will ever get to having a preseason game in college football. That's why he likes it.
And you know how NFL players feel about preseason games, which brings us to the Trojans themselves. Defensive end Lawrence Jackson doesn't like it at all.
"You build up and finally get that game," Jackson said. "Your body thinks you're going into full-season mode. Then you get another week off, and you start from scratch and lose momentum. It is kind of difficult to get to that game and then have to build back up. … The hard part is getting the weekend off and coming back on Monday."
Jackson said he spent the off week working on little things he doesn't like about his game.
"I'll read the stance of the [offensive] lineman and ignore the formation and the tendencies of the offense," Jackson said. "This week I will be reading the formation before I read the stance of the person in front of me. I'm continuing to work on my 'get-off,' [to] make sure I get my hands on the offensive lineman before [he] gets his hands on me."
All well and good. But suffice it to say, the Trojans will be ready to play Saturday evening.
"It's worse than the last week of August," Jackson said, "just because you got to do it again."
Behind The Numbers
Cincinnati coach Brian Kelly came out of the 34-3 stunner over Oregon State believing his defense is "top-25 caliber." After six picks against the Beavers, the Bearcats defense is more than halfway to its 2006 total of 14, and Cincinnati has 10 games to play.
"I was a lot like everybody else," Kelly said. "I wasn't sure where we were."
Kelly expected his defense to be ahead of his offense. Former coach Mark Dantonio left behind eight returning starters. But it's clear that the Bearcats have taken to Kelly's scheme. Corners DeAngelo Smith and Mike Mickens have two interceptions apiece. So does free safety Haruki Nakamura.
| | |
| --- | --- |
| Team | Ints. |
| 1. Boston College | 9 |
| 2. Cincinnati | 8 |
| 3. LSU | 7 |
| 4. TCU | 6 |
| 4. Louisiana Tech | 6 |
They have benefited, Kelly said, from playing more zone coverage and less man-up pressure.
"We're giving our corners an opportunity to see the ball," Kelly said. "… Defensively, Mark left me a pretty good hand. I'm just playing that hand a little bit differently. Mark played a lot more coverages where the corner's back was to the quarterback. We get the defensive backs over the top, where they can see the quarterback and get a bead on the [ball]."
Oregon State coach Mike Riley, after watching video of the game, praised Cincinnati for playing "smart, fast and with intensity." While he spread blame throughout his offense, Riley said his young quarterbacks Sean Canfield and Lyle Moevao (three picks each) walked right into the traps that the Bearcats laid for them.
"Inconsistency of reads, basically," Riley said. "Young quarterbacks jump to conclusions about what's going to happen. They assume things. You have to read it out. They have to have the patience to let things happen. We know what they are capable of. We just have to help them."
It's safe to say that Cincinnati won't face many Canfields and Moevaos in the Big East, where Brian Brohm of Louisville, Patrick White of West Virginia and Matt Grothe of South Florida are proven stars. Kelly is convinced his defense can get the Bearcats into the Big East race. But that's only half the team.
"It's moving in the right direction," he said. "If we can continue to get better offensively, we can be in the hunt. … I want to get the team better in November."
The Unlikely Captain
Appalachian State's victory at Michigan on Sept. 1 might be the biggest upset in college football this season. Then again, it may not.
Last month, the Baylor offensive and defensive players voted for their respective captains. All the Bears voted for a special teams captain. When the Baylor coaches counted the players' votes, the captain of the special teams was senior Jonathan Weeks, the deep snapper.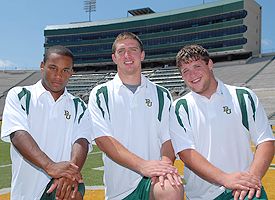 Rod Aydelotte, Waco Tribune-Herald
Jonathan Weeks (right) joined Brandon Whitaker and Joe Pawelek as Baylor's 2007 captains.
That's like a pinch-hitter being named MVP of the American League. Just ask Weeks.
"It was kind of a shock," he said, "just something completely unexpected."
It is true that Baylor lost All-American punter Daniel Sepulveda and placekicker Ryan Havens from last year's team. Weeks is a steady influence on freshman punter Derek Epperson and freshman placekicker Shea Brewster.
But anyone who plays special teams can be elected captain. That's why players on both sides of the ball vote. The vote reflects the respect accorded Weeks, a four-year starter whom coach Guy Morriss awarded a scholarship after his freshman season.
"I was happy for Weeks," Morriss, a former All-Pro center himself, told the Waco Tribune-Herald after the team vote, "because he's a kid that does everything you ask him to do as hard as he can."
Weeks played both ways at Mountain Ridge High in Glendale, Ariz., and won the Curley Culp Award as the state's best defensive lineman in 2003. But he knew that if he wanted to play I-A football, it wouldn't be as a lineman. As a 21-year-old senior, he is 5-10, 251.
Ben Bernard, a coach at Mountain Ridge who had sent long snapper Joe Maese to New Mexico and the Detroit Lions, told Weeks, "If you do what I tell you to do, you will get a college scholarship."
Weeks began long-snapping at Mountain Ridge, at home, whenever and wherever he could.
"Six days a week, 250 balls a day," Weeks said. "I did that for four years. As I have gotten older and more comfortable with it, my reps have gone down."
As a senior, Weeks said, he snaps anywhere from 75 to 125 a day, depending on the Bears' practice schedule. His average time, he said, is from .66 to .70 seconds. Anything under .80 is considered NFL-worthy.
One dream at a time.
Ivan Maisel is a senior writer for ESPN.com. Send your questions and comments to Ivan at ivan.maisel@espn3.com.
3-point stance

1. Notre Dame ranks 110th in the nation in third-down efficiency (7-of-32, .219). Irish coach Charlie Weis blamed it on first-down efficiency. Here's why: on 21 first-down plays against Penn State, Notre Dame gained 43 yards: 46 through the air, and minus-3 on the ground. The first two drives began with false-start penalties. Young teams usually produce long seasons.

2. More than a decade has passed since the Southwest Conference fell apart. The Texas haves -- the four SWC schools that went to the Big 12 -- have resumed playing the three in-state schools that they left behind. Not much has changed. Texas beat TCU by three touchdowns. Baylor beat Rice by 25 points. The Owls' next two games are against Texas Tech and Texas. Hide the women and children.

3. Let's get this straight: $90 for Iowa at Iowa State? You have to admire the chutzpah of Cyclone athletic director Jamie Pollard, who is charging what the market will bear. And perhaps fans will become accustomed to high prices, just as all of us have to $3 a gallon. But Pollard is spending goodwill to buy good teams. Without the latter, he won't have the former.
Just A Thought

One of the best stories of the first two weeks of the season has been how a young Washington team has won two potentially difficult games (traveling 2,800 miles to Syracuse the first week, playing ranked Boise State the second) by large margins.
But the true test of the Huskies comes this week against Ohio State, not just because the Buckeyes are 10th in the nation, but because the Huskies have to physically survive the game. Nearly half the Washington roster is made up of first- and second-year players who haven't spent the time in the weight room that older players have.
On the heels of a physical opponent such as Ohio State come Pac-10 Conference opponents No. 11 UCLA and No. 1 USC. The battle is always important. But so is the war. Washington might win Saturday or it might lose. But the Huskies have to survive.
Just A Thought (Cont.)

Along the same lines, Fresno State must rebound from its three-overtime, 47-45 loss in the suffocating humidity at Texas A&M, followed by the 1,700-mile trip home, only to hit the road again to play No. 19 Oregon. It's the same theory as Washington, only a week sooner. If the Bulldogs wilt at Autzen Stadium, they've got a reason for wilting.
To Scoop Or Not To Scoop
Oklahoma corner Reggie Smith saw the ball squirt away from Miami tailback Javarris James and just sit there on the Oklahoma 39. Before him stretched 61 yards of wide-open grass.
"I didn't want to fall on top of it," Smith said. "I wanted to scoop it."

Smith
It is the eternal dilemma for defensive players. Asked what the Sooner coaches have taught him, Smith smiled in acknowledgment.
That's because the Sooner coaches teach: If it's a blocked field goal, you can think about picking it up on the run. If it's a fumble, you get on the ground and curl around it. Too many scoops turn into muffed recoveries that fall back in the offense's hands.
"It was just lying there," Smith said. "I wasn't going to scoop it. Then I thought, 'This might be the only one I get for a while.'"
Smith made the most of his scooping opportunity. He sprinted 61 yards for a touchdown to give the Sooners a 21-7 second-quarter lead.
A New Leader
If Oklahoma State senior Adarius Bowman makes two of his typical catches Thursday night at Troy -- and barring an injury as he walks off the bus at Movie Gallery Veterans Stadium, that's a pretty good bet -- he will supplant Mario Urrutia of Louisville as the leader among active I-A players in yards per catch.

Bowman
Bowman, in two seasons at North Carolina and a season-plus at Oklahoma State, has made 98 catches for 1,891 yards, an average of 19.3 yards per catch. Urrutia tops the active list with 104 catches for 1,967 yards, an average of 18.9 yards per catch. The NCAA requires 100 career catches to qualify for the achievement.
As for how Bowman stacks up among receivers all time, it's a guess. All the NCAA can tell us is that the career leader is former Virginia All-American Herman Moore (1988-90) at 22.0 yards per catch. Moore's record appears safe.
Age Of Reason
Tashard Choice transferred from Oklahoma to Georgia Tech to get out of the shadow cast by former Sooner All-American Adrian Peterson. Now Choice, whom Georgia Tech is promoting for national awards, is turning down carries -- for all the right reasons.

Choice
Choice carried 11 times for 110 yards early in Tech's 69-14 rout of Samford. Head coach Chan Gailey walked over to let Choice know that he wanted to give some playing time to younger players. Choice cut him off.
"Coach," Choice said, "we're trying to win a championship."
Gailey walked away impressed.
"I don't talk about this very often or very much," Gailey said, "but if people get mentioned because of statistics in these individual awards around the country, when does that ever get taken into consideration?"
The answer is that it doesn't. In the end, though, what's more important? Choice knew.