Bulls Preparing For Speed Week
No. 5 West Virginia runs an offense that defenses don't see any other week of the season. It's part option, part spread and all scoring, all the time.
It's not the Mountaineers' scheme, however, that has South Florida defensive line coach Dan McCarney and his best player, defensive end George Selvie, concerned about Friday night's matchup between the 18th-ranked Bulls and West Virginia in Tampa (ESPN2, 8 ET).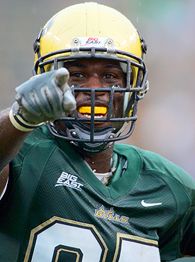 Cliff Welch/Icon SMI
George Selvie's 8.5 sacks lead the nation.
"West Virginia has speed, lots of speed," said Selvie, the nation's leader in sacks (8.5) and tackles for loss (15). "I'm hoping to play fast ball and be relentless and swarm to the ball."
That is speed with quarterback Pat White, speed with tailback Steve Slaton, more speed with Slaton's freshman backup, Noel Devine, and speed on the perimeter with wide receiver Darius Reynaud.
Selvie, a 6-foot-4, 245-pound sophomore, understands what he must do against the Mountaineers. He played center on an option offense at Pensacola (Fla.) Pine Forest High. Selvie understands that White will look at him to decide what to do. He has seen White, who grew up 40 miles west of Selvie in Daphne, Ala., before.
"The scheme is really good," Selvie said. "Most teams don't really run with the quarterback. West Virginia will run. I know why. We played Daphne my sophomore and junior years in high school. Pat White had speed then. He was a good player. I knew exactly where he had come from. He committed to LSU, then switched. When he played, I knew how he was going to do."
There's another reason the eyes of all 'Eers will be on Selvie. Last November, Selvie arrived as a defensive force against West Virginia. He had 3.5 sacks, forced a fumble and returned another one nine yards for a touchdown in South Florida's 24-19 road upset. That loss ended the Mountaineers' bid for the Big East championship and a BCS bowl.
Not bad for a guy in his first season as a defensive lineman.
After Selvie played his redshirt season on the offensive line, the coaches approached him about moving across the line of scrimmage. Selvie understood that if he made the switch, he wouldn't have to add 25 pounds or more to get on the field. But if anyone had understood how effective Selvie would be, he never would have spent the 2005 season on the Bulls' scout offense.
Selvie has come into his own under McCarney, in his first year at South Florida after being forced out last November as head coach at Iowa State. McCarney praised the sophomore's ability to work and his willingness to learn. McCarney said he has stressed to Selvie that, like a pitcher on the baseball diamond, he's got to have more than one out pitch.
"I want him to reload with his hands," McCarney said. "When that first move doesn't work, don't stop your feet. Reload with your hands. I want to see that if he uses a swim move, or a rip, or a speed rush, that he goes to another one, that he has a second move ready without thinking about it. It's a motion, rather than one-thousand-one, one-thousand-two."
Selvie and the rest of the Bulls won't have time to think against the Mountaineers' speed. The South Florida defense will have to be disciplined. So will its coaches.
"Don't ask somebody to do something that physically they can't do," McCarney said. "We've seen some good examples of that and some bad examples of that breaking down tape of their [West Virginia's] first four games."
South Florida proved last year that it can physically stop West Virginia. The question Friday night is whether the Bulls can do it again.
Keeping Concentration Key For Cats
The most difficult thing about being new to success is learning not to be seduced by it. Kentucky had to figure out how to enjoy its emotional victory over in-state rival Louisville while preparing to open SEC play at Arkansas. The Wildcats spotted the Razorbacks 10 points and then overran them, winning going away, 42-29.
"If you want to have a special season," Rich Brooks said Monday, repeating what he told his team last week, "you've got to go do something we haven't done around here."
Now comes the hard part. The only thing harder than preparing for consecutive emotional games is following that stretch with a game against -- drum roll, please -- Florida Atlantic. The price that No. 14 Kentucky must pay for its 4-0 start is uninterrupted vigilance, even for the Owls.
Brooks believes that this team, despite its lack of experience with success, won't come out flat Saturday. After the Arkansas game, he said, "There wasn't any jumping up and down and getting excited. This team didn't do that. You can tell they are focusing and concentrating. You assume that they think that way. We've got a lot of guys that are doing it. That's a real advantage."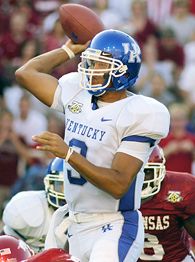 AP Photo/April Brown
QB Andre' Woodson has sparked the Cats' 4-0 start.
Quarterback Andre' Woodson has inserted himself into the Heisman race, moving from seventh to third in the current ESPN.com Heisman Watch. He is a leader on this Kentucky team, but not the only one.
Brooks rattled off a list of seniors who are showing the way, from Woodson and fellow co-captain, linebacker Wesley Woodyard, to defensive end Dominic Lewis, who stepped into the starting lineup after starter Adjei Oninku blew out his knee last month. Lewis has 14 tackles, two behind the line, and has forced a fumble.
"Dominic Lewis hasn't said much in his whole career," Brooks said. "Now he is an outspoken, positive guy."
Seniors learn to take little for granted, especially seniors who won five games total in 2004-05 under Brooks. The game Saturday will be the homecoming of former Kentucky player Howard Schnellenberger, whom Wildcat fans perhaps have forgiven for building a solid foundation at Louisville (1985-1994). Schnellenberger is attempting to do the same and more at FAU, where he began the program from scratch.
He has done a good job. The Owls are 3-1, much better than the 0-4 starts of the last two seasons, their first campaigns of playing full I-A schedules. They throw the ball early and often, and the plus-13 turnover margin, second in the nation, proves they take advantage of their opportunities.
"I approach it honestly every week," Brooks said. "I don't try to build somebody up. I don't downplay anybody. They have learned to accept what I say as reality."
Seminoles Searching
If Florida State quarterback Drew Weatherford was right when he said after practice Monday that the Seminoles had worked "better today than we had in the last week and a half," it's coming none too soon. Florida State (2-1) will play No. 22 Alabama (3-1) on Saturday evening before a 50-50 crowd in Jacksonville, Fla.
Offensive coordinator Jimbo Fisher said during the off week that the Seminoles are struggling to believe in themselves.
"They are playing with the confidence of a 2-9 team," Fisher said. "They've been told they were no good for so long."
He ticked off a litany of brain cramps suffered in the 16-6 victory at Colorado on Sept. 15.
"We had a 50-yard pass dropped and a 50-yard run called back," Fisher said. "That's 100 yards right there. We had first-and-goal at the 5 and a receiver jumped [before the snap]."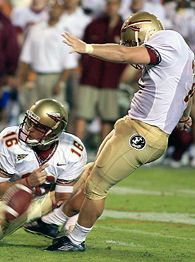 AP Photo/Luis M. Alvarez
Gary Cismesia hasn't missed a field goal this season.
The Seminoles had a tough start: a Monday night on the road against Clemson, which means they got home in the wee hours Tuesday and had to prepare for a home game four days later against UAB. Then came the visit to Colorado with a 10 p.m. ET kickoff. Florida State earned its early-season off week.
But there has been one bright spot on offense: blindingly bright, if you're a Florida State fan. The school that has suffered more angst at the foot of its kickers than any other is 6-for-6 on 3-pointers.
Senior Gary Cismesia has the blots in his past that seem to come with this job, missing late-game kicks in losses to Penn State in 2005 and Maryland last season. But he is also second only to former All-American Sebastian Janikowski in career percentage (44-59, .746).
When asked about Cismesia's success, head coach Bobby Bowden sounded all too cognizant of Seminole history.
"Oh, it scares you, doesn't it?" Bowden said.
Ivan Maisel is a senior writer for ESPN.com. Send your questions and comments to Ivan at ivan.maisel@espn3.com.
3-Point Stance

1. Oklahoma senior defensive end John Williams, who fought hard to come back from the torn ACL he suffered in 2005, tore his Achilles tendon Friday night at Tulsa and is out for the season. Replacing him as a starter for the No. 3 Sooners is senior Alonzo Dotson, who is tied for second on the team this season with two sacks. That's a pretty good definition of defensive depth, don't you think?

2. Duke is much closer to turning the corner than losing 23 of 24 would indicate. Of course, the Blue Devils' painful 46-43 loss to Navy shows that coach Ted Roof's team still has to learn how to close out a game. But the Blue Devils have led at halftime in three of their four games this season. Duke may not have turned the corner, but Roof has got the blinker on.
3. Only one conference has two undefeated teams that aren't ranked in the Top 25. Which league is being dissed? Hard to believe that it's the Big Ten. What's hard to believe is that the voters, usually swayed by tradition, are making the league pay a price for its weak nonleague scheduling. Michigan State, Purdue and the rest depended too heavily on Notre Dame for strength of schedule.
Meet The Press
Railing against Oklahoma State coach Mike Gundy for his emotional outburst Saturday against Daily Oklahoman columnist Jenni Carlson promotes the media in the role of bully. The more I have read my colleagues in the Fourth Estate respond to Gundy, the more I think they are protesting too much.

Gundy
Gundy may have gone public when he should have gone private. Surely Carlson, Gundy's screaming to the contrary, didn't make up the charges that Bobby Reid struggled to handle the pressure. But I guarantee you that what the public saw when it watched the video of Gundy's news conference Saturday is a coach defending his player.
Amongst writers, Gundy doesn't look good. Mike Griffith, president of the Football Writers Association of America (disclaimer: I am a member and former president), issued a statement calling Gundy's behavior "completely inappropriate."
Amongst the video-watching public, Gundy looks real good. The coach got poked with a stick. When he reacted, the people wielding the sticks belittled him for reacting. Both sides said their piece. Let it go.
Knee Deep
If you haven't seen LSU holder Matt Flynn's backward, over-the-shoulder flip to kicker Colt David, who ran the ball in for a touchdown against South Carolina, look for it on YouTube. It is a work of art.

Flynn
Fake field goals are the only plays in which a passer may throw from one knee. A reader inquired why the ball is not dead. The rule dates to 1955, when Columbia coach Lou Little, speaking for the American Football Coaches Association petitioned the NCAA Rules Committee for the ball to remain alive in the holder's hands.
The coaches, according to NCAA rules secretary-editor John Adams, said, "We want to have a fake field goal. We don't want the holder standing up. That gives it away."
The committee passed the rule, and tweaked the language in 1985 to make it clear that the holder may pass from the kneeling position.
Shovel passes from the holder have been the norm. Flynn's backward flip is the newest twist on an old trick play.
Harper's Ferry
The reason that Clemson has climbed to No. 13 and stands 4-0 as it prepares to play at Georgia Tech on Saturday is the unexpectedly cool decision-making of the Tigers' new quarterback, Cullen Harper. The junior, playing behind an inexperienced line, leads the ACC in passing efficiency (181.1) and has thrown for 964 yards with 12 TDs and no interceptions.

Harper
"It's the same thing he did through the spring," coach Tommy Bowden said. "He's very consistent. He makes the right run checks. He makes the right decision on where to throw and he's accurate. He gives the receivers a 'runnable' ball. If you throw it where they have to lay out and dive, they don't get any yards after the catch."
Clemson started last season 7-1, only to finish 8-5. The fade didn't lie solely at the feet of senior quarterback Will Proctor, but he remained maddeningly inconsistent down the stretch. These Tigers have a sense of permanence about them. If Harper continues to develop, Clemson will continue to climb.
Double Team

Here's a sign of how long it's been since Illinois has been worth watching. The Big Ten named Illini junior running back
Rashard Mendenhall
offensive player of the week and junior defensive end Will Davis co-defensive player of the week. The last time two Illini won offense and defense conference honors in the same week came in 1994. In that 13-year span, eight other Big Ten schools have had players win the offense-defense double a total of 24 times.
Rock Around The Clock
The good news is that the dozen or so plays per game that disappeared last season have returned to the game. The bad news is that the problem that precipitated the ill-conceived, since-abandoned rules changes has returned, too. Games are longer this year than last.

"We're really where we were two years ago," NCAA Football Rules Committee secretary-editor John Adams said. "Games are going three hours and five [minutes], 3:10."
The rules adopted this year to shave time off games -- moving the kickoff back five yards to the 30, making one timeout last no more than 30 seconds and reducing the length of the play clock coming out of a TV commercial from 25 seconds to 15 seconds -- haven't done the job.
Adams ticked off several problems. Not all games are televised. Officials forget to set the play clock at :15. And there's the impromptu team meeting.
"The special-teams coaches like to hold a clinic on the sideline before the guys go out," Adams said. "We [officials] are trying to break that up. You've got to get them a delay [penalty] to get their attention."
Adams wants officials to get the ball into play and get teams quickly on and off sidelines. He doesn't know yet whether the Rules Committee will try again next winter to curtail the length of games.
"The spectators never complained," Adams said. "The TV people were complaining and a lot of the [conference] commissioners were complaining."