Night School Dividends
Once you get past the obvious difference in talent, one of the biggest ways in which NFL football is more advanced than college is the amount of time that the players devote to the game. In college, coaches are limited to 20 hours of practice and meeting time per week. In the NFL, 20 hours barely gets a team into Day 3.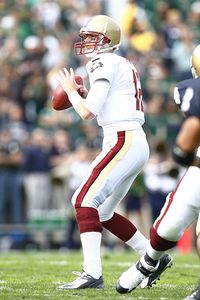 Andy Altenburger/Icon SMI
Matt Ryan has been able to devote more time to football this season.
The pros have all day. There are no classes, no study hall, no tests, no finals. It's a job.
If there is a hybrid form of football somewhere between the NFL and college football, it is being practiced at No. 2 Boston College. That's not because of the Eagles' talent, although several players will be drafted in April.
"I don't have any classes during the day," quarterback Matt Ryan said with a straight face. He tried, anyway. Then he started laughing. College without classes is pretty much the ideal way to live.
Ryan and 16 teammates, 12 among them starters, already have graduated. NCAA rules dictate that players must be enrolled in a minimum number of hours. Ryan and most of his graduate teammates take a class three nights a week.
Their days are wide open. Though the NCAA imposes the 20-hour limit, there is no limit on voluntary work.
This is a loophole that the NCAA wishes every school exploited. Few universities have the graduation rate that Boston College does. This season, it's paying off on the field.
"To really be able to concentrate on football and not have the distractions that school brings -- as it should; that's the point of being a student-athlete, but it does take time away -- I've been able to prepare a little more," Ryan said. "I can enjoy it … I always prepared the best I could. I feel like I'm prepared better."
Ryan spends his days hanging out with his co-captain, fellow fifth-year senior and postgraduate student Jolonn Dunbar.
"We're the type of guys that are going to go in there and watch and try to put the team in the best situation we can," Dunbar said. "It has nothing but an upside to have guys like that. The whole day, we're hanging out, watching film, working out. I think that helps tremendously. I'm sure that's part of the reason we're in the position we're in."
Back In Action
TCU senior defensive end Tommy Blake has returned to practice, a sign of normalcy in what has been a sad saga.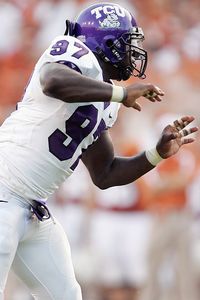 Brian Bahr/Getty Images
Tommy Blake has spent most of the 2007 season on unspecified medical leave.
Blake, a preseason All-American after making All-Mountain West Conference the past two seasons, has spent most of this season on unspecified medical leave. Friends quoted in The Dallas Morning News earlier this month indicated the issues related to stress. Blake missed the opener against Baylor, came back for three games, in which he made a total of 11 tackles, and hasn't played again.
Blake watched the Horned Frogs lose to Utah 27-20 Thursday night from the sideline. He wore his No. 97 jersey, a pair of dark slacks and a towel around his neck. No pads, no helmet, no sacks.
While it would be unfair and incorrect to stay that Blake's disappearance has been the cause for the Horned Frogs' 4-4 record, it is fair to say that the team has struggled as he has. TCU already has lost one more game this season than it did in the previous two.
Since the Utah loss, Blake has practiced Sunday night and Tuesday, participating in all drills at full speed.
"We're going to try to get him back in shape and get him back into the mix," TCU coach Gary Patterson said, "so he can help us win the last four ballgames. … It will be good for the team. More important, it will be good for him."
Patterson, cautious about saying too much about Blake, said the subject makes people "uneasy."
"It's something that a lot of people don't know how to deal with," Patterson said. "In the old days, when a kid was acting up, he's a bad kid. Now we recognize what problems they have and that there are solutions. There are ways to help them."
Patterson sounds as if his eyes have been opened by what happened to Blake. The coach remains convinced, even if football has any role in Blake's problems, that it can help lead him to wellness.
"Athletics is one of the best [vehicles] for being able to teach people about life," Patterson said. "There are a lot of good teachers out there that care. Sometimes, in today's society, they are a little strained in how to help kids. A lot of people out there are trying."
Restoration Project
Fresno State is 4-0 in the WAC and 5-2 overall as it prepares for a visit Friday night (ESPN2, 9 ET) from its annual nemesis, Boise State (3-0, 6-1) in a game that, after a year's hiatus, once again will have a lot to do with who wins the conference.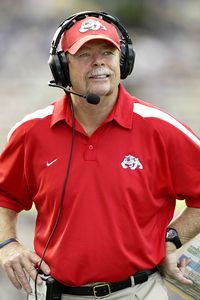 Otto Greule Jr/Getty Images
Pat Hill has led the Bulldogs to a 5-2 start this season.
No matter the outcome, it's pretty much official that the Bulldogs have fully recovered from the 1-7 virus that inflicted itself on the team a year ago.
Coach Pat Hill made Fresno State's reputation as a light-heavyweight unafraid to step up in class. The Bulldogs became the first non-BCS team to storm the BCS gates in 2001. Though they have never won the WAC outright (they won a share in '99) under Hill -- thanks, Broncos -- they began the transformation in the national perception of the best teams from the lesser conferences.
All of which is what made the start of last season so shocking.
"We had a lot of seniors last year," Hill said Tuesday. "I lost them. I didn't do a good job with them."
Hill started playing his young players over the last month of last season. That has paid off this season, even as Fresno State has lost nine starters because of injuries.
"We got a lot of younger kids playing hard," Hill said. "The only reason games like Idaho [37-24] and Nevada [49-41] were close is that we're playing [second-team] guys who six weeks ago were on the scout team."
The young stars of the Bulldogs, players such as freshman running back Ryan Mathews (596 yards, nine touchdowns, 6.5 yards per carry) and sophomore A.J. Jefferson, the defensive back who leads the nation in kickoff returns (36.1-yard average), have played well even as injuries have depleted the team's depth. According to Hill, 40 of the 66 members of the travel squad are first- or second-year players.
But Hill spoke of something deeper. He admits to getting caught up in the BCS chase that helped forge the team's identity. This season, Hill said, he hasn't discussed even winning games.
"The thing we had to restore was playing Bulldog football," Hill said. "Playing hard and hitting people. They're doing that. We're not real big. … What do we stand for? It's not who we play. It's how we play. The only thing I talk about is restoring the personality of this team. When that film goes out, your name is on it and my name is on it. What do we want people to see?"
So far this season, they are seeing what no one saw from Fresno State last season. That's why Boise State-Fresno State once again has so much riding on it.
Ivan Maisel is a senior writer for ESPN.com. Send your questions and comments to Ivan at ivan.maisel@espn3.com.
3-Point Stance

1. Pressure? What pressure? To No. 2 Boston College's great benefit, up to this point, no one in Boston cares. The Red Sox and Patriots are using up every breath of oxygen in New England. The Eagles' big test at No. 8 Virginia Tech will take place simultaneously with Game 2 of the World Series. Asked quarterback Matt Ryan, "You think they'll watch us during the commercials?"

2. To know how the Big East office felt about the blown fair-catch call in the UConn-Louisville game, you could read commissioner Mike Tranghese's statement ("terrible") or you could check out the Big East Players of the Week. The special teams winner is not the Huskies' Larry Taylor. It's not often that a Big East returner scores a 74-yard touchdown and doesn't win.

3. TCU and Oklahoma are close to announcing that they will play each other again next season with a return game in 2012. It amounts to a two-for-one, though. As any Horned Frogs fan can tell you, TCU opened the 2005 season by upsetting the No. 7 Sooners 17-10 in Norman.
Goodwill Mission
Phillip Fulmer earned a lot of goodwill from unhappy Tennessee fans with the 35-14 victory over Georgia. Fulmer spent all that goodwill in a 41-17 loss on the road against an Alabama team missing five players, who were suspended for selling textbooks. Fulmer, who seems to have committed the sin of being successful, but not as successful as he used to be, could use a victory over South Carolina on Saturday.

Fulmer
Unfortunately, Fulmer is 3-8 against his old nemesis, Gamecocks coach Steve Spurrier. To give you some perspective: Fulmer was in his ninth season at Tennessee (2001) and 2-7 against Spurrier before any other coach (Nick Saban) beat him for a second time. In his 15th season, Fulmer has lost to only seven coaches more than once: Spurrier, Mark Richt (3-4), Urban Meyer (0-3), Saban (1-3), Tommy Tuberville (1-3), Houston Nutt (5-2) and Joe Paterno (0-2).
Balance Of Power
After three crazy years in which six different teams have played in the Mid-American Conference championship game and nine different teams have filled the league's bowl slots, the upheaval continues. Traditional MAC powers Miami and Bowling Green, who went a combined 6-18 last season, have rebounded to go 8-7 this season, 5-2 in league play. Northern Illinois and Toledo, which tied for the MAC West title in 2005, are 4-12 (1-7) this season. Perennial doormats Buffalo and Temple already have won three league games apiece.

MAC commissioner Rick Chryst says the league is no longer as top-heavy as it used to be.
"As TV and bowl opportunities opened up," Chryst said, "we had almost every one of our schools say, 'Why not us?'"
The postseason bar has been lowered and the MAC has risen to meet it. For one thing, Chryst said, the league has been awash in upgrading athletic facilities over the past five years. For another, no longer do MAC teams feel that a bowl bid will come only if they climb into the Top 25. "It's, 'You know what? If I win our division, then our people can go to a bowl.' That feels more attainable."
Catch A Wave

Forte
Tulane senior Matt Forte leads the nation in rushing (1,261 yards, 13 touchdowns) after gaining 342 yards in the Green Wave's 41-34 overtime victory at SMU last week. What is especially impressive about Forte's output is that every team the Green Wave play understands that Forte is going to get the ball, and still hasn't stopped him. He will see eight and nine men in the box for the rest of the season.
"We say 'BYOB -- Be Your Own Blocker,'" coach Bob Toledo said. "Sometimes, he has to block the safety [in other words, make the back-side safety miss] and he's done a pretty good job of that. But for the most part, we try to scheme things up and get an extra guy, through either formation or motion, to block the eighth and/or ninth guy."
Help is not on the way. Tulane is 116th in the nation in passing efficiency (106-222-8, 1,254 yards, five TDs, 95.37 rating). Even Forte tried it, but he took a direct snap against SMU and missed a wide-open receiver, too.
"When you're last in the league in passing efficiency," Toledo said, "you can't do that and have a chance to win. So we're going to continue to ride the horse that's winning the race right now."
On The Move

BYU and San Diego State had no trouble finding an open date for the game they postponed Tuesday because of the Southern California wildfires. The Mountain West Conference has made a conscious effort in recent years to finish the season by Thanksgiving weekend. There had been no games scheduled for Dec. 1, so the Cougars and Aztecs will play on that Saturday.
The reason is twofold, according to MWC spokesman Javan Hedlund. The coaches want to finish early because the league's top two bowls, the Las Vegas and the Poinsettia, are scheduled before Christmas. The coaches want as much preparation time as possible, and the athletic departments want as much time to sell those bowl tickets as possible.
Moving the game to Dec. 1 may be a problem for BYU, the league favorite. But not only is the move a necessity, it's a problem that most teams in the league would love to have.