Spring Bash
What Alabama hath wrought: If Shawn Garrity is right, spring football will never be the same.
When 92,000-plus fans filled Bryant-Denny Stadium last April for coach Nick Saban's Crimson Tide debut, they caught the attention of Garrity, an event promoter who lettered in football at Syracuse in 1986, and his friend, former Cal All-American running back Chuck Muncie. The two of them had been searching for a way to raise awareness and funds to support Cal's attempts to renovate Memorial Stadium and build a new football building.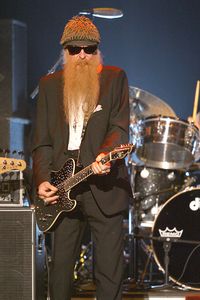 John Shearer/WireImage.com
ZZ Top will perform at Texas A&M during the Gridiron Bash.
What Garrity developed, "Gridiron Bash," mixes hot music acts, competition between fans (think Pontiac and its Game Changing Performances) and spring football games at 20 schools over the weekend of April 18-20. The three schools that "win" will split $1.75 million in scholarship money.
"We saw a legitimate opportunity in that their stadiums are 97 percent vacant over the course of the year," Garrity said. "We wanted to create something that fans would want to come to, a big pep rally event the night before the game, adding entertainment the night before the game."
Here's how it will work: Garrity's company will bring in A-list recording acts to stage concerts at pep rallies the night before the spring game. The paid attendance number will count 70 percent toward the competition. The remaining 30 percent will be tallied by text-message voting. It's a version of the two-step Texas Democratic primary, with the second step being "American Idol"-style voting instead of a caucus.
Garrity chose schools that aren't near major metropolitan areas, so that the event would not get lost in a smorgasbord of entertainment choices. Among the musical acts, tailored to regional tastes, are big names such as Alan Jackson at Alabama, Fall Out Boy at Rutgers, Counting Crows at Colorado, ZZ Top at Texas A&M, Maroon 5 at Utah, Kelly Clarkson at Iowa, Fergie at Penn State and, scheduled to be announced Monday, Kid Rock and Sara Evans at LSU.
What Gridiron Bash isn't accomplishing is what Garrity and Muncie set out to do: help Cal. Garrity believes the model will work best in smaller metropolitan areas without a lot of professional sports. Cal fits neither criterion.
Flash Point
Can you name the leading returning rusher in college football in 2008? It's not as easy as you think. The top five juniors -- Kevin Smith of UCF, Ray Rice of Rutgers, Darren McFadden of Arkansas, Jonathan Stewart of Oregon and Rashard Mendenhall of Illinois -- all took up residence on Mel Kiper's big board.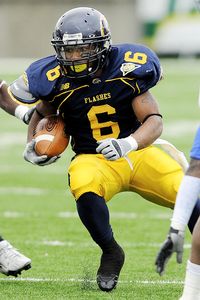 Jeff Harwell/US Presswire
Kent State's Eugene Jarvis ran for 1,669 yards in 2007.
OK, let me give you a hint. He plays in the state of Ohio, and he rushed for more than 1,600 yards last season. Does that give it away?
Junior Beanie Wells of Ohio State rushed for 1,609 yards and 15 touchdowns last season. That's a good guess. Wells will be on Mr. Heisman's dance card when the cotillion begins in August. But the guess is incorrect. The leading returning rusher in 2008 is Kent State junior Eugene Jarvis, who rushed for 1,669 yards and 10 touchdowns for the Golden Flashes last season.
You may not have heard of Jarvis because Kent State went 3-9 last season, and there are few tailbacks more anonymous than one starting for the last-place team in the MAC East. Add to it the fact that Jarvis is listed at 5-foot-5½, 170 pounds, and it's easy to see how he slipped out of sight. The Pittsburgh native's size scared off both Pittsburgh and West Virginia, who flirted with him during recruiting season. Turns out he can run, and run between the tackles, too.
His numbers indicate that Jarvis doesn't deserve the blame, even if he knows how to shoulder a load. He carried the ball 279 times last season, which should answer questions regarding his size and his durability. Kent State's problems came in front of Jarvis, at quarterback, where injuries forced coach Doug Martin to use four different starters over the course of a very, very long season. Both senior Julian Edelman and sophomore Giorgio Morgan will be healthy when spring practice begins on March 26.
Ivan Maisel is a senior writer for ESPN.com. Send your questions and comments to Ivan at ivan.maisel@espn3.com.
3-Point Stance

1. LSU and Boston College had outstanding 2007 seasons because of starting lineups loaded with fourth- and fifth-year seniors. There's no advantage, physically and mentally, like lining up a 22-year-old against a 19-year-old. LSU parlayed it into a national championship; Boston College, into a top-10 finish. That experience and leadership is gone. In LSU's case, the (latest) suspension of quarterback Ryan Perrilloux hits hard. When the Tigers really need him, he continues to disappoint.

2. Big-name schools complain about buying a home game, only to see the purchased opponent bail out for a better offer. They had my sympathy until now. Arkansas wants to postpone its home game in 2009 against Texas because the Hogs added a neutral-site game at the new Cowboys Stadium against Texas A&M. That game is worth $5 million, so when new coach Bobby Petrino didn't want to play the Horns and Ags in the same season, he bailed on Texas. Whether a Southern Conference team bails out for $500,000 or an SEC team bails out for $5 million, it's the same principle. Just add a zero.

3. No one expected LSU to perform the Florida double this year and win both the BCS and the NCAA men's basketball championships, especially after the Tigers fired coach John Brady. But it's hard to remember a year when the top 25s of the two sports had fewer schools in common. Among the Top 25, only one school, No. 6 Kansas, received a BCS bowl bid last season. If you're looking for correlation, check out football and women's hoops. Five BCS bowl schools are ranked among the women's Top 25.
Podcast: Ivan and Beano
Beano Cook joins Ivan in the ESPNU College Football Insider podcast to talk about spring football, Joe Paterno, proposed rule changes and more. Listen

Bonfire Of The Vanities
Georgia state rep Barry Fleming has figured out how to deny his state a lot of money, all in the name of his beloved Dawgs.

In the Peach State, any group that can guarantee the purchase of 1,000 license plates, with a $25 surcharge per, can get its own vanity plate. Florida alumni got out their checkbooks, and the state of Georgia has $25,000-plus of Gators money in its coffers. It's also received at least that much from Clemson, Auburn and Alabama alums. That's more than $100,000 from the wallets of fans who don't like Georgia or Georgia Tech. Rep. Fleming introduced legislation that would require a reciprocal tag in any other state with a university that has a vanity license plate in the state of Georgia.
I've heard of legislators who spend the people's money like drunken sailors. I don't recall hearing of legislators who work to shut off money from the people. What's worse, the Georgia House passed the legislation, 142-10.
As the song says, "Glory, glory to old Georgia."
Farm Aid?
When Stanford joined several Ivy League schools last month in greatly expanding its financial aid, it introduced a new set of circumstances to Division I-A recruiting. Beginning this fall, any Stanford student whose family income does not reach $100,000 will not have to pay tuition; if the family income does not reach $60,000, financial aid will cover the cost of room and board as well.

NCAA rules mandate that any financial aid awarded to a student-athlete is "countable" toward the NCAA scholarship limits in any sport. Because of that, Stanford athletic director Bob Bowlsby said in an e-mail, the new rules are a "zero sum game for the most part."
It's possible that monies Stanford athletics has raised to pay its scholarship bill to the university ($15 million annually) could be applied elsewhere if more athletes qualify for the new, expanded general scholarships. But Bowlsby won't know until some time next year.
"No way to know how much might be covered by the new program," he wrote, "because we do not have parents' financial information on many student-athletes."