Blueprint For Success
This may be like trying to stop kids from racing downstairs at 7:01 a.m. on Christmas morning, but let's provide a little perspective for Ohio State fans. Quarterback Terrelle Pryor, who announced his intention to play for the Buckeyes next season on Wednesday, six weeks after signing day, already has been compared to Florida quarterback Tim Tebow. As a freshman in 2006, Tebow backed up senior Chris Leak and ran a package of plays that Gators offensive coordinator Dan Mullen created especially for him.
The speculation is that Pryor will back up senior Todd Boeckman in 2008, step right into the lineup a la Tebow and begin winning Heismans.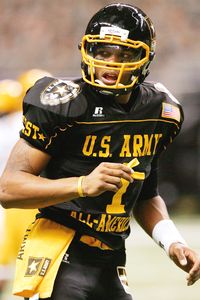 AP Photo/Darren Abate
What approach will the Buckeyes take with Terrelle Pryor?
Me, I'm taking a step back.
Let's take a look at another quarterback who signed as the top recruit in the nation. He redshirted his first season. He shared the starting job as a redshirt freshman. He didn't begin to blossom until midway through his sophomore season.
And as a junior -- four years in -- Vince Young took Texas to the national championship.
"I don't think there's a blueprint," Texas offensive coordinator Greg Davis said Thursday. "Each kid is different and each situation is different."
Young came into Texas in 2002 knowing that he would redshirt. He impressed his teammates that first year. In the summer of 2003, Davis said, head coach Mack Brown asked senior wide receiver Roy Williams what the team should do if Williams got hurt.
"Put Vince Young at X. You'll be fine," Williams said.
As a second-year freshman, Young began the season backing up Chance Mock. Young took over midway through the season, still relying more on his physical gifts than his knowledge. The first of Young's two epiphanies came in the 2003 Holiday Bowl.
"Washington State blitzed us into submission," Davis said. "We had to pull Vince out of the game and replace him with Chance Mock. He wasn't handling the blitz well. He came in to see me in January and said, 'Coach, I don't ever want to feel that way again.'
"I told him, 'Up until this point, all of your focus has been on your physical tools. ... You're going to have to spend exactly the same amount of time in the film room.'
"He said, 'I want to do that.' It pushed him to be a better student."
Midway through 2004, Young's third season in burnt orange, he went through a crisis of confidence after he played poorly against both Oklahoma and Missouri, Davis called him in and handed him a DVD.
"We took some TV footage of him throwing and the sportscasters commenting on it," Davis said. "He was being beaten up. 'He could not throw the ball. He could just run.' These guys [on TV] were saying, 'Wow, can you believe that throw?' And 'I tell you what. I don't know what you've been told. This guy can throw.'
"I told Vince to watch it every night that week. He said, 'Why?' I said, 'I'm not the only one who says you can really throw the ball.'
"That was a watershed moment," Davis said. "When he came back for his junior year, he was not a finished product, but he was pretty good. As happens so often in the sporting world, that's what people remember."
As it is that Tebow is the player to whom Pryor will be compared. It sounds funny to say it, but Pryor may be better off by being compared to Vince Young.
Ivan Maisel is a senior writer for ESPN.com. Send your questions and comments to Ivan at ivan.maisel@espn3.com.
3-Point Stance

1. The last place Rich Rodriguez believed that Michigan football would be vulnerable to attack is academics. But The Ann Arbor News series this week illustrated how Wolverine football players congregate in the general studies major, and in the classroom of one professor in particular. Michigan lashed out at Stanford coach Jim Harbaugh, a former Wolverine quarterback, when he criticized his alma mater last year. He's looking pretty smart these days.

2. John Cooper, Lou Holtz and John Robinson are among the eight coaches on the 2008 College Football Hall of Fame ballot for the vote next month. But as successful as these coaches were -- and Holtz and Robinson each won a national championship -- none rank in the top 50 in winning percentage. In fact, they're not close. The NCAA lists the top 50, and the late Bobby Dodd of Georgia Tech, at .713, is the final name. Cooper finished at .695, Holtz at .651 and Robinson at .629.

3. Granted, Big East co-champion UConn bulked up its 9-4 record on a junk-food diet (five victories over teams that won 15 games total). But if you like experience, you'll love the Huskies next fall. They have 19 returning starters, and coach Randy Edsall has had the same staff for three seasons. Here's another clue: If the offensive line has players who have started 75 games, the team is usually pretty salty. UConn's O-line has 92 starts.
Rules Of Engagement
Frank Beamer surrendered a lot of production when he told tailback Branden Ore to clean out his locker. Without Ore, the Hokies have four returning running backs who rushed for a total of 384 yards and five touchdowns last season. They combined for exactly one start, by junior Kenny Lewis, who, gained fewer than 100 yards total in nine conference games.

Yet there's no doubt that the Hokies are better off. Ore had four seasons' worth of second chances, yet he never chose to commit to Beamer's way of doing things. Coaches may be benevolent despots, but they are dictators for a reason. If a guy like Ore doesn't play by Beamer's rules, why should anyone else in the locker room do so?
Senior Center
Mississippi State has come a long way since hiring Sylvester Croom four years ago. The Bulldogs went 8-5 in 2007, one win fewer than they managed in Croom's first three seasons. One look at the roster better illustrates the progress.

Mississippi State has only three fifth-year seniors, and one of them is kicker Adam Carlson. But 13 players on the roster for spring practice will be redshirt freshmen this fall, and none of them are listed on the first team. In fact, the Bulldogs have 16 senior starters. The SEC West isn't getting any easier but a more mature Mississippi State team will assert itself.