Barack The Vote
Senator Barack Obama may have lost the Pennsylvania Democratic primary Tuesday, but he carried Centre County, the home of Penn State, with 60.1 percent of the vote. That should make junior cornerback Lydell Sargeant the Nittany Lion player of the month, even if Sargeant made only two tackles and broke up a pass in the Blue-White Game last Saturday. When Obama spoke at a rally of 22,000 people on the Penn State campus on March 29, Sargeant, a kinesiology major from Lompoc, Calif., presented him with a Penn State jersey.
"It was one of the greatest experiences of my life," Sargeant said. "It's something different than sports, which I've been brought up on my whole life, especially playing here in front of the crowd. This is a different aspect of my life that a lot of people don't know of. It's a moment in history and I got the chance to be a part of it."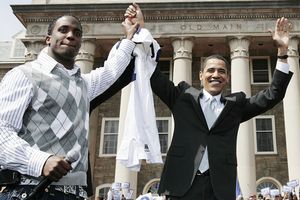 AP Photo/Alex Brandon
Lydell Sargeant had the honor of giving a PSU jersey to Barack Obama.
Before Sargeant presented the jersey, he introduced Sen. Bob Casey. The butterflies generated by playing in front of 110,000 people at Beaver Stadium are no match for the pterodactyls generated by speaking in civvies before 22,000.
"Unreal," Sargeant said. "This is something way bigger than anything I've ever done, including football. … I can say probably 98 percent of the people won't be able to do the things I've been able to do with Senator Obama."
The junior didn't receive the honor of making the introduction just because he plays football. Manning a voter registration table in the middle of campus doesn't qualify as a celebrity drop-in. Obama captivated Sargeant with a speech he gave a couple of years ago.
"Once he had taken an interest in the presidency, I was thrilled," Sargeant said. "Once I figured out I could help out here in State College, I took the first the chance I had."
Sargeant also induced several of his teammates to help with security at the rally. But Sargeant's participation came independently of the work that quarterback coach Jay Paterno did for Obama. Paterno helped organize the rally and met with the senator when he came to State College. His father, Joe, a registered Republican, declined entreaties from the Clinton campaign to introduce former President Bill Clinton in March and to introduce Sen. Hillary Clinton earlier this month. But when Obama came to campus, Jay Paterno called his dad and put him on the phone with Obama for 10 minutes.
"So Jay, you know, he's excited about Obama," Joe said. "I figured, 'You're getting enough hell. Politics?' But he's got enough guts to stick his two cents in. And then my wife [Sue] shows up at the darn rally. Yeah, she goes with a couple of my grandkids. She just wanted to see him. She wanted to make up her mind what she wants to do."
On The Clock
Some rule changes are taken in stride by the coaches who must comply with them. The NCAA's decision to adopt the NFL's rule of 40 seconds between plays is not one of those changes.
"That's really gotten people's attention," West Virginia coach Bill Stewart said. "We've called around, some of our buddies, and found out, hey, you better practice."
Under the old rule, an offense had 25 seconds to snap the ball after the referee pronounced it ready to play; that is, after the teams unpiled and the referee blew his whistle.
"The 40-second rule just provides for a better flow, game to game, conference to conference," said Terry McAulay, the NFL official recently named coordinator of officiating for the Big East.
McAulay is the third NFL official to be put in charge of a conference's officials. The Big 12 hired Walt Anderson in 2006 and Conference USA hired Gerald Austin, who retired this year as an NFL referee, in 2001.
The clock will put pressure on everyone, starting with the playcallers in the press box. Mountaineers offensive coordinator Jeff Mullen has to deal with not only the pressure of calling plays for the first time, but with the new clock, too.
"You always have a couple of plays," Mullen said. "If you try to change a call, it's gone. You like one, that clock is done. It goes fast. You've got to think a few calls ahead and you've got to believe in them."
Ivan Maisel is a senior writer for ESPN.com. Send your questions and comments to Ivan at ivan.maisel@espn3.com.
3-Point Stance

1. When Chip Kelly coordinated the offense at New Hampshire, he visited nearly any coaching staff that would have him: Auburn, Boston College, Clemson, Wake Forest, etc. Now that he's at Oregon, Kelly said the door sometimes shuts. "Football is great," he said. "People are willing to share as long as you're not playing each other." Kelly went to Missouri earlier this year to see how Dave Christensen makes the magic happen. Wake Forest offensive coordinator Steed Lobotzke is in Eugene this week.

2. There might be some debate about how effective Joe Paterno is at Penn State, but there is no question who the star of the Big Ten is, at least if you ask my colleagues at ABC. Of the five conference games designated for prime time -- which means they will appear on ABC or one of the ESPN channels -- the Nittany Lions are playing in four of them. And that's not because ABC believes the nation has fallen in love with Stephfon Green.

3. It pays to read the media guide. When David Cutcliffe took over at Duke, he read that defensive back Tony Jackson had been an all-state running back at Bishop Kearney High in Rochester, N.Y. Midway through spring practice, Cutcliffe gave Jackson a look-see at tailback. In the spring game last Saturday, Jackson broke a 75-yard touchdown run. Looks like the Blue Devils need a defensive back.
Running Down A Job
On most rosters, a junior who has rushed for 2,781 yards and 29 touchdowns in his first two seasons would have no problem keeping his job. At Wisconsin, tailback P.J. Hill has no such luxury. In addition to Hill, there's sophomore Zach Brown, who rushed for 568 yards and five touchdowns as Hill's backup in 2007, including 250 yards on 29 carries in the last game of the regular season against Minnesota; junior Lance Smith, who rushed for 429 yards, averaging 6.0 yards per carry in 2007; and redshirt freshman John Clay from Racine, a two-time state player of the year.

In an age when more and more offenses are spreading the field, and more and more snaps are becoming passes, not runs, there are fewer available carries. That may be why so few schools have this kind of depth at running back. Yes, USC had the Gang of Nine last season. But that almost seemed like too much. None of them gained 1,000 yards -- Chauncey Washington led the team with 969. Arkansas had the Gang of Two in Darren McFadden and Felix Jones, both of whom gained 1,000 yards. This season, it will be tough to match the Badgers' depth in the backfield. With a veteran offensive line in front of them, the Wisconsin running game once again will be fun to watch this fall.
Knowledge Is King
After all that Mitch Mustain went through at Arkansas, it's heartening to hear that the USC redshirt sophomore had a good spring practice and pushed fourth-year junior Mark Sanchez for the starting job. But it's no surprise that Sanchez emerged from spring practice on the first team. For years offensive coordinators have spoken of the importance of experience in understanding the complexity of a passing game. As talented as Mustain showed himself in Arkansas, Sanchez had a two-year head start in USC's offense, including three starts last season after John David Booty broke a finger in the loss to Stanford.