Big 12 Feeding Frenzy Starts Saturday
It could be that the Big 12 Conference has arrived. The league that has belonged almost exclusively to Oklahoma and Texas since 2000 has four teams in the top seven of the Associated Press poll and six in the Top 25.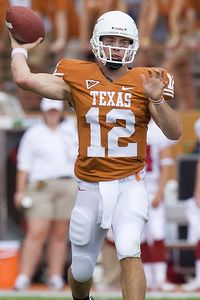 Wesley Hitt/Getty Images
Colt McCoy has a passing efficiency rating of 209.7 this season.
The Big 12 quarterbacks have spent the first month of the season living up to their buildup. No. 1 Oklahoma's sophomore Sam Bradford has improved his passing efficiency over a year ago, when all he did was lead the nation. Yet Bradford trails No. 5 Texas' junior Colt McCoy, who is playing as if the inconsistencies of his sophomore season never happened.
And both Bradford and McCoy trail No. 4 Missouri senior Chase Daniel in the Heisman polls.
Then there is No. 7 Texas Tech's senior Graham Harrell, No. 16 Kansas' junior Todd Reesing, No. 21 Oklahoma State's junior Zac Robinson, etc., etc. Even a quarterback with no experience, Baylor freshman Robert Griffin, is playing so well that the Bears have scored 124 points in their last three games. That's the most any Baylor team has scored over three consecutive games since 1991.
The result of the quarterback play, Texas coach Mack Brown said Monday, is the league is "absolutely the strongest" it has ever been.
That may be true. However, it is also true the Big 12 has so many highly ranked teams because conference play has not begun. Five teams are unbeaten because they haven't played anyone who can beat them.
Yes, Missouri defeated Illinois in its opener and Oklahoma defeated TCU on Saturday. But none of these schedules would make a pulse race. Asked how much stock he put in his team's moving up to No. 1 this week, Sooners coach Bob Stoops said, "None."
It's as if every team spent the first month of the season putting its ante into the pot. Now is the time to play Texas Hold 'Em.
"I really believe that polls are unimportant until the middle of October, somewhere after you get into the meat of your schedule," Brown said. "… I think it takes a while to play really good teams in your league to figure out who you are and if you're any good or not. It's exciting for the Big 12 that we're getting recognition that a lot of people aren't right now."
The league will figure out who's good and who isn't soon enough. This week, five of the Big 12's six ranked teams play road games in the conference. The Southeastern Conference, the once and future champ, discovered last week the effects of cannibalism. Georgia and Florida both fell out of the top five by losing home games to Alabama and Ole Miss, respectively.
"I would think that this year that we would be more like the SEC and we're going to have some real battles within the league that will hurt the national rankings," Brown said. "But at the same time [the games will] show how good this league has become. It's much better top to bottom."
Brown may believe that because the Longhorns have the league's toughest remaining schedule. Among the six ranked teams, Texas is the only one that will play the other five. The Longhorns and the Sooners meet at the Cotton Bowl on Oct. 11.
Rebels With A Cause
On the flight home from Gainesville, where Ole Miss stunned then-No. 4 Florida and the rest of the nation Saturday by winning 31-30, Rebel senior fullback
Jason Cook
told assistant coaches Mike Markuson and Derrick Nix he had never come back on a plane feeling good.
Think about that -- the only two road games that Ole Miss had won since the 2004 season came at Memphis, a one-hour bus ride away.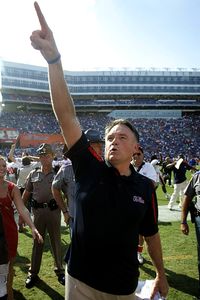 AP Photo/John Raoux
Houston Nutt is making sure his Rebels get over the Florida win.
Rebels coach Houston Nutt relayed that anecdote Monday, two days after Ole Miss won its first SEC game since 2006 and its first one on the road since 2004.
Now that the Rebels have tasted success, Nutt said, he must keep his team and its fans from getting drunk on it.
"Our antennae will be up," Nutt said. "The [presidential] debate has been here. We beat Florida. Everybody is telling everybody how good they are. We're not that good yet."
At practice Sunday, Nutt pointed out to his players that the trick is not to play well one week but to play well every week.
"We started [Sunday]," Nutt said. "We're in uncharted waters. We had a really good practice. I reminded them, 'Let's go back seven days. Nobody was feeling good. We had given a game away by giftwrapping one.'"
Ole Miss (3-2, 1-1) committed six turnovers and seven penalties the previous week in losing at home to Vanderbilt 23-17. Ole Miss gave up three turnovers in its other loss, at Wake Forest 30-28. In that game the Rebels took the lead with 1:01 to play, only to allow the Demon Deacons to drive down to the Ole Miss 24. Sam Swank kicked a 41-yard field goal with three seconds to play for the victory.
On top of his team's problems, Nutt didn't feel any better before the game Saturday at the Swamp when the Gators emerged from the locker room.
"It was unbelievable," Nutt said. "We watched them stretch and warm up. The athletes they have … the secondary has no one under six feet. You're thinking you just don't want to get embarrassed. Miami scored three points on them. Tennessee scored six. Brandon James is taking back kickoffs. This could get embarrassing."
Instead, when Nutt thinks of what may have been, he looks beyond the Florida game.
"We could be 5-0," Nutt said. "For four games we've been doing the little things that get you beat. I hope we can take this [victory] and build on it."
The Rebels play at home Saturday against South Carolina and then get a week off before going to No. 2 Alabama.
Personality Plus
When Penn State coach Joe Paterno assessed how his team evaded the upsets that knocked off three of the top four teams in the nation Saturday, he brought up not the resurgent offense led by quarterback
Daryll Clark
or the offensive line led by senior center A.Q. Shipley. Paterno talked about the team's personality.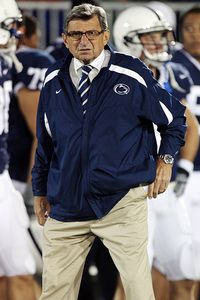 AP Photo/Carolyn Kaster
Joe Paterno and the Nittany Lions have strolled to a 5-0 start.
"We talk, talk, talk, talk all the time, sometimes it doesn't sink in," Paterno said. "But this is a good group of kids. I've said that many times. I really like this squad. And I think they listened and they understand now what it's going to be like. It's not going to be any easier. I think we're making good progress. I don't want to go overboard. I think we're getting close to being a really good football team."
Asked to elaborate why he liked his 43rd Nittany Lion team, which opened Big Ten play by defeating Illinois 38-24, Paterno alluded to the arrests and controversies that have roiled this program over the last year.
"They're a good bunch of kids to coach," Paterno said. "They seem to have a good feeling for each other. I can clown around with them and have some fun with them and they don't go overboard. And they listen. And they're trying to make sure no one gets in any trouble. It's good to see a bunch of kids have some success with all of the junk going on around them."
Players looking out for one another is the hallmark of most successful college football teams. And there are plenty of people to keep an eye on Paterno, 81, who is clearly ailing because of the right knee he injured at a practice earlier this month (while attempting to demonstrate an onside kick). Unlike the Temple game the previous week, Paterno didn't go to the press box last Saturday. But he moved slowly as he walked to his seat at the podium in the media room after the game.
Paterno braced himself by grabbing the right arm of the chair in which he wanted to sit. With a single, "Okey, dokey," he eased himself down. He moved just as slowly when he departed the stage.
In Paterno's defense, he met the media well after his bedtime. Paterno usually is asleep by 9:30 and this game ended after 11 p.m. Penn State has two more night games to play: at Wisconsin on Oct. 11 and at Ohio State on Oct. 25. Maybe by then his knee will feel better, and he will appear better.
Ivan Maisel is a senior writer for ESPN.com. Send your questions and comments to Ivan at ivan.maisel@espn3.com.
3-Point Stance

Coleman
1. USC demoted defensive linemen Averell Spicer and Everson Griffen after the Oregon State loss. At least USC has options. UCLA inserted 17-year-old freshman Derrick Coleman at tailback in the second half against Fresno State because of injuries to four other backs. Coleman rushed for 86 yards on 10 carries and set up one touchdown. But he fumbled at the Bulldogs' 10 yard line in the fourth quarter of the 36-31 loss. What do you expect? He's 17!

2. In Alabama quarterback John Parker Wilson's four seasons, he has seen the Crimson Tide finish 10-2 in his freshman year, and then start the last two seasons with records of 5-2 and 6-2, respectively, only to finish 6-7 and 7-6. That's the context for his smart comments as No. 2 Alabama prepares for Kentucky. "I think keeping it consistent is going to be the task for us. … If we start going up and down like we have before it's going to be bad."

3. Maryland has been outgained three times, lost time of possession four times and committed nine turnovers in five games. Yet the Terrapins are 4-1 and have provided hope that the ACC may have some good teams after all. How has Maryland won? The Terps' offense is balanced -- recording 912 rushing yards and 920 passing yards -- and the kicking game is sound -- with a 39.7-yard net punting average and two blocked kicks.
Meet Me In Miami?

Before the season, I picked Georgia and Oklahoma to play for the national championship. My podcast partner Beano Cook picked Florida and Ohio State. With three of our preseason picks having fallen out of the top 10, Beano now believes No. 10 South Florida has a good chance to play for the national championship this season.
Not that Beano has relatives in Tampa or has overdosed on Andy Capp's cheese fries (a Beano vice). But Beano worships the gods of scheduling, and with the way West Virginia has foundered, that Dec. 6 game in Morgantown doesn't look so daunting for the Bulls.
South Florida gets two tough games at its own Raymond James Stadium: The Bulls host Pittsburgh on Thursday night (ESPN, 7:30 ET) and No. 25 UConn on Sunday, Nov. 23 (ESPN, 8 ET). The road game that looks like a trap is a Thursday, Oct. 30 visit to Cincinnati (ESPN, 7:30 ET).

That's Beano's take. Mine is not so full of Bulls. Last week notwithstanding, I still don't believe the traditional powers will fall apart the way they did last season. Beano's theory is dependent upon teams in the Big 12 and the SEC knocking each other off. That's a long shot. No. 8 BYU already is ahead of South Florida, and the Cougars' schedule looks stronger. They must play at TCU (Oct. 16) and at No. 15 Utah (Nov. 22). BYU would be my longshot.
However, if I had to pick a team to replace Georgia in my game, I'd take the Alabama-LSU winner. The game is in Baton Rouge, where the Tide has lost three of its last four games after going 14-0-1 in Tiger Stadium during 1971-1998. No, I'm not exactly going out on a limb. But with Beano sitting out there, I don't think it will support both of us.
Podcast: Ivan and Beano
Beano Cook joins Ivan in the ESPNU College Football Podcast to discuss Missouri-Nebraska, Ohio State-Wisconsin, a big anniversary at Notre Dame, and more. Listen

State Of Discovery
Iowa State followed two tough road losses -- at cross-state rival Iowa 17-5 and at UNLV 34-31 in overtime -- by getting last week off. Cyclone coach Gene Chizik used the time to take a deep breath, take a step back and look at his team with eyes unclouded by the Saturday-to-Saturday regimen of playing games.

What Chizik and staff discovered is they are paying the price demanded when 10 true freshmen play this early in their careers. That's oddly reassuring for the coaches -- at least they know it's a problem that can be corrected with time.
"So many of our mistakes came from young guys," Chizik said. "We're not playing perfect with our veteran guys, either. … Our quarterback has only played in four games. Our starting corners are making mistakes. It's everywhere."
The logical answer is to simplify. But the Cyclones already have done that.
"We're pretty simple right now," Chizik said. "It's a lot of technique issues. Offenses move around a lot, jump around a lot. That's a lot for young guys to digest. …Tailbacks must be able to read blocks and make the cut back. Quarterback-tailback exchanges get hairy at the beginning of the year. Dropped balls really could have become big plays."
This week, the Cyclones play No. 16 Kansas. Chizik's assessment: "We're going to have to play a perfect game to be in the game with them."
Uh-oh.
Green Day
"President Hank," says the current issue of The Economist. "King Henry," smirked the Sept. 29 cover of Newsweek.

U.S. Treasury Secretary Henry Paulson, the man struggling to shepherd a Wall Street bailout through Congress, is showing the same tenacity in Washington that he demonstrated as an All-Ivy League offensive lineman at Dartmouth 40 years ago. So says Jake Crouthamel, the retired Syracuse athletic director who served as the top defensive assistant on Paulson's teams.
"He was a tough, tough player," said Crouthamel, who moved up to become head coach of Dartmouth in 1971 and went 41-20-2 (.667) in seven seasons. "He was good, sturdy. Remember now -- those weren't the times we are playing in now. He was 215, 225 pounds and he could move. He wasn't afraid. He went after people."
Two former presidents, Dwight Eisenhower and Gerald Ford, played major college football at Army and Michigan, respectively. Paulson isn't quite president. Yet that same issue of The Economist declares him "the most important man in Washington." Offensive linemen, the anonymous men of the sport, are smiling.
Shock To The System
Schools on the quarter system began classes last week. Freshmen at Ohio State, Stanford, UCLA and other schools have had nearly two months of football camp without those pesky academic worries. Surely that has been a boon to the development of Buckeye quarterback Terrelle Pryor, Bruin tailback Derrick Coleman, Cardinal kick returner Delano Howell, etc. But adjusting to the academic rigor of college overwhelms everyone -- even those who don't have the full-time job of playing football.