Meet Me In Miami
If the 2007 season taught us nothing else, it revealed the folly of attempting before the last weekend to predict which teams would play in the BCS National Championship Game. Even if this season isn't approaching the upset-a-week pace of 2007, the lesson is obvious.
A midseason assessment of the national championship race reminds me of the episode my wife refers to as Ivan's America's Cup. She once tried to teach me how to sail. Having assessed the variables -- wind, rudder, boom, drowning -- I successfully negotiated us into a place so remote that Garmin, had he been GPSing back then, couldn't have found us.
Rather than assess the race, let's just break down the contenders into four categories.
Undefeated Teams, Automatic-Bid Conferences, Not the Big 12: No. 2 Alabama, No. 3 Penn State

Alabama has climbed to No. 2 with a tailback's speed. The Crimson Tide have played their best games against their best opponents, humiliating Clemson 34-10 and taking a 31-0 halftime lead at Georgia before coasting to a 41-30 victory. While the Tide struggled to put away Tulane and Kentucky, respectively, after those big victories, a team this young (six senior starters) playing this consistently is as rare as a Washington State first down. Coach Nick Saban's team is second in the SEC in fewest penalties per game (4.67) and third in fewest turnovers (1.33 per game).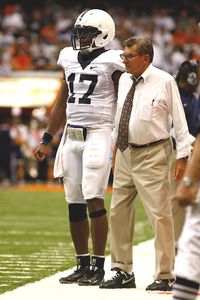 Marc Squire/Getty Images
Daryll Clark's leadership has helped Joe Paterno and the Nittany Lions to a 7-0 start.
Though Alabama's schedule is favorable -- recent nemeses Mississippi State and Auburn don't look like bullies, and Florida revealed LSU's vulnerabilities -- the Tide have no margin for error. Behind the starters are a lot of freshmen and little else. The biggest reason for Alabama's rise may be that only two starters have missed one game apiece because of injuries.
No. 3 Penn State has a habit of going undefeated and not playing for the national championship. It has happened four times (1968, 1969, 1973, 1994) in coach Joe Paterno's career. Given that history, and the national antipathy toward the Big Ten after Ohio State's egg-layings in the past two years, it would be easy to surmise that the Nittany Lions have a long road to Miami.
First of all, this is a very good team that's strong on both sides of the line of scrimmage and led by a quarterback, Daryll Clark, whose calm is rarely seen in a player who sat for three seasons.
Second, never underestimate the pull of a great story on the voters. The idea that Joe Paterno, who turns 82 in December, is making a run at a third national championship will be irresistible to anyone with a pulse. Let's not call it the Last Hurrah -- no one knows which season will be Paterno's last -- but interest in and respect for Paterno means that the Nittany Lions could lose a game and remain in the race.
The Big 12: Texas, Oklahoma, Missouri, Oklahoma State, Texas

Before the season, the Big 12 staked its claim as the second-best conference behind the Southeastern. Halfway through, the case that the Big 12 has surpassed the SEC this season looks stronger every week. Oklahoma lost by 10 points to Texas on Saturday and fell only three spots in the AP and Harris polls and five spots in the coaches' poll. That's an endorsement of the Sooners.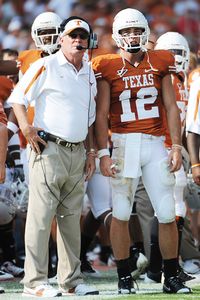 Brendan Maloney/US Presswire
Mack Brown, Colt McCoy and the No. 1 Horns are looking at a tough stretch of games.
If Texas wins out, with four of its remaining six regular-season games against ranked teams, the Longhorns will play for their second national championship in four seasons. (All together now: Duh.) If the Longhorns lose one, however, the national championship race will get a lot more interesting. That's when the perception of the Big 12 in the minds of the voters will begin to weigh on the race.
It will come as good news to Oklahoma and Missouri to see the quick return of USC and Florida to the national championship race. The Trojans and the Gators each lost in September in their own ghastly ways. USC lost at Oregon State to a team that had looked bad in losing at Stanford and at Penn State. Florida fell at home to Ole Miss. But both teams made the competitively shrewd move to lose early instead of late.
Oklahoma had the good fortune to lose and remain in the national championship race. Sooners coach Bob Stoops would love the opportunity to redeem his increasingly outdated nickname, "Big Game Bob." As Brett Edgerton in ESPN Research pointed out Tuesday, from the beginning of Stoops' career at Oklahoma in 1999 up to the 2004 BCS Championship Game, Stoops went 7-2 against Texas and in BCS games.
Beginning with that 55-19 loss to USC in the Orange Bowl four years ago, Stoops is 1-6 against Texas and in BCS games. That stat excludes Stoops' 5-1 record in Big 12 championship games. Nevertheless, Stoops and the Sooners sure would like another chance.
Missouri is down to single-elimination football. If the Tigers lose at Texas on Saturday night, they are done. So, too, in all likelihood, are Texas Tech and Oklahoma State. There are doubts about both teams based on their lack of winning tradition and their soft nonconference schedules.
One Loss, Automatic-Bid Conference teams, Top 20: USC, the Florida-Georgia winner, LSU, Ohio State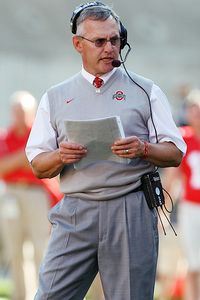 Matthew Emmons/US Presswire
Jim Tressel and one-loss Ohio State are still in the BCS picture.
The Trojans have returned to championship contention since their loss at Oregon State, proving that poll voters have as much memory as a 20-year-old laptop. The same would happen for the Bulldogs or the Tigers if either wins out.
There is precedent for a team to win the national championship despite suffering a humiliating defeat. In 1982, No. 3 Penn State lost to No. 4 Alabama 42-21 in Birmingham on Oct. 9 and fell to No. 8. The Nittany Lions kept winning, beat No. 13 Notre Dame and No. 5 Pittsburgh in their last two regular-season games and climbed to No. 2. They beat No. 1 Georgia 27-23 in the Sugar Bowl.
Both LSU and Georgia have a schedule that would enable them to prove that they are contenders. The Tigers get Alabama in Baton Rouge. The Dawgs play Florida in Jacksonville, and Georgia Tech, currently 5-1, goes to Athens on Thanksgiving weekend.
The last team listed above is -- that's right -- Ohio State. If the Buckeyes win at Michigan State and beat Penn State in the next two weeks, they will be poised to move up should the teams in front of them falter. Stranger things have happened. Remember last season?
Undefeated, Non-Automatic-Bid Conference: the BYU-Utah winner, Boise State, Ball State, Tulsa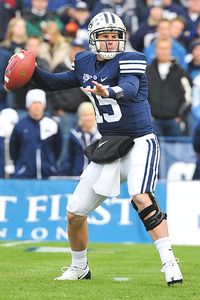 Boyd Ivey/Icon SMI
Max Hall and the Cougars are in the mix for Miami.
The No. 9 Cougars have a chance at earning one of the berths in the BCS National Championship Game. They need to keep winning, and they need the No. 14 Utes to keep winning. If the Holy War (I don't know, that name creeps me out) matches undefeated teams, the Cougars will get a bounce in the polls. And if they win out, they can take a 22-game winning streak into the postseason. While 10 of those victories came in 2007, the streak still would be a badge worn by the Cougars that no other team could wear.
Utah, however, has too far to climb to make it all the way to the BCS title game. The Utes would have to console themselves with their second BCS bid in five seasons. An undefeated Utah team, with a victory over an undefeated BYU team, would maintain its current lead over the No. 15 Broncos, the No. 24 Cardinals and the Golden Hurricane.
Though it's not germane to this discussion, the possibility that another undefeated school could join the BYU-Utah winner in the BCS is slim. There would be three remaining at-large berths. Figure a Big 12 team will take one and an SEC team will take another. That leaves the final one to be fought over by the Big Ten runner-up and, say, 12-0 Boise State. When it comes to TV ratings, hotel rooms filled and fannies in seats, it may not be a fair fight.
Ivan Maisel is a senior writer for ESPN.com. Send your questions and comments to Ivan at ivan.maisel@espn3.com.
3-Point Stance: Half-Season Surprises

1. Minnesota, one year after a 1-11 season that included losses to North Dakota State and Florida Atlantic, is 6-1 and bowl-eligible. (And Michigan is not. Put that in your Little Brown Jug and chug it.) Second-year head coach Tim Brewster is known as a recruiter, and his best signee has been defensive coordinator Ted Roof. The Gophers have forced 20 turnovers and have 17 sacks; both marks are higher than their season totals a year ago. Even if the schedule has been more featherweight than heavyweight, that's impressive.
2. For the first two weeks of the season, the ACC did its best imitation of the FCS Southern Conference. The league not only recovered its balance but began to look downright good. North Carolina and Florida State look as if they will be national contenders in 2009. Virginia Tech and Boston College have picked up where they left off last season. Duke is alive again, and Virginia, after a horrid 1-3 start, has dominated its past two opponents. And that leaves out Georgia Tech, 5-1 under new coach Paul Johnson.

3. Remember when programs that are good this year were good last year and good 10 years before that? Of the eight BCS teams from 1998 -- Wisconsin, UCLA, Ohio State, Texas A&M, Florida, Syracuse, Tennessee and Florida State -- only the Buckeyes, Gators and Seminoles have winning records, and the latter isn't even ranked.
Smells Like Team Spirit

Team of the Half-Season:
Texas has risen the highest; Alabama has risen the fastest; and Vanderbilt, still ranked 22nd after the loss at Mississippi State, has risen the farthest. But No. 3 Penn State, racked by injuries and beset with off-field issues that embarrassed the university and the good actors on the team, has become a national championship contender.
The Nittany Lions' version of the spread has emphasized the speed on the edge of the offense and the surprising cool of quarterback Daryll Clark, who played little in his first three seasons. Quarterbacks coach Jay Paterno dubbed it Spread HD. The initials must stand for Highly Dominant. The Nittany Lions lead the Big Ten with 45.3 points and 482.1 yards per game.
Half-Team of the Season: Tennessee began the season ranked 18th but the Volunteers' lack of offense has led to a 2-4 record. Speculation about the future of veteran coach Phil Fulmer is open and heard on talk radio throughout the SEC. It's hard to tell which team is proving David Cutcliffe to be a better coach: Duke, where he took over as head coach and has led the Blue Devils to a 3-2 record, already their most victories in five seasons; or the Vols (17.3 points per game), for whom he is no longer offensive coordinator.
Podcast: Ivan and Beano
Beano Cook joins Ivan in the ESPNU College Football Podcast to discuss Tommy Bowden's split with Clemson, hand out some midseason awards and more. Listen

For The Love Of The Game

UT-OU
Game of the Half-Season: The 45-35 victory by Texas over Oklahoma had everything: long history, passionate crowd, high stakes, big players, big plays, controversial calls. And, right outside the front gate, spam quesadillas. That's food, not a computer virus. After the Longhorns' comeback in the fourth quarter, coach Mack Brown expressed regret that Texas and Oklahoma had to play so early in the season and had to live in the same division. Baloney. I don't want to see a rematch in the Big 12 Championship Game. There's no way it would match what took place in the Cotton Bowl. Besides, Texas-Oklahoma in Arrowhead Stadium? Puh-leez.
Half-Game of the Season: Alabama ran up a 31-0 lead on No. 3 Georgia by dominating the Bulldogs in every aspect of the game. Michigan's comeback from a 19-0 halftime deficit to upset No. 9 Wisconsin looked magical at the time. Given the Wolverines' subsequent losses to Illinois and -- gulp -- Toledo, now the victory over the Badgers looks otherworldly.
But the Half-Game award goes to UCLA, which overcame a first half of unsurpassed ineptitude in its opener against Tennessee. Third-string quarterback Kevin Craft took the starting job because the two senior Bruins in front of him got hurt. Craft completed 7 of 18 passes for 66 yards and four interceptions before halftime. Somehow, UCLA trailed only 14-7. After halftime, Craft completed 18 of 25 for 193 yards and a touchdown. UCLA won in overtime 27-24.
It doesn't matter that the Volunteers have proven they are not very good. The Bruins have shown that they are as bad as every UCLA fan feared. Somehow, they pulled out that opener against Tennessee.
The Players Club

McCoy
Player of the Half-Season: If you measured Texas quarterback Colt McCoy merely by his improvement as a passer, he would grab your attention. Add in his newly found skills as a scrambler -- that weight-room work pays dividends -- and the redshirt junior has become the two-tool threat that so many of today's top quarterbacks have become.
But McCoy is the Player of the Half-Year because, in addition to his physical ability, his leadership as a third-year starter has fueled the Longhorns' rise to No. 1. Texas is a team greater than the sum of its parts. Tip your hat to the pride of Tuscola, Texas.
Half-Player of the Season: Senior quarterbacks Cullen Harper of Clemson and Todd Boeckman of Ohio State began the season leading top-10 teams. Harper lost the confidence of his coaches and eventually his job. Boeckman had the misfortune of being overtaken by a more talented player, even if Terrelle Pryor is a freshman.
They join an unusual number of senior quarterbacks (Nate Longshore of Cal, Drew Weatherford of Florida State, Sean Glennon of Virginia Tech) who lost their starting positions in August or once the season began. Maybe experience isn't as important as coaches have led us to believe.
Coaches' Corner

Saban
Coach of the Half-Season: It's tempting to pick JoePa, who has led Penn State to No. 3 despite a painful hip injury and the incessant chirp of speculation about his career. But the vote goes to Alabama's Nick Saban. Let's not forget: These are mostly the same Tide players who lost their last four regular-season games in 2007, and then nearly blew a 27-0 lead over Colorado in the Independence Bowl.
Half-Coach of the Season: Tommy Tuberville of Auburn and Phillip Fulmer of Tennessee began the season in the Top 25 and now are fighting rumors of their imminent demises. Why Auburn fans would decide to start over as Alabama is gaining momentum is beyond dumb, but never let reason get in the way of boosters and their egos. Remember, this is the same university that tried to fire Tuberville five years ago. He outfoxed them, and went 13-0 the following season. But that doesn't mean the people who wanted him out changed their minds.
Still, the Half-Coach of the Year goes to Tommy Bowden. Clemson had problems on the offensive line yet Bowden didn't try to fight off the preseason hype that declared the Tigers a top-10 team. When they proved that they weren't, the team's confidence shattered. Bowden's career shattered with it.