Off And Running
No. 1 USC has no game scheduled for the second weekend of the season. The Trojans practiced for a month, played at Virginia and won 52-7. Exhausted by the effort, the team gets a week off to rest before its Sept. 13 showdown against Ohio State.
No, it doesn't make sense. In fact, excluding the teams that played on Labor Day or that play on Thurs., Sept. 11, only two other teams are idle this weekend: Boise State and Louisiana-Lafayette.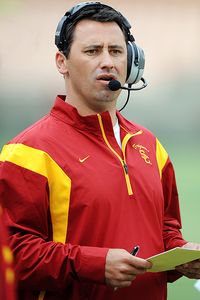 Kirby Lee/Image of Sport/US Presswire
Steve Sarkisian and USC look forward to their off week.
The Trojans may be grateful for having two weeks to prepare for the Buckeyes.
USC senior associate athletic director Steve Lopes had an explanation. As late as last fall, the 2008 USC schedule showed that the Trojans would open this Saturday, Sept. 6, against Colorado State in Denver. However, Lopes said, Rams athletic director Paul Kowalczyk called after last season and asked to be released from the game -- mind you, the return date of a home-and-home -- without a makeup.
Colorado State already had Colorado and California on the schedule for first-year head coach Steve Fairchild. This Saturday, instead of playing USC, Colorado State will play another team from California -- Sacramento State, an FCS team from the Big Sky Conference.
USC had to find a game for one of the first two Saturdays.
"It allowed us to schedule an away game," Lopes said. "We could have looked for a home game but it was a little late for that. We could play a home-and-home and start out on the road."
Lopes couldn't remember how he heard that Virginia wanted to schedule a home-and-home on the West Coast. But the schools agreed to a two-game contract (the Cavaliers come west in 2010).
Judging by the results, having the second week off agrees with USC. This is the fifth consecutive season in which the Trojans have had an off week after the first game. In those four games that followed, against Colorado State, Arkansas and two against Nebraska, USC has won by a combined score of 196-58.
"We love having the week off," USC offensive coordinator Steve Sarkisian said via e-mail. "[It's] great to re-evaluate our young players and also it's a great opportunity to get an extra week of preparation on Ohio State. Our track record has been pretty good when we get extended preparation time."
Boise State head coach Chris Petersen is not as sanguine about the early off week as Sarkisian. Because the Broncos play on Wed., Oct. 1 against Louisiana Tech, they will play only four games in the first six weeks of the season.
"We start out, really, really slow," Petersen said. The Broncos play Bowling Green on Sept. 13, at Oregon on Sept. 20 and then have another bye of sorts. Boise State plays the following Wednesday, Oct. 1, against Louisiana Tech, and doesn't play its fifth game until Oct. 11. By comparison, Idaho, a fellow WAC member, will play its seventh game on that Saturday.
Petersen said he will adjust his practices. He doesn't want his players to burn out on prep work without the reward of games.
"We will practice hard but not too long," Petersen said. "You want to keep them fresh but you still have to get better. What the right answer is, I don't really know. We gauge it off the kids."
On Tuesday, Day 1 of the week off, Petersen organized a seven-on-seven drill, with the defensive players on offense and the offensive players on defense. The losing side's coaches would have to run.
The drill went into overtime, and the players gave way to the coaches. Assistant head coach and wide receiver coach Brent Pease threw a winning touchdown, and the defensive coaches had to run a gasser. Just one, but Petersen succeeded in making practice fun. When you don't play many games, that's what a coach has to do.
How To Schedule
Big East associate commissioner Nick Carparelli explained the ins and outs of doling out off weeks and being fair when scheduling the conference's eight teams.
1. It's such a puzzle. We feel it behooves us to put certain games on certain nights [to maximize exposure]. (In 2006, Carparelli predicted correctly and scheduled West Virginia at Louisville and Louisville at Rutgers on consecutive Thursday nights. He closed the season out with Rutgers at West Virginia on championship Saturday night, a game that the Mountaineers won in triple overtime. Ratings rocketed for all three games.)
2. Every school is responsible for their own nonconference schedule. In an ideal world, since we have five nonconference games, the schools will schedule them in the first five or six weeks. That leaves us a blank slate to concoct a balanced, fair, competitive schedule.
3. Pittsburgh plays Notre Dame on Nov. 1 (so much for early-season nonconference games). In an eight-team league, I'm forced to give someone else a bye then (that would be Rutgers).
4. We avoid three straight road games. If we have to do it, we include a bye. Pittsburgh plays at Syracuse (Sept. 27), at Cincinnati (Oct. 2) and at Navy (Oct. 18). Part of the problem with them [Pitt] is that this is the year they [nonconference] scheduled three home games in the first four weeks and two road games late in the season. They handcuffed us.
5. We avoid one school having a "short week" playing an opponent that has a full week or more. (Pitt and USF both have five days to prepare for their game on Thurs., Oct. 2, as do USF and Cincinnati for their game on Thurs., Oct. 30).
6. If you shortchange a school (a team without an off week playing a team that had an off week), you try to limit it once in a season. West Virginia is at Pitt on the Friday after Thanksgiving. Pitt plays at UConn on championship Saturday (Dec. 6). UConn doesn't play on Thanksgiving weekend. We felt better because Pitt is getting an extra day to prepare. We couldn't avoid it.
Need For Speed
The NCAA Football Rules Committee has been trying for three years to shorten the elapsed time of a game without taking too many plays out of the game. It's a delicate balance, especially when the obvious answer -- fewer commercials -- is a nonstarter. The conferences want the money that the networks can pay because of those commercials.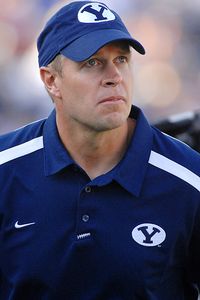 Kirby Lee/Image of Sport/US Presswire
Bronco Mendenhall is prepared to adjust to the rules changes.
Two years ago, the rules committee made some rules changes to speed up the game. You would have thought that the changes outlawed the off-tackle play, or tailgating. The complaints about the new rules -- the clock beginning when a kickoff begins and not when the return begins, and starting sooner on changes of possession -- came from all sides. Once the season ended, the committee couldn't rescind the new rules fast enough.
If anything the 2006 rules committee overcorrected the problem. In 2005, the average game lasted 3:21 and included 141.2 plays. In 2006, those totals fell to 3:07 and 128, respectively. Last season, with the old rules, the totals climbed back to 3:22 and 143.3. The committee didn't like that, either, so it tried again. This season, the committee adopted the NFL's 40-second clock between plays. On running plays that go out of bounds, the clock begins to run at the referee's ready signal.
Though many coaches discussed the rules changes, few coaches criticized them. After the first weekend's games, in which the average number of plays fell to 134.5, and the average time fell to 3:08, there has been no hue and even less cry.
What gives? Are these rules better?
The answer is a qualified "Yes."
Look at the change from 2005 to 2006, and the change from 2007 to 2008. In each case, the rules changes chopped roughly the same amount of elapsed time from the game. But this year's changes lost fewer plays. The reason for that discrepancy could be an effect of up-tempo offenses as well as the urgency demanded by the 40-second clock.
"I actually like the new clock rule," USC offensive coordinator Steve Sarkisian said via e-mail Tuesday.
"The difference now is that we are in control of how fast we want to go and how many plays you can run," Sarkisian said. "We ran 78 plays on Saturday, but if we played slower, [we] probably could have only run 68 plays."
Not every coach feels that way. But this time around, instead of complaining about the changes, coaches sound as if they are resigned to them.
"I think the difference is that we as head coaches … have very little impact on the rules," BYU coach Bronco Mendenhall said. "The rule is going to change and our role is to adjust."
Iowa coach Kirk Ferentz sounded as if he just wants the rules committee to stick with the same rules two years in a row.
"I hope we can settle into what it is we want to do," Ferentz said. "I thought the game was pretty good 10 years ago."
Ivan Maisel is a senior writer for ESPN.com. Send your questions and comments to Ivan at ivan.maisel@espn3.com.
3-Point Stance

1. I'm a bowl guy, not a playoff guy, but here's what I don't like about polls: USC overtakes Georgia in the AP and USA Today votes Tuesday. At first glance, that makes sense. The Trojans beat Virginia 52-7, while the Bulldogs beat FCS Georgia Southern 45-21. But first glance is all some voters make. Georgia led its game 38-0 when coach Mark Richt pulled his starters. That's the result that counts.

Saban
2. The Sept. 1 issue of Forbes featured Alabama's Nick Saban on the cover as the most powerful coach in sports. Forbes found out how powerful Saban is, to the tune of printing an additional 107,500 copies. The clamor for the issue is unprecedented in the 91-year history of the magazine. Maybe that's why Crimson Tide tailback Glen Coffee is on the cover of Sports Illustrated, the team's second SI cover in Saban's 8-6 career in Tuscaloosa.

Stafford
3. If I'm an NFL personnel guy looking for a quarterback, Saturday confirmed my worst fears. This senior class has few prospects under center. Cullen Harper of Clemson and Hunter Cantwell of Louisville laid eggs. So did Sean Glennon of Virginia Tech. Chase Daniel of Missouri is still 6 feet tall. Pat White of West Virginia still weighs 192 pounds. Juniors who can throw -- Matt Stafford of Georgia, for instance -- have a real opportunity.
State Of Florida

There should be little debate about which of the seven FBS teams in the state of Florida is the best in this decade. The Florida Gators overtook the Miami Hurricanes midway through. Florida State is struggling. South Florida and Central Florida are growing. Florida Atlantic is promising, and all Florida International can do is promise -- to be better.
Still, the doubleheader of sorts this weekend can be viewed as an early-season claim on being No. 2 in the Sunshine State. The Canes, a young team with -- there's that word again -- promise, travel to the Swamp to play the Gators. If Miami struggles -- and Florida is favored to win by three touchdowns -- then the winner Friday night of the I-4 showdown between USF and UCF can stake a claim to the being the state's silver medalist, at least until Florida State begins the FBS portion of its schedule.

That will be awhile. The Seminoles open the season Saturday against Western Carolina and follow with Chattanooga. The Seminoles, who have five starters (and three others) suspended for the first three games because of an academic scandal, didn't have the gall to schedule a third FCS school.
Until Florida State plays Wake Forest on Sept. 20, and until the Seminoles get their full lineup back the following week against Colorado, the state's No. 2 team will identify itself this weekend.
Paging Ty Willingham
Rutgers head coach Greg Schiano produced the sizzle, thanks to a 9-0 start in 2006. He has led the Scarlet Knights out of what had been a spectacularly unsuccessful existence.

Schiano
Schiano has provided the impetus for Rutgers to construct a new football building and begin to expand its stadium. Schiano has given the Scarlet Knights a positive presence in the New York and Philadelphia media markets.
Since that start in 2006, when Rutgers climbed to No. 7 in the polls, Schiano has been courted by Alabama, Miami and Michigan. And since that start, Rutgers' record has been 10-8, including 1-5 against ranked teams. Those records include the 24-7 loss at home to Fresno State on Monday.

Willingham
After beginning his career at Notre Dame in 2002 with an 8-0 record, Irish coach Ty Willingham went 13-15 through the end of the 2004 regular season. Notre Dame fired him.
Rutgers isn't about to fire Schiano, nor should the university even consider it. The program has progressed by leaps from where he found it. But for anyone who believed in November 2006 that Schiano had brought Rutgers into the elite of the sport, the fact is that since that time, the Scarlet Knights have a mediocre record in a middle-of-the-road conference.
Podcast: Ivan and Beano
Beano Cook joins Ivan in the ESPNU College Football Podcast to talk about the bad losses and good wins from the past weekend, young coaches to watch this season and more. Listen

First Time For Everything
Watching head coach Frank Beamer's Virginia Tech team lose on a blocked punt is like watching someone nail a fallaway jumper over Michael Jordan at the buzzer, or seeing someone out-touch Michael Phelps at the wall. It is simply not supposed to happen to Beamer's Hokies, the first word in special-teams play for more than a decade.
But it did. East Carolina's T.J. Lee raced in untouched, blocked a punt and returned it 27 yards for a touchdown with 1:52 to play to give the Pirates a 27-22 victory over the No. 15 Hokies.
According to Virginia Tech sports information, a Beamer-coached team has had a blocked kick figure in a loss only once in his 22 seasons before Saturday. And even that one deserves an asterisk.
In 1997, Miami (Ohio) blocked two kicks, returning one for a touchdown, and scored another touchdown on a fake punt to beat No. 14 Virginia Tech 24-17. But both touchdowns came in the first half, and the Hokies still led at halftime 17-14. Miami won the game in the second half without any late-game heroics by the special teams.
On The Road Again
Coaches are creatures of routine, and it's understandable why Tulane head coach Bob Toledo sounded at a loss when he described the hardships that his Green Wave have faced this week in preparing to play at Alabama. The team bivouacked in Birmingham when Hurricane Gustav threatened New Orleans.
But reading Toledo's description of how much Tulane can't do while working out at Samford and living in a Birmingham hotel made it clear that Toledo wasn't with the Green Wave three years ago, when Katrina chased the team out of New Orleans. If he had been around for the devastation and rootlessness that Tulane dealt with for the entire season, Toledo would think of this week as a vacation.
Passing Through
Excuse my amazement, but as someone who remembers when the schools now in the Big 12 lived and died on the triple option, get a load of these stats:
Four Big 12 quarterbacks threw for at least 325 yards in Week 1. Six of them are ranked 26th or higher in passing efficiency. Meanwhile, the leading rusher in the conference, Missouri sophomore Derrick Washington, gained all of 130 yards Saturday night. We all recognized the talent that the Big 12 has at QB this season. But to see those numbers makes you stop and realize how football has changed on the I-35 corridor.
Now, if only someone other than Oklahoma could play defense. Until that day comes, look for scoreboards to burn out, and, rules changes be damned, games to go on forever. Texas Tech's 49-24 defeat of Eastern Washington lasted 3:40.