Pigskin About To Get Political
The 1993 Florida State Seminoles are alive and well in Norman, Okla.
Bobby Bowden's first national champion finished No. 1 despite suffering a loss to the team that finished No. 2. Dr. Lou, the coach of that Notre Dame team, slams his stethoscope to the ground and stalks out of the room every time he hears it.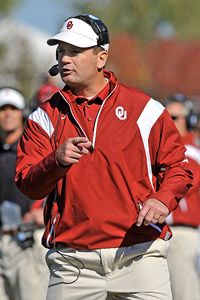 Peter G. Aiken/Getty Images
A tough closing stretch could point Bob Stoops and the Sooners toward Miami.
Fifteen years later, Oklahoma is hoping for the same result as the Seminoles. No. 5 Oklahoma, idle this week, has games remaining against No. 2 Texas Tech and No. 13 Oklahoma State. If the Sooners win, they somehow would have to leap over No. 3 Texas, the team that beat them 45-35 on Oct. 11.
If Texas Tech, Texas and Oklahoma finish in a three-way tie for the Big 12 South championship, then the BCS standings will determine which team will play in the league championship game.
Oklahoma coach Bob Stoops has done his share of politicking -- you may recall his unsuccessful campaign to get to the BCS National Championship Game with two losses last season -- but he's not ready to start his public campaign now.
"We've got to beat Tech and Oklahoma State," Stoops said. "If we can win, then there's something to say, and quite a lot."
The Sooners, stuck at No. 5, haven't gotten a lot of national attention since their loss to the Longhorns. They have won four consecutive shootouts, scoring more points in each successive week:
Oklahoma 45, Kansas 31
Oklahoma 58, Kansas State 35
Oklahoma 62, Nebraska 28
Oklahoma 66, Texas A&M 28
Those are bigger routs than they appear to be. In the past three fourth quarters, the Sooners have thrown a total of six passes and scored a total of three points. All of which is to say that if Oklahoma beats Texas Tech -- and the game is in Norman -- then Texas is not a slam dunk to finish ahead of the Sooners.
Oklahoma will have an edge in strength of schedule. The Sooners defeated No. 18 TCU and No. 22 Cincinnati, which could both finish as conference champions, and, in the Bearcats' case, in a BCS bowl. The only one of Texas' nonconference opponents with a winning record is Rice.
And Oklahoma will have beaten two highly ranked teams in the final weeks of the season. Richard Billingsley, who runs one of the six computer rankings used by the BCS, said via e-mail, "Overall in my system, beating a top-three team in mid-November is worth more than beating a top-three team in early October. Point values are greater because teams have accomplished more."
In the case of a three-way tie in which all three teams have beaten each other, Billingsley said the Sooners have an advantage there, too. "OU beating Texas Tech would be worth more than Texas beating OU."
Billingsley said he doesn't know if Oklahoma would move past Texas, because the Longhorns play at Kansas this week.
Billingsley is one voice, and the voters in the Harris poll and the USA Today coaches' poll all have their own voices, too. In case you're wondering, Mike Leach of Texas Tech and Mack Brown of Texas have votes in the coaches' poll. Stoops does not.
"No question, there's an argument for and against everyone," Stoops said. "If you lost a game, you have to admit there's an argument. That's what I'm tired of. Then it gets down to who wants to trumpet who. You're subject to all of that. … You feel like you'd rather be one of a group to have a shot at it."
That's the one argument that Stoops is ready to make: He's about ready for a playoff.
Iowa Caucus
Two days after Iowa had upset Penn State 24-23 and knocked the Nittany Lions out of contention for the BCS National Championship Game, two days after his hard-luck team had turned its mediocre season into a promising one, Hawkeyes coach Kirk Ferentz struck a note somewhere between proud and amazed.
"We said it to our players," Ferentz said. "We're going to have to play our absolute best to beat these guys, and then we may need a little help."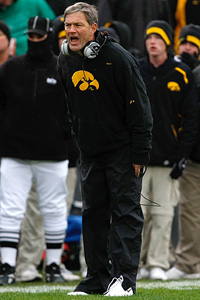 Scott Boehm/Getty Images
Kirk Ferentz and the Hawkeyes had plenty to shout about against Penn State.
Iowa won with red-zone defense. In the first half, the Nittany Lions strung together drives of 19, 11 and 16 plays, yet had only a field goal, touchdown and field goal, respectively, to show for them.
In five red-zone possessions, Penn State ran the ball 13 times for 35 yards, and completed 1 of 2 passes for four yards. That does not include the two plays on which Iowa committed major penalties and gave the Nittany Lions a first down inside the 10.
Iowa surely bent. But the Hawkeyes did not break.
"For me, the story of the game was for us to get out of the first half only down six [13-7]," Ferentz said. "That's where the red-zone defense came in. … The defense hung on in the red zone. That's why the field is 100 yards."
After those three long drives in the first half, the Nittany Lions made no drive longer than nine plays in the second half. That statistic doesn't tell the whole story -- two Iowa turnovers gave Penn State the ball inside the Iowa 30, and the Nittany Lions scored 10 points off of them.
But it's clear that the Penn State offense did not capitalize on its dominance in the first half, and never quite found a rhythm in the second half.
"In the fourth quarter, we settled down," Ferentz said. "Maybe we caught up to the speed of the game."
From the outside, Ferentz's choice of Daniel Murray to kick the game-winning 31-yard field goal looked like a gambler's hunch come true. Murray hasn't made a field goal since the opening game, and hasn't attempted one since September. But Ferentz knew what he had seen in practice every week since Murray lost the starting job to freshman Trent Mossbrucker.
"We leaned toward the guy with a little more experience," Ferentz said. "Trent is going to have a great career here. [Special-teams coach] Lester Erb and I were in concert on this one. I can honestly tell you I think Trent would have made it. I knew Daniel had been practicing extremely well. It's the same thing as Jake Christensen [the junior quarterback who started for two games instead of current starter Ricky Stanzi]. If we have to go to him, we'll have confidence in him. Jake and David are really in the same boat."
That ability to come through when called upon, to make one play, has been missing. Iowa is 6-4, with games remaining against Purdue and Minnesota. Ferentz said the Hawkeyes earned this victory, and not just on Saturday.
"We've lost four by 12 points," Ferentz said. "There are 10 to 15 plays in those games that were paramount. It's no different when you win."
Five Most Important Injuries of 2008
Here they are, the five players whose absence proved just how valuable they are to their teams. Read them and, if you're a fan, weep for what might have been.
1. Jeff Owens, Georgia defensive tackle
The loss of offensive linemen Trinton Sturdivant and Vince Vance left Georgia with a makeshift line in front of quarterback Matthew Stafford and tailback Knowshon Moreno. But the Bulldogs' offense is still producing. It's the Georgia defense that has been lacking, giving up 41 points to Alabama, 49 to Florida, and 38 apiece to LSU and Kentucky. Georgia lost the first two of those games, which is why the Dawgs fell from No. 1 in the preseason AP poll to their current status at No. 10 in the BCS standings. Without Owens, Georgia is minus-one in turnover margin and has only 17 sacks. Last season, Georgia finished plus-nine in turnovers and had 42 sacks.
2. Ryan Reynolds, Oklahoma linebacker
The senior not only played a flawless middle linebacker, he made sure the young players around him knew where to line up. It's no coincidence that the Sooners' defense floundered in the 45-35 loss to Texas after Reynolds tore an ACL. Had Reynolds remained in the game, the Sooners probably wouldn't have allowed 25 points in the second half to the Longhorns. That means the Sooners wouldn't be No. 5 and hanging their postseason hopes on the voters and the computers.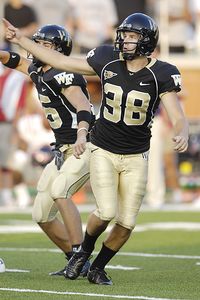 Sean Meyers/Icon SMI
The Demon Deacons have missed Sam Swank's accuracy.
3. Sam Swank, Wake Forest punter/place-kicker
Swank, a senior and an All-American in 2006, beat Ole Miss with a field goal with :03 to play and then accounted for all the Demon Deacons' scoring in a 12-3 defeat of Florida State. But Swank has missed five games with a strained quadriceps muscle. In his place, redshirt freshman Shane Popham has punted well (39.1 yards per attempt) but has been successful on only 1 of 5 field goal attempts outside of 32 yards.
4. Beanie Wells, Ohio State tailback
If Wells hadn't injured his big toe in the opening game against Youngstown State and missed the next three games, the Buckeyes' offense would not have looked so feeble in the 35-3 loss at USC. Without Wells, the offense struggled, and senior quarterback Todd Boeckman gave way to freshman Terrelle Pryor. Had Wells remained healthy, the urgency of the need for offense probably wouldn't have forced coach Jim Tressel to play Pryor so much so soon. Wells has been very good since he returned -- he has 814 rushing yards and six touchdowns this season. But even as late as last Saturday, when he rushed for 140 yards and two touchdowns at Northwestern, he appeared to limp on the sideline.
5. Eric Decker, Minnesota wide receiver
It's unusual that a wideout -- or to be more precise, the absence of a wideout -- would have such an impact on an offense. Since the junior sprained his ankle in the second half of the Golden Gophers' game against Northwestern two weeks ago, Minnesota has scored exactly two field goals. Minnesota went into the Northwestern game at No. 17 with a 7-1 record. After losing to the Wildcats 24-17 and then getting blown out by hapless Michigan 29-6, the Gophers are 7-3 and looking to turn around their fortunes against two solid opponents, Wisconsin and Iowa.
Ivan Maisel is a senior writer for ESPN.com. Send your questions and comments to Ivan at ivan.maisel@espn3.com.
3-Point Stance

Rodgers
1. With 1,089 yards, Jacquizz Rodgers of Oregon State has broken the Pac-10 season record for freshman rushers that had been set by Darrin Nelson of Stanford in 1977. Of the league's 37 rushing records, -- single-game, season, career, class, position, teammates, etc. -- listed in the Pac-10 media guide, only 11 have been broken in the past 20 seasons. As if you needed more evidence it's a passer's league, right?

2. Mississippi State has not allowed Alabama an offensive touchdown since 2004. Head coach Sly Croom's defenses allowed the Crimson Tide only eight field goals in three games, although the Bulldogs won only the last two. Mississippi State's defense has not been so tough this year, especially with the loss of linebacker Jamar Chaney to a knee injury. But if the No. 1 Tide doesn't score an offensive touchdown early Saturday, will doubt creep into the Alabama huddle?

3. In the five automatic-bid conferences east of the Rockies, only seven teams that appear as if they will qualify for a bowl will have done so without the crutch of beating an FCS school. They are Alabama, Michigan State, Nebraska, Pittsburgh, Texas, Wake Forest and, with one more victory, Vanderbilt. Let's hear it for the Pac-10, where eight teams don't play an FCS opponent. Using that 12th game to buy a win so you can play in a bowl game smells like last week's fish.
ND's 77-Year Grip Slipping

Anyone recall how I wrote a month or so ago that Charlie Weis appeared to have Notre Dame on the right track? No? Good. The Irish, 5-4, have lost three of their past four and badly need a win over Navy on Saturday.
From a historical point of view, Notre Dame needs to win to maintain its standing in all-time wins. As ESPN researcher Brett Edgerton pointed out, Texas has pulled into a tie with Notre Dame at 829 wins (Michigan is No. 1 at 872). Ho-hum? Hardly -- Michigan and Notre Dame have been the top two teams since Oct. 15, 1932. On that day, the Irish broke a tie for second with, of all teams, Navy.
As for this season, it's hard to imagine that Weis will be in trouble, even if the Irish lose to the Midshipmen and go 6-6. New athletic director Jack Swarbrick isn't likely to pull that trigger only a few weeks into the job. But just the fact that the speculation about Weis has begun again gives you pause.
The Wrong Loss

No. 6 USC's problem is not that the Trojans have a loss. It is that USC lost to Oregon State. The Trojans' loss to the Beavers continues to reverberate.
As the Trojans attempted to climb back to the top of the standings, they had no answer for why they should be ranked ahead of Penn State, which had defeated Oregon State 45-14.
Iowa took care of that problem for USC, but look who is now one place behind the Trojans in the BCS: Utah, not only unbeaten, but also with a victory over Oregon State, 31-28.
USC has played four other teams with winning records. None of those four -- Arizona, Ohio State, Oregon or Cal -- has lost two games to teams in the top 10. Certainly, a loss to the Wildcats would have left a larger stain on the Trojans' record than did the loss to the Beavers. But the point is that in a sport that depends so much on comparative scores, USC simply lost to the wrong team.
The Great Wide Open

Four weeks before the season ends, the Southeastern Conference already knew which two teams will play in the conference championship game. All the Atlantic Coast Conference knows is which two teams won't play in its conference championship game. North Carolina State and Clemson are out. Everyone else is still in.
"I started thinking about all this stuff and I got a headache," ACC spokesman Mike Finn said Tuesday.
Here's what we know: Don't judge the league by its standings.
For instance, Boston College is in fourth place in the Atlantic Division with a 2-3 record, 6-3 overall. But the Eagles are one of only three teams in the league that control their own destinies. The others are Maryland, third in the Atlantic (3-2, 6-3) and Virginia Tech (3-2, 6-3), tied for first with North Carolina and Miami in the Coastal.
The other seven teams need the right teams to lose to win their respective divisions.
Here's what we know: Duke, 1-4 in the Coastal, 4-5 overall, would need the most outlandish finishes to win the Coastal. Suffice it to say that there would be tiebreakers galore.
Here's what else we know: All 12 teams remain mathematically eligible to finish 6-6 and be eligible for a bowl game. A realistic view indicates that nine teams will do so, which is a perfect fit. The ACC has deals with nine bowls, including the new EagleBank Bowl at RFK Stadium in Washington, D.C., against Navy.
Real World Focus

Coaches are very good about throwing up a shield around their teams to keep out any issues that would prevent them from focusing on game plans and three-point stances. That's what makes it nice to see the occasional coach allow the real world and its issues to intrude.
Clemson interim coach Dabo Swinney agreed to have the Alpha Sigma Phi fraternity on campus set up in the locker room Wednesday and Thursday and sign up the Tigers football players for a bone marrow donor registry. Frat member Trey Robinson is a roommate of Clemson wide receiver Aaron Kelly. The mother of one of the fraternity's advisors recently died while awaiting a transplant.
"I didn't think we would be able to help," Kelly said via e-mail, "because I thought they would have to draw blood and that would put us out of commission for practice for a day."
Robinson explained that the players would fill out a form and have their mouths swabbed four times. That's it. Kelly urged him to approach Swinney. Robinson thought that the football team's participation would generate attention for the need for donors.
What do you know? Robinson was right.
"The thing I said when I got this job," Swinney said Wednesday morning, "is that for the next seven weeks … we're going to do it the right way, and make an effort in these guys' lives. I may never get another opportunity to impact these players. It's critical that we teach them more than to block or tackle or catch. If that's all we're teaching them, then I'm failing as a coach. … There are real issues in this world. They are blessed to have the opportunity to play football. They should never take that for granted."
The rest of the Clemson campus will have an enrollment drive next week. Naturally, there will be a competition with archrival South Carolina to see which school registers the most potential donors.
The Hand Of Providence

The Big East announced Wednesday morning that it would promote senior associate commissioner John Marinatto to replace commissioner Mike Tranghese when he retires next spring. That came after a nationwide search for candidates. Let's see, the founding commissioner, Dave Gavitt, coached at Providence. His successor, Mike Tranghese, worked at Providence. The league office is in Providence.
And what do you know? Marinatto spent 14 seasons as the athletic director at … Providence.
All of which is to say that Marinatto, who moved across town to the league office in 2002, is not exactly a surprise hire. Though former Big 12 commissioner Kevin Weiberg, now an executive with the Big Ten Network, has been rumored as a top candidate, he has no Big East blood in his veins.
The conference might be one of the six major players in college sports, and its 16 members might sprawl from Providence to Marquette. But the league remains at heart the small community of schools that founded it 29 years ago. Tranghese said last spring, when he announced his retirement, that he hoped that the league would stay within the family when it replaced him. Marinatto is not well-known in the football community, but the league's football administrators are smart, talented guys.
Now, if they can just find a team to get back into the national-championship race.