Clash Of The Titans
With an almost certain berth in the BCS National Championship Game there for the taking, No. 1 Alabama and No. 4 Florida have more on their minds than winning the Southeastern Conference. When the Crimson Tide and the Gators play Saturday at the Georgia Dome, the league championship is the silver medal -- at most.
If you like your thrillers rife with intrigue, if you like your subplots filled with subplots, then settle into your comfiest chair. There's more at stake in this game than even the crystal football.
The SEC championship game is a renewed clash of generational powers. It is a soap opera. And it will serve as a referendum on the most dominant style of play in a league that has provided three of the past five BCS national champions.
It's Armani versus Brooks Brothers
The Gators are at the ramparts of the revolution that has overtaken offensive football. The innovation of Florida's spread offense, when combined with the speed that Urban Meyer and his staff have recruited, has sped up the evolution of SEC football begun by Steve Spurrier in Gainesville nearly two decades ago.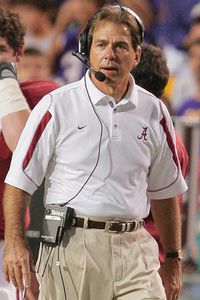 Derick Hingle/Icon SMI
Nick Saban's 12-0 Tide depend on old-school SEC virtues.
Nick Saban, on the other hand, is coaching a style of football that might have won the SEC in any modern era. Alabama depends upon the old-school virtues of a physical running game, control of the ball and a minimum of mistakes.
The Crimson Tide held the ball for more than 35 minutes in seven of its 12 victories. The last two victories came out of the same mold. The longer the games against Mississippi State and Auburn went, the more dominant Alabama became. Against Auburn, which had allowed only four rushing touchdowns all season, the Tide scored three.
Those victories differ in character from the early-season games against Clemson and Georgia, in which the Crimson Tide knocked out both teams before halftime and spent the second half bleeding the clock dry. Alabama has shown a maturity in the second half of the season that it didn't need -- and might not have possessed -- in the first half.
"It's neat to say the things about style of play," Meyer said Monday, according to a transcript of the press conference, "but at the end of the day, do you tackle really well? Do you contain the football on defense? Are you efficient on offense? I'd have to say both teams are really strong in those areas."
It's the dollar versus the euro
Alabama is the traditional power of the Southeastern Conference, the dominant force in the league from the time it began in 1933 until 1990. That's when Spurrier returned to his alma mater as head coach. Since then, the Gators have won seven SEC championships and, of course, national championships in 1996 and 2006. Alabama's resurgence this fall from nearly a decade of mediocrity has fired up its dormant fan base.
"You know," senior center Antoine Caldwell said Monday, according to a news conference transcript, "we haven't played for this in a long time."
Alabama is playing for its first SEC championship since 1999. Tide coach Nick Saban could win his third SEC championship since 1999, as every LSU fan knows. The Tigers and the Gators have battled for control of the SEC throughout this decade. Florida, with a win Saturday, would settle the argument for some time to come.
It's an award winner versus a possible awards winner
Florida quarterback
Tim Tebow
is attempting to win his second consecutive Heisman. Alabama left tackle Andre Smith is a finalist for the Outland Trophy and the Lombardi Award.
It's arrogant fans versus arrogant fans
Florida fans have watched their Gators win 11 games by at least 23 points. Between the ascent of Florida football under Meyer, and the dominance displayed on a weekly basis this season, the Gators are sure they own the SEC.
This drives Alabama fans to distraction. The schools aren't traditional rivals. But the states share a border, and their residents share a beach -- the Miracle Strip of the Florida panhandle. Crimson Tide fans believe they are due the respect their tradition warrants. They remain confident that the margins of victory work in their favor. Alabama has won three games by six points or fewer. Florida is 0-1 by the same measure.
Be it old style or new, or old power or new, the SEC championship has something for everyone. If you can take your eyes off the BCS for three-plus hours Saturday, there is plenty to see.
Catching Up With Bobby Bowden
Florida State head coach Bobby Bowden always has used humor when fending off questions about how long he would coach. "After you retire, there ain't but one big event left," he has said innumerable times, "and I ain't ready for that."
But at his media breakfast in Tallahassee on Sunday morning, the tone in Bowden's voice, and the weariness on his 79-year-old face, bolstered the meaning of his words. He can see the finish line. Even if you consider the grain of salt that accompanies anything said on the day after the end of a long season, Bowden sounded different.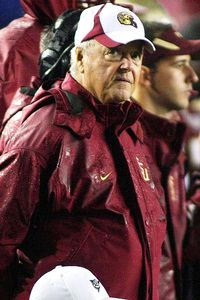 Greg McWilliams-US Presswire
Bobby Bowden picked up 308 of his 381 wins during his 33 seasons at Florida State.
"At my age, you're just happy to get up every morning and feel good," Bowden said. "I do feel good. I do mentally have a time in mind [to retire]."
Is it 400 wins? Bowden ended the regular season at 381 after the Seminoles went 8-4. "I'd like that if it can happen," he said. "The goals only can be accomplished through winning. It's not like they are selfish goals."
During an hour-long breakfast, Bowden slowly, neatly sliced away at a sweet roll, popping the pieces in his mouth as he held court.
On the loss to Florida: "Did we win any part of the game? Kickoff returns. The bad part of that is, you're not sure you want to win kickoff returns."
On the power structure in college football in 2008: "Oklahoma, Florida, Alabama, maybe USC, maybe Texas are the super teams, and a lot of us who can't hang with them. … We're a better football team than we were last year. We're like Georgia, we're like LSU, we're like Tennessee when they [Florida] jumped on them. The Gators are better. They're just better."
In a mock-serious tone, on whether he believed Gators junior quarterback Tim Tebow is ready for the NFL: "I definitely believe it."
As Bowden got the laugh his wishful thinking looked for, he continued.
"But I bet he doesn't [come out]. He enjoys it so much that he ain't going to lose that senior season. A guy that has his priorities in life right, I don't think money is going to lure him out."
On recruiting to overcome Florida: "Whether it's Notre Dame-USC, Oklahoma-Oklahoma State, there's only one answer. You got to recruit guys that can beat their guys. Sometimes you can get a good, solid class with one guy like Tebow. Maybe it takes one star to cement that thing together. … You look at, 'Can he help us beat Florida? Can he play for Florida?' That's what you look for."
More on recruiting: "The more you sign, the better chance you have of getting 18 good ones. You ain't going to hit 25 out of 25. It ain't gon' work that way."
On Joe Paterno's hip-replacement surgery: "He'll be ready for another 10 years now. He's an amazing guy. Joe's brought them through the bad times. Dadgummit, there's no reason we can't do the same thing."
Bowden sounds as if he is not ready for another 10 years.
Ivan Maisel is a senior writer for ESPN.com. Send your questions and comments to Ivan at ivan.maisel@espn3.com.
3-Point Stance

1. Phew, that was close. With the addition of two bowls this season raising the number of postseason games to 34, college football needed until last weekend to get the 68 teams qualified for the postseason. The total stands at 71, with four teams having a chance to qualify this week. That said, how would you like to play for one of the three teams that qualified and still will be left home? That's like being the first guy out in the world's biggest game of musical chairs.

2. One good thing about the end of the season: Florida State won't have to cover any more tight ends. The Seminoles allowed 14 touchdown passes this season, seven of them to tight ends. The most recent two went to Florida sophomore Aaron Hernandez, who had caught three touchdown passes in the previous 11 games. On one seven-yard scoring catch, Hernandez lined up on the left side, released to the right, and had no Seminoles within five yards of him.

3. You have to commend Stanford coach Jim Harbaugh for withstanding the urge to take the redshirt off freshman quarterback Andrew Luck. The 6-foot-4, 220-pound Luck has impressed the Cardinal staff all season, and might have made the difference between a team that went 5-7 with two last-second losses and a team that would have gone to its first bowl since 2001. Luck is going to push two-year starter Tavita Pritchard hard to keep his starting job next season.
House Of Style

USC coach Pete Carroll and UCLA coach Rick Neuheisel want to return to the tradition of their teams wearing home jerseys when they play each other. The tradition ended in 1982, Neuheisel's junior year as a Bruin quarterback. NCAA rules demand that the visiting team wear white.
Carroll said the Trojans will wear cardinal at the Rose Bowl on Saturday (ABC, 4:30 ET), which, by NCAA rule, will cost a timeout. Neuheisel said he will burn a timeout, the way that tennis players dump a point when they benefit from a bad call.
LSU got an amendment allowing the home team to wear white if the visitors agree. The Pacific-10 Conference has asked the NCAA to allow both teams to wear their home duds. Let's hope the NCAA chooses common sense over its rules.
Cock-A-Doodle-Doo

What goes around comes around for South Carolina head coach Steve Spurrier, who excelled at trick plays throughout his championship run at Florida (remember the swinging gate against Alabama in the 1996 SEC championship game?).
Three weeks ago, the Gamecocks flubbed a crossfield throwback on a kickoff return against Florida, which the Gators converted into a touchdown that broke open that 56-6 game.
Early in the second quarter Saturday against South Carolina, wide receiver Jacoby Ford acted as if he were coming out of the game. He stopped to tie his shoe near the Clemson bench. As the coaches yelled at Ford, the Gamecocks didn't send a defensive back to account for him.
Bad move.
Ford streaked downfield, caught a pass with no Gamecocks within 10 yards of him, and raced down the sideline for a 50-yard touchdown. The Tigers increased their lead to 17-0 and went on to win 31-14.
Coach Dabo Swinney's name for the play? "Cock-A-Doodle-Doo."
Rent, Don't Buy

It used to be that universities gave coaches five years. This year, Kansas State sent Ron Prince out the door midway through his third season, Miami (Ohio) forced out Shane Montgomery after his fourth, and the entire Notre Dame community is searching its soul to determine whether Charlie Weis should get a fifth chance.
In a story published Tuesday in USA Today, Steve Wieberg reported that the average tenure of a head coach through the 2008 season is 4.2 years. Wieberg excluded those coaches who already have been fired this season. He also excluded the combined 76 seasons of Joe Paterno of Penn State (43 seasons) and Bobby Bowden of Florida State (33 seasons). Let's face it: Anyone who began coaching during the Johnson or Ford administrations would throw any statistical survey out of whack.
Never above stealing a story idea, I thumbed through my well-thumbed ESPN College Football Encyclopedia to measure the tenure of head coaches in 1958 and in 1983. And the numbers back up the belief that coaching careers are getting shorter.
Out of a sampling of 67 FBS schools -- the major ones -- the average tenure, minus the 10 coaches whose last season in their program was 1958, stood at 5.8 seasons.
A quarter-century later, the average tenure, minus the nine coaches who did not return to their school in 1984, had shrunk to 5.1 seasons.
Neither 1958 nor 1983 had two coaches whose tenures approached those of Paterno or Bowden in 2008. The dean in 1958 was Wally Butts of Georgia, who completed his 20th season. In 1983, Bill Yeoman of Houston finished his 22nd season.
If anyone cares to project the average tenure in 2033, have at it. It might get to the point where head coaches are told "Rent, don't buy."
Changing Lanes

Did you hear the tribute to his predecessor new Tennessee coach Lane Kiffin gave at his press conference Monday? "In my opinion, the University of Tennessee football program," Kiffin said, "wouldn't be anywhere near where it is today without Coach Fulmer." Talk about kicking a guy while he's down.
Seriously, Kiffin proved at USC that he can recruit and, for two seasons, that he can coordinate an offense. But athletic director Mike Hamilton just entrusted a 33-year-old with no college head coaching experience to compete against Florida, Georgia and Alabama, all of which have proven head coaches and all of which have natural recruiting bases.
Hamilton thinks he has hired a Mark Richt. But when Georgia hired Richt, it got a 40-year-old with 16 years' experience as a coordinator on top-five teams. Tennessee just made a 10-year wager. If Kiffin doesn't measure up, it will be that long before the Volunteers are nationally relevant again.