Forward Thinking
You don't have to be Todd Blackledge to know that Florida, Texas and USC -- which have won four of the past five BCS championships and finished in the top five last season -- will contend again this fall. All three teams have talent as well as experience. The mixture of those two ingredients is combustible, especially on autumn Saturdays.
Several teams skewed young last season and achieved some success, all with the hope that the payoff would come this fall, when they could mix talent and experience. It's not as easy as playing young players. If it were, then tossing freshmen out there would solve every team's woes.
The young players have to have talent, and they have to be sturdy enough as teenagers to remain healthy while they take a pummeling from opponents who may be three or four years older at an age when that represents a significant physical difference.
As spring ball begins in earnest this month, here are five teams, based on their record last season and the number of returning starters this season, that should be poised to take a big step forward.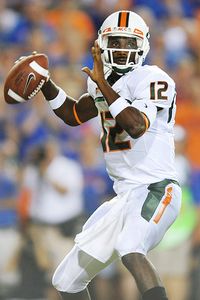 James Lang/US Presswire
Jacory Harris is set to lead the Hurricanes in 2009.
1. Miami -- The Hurricanes, 7-6 last season, have generated all kinds of hype for next fall. Coach Randy Shannon has nurtured a very young team through two mediocre seasons. Now 17 starters return (if you count punter/kicker Matt Bosher twice, which we do). There's no longer any doubt about who will play quarterback. Jacory Harris is there. Robert Marve is not. If there's a question about newcomers at the U, it's the coaching staff. Mark Whipple, who will run the offense, may be the best coordinator hire of the college football offseason. John Lovett will run the defense. In other words, the table is set. The question, as it has been for five years, is whether the Hurricanes will arrive.
2. Oklahoma State -- With 17 starters returning from a team that finished 9-4, this is the year the Cowboys should break through, especially now that Big 12 South nouveau power Texas Tech must rebuild so much of its offense. Junior wide receiver Dez Bryant's knee-ligament tear in the Holiday Bowl has been surgically repaired. He should be fine in the fall. So should quarterback Zac Robinson and tailback Kendall Hunter. We'll find out early; the Cowboys open at home on Sept. 5 against Georgia.
3. Minnesota -- The Gophers have 19 returning starters, including wide receiver Eric Decker, who may be the best receiver north of Julio Jones. A healthy Decker helped Minnesota begin 7-1. An injured Decker left the Gophers' offense shorthanded as Minnesota lost its last four regular-season games. Like Miami, the biggest changes for Minnesota are among the guys wearing whistles. Offensive coordinator Jedd Fisch, 32, who comes from the NFL, has never been a coordinator. Offensive line coach Tim Davis is a steal. Defensive coordinator Kevin Cosgrove is a veteran who knows the Big Ten well. His defenses played well at Wisconsin under Barry Alvarez. At Nebraska under Bill Callahan, they didn't.
4. Vanderbilt -- The safe bet would be to assume that the Commodores, 7-6 last season, are one-hit wonders. They (barely) made a bowl game last season for the first time in 26 years. But nine starters return on each side of the ball, as well as punter Brett Upson. More experience can only help the offense. In eight games, the Commodores scored 16 points or fewer. That they actually won two of them is a tribute to the defense, which allowed only 20 points and 320 yards per game. One problem: Vandy adds LSU and Georgia Tech to the schedule.
5. Stanford -- The Cardinal went 5-7 last season, losing to UCLA and Oregon in the final 10 seconds. That's a memory that should spur the returning starters, which number 17 or 18, depending upon who goes at middle linebacker. One dark horse: fullback Owen Marecic. Midway through spring practice, coach Jim Harbaugh announced that the junior will play both ways next fall. Another not-as-dark horse: redshirt freshman quarterback Andrew Luck, who is pushing fifth-year senior Tavita Pritchard for the starting job. If nothing else, Stanford has depth it hasn't had in years. The schedule remains tough (at TCU off, at Wake Forest on) but Stanford has five Pac-10 games on the Farm. That may tip the scales toward the Cardinal's first bowl berth in eight years.
Ivan Maisel is a senior writer for ESPN.com. Send your questions and comments to Ivan at ivan.maisel@espn3.com.
3-Point Stance

1. Several of you wrote in response to my column about the Bobby Bowden-Joe Paterno horse race to complain that Bowden receives credit for his 31 victories at Howard from 1959-62. The complaints aren't new. Neither is the NCAA explanation. If you have 10 years at an FBS school, then your wins at all four-year schools count. JoePa fans should pipe down. The same NCAA that you blame for giving Bowden 31 wins is about to take away as many as 14, though Bowden had nothing to do with the academic misdeeds.

2. Enough Alabama students wrote in Julio Jones' name on ballots last week that the sophomore superstar won a position in the student senate. The election results came as a surprise to Sen. Jones, who said he will accept the results of the election and serve the fellow students who worship him. Coach Nick Saban doesn't let freshman players speak. No word on his policy for first-year legislators.

3. In the week that New Jersey Gov. Jon Corzine announced a proposed budget that's tighter than plastic wrap on a DVD, Rutgers announced that it is raising ticket prices by $10 apiece. Raising prices when incomes are plummeting: I don't want to go all wonkish on you, but you don't see any other business doing that, do you?
Open House

Whether Washington hired Steve Sarkisian because he is so different from his predecessor, Tyrone Willingham, the fact is that Sarkisian has flung open the doors to the Husky program. Willingham, in many ways a private man, coached behind a wall built to keep out not only the media but also the fans. Sarkisian, who came to Seattle after seven years on the USC staff, has adopted the Pete Carroll philosophy.
That's why, when the Huskies held pro day on Tuesday, media members covered it. (Pro day for an 0-12 team? Hmmm.) When spring practice begins later this month, every session will be open to the purple-wearing public.
"I want our practices to be fun, exciting," Sarkisian said at the December news conference announcing his hiring. "I want people there. I want students, alumni at practice. I want media at practice. I want people to see us. We've got 105 kids on this football team, but they aren't the only ones making this thing into what it's going to become. It's going to take this entire university, this entire community. We want people around us to feel your support. No question."
Podcast: Ivan and Beano
Beano Cook joins Ivan Maisel in the ESPNU College Football Podcast to discuss the battle between Bobby Bowden and Joe Paterno for the most wins, Lane Kiffin's tough start at Tennessee and more. Listen

Back To School

When Boston College coach Frank Spaziani needed an offensive coordinator, he called an old colleague, Gary Tranquill, 68, who has been out of college coaching since 2005. A long time gone, no?
"Gary is never going to be behind the curve," Spaziani said. "That didn't even come into my mind. He was always ahead of the curve. Plus, he's a great teacher! That's exactly what I needed."