Running Corp
Aaron Corp is in the lead for the USC starting quarterback job because he knows the offense better than Matt Barkley or Mitch Mustain. But Corp also brings to the Trojans' attack a weapon that neither Barkley nor Mustain nor any other quarterback has brought in Pete Carroll's eight seasons.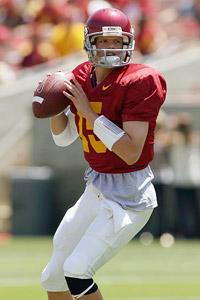 Jeff Golden/Getty Images
QB Aaron Corp adds a new dimension to USC's offense with his running ability.
Corp can run the ball.
Sure, Matt Leinart and Mark Sanchez moved well enough to prove they could throw on the run. But Corp actually is a threat beyond the line of scrimmage. He proved it at the last practice on the USC campus. Jeremy Bates, the coach running the offense, called a bread-and-butter running play. Corp would hand off to Marc Tyler.
"Then [Bates] just said, 'Keep it,' under his breath," Corp said. "'Don't tell anyone else.' None of the offense knew it."
This was a wrinkle unseen in any of the Trojans' previous 13 practices this spring. Corp said it may have been a shot across the bow of the defensive coaches.
"A lot of times he thinks the defense looks at our call sheet," Corp said, smiling.
As the offense moved right, Corp met Tyler, kept the ball and went left. The field was more than open. Corp could have run clear to the Staples Center.
"That was awesome," Bates said. "We call that 'Bono' for Steve Bono. Remember back in the '90s?"
In 1995, Bono, starting for Kansas City, took a naked bootleg 76 yards for a touchdown, the longest scoring run by a quarterback in NFL history at that time.
Learning Curve
West Virginia quarterback
Jarrett Brown
, at 6-4, 221, looks the part of starting quarterback more than Pat White ever did. But the fifth-year senior hasn't made the magic happen quite the same way. Brown is 2-0 as a starter in his career and already has 1,510 yards of total offense in three seasons of backing up White. Brown is enough of an athlete that, à la Donovan McNabb at Syracuse in the 1990s, he played on the Mountaineers' basketball team last season.
But Brown has to learn to make better decisions (five touchdowns, four picks in 125 attempts) and not rely on his big arm so much. Coach Bill Stewart said after the spring game, when Brown completed 21 of 28 passes for 273 yards and four touchdowns, that Brown can "look like a circus act" at times. Stewart pointed out that Brown, like all great athletes who think they can make every play, has had a tough time learning the strategic advantages of the punt.
The thing is, Brown has to learn quickly. No other quarterback on the roster has taken a snap. The fans have confidence in the guy behind Brown. Redshirt freshman Coley White is Pat's younger brother.
Heavy Lifting
Michigan redshirt junior middle linebacker Obi Ezeh, in the course of talking about the effort needed to get through winter conditioning, offered his belief that there's no such thing as an offseason anymore.
"That's what we signed up for, so …" Ezeh said.
Do the "civilian" students have any idea of the commitment it takes to play college football?
"No clue. No clue," Ezeh said. "It's almost like you can't even explain it in words. If you're not here to watch it or you're not going through it, there's nothing to explain."
Nearly 20 years ago, the NCAA limited a player's time commitment to 20 hours per week during the season and spring practice. That limit is at best, a minimum, and at worst, a charade. If offered the opportunity to be NCAA president for a day, how would Ezeh provide relief for the football player?
"You know, I don't know. That's tough," Ezeh said. "If anything, I would try to make it more time in the day, but that's impossible. If you would have asked me that freshman year, I would have said, 'Yeah, cut back on the workouts. Cut back on the schoolwork. We need more time to rest.' Being here as long as I've been here, I know that a lot of that stuff is necessary. You have to keep your eye on the long-term [goal] of winning championships. All that stuff starts in the winter. It starts during winter conditioning, when you know you got a five-page paper or an eight-page paper due but you've got to keep focused on the workout, keep focused on the conditioning, because that's when your team starts to grow. That's when you to build championship teams."
Ivan Maisel is a senior writer for ESPN.com. Send your questions and comments to Ivan at ivan.maisel@espn3.com.
3-Point Stance

1. Maryland fans can take solace in the return of quarterback
Chris Turner
for his third season as a starter, or even as a recognizable name. The Terps lost 30 seniors from last season's 8-5 team, and have only 10 returning starters. On the offensive line, only three players have been on the field long enough to earn a letter. In a resurgent ACC, this isn't the best year to be rebuilding.

2. A study of Tennessee's post-spring depth chart indicates that defensive line coach Ed Orgeron shifted end Wes Brown inside next to fellow returning starter Dan Williams. With those two and All-America strong safety
Eric Berry
, the Vols will be strong up the middle. On the other hand, the rest of the defense has only two other returning starters. The Vols had better be strong up the middle.

3. If you like your campus politics served hot, read "Behind the Hedges: Big Money and Power Politics at the University of Georgia" (New South Books, $27.95) by the late Rich Whitt. The former Pulitzer Prize winner paints a meticulous and unflattering portrait of Georgia president Michael Adams as a profligate spender with an ego that even Sanford Stadium can't contain.
Memory Lane

One of the most rewarding aspects of any Hall of Fame event is to watch the elders of the game weave their connections to college football legends. At lunch following the news conference last Thursday in New York, 2009 inductee Dick MacPherson weaved stories of his predecessors at Syracuse, Ossie Solem and Biggie Munn, and of the legendary Duffy Daugherty, the Hall of Famer who succeeded Munn at Michigan State.
Here's one I had never heard: Solem, a stalwart of the NCAA football rules committee through the 1950s, once explained to MacPherson why a team must kick after it gives up a safety. In every other instance, the team that scores the points kicks off.
Before the rule changed in 1926, the team that took the safety would retain possession of the ball. McPherson described a game in which a team with a 7-0 lead never allowed its opponent to gain possession again. Instead, it took three safeties, holding the ball the whole time, and won, 7-6.
Most Able Canes?

In quarterback Gino Torretta's four seasons at Miami, the Hurricanes won two national championships (1989, 1991) and played for a third (1992). So which team was the best?
"You know what? To be honest, I might think the '90 team," Torretta said. "It didn't win a championship. We stumbled early. I think by the end of the season, we were just rolling. You had Russell Maryland and Cortez Kennedy on the defense, and you had Maurice Crum. The backups to our linebackers were Jessie Armstead, Micheal Barrow and Darrin Smith.
"I'd say of the teams I played with, '90, at the end of the year, was playing the best."
The 1990 team had trouble on the road, losing its opener at BYU, 28-21, and Game 6 at Notre Dame, 29-20, and struggled to win the last regular-season game at San Diego State, 30-28.
But the Canes beat Texas 46-3 in the Cotton Bowl, finishing with a six-game winning streak that, with Torretta at quarterback, extended to 29 games. Miami shared the '91 national championship with Washington and stayed No. 1 for nearly all of 1992 until the shocking loss to Alabama, 34-13, in the Sugar Bowl.