Defense Department
Air Force coach Troy Calhoun has his priorities in order.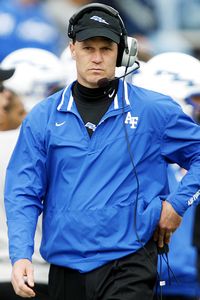 AP Photo/David Zalubowski
Troy Calhoun is turning around Air Force with defense.
He lost his top six rushers, including Chad Hall, the academy's all-time all-purpose yards leader, and four-year starting quarterback Shaun Carney. Also gone are his top two receivers and three starting offensive linemen. His only starting skill-position player back in the mix on offense is tight end Travis Dekker.
So what area does Calhoun, the former Air Force quarterback and longtime offensive coordinator, list at the top of his spring agenda?
"The defense," he said. "That's where it's always going to start."
Allow him to explain.
"On defense, when you're disciplined, when you're aggressive, it has a huge impact on the morale of your football team," he said. "I played quarterback, but defense has got to be the initiator in everything you do."
For that reason, Calhoun will focus on revamping a unit that led the Mountain West in red zone efficiency (70.8 percent) but lost six starters, including linebackers Drew Fowler, John Rabold and Aaron Shanor. The career offensive coach will lean heavily on his defensive experience, which consists of a single season (2003) tutoring the Denver Broncos linebackers.
"That was probably the most beneficial year I've ever been a part of in football," Calhoun said.
Last year was undoubtedly Calhoun's most satisfying.
Air Force went 9-4 and made its first postseason appearance since 2002. Hall broke records, and the defense allowed just 13.2 points a game at home -- where Air Force went undefeated for the first time in nine years.
But the defense dipped a bit toward the end of the season, and Calhoun plans to install more 4-3 packages this spring after going with the 3-4 exclusively in 2007. Three starting linemen return, including end Ryan Kemp (four sacks).
"There were too many times where we felt like we had to immediately go to five-man pressures in order to generate some heat," Calhoun said. "We've got to have ways where we're only rushing four and still able to get to the quarterback."
Identifying the Falcons' next quarterback will be another chief concern for Calhoun. Shea Smith, who backed up Carney last season, will compete with Eric Herbort and others.
Calhoun wants to be close to settling on a starter by the end of spring ball, but replenishing the overall rushing production will take time.
"It's a little bit of TBD … it'll be determined down the road," he said. "It's not like we didn't know that when we came here that there wasn't going to be rebuilding involved. That's why we're going to start with the defense. For the long-term health of your program, it's got to be done on the defensive side of the ball."
Adam Rittenberg covers college football for ESPN.com. He can be reached at espnritt@gmail.com.