Heart Of The Matter
For most college football players, the final step before medical clearance involves testing a reconstructed knee on a cutback route or lowering a repaired shoulder into a blocking sled.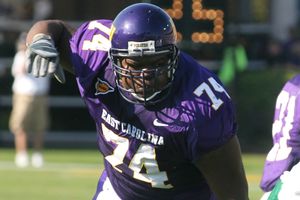 ECU Media Relations
Terence Campbell's glad to be back on the field.
Terence Campbell's final hurdle was Plavix, a common blood thinner used to prevent dangerous clots from forming. As long as Campbell took Plavix, he couldn't play football for East Carolina.
"Once I got the news I was able to come off the medicine," Campbell said, "it was the best thing I ever heard."
Barely a year after suffering a heart attack and undergoing an emergency procedure, Campbell, a once-promising offensive tackle for the Pirates, has returned to the field for spring practice. Cleared to play in February, Campbell participated in East Carolina's first two workouts before reaching a more meaningful milestone: his 21st birthday.
Playing football was the goal, but Campbell always maintained a healthy dose of perspective. This wasn't an athlete rushing back, putting his sport ahead of his life. Campbell exhausted every avenue to make sure he was making a wise choice.
"I was going pretty much everywhere," Campbell said. "No doctor is going to give you a '100 percent, you're OK to go, it's not going to happen again,' but the best thing is get word from different doctors and see what they think. Everybody thinks I'm at low risk."
Campbell appeared to be at no risk before Feb. 27, 2007. He had zero history of heart problems and had started all 13 games in the 2006 season, earning Conference USA All-Freshman Team honors.
But on the last day of winter workouts, two days before spring practice was set to open, Campbell felt chest pains.
"[The trainers] told me, 'Go home. If your arm starts to feel numb or something, give us a call,'" Campbell said. "It worsened, so I called them. It kind of just came out of nowhere. We didn't know exactly what was going on. Then the doctors were saying I had a heart attack."
That night, the 19-year-old Campbell underwent a non-surgical procedure to clear blockage and remained hospitalized for several days.
He started monitoring his diet, cutting back on McDonald's and Gatorade in favor of salads and water. He shed 15 pounds. He mentored young offensive linemen during practice.
During those early months, playing football again wasn't on the table.
"The main thing was let's just make sure Terence can live a healthy life, monitoring his cholesterol, his blood pressure, his weight, changing his eating habits," East Carolina coach Skip Holtz said. "I said, 'Once we get to the point where we feel good about the health, then we can look at the possibility of playing again.'"
Campbell lost count of all the doctor's appointments he attended, the tests he endured and the opinions he received.
"You name it, I was going through it," Campbell said. "The doctors knew I'd be fine and be able to live a healthy life, but they also knew that I wanted to also play football. They took that into account with making their decisions. It was very helpful."
After getting the go-ahead in January from a cardiologist in Charlotte, Campbell sensed a return to football was near. Since he had no prior heart problems, he was allowed to come off Plavix and started taking baby aspirin as a blood thinner.
He still takes Lipitor to control his cholesterol and several other medications, but nothing that keeps him off the field.
"There aren't many people who have gone what he's been through and played college football," Holtz said. "I don't think there's been anybody. His patience, how hard he's worked to get himself back in shape, the way he's pushing himself and the smile on his face, it's been really neat to see.
"This is what he wants to do. It's his decision, not ours."
Despite the layoff, the 6-foot-5, 320-pound Campbell is quickly catching on in spring ball. East Carolina must replace starting tackle Josh Coffman, and Campbell is gunning for his old job.
"I don't complain anymore about having to practice," Campbell said. "Now I look forward to it."
Adam Rittenberg covers college football for ESPN.com. He can be reached at espnritt@gmail.com.
A Head Start

Nevada's quarterback competition doesn't officially kick off until this summer, but Colin Kaepernick is reaffirming himself as the man to beat. The reigning WAC freshman of the year threw touchdown passes of 71, 65 and 55 yards and added a 1-yard rushing score in Saturday's scrimmage, the Wolf Pack's second of the spring.
Kaepernick needs to improve his completion percentage (6-of-17) in order to hold off Nick Graziano, who will have the screws in his surgically repaired right foot removed next week. Graziano, who started the first five games last season before sustaining the injury against Boise State, is expected to be at full strength for training camp this summer. Kaepernick passed for 2,175 yards and 19 touchdowns with only three interceptions in relief of Graziano.
Too Close To Call

There isn't much separating Middle Tennessee quarterbacks Dwight Dasher and Joe Craddock right now, but coach Rick Stockstill wouldn't mind having some breathing room by the end of spring ball. Both players started six games for the Blue Raiders last season and produced similar results. Dasher racked up 1,678 total yards and 12 touchdowns (nine passing, three rushing), while Craddock had 1,381 yards and 13 touchdowns (12 passing, 1 rushing).
Dasher begins the spring with a slight edge, but either man could end the spring as the projected starter. Craddock could miss part of the spring to play for Middle Tennessee's baseball team. "Dwight is not going in or coming out as the preconceived starter, and Joe is not going in or coming out as the preconceived backup," Stockstill told The Daily News Journal. "I think we'll come out of spring with a pretty good idea of who we'll open up with, barring any injury, in August. Worst-case scenario, we could find out that first week of August."
Save The Date

The non-BCS boasts its share of annual conference rivalries -- Boise State vs. Fresno State, BYU vs. Utah, Central Michigan vs. Western Michigan -- but most programs are ultimately judged on how many BCS teams they schedule and, more important, how many they beat. Rarely will a nonconference game between non-BCS teams appear on a must-see list, but Boise State and Southern Miss could change that on Oct. 11. The two teams meet in Hattiesburg, Miss., as Southern Miss tries to reclaim its place among the non-BCS elite by knocking off the Broncos. Boise State won last year's meeting 38-16 on the blue turf.
Other appetizing interleague non-BCS matchups include Navy at Ball State (Sept. 5), Air Force at Houston (Sept. 13), New Mexico at Tulsa (Sept. 20) and TCU at SMU (Sept. 20).
Extra Points

• Another spring and another coaching shuffle at Western Michigan. The Broncos opened spring ball Thursday with a new defensive coordinator (former linebackers coach Steve Morrison) as well as new coaches for special teams, defensive backs, wide receivers and quarterbacks. Mike Sabock, a longtime assistant under Joe Novak at Northern Illinois, takes over Western Michigan's running backs and special teams. Former Memphis defensive coordinator Rick Kravitz will coach the secondary. Morrison, who likely will use a similar system to that of his predecessor, Bill Miller, oversees a unit that returns all 11 starters.

• Super senior Jacob Hales elected to continue his career at UNLV and is participating in spring drills. The 25-year-old defensive end opted to play one more season, in large part because of new line coach Andre Patterson, who has worked with five NFL teams. Hales had 36 tackles and three sacks last season for the Rebels. "I don't want to hang it up till somebody tells me I've got to," he told the Las Vegas Review-Journal.