Leader Of The Pack?
Last season, Nevada quarterback Colin Kaepernick was like a young pitching prospect getting by on a live fastball.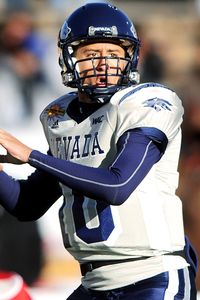 Mark J. Rebilas/US Presswire
Colin Kaepernick tossed 19 TD passes for the Wolf Pack in 2007.
The 6-foot-6 freshman showed off his bionic arm whenever possible, even when he didn't have to. Kaepernick wound up winning WAC freshman of the year honors after passing for 2,175 yards and 19 touchdowns in eight games as the starter, but he was far from a finished product.
"He's a gifted kid," Nevada coach Chris Ault said. "Now we're honing in on the finesse [aspects] of the position, which he was very, very green at last year."
For Kaepernick, finesse means learning how to make different types of throws, including football's version of the knuckler.
"[Ault] calls it the sponge ball, when the receiver's wide open," Kaepernick explained. "I try to put more touch on it, make it an easier catch for them. We're trying to tone it down a little bit."
Nevada's receivers are grateful. So is Kaepernick, who wants to improve before the return of Nick Graziano, who started the first five games last fall before undergoing season-ending right foot surgery. Graziano has been held out of contact drills this spring but should be fully cleared by May.
Ault expects Kaepernick to start off with the first-team offense in training camp this summer, but Graziano, who threw for 1,119 yards and 10 touchdowns before his injury, will have the chance to close the gap.
"I'm not a two-guy quarterback," Ault said. "I've done it before when the situation dictated it and I'd do it again. When we come back to camp and the competition starts, the best one's going to start and play.
"The beauty of this thing is there's times where you'd like to take your starter out. Maybe he's faltering, he's not reading things, so you can put somebody else in there to move the club. We're going to have that available to us."
Graziano's mobility has been limited this spring, but he remains "very much in the loop," Kaepernick said. Luke Collis is taking snaps as the No. 2 quarterback.
"Your job is never secure," Kaepernick said. "I'm going to be ready for a competition this fall."
With Graziano still rehabbing, other topics have moved to the front burner this spring, namely a defense that ranked 95th nationally in points allowed last season (32.2 ppg). New coordinator Nigel Burton takes over a unit that will continue to use a four-man front after switching from the 3-4 midway through the 2007 season.
Ault interviewed only coordinator candidates who used four-man fronts, an alignment with which Nevada has had success in recent seasons.
"Defense is the focus," Ault said. "We've got to create an attitude, a sense of urgency on that side of the ball. Some of the things we did last year fundamentally were just unsound."
Nevada made several position switches on defense, moving Dontay Moch from linebacker to end, Scott Frisbie from end to tackle and Adam Liranzo from safety to linebacker. Ault praised the spring performances of safeties Jon Amaya and Uche Anyanwu and linebacker Josh Mauga, who is finally healthy and could fill the gap left by star Ezra Butler.
The secondary remains a question mark, and Nevada will add eight defensive backs this summer, including junior college transfers Antoine Thompson, Dayton Guillory and Maurice Harvey.
"We didn't bring them to come in here and sit around," Ault said. "They've got to be ready to take charge."
A Welcome Change
There's a familiar feeling at Western Michigan practice, thanks in large part to a familiar face.
For the third straight spring the Broncos have a different defensive coordinator, but Steve Morrison is new in title alone. Morrison has spent the past three years working with Western Michigan's linebackers and defensive linemen. More important, he's a link to the 2006 season, when Western Michigan led the nation in sacks and ranked 11th nationally in total defense.
After 2006, the Broncos not only lost coordinator Scott Shafer to Stanford, but an edge with which they played. Defenders struggled to adjust to Bill Miller, whose style contrasted from Shafer's. Western Michigan still ranked in the top half of the MAC in most defensive categories, but it dipped to 83rd nationally in rushing defense after being sixth the year before.
"It took a while for a couple guys to buy into Coach Miller's system," linebacker Dustin Duclo said. "He had great schemes, but we were really attached to Coach Shafer."
They're just as attached to Morrison, who was named coordinator after Miller left to become Louisville's linebackers coach in late February. Players expected Morrison to be promoted as soon as they heard Miller had left.
"It was tough going from Coach Shafer to Coach Miller, but the switch to Coach Morrison is going to be really easy and beneficial for us because we all like the guy a lot," said Duclo, the Broncos' defensive player of the year in 2006. "He knows us really well."
Like Shafer, whom Duclo describes as "the top enthusiasm guy," Morrison is emphasizing an aggressive style. The Broncos are operating in a one-gap system after running two-gap last season, and many of the coverages are more straightforward.
The adjustment has been minimal for a unit that returns all 11 starters, including nine seniors. Cornerback Londen Fryar has earned first-team All-MAC honors in the past two seasons, while Boston McCornell and Duclo lead a solid group of linebackers.
Adam Rittenberg covers college football for ESPN.com. He can be reached at espnritt@gmail.com.
Back In Business

Hawaii quarterback Tyler Graunke was reinstated Tuesday after a 40-day suspension for violating team rules, but the projected successor to superstar Colt Brennan will have to claim the starting job in spring practice. Graunke improved his academic standing, completed community service and paid a fine to clear his record. He was barred from team activities during the offseason.
Graunke passed for 1,234 yards and 10 touchdowns last season, leading Hawaii to a critical win at Nevada after Brennan was held out with an injury. He seemed like the clear-cut starter before the suspension, but Warriors coach Greg McMackin has said the quarterback spot is wide open.
When spring practice kicks off March 31, Inoke Funaki will start off as the No. 1 signal caller. "It was really depressing to not be around the team when I'm supposed to be a leader," Graunke told The Honolulu Advertiser. "If I have to start on the bottom of the depth chart again, it's not going to bother me. I've done it before."
Double Meaning

When spring practice opened last week, BYU players debuted T-shirts that read, "Quest for Perfection." It's seemingly an obvious reference to their goal of going undefeated and reaching a BCS bowl game, but coach Bronco Mendenhall cautions against a literal interpretation.
"The mission of BYU is to assist the individual in their quest for perfection," Mendenhall told The (Provo) Daily Herald. "There's great value in striving for perfection, John Wooden said that. So I was not talking about our record next year but the BYU mission statement."
Still, Mendenhall recognizes his players are well aware of what's at stake. After going unbeaten in Mountain West play for two consecutive seasons, BYU is trying to post a perfect overall record for the first time since 1984, when it won the national championship. "We want to go undefeated and we feel that we can," defensive end Jan Jorgensen said.
Southern Discomfort

Southern Miss reserve running back Tory Harrison remains suspended following a March 11 arrest for marijuana possession. Harrison, expected to be Damion Fletcher's primary backup following the indefinite suspension of Antwain Easterling, was charged with possession of marijuana (more than one ounce) with intent to distribute. A police spokeswoman told the Hattiesburg American that Harrison had 5 pounds of marijuana at the time of his arrest.
Harrison started two games last season for the Golden Eagles, rushing for 393 yards and five touchdowns. With both Harrison and Easterling out, sophomore V.J. Floyd moves into the primary backup role.
Safety First

Toledo's Tyrrell Herbert hasn't lost his starting spot at free safety despite missing almost all of last season with an undisclosed injury. Herbert, who led the Rockets in tackles with 74 in 2006, went down in the first half of Toledo's 2007 opener against Purdue. He rejoins first-team all-conference selection Barry Church to form one of the MAC's best safety tandems. Herbert's return means Lester Richmond can move back to rover after leading the Rockets with 73 tackles last fall.
Airing It Out

A rash of injuries limited Louisiana-Lafayette to only seven healthy offensive linemen for its scrimmage March 15, but the unit still showcased its new downfield passing attack. Quarterback Michael Desormeaux threw touchdown passes of 60 and 33 yards as an offense that ranked 115th nationally in passing last season began to open things up. New offensive coordinator Ron Hudson and passing game coordinator Jorge Munoz have orchestrated the philosophy change.
"All spring, that was our focus," Desormeaux told reporters. "Last year we did so well with the run that we concentrated on getting better in the passing game." Among the linemen who missed the scrimmage were tackle Brad Bryant (knee), guard Brad Bustle (knee), tackle Kyle Pirtle (knee) and center Chris Fisher (hand).