Cattle Call
Fresno State's coaches have solved the recruiting riddle.
Forget about staking out local high schools. Want top-shelf talent? Find the nearest cattle ranch.
That's what Bulldogs coach Pat Hill did in 2000 when he landed offensive lineman Logan Mankins, who grew up on a 10,000-acre cattle ranch about 70 miles from Fresno in Catheys Valley, Calif. Mankins was an All-WAC standout for the Bulldogs before moving on to the New England Patriots, for whom he has started at guard since day one.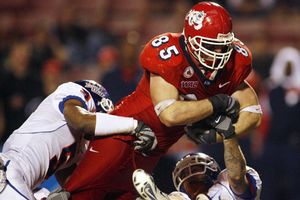 Cary Edmondson/US PRESSWIRE
Bear Pascoe has been a productive weapon.
Four years later, Hill made another 70-mile trip and found another ranch product with a name straight out of a Wild West novel.
Bear Pascoe
grew up on a 1,200-acre cattle ranch in Porterville, Calif., where his father, Sean, served as the foreman. Like Mankins, Pascoe earned first-team all-league honors last season and enters his senior season as one of the nation's top tight ends.
He had 45 receptions for 553 yards and four touchdowns in 2007, and he will be featured in an offense that returns quarterback Tom Brandstater and running backs Ryan Mathews, Lonyae Miller and Anthony Harding.
"I've been called the next Logan Mankins," Pascoe said. "That's kind of been nice. We were good friends, real, real similar backgrounds. You could probably put his life and my life together, it'll match up."
Pascoe's given name is McKenna Sean, but at 6-foot-5 and 265 pounds, he soon became known as Bear. Though Hill said Pascoe could have easily played defensive end or offensive tackle, he came to Fresno as a quarterback who ran the option in high school.
After one season under center, Pascoe moved to tight end and averaged 14 yards per reception as a redshirt sophomore.
"Tight end really is the position he was built for," Hill said. "He can block as well as tackle for us, and he's got very good hands."
Pascoe lacks top-end speed -- he runs the 40 in the high 4.8s -- but creates separation with his physical play.
"That's the biggest question everybody will always have -- can he get that vertical stretch?" Hill said. "He's not Antonio Gates, but on the line of scrimmage, he can block defensive ends, he can run routes very well. To be an NFL tight end, people are looking for that body type to play there. He can bang off people, he can catch the ball in crowds, he can break tackles."
When he's finished with football, Pascoe plans to pursue another pro career, in rodeo. Like Mankins, Pascoe is an accomplished calf roper who began competing at age 6 or 7.
As a 3-year-old, Pascoe began roping his dad's foot. At 15, he won a Dodge pickup truck -- which he still owns -- but had to let his older sister drive it home because he didn't have his license yet.
"When you live on a ranch, you better learn how to rope and ride," said Pascoe, who first met Mankins on the roping circuit. "It was something my whole family could do together. My mom ropes and my sister ropes, we all do it."
He hopes to carry the Bulldogs on his burly back this fall. Pascoe wants to shed about 5 pounds before the season and is focusing heavily on improving his speed and agility.
"He's a lot like Logan Mankins," Hill said. "Both of them were involved in that type of ranch lifestyle, hard work. It carried over."
Off and Running
Kyle Whittingham has watched other impressive running back tandems stutter-step their way through Utah's program, but the best combination could be unveiled this fall.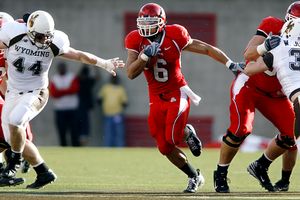 Steve C. Wilson/Getty Images
Darrell Mack ran for over 1,200 yards last year.
"We had Dameon Hunter and Adam Tate years ago and then Marty Johnson and Quinton Ganther in '04, that great season that we had," said Whittingham, who will enter his fifth season as Utes' coach. "Now
Darrell Mack
and
Matt Asiata
, that's as good a 1-2 punch as maybe we've ever had."
Asiata, who broke his right leg the 2007 opener against Oregon State and missed the season, went through spring practice with no setbacks. He rejoins Mack, who replaced him last fall and racked up 1,204 rushing yards and 12 touchdowns.
Both backs headline a power running game, with Asiata checking in at 235 pounds and Mack around 220. Reserve Ray Stowers is also in the 220-pound range, and the Utes' boast a "change-up back" in slashing freshman Eddie Wide.
The crowded backfield has prompted Utah's coaches to adjust the offense so they can accentuate the rushing attack.
"The spread offense that we run, the starting point is the run game," Whittingham said. "People think it's a pass-happy, throw-the-ball-all-over-the-parking-lot type offense, but when you run it effectively like we did in '04, [quarterback] Alex Smith had great numbers rushing the football. [Tim] Tebow last year for Florida, Pat White for West Virginia, they all run essentially the same offense."
Utah limited its contact work throughout the spring, with players like Asiata and starting quarterback Brian Johnson recovering from injuries. Johnson underwent shoulder surgery in February and was throwing at about 80 percent by the end of spring ball.
Asiata, who used a redshirt last season and retains two years of eligibility, was pleasantly surprised at how the leg felt throughout the spring.
"I did everything but contact," he said. "We didn't want to risk it. I wanted to go full-go this spring. I wanted to hit somebody, but the coaches said keep your head up, just stay on your feet."
Scary Good
He has a catchy name and the game to back it up. If things go his way, Ohio fans will be booing throughout the fall.
Barely a month after he arrived on campus, Ohio quarterback Boo Jackson turned heads at the spring game, putting himself in the mix for a starting position. Jackson, a junior-college transfer from California, completed 16 of 20 passes for 190 yards with no touchdowns or interceptions.
"Boo had a big game," coach Frank Solich said. "He's done an excellent job of picking up the system, and the system is not an easy system, especially from a quarterback's standpoint."
Junior Theo Scott remained the No. 1 quarterback heading into the summer, though he didn't do much to cement the spot in the spring game. Scott tossed two interceptions in his first three pass attempts before recovering.
"I think Theo was probably pressing a little bit," Solich said. "He's had a very, very good spring, and I think he wanted to show that today."
Adam Rittenberg covers college football for ESPN.com. He can be reached at espnritt@gmail.com.
Running in Place

There's no doubt Tulane will have a hard time replacing running back Matt Forte, a player coach Bob Toledo likened to Marcus Allen. But Andre Anderson made it look easy this spring.
Anderson cemented himself as Forte's successor with an exceptional spring, capped by a 136-yard rushing effort in the spring game. The sophomore averaged 7.2 yards per carry and broke off a 25-yard scamper in the second half.
"He rushed for over a hundred yards, and carried people, and broke away and showed some speed," Toledo said. "He's a workhorse. He's got to work hard this summer to come back and be in great physical shape, which I know he will be, and he's got to carry the load as a running back next fall."
With Tulane's starting quarterback spot undecided, Anderson provides a sense of stability entering the season. The next step is building depth behind him, especially after backup Andre Agers was suspended in early April for violating team rules.
Mac Attack

Despite winning the Sun Belt Conference championship last fall, Florida Atlantic was an unbalanced team -- dependable on offense, suspect on defense. Cornerback Erick McIntosh hopes to even things out this fall.
Academically ineligible last season, McIntosh made his presence known in spring ball. He had an interception and a fumble return for a touchdown in the spring game, forming a formidable cornerback tandem with Tavious Polo, who tied for sixth nationally in interceptions (7) last season.
"McIntosh is probably the most talented of all those defensive guys out there," Owls coach Howard Schnellenberger told reporters. "He wasn't eligible to play last year and that hurt us badly. I think he's learned that he has to go to school and has to do what's right. He's out here as a prodigal son and he's been rejuvenated and reprogrammed and he's going to be very instrumental in our secondary."
Extra Points

• Tulsa coach Todd Graham named David Johnson the front-runner for the team's starting quarterback spot, but a final decision likely won't be made until preseason camp. Johnson completed 11 of 19 passes for 198 yards and two touchdowns in the spring game as Tulsa's offense stayed true to form by scoring 58 points. Sophomore Clark Harrell matched Johnson with two touchdown tosses and had greater efficiency (10-for-13 passing), while sophomore Jacob Bower had 79 passing yards and two rushing touchdowns.
"David is in the lead with his type of consistency this spring, but [Harrell and Bower] had outstanding springs," Graham told the Tulsa World. "I don't believe in a two-quarterback deal, but I'm not ruling that out either. I'm hoping by mid-August or in the first couple of weeks to have a starter."
• Despite a shift in offensive philosophy this spring, Carson Williams still remained in the viewfinder for Army's starting quarterback spot. Williams, who started 10 games last season and ran a pro-style offense, hopes to retain his job in a new system that likely will feature more option elements. A recent newspaper report stated the Black Knights, who closed practices throughout the spring, are bringing back the wishbone offense for the first time in a decade. Coach Stan Brock isn't commenting on the new offense, but such a dramatic change seems unlikely.

• Utah wide receiver Freddie Brown has worked his way into a starting spot after being "the most pleasant surprise of the spring," coach Kyle Whittingham said. Brown, a senior who ranked fifth on the team in receptions with 20 last fall, vaulted to the first-team offense alongside Bradon Godfrey and Brent Casteel.
"He's got great size, 6-3, about 215 pounds," Whittingham said. "We're looking for Freddie to have a productive year for us."
Whittingham also praised the play of backup quarterback Corbin Louks, who provides depth behind oft-injured starter Brian Johnson.

• Sophomore Thomas Merriweather established himself as Miami's starting running back coming out of spring practice. Merriweather, who had 40 carries and four touchdowns last fall, emerged from a young crop of backs to win the job. He finished with 57 rushing yards on 11 carries in the spring game, including a 31-yard dash.
"He has really built on what he did last fall, giving us a good combination of size and speed, something we haven't had a lot of," RedHawks coach Shane Montgomery told the Dayton Daily News. "If we can keep him going in the right direction, he has a chance to be a special back."

• Joe Webb locked up UAB's starting quarterback spot after a strong spring. Webb entered practice as the projected No. 1 but had to outperform Anthony Speight and Rodney Bivens Jr. In three scrimmages he went 51-for-83 for 706 yards with six touchdowns and two interceptions.
"We know what Joe can do," coach Neil Callaway said. "He's an outstanding player and we're excited about him. We just have to correct some of the lapses and work on the consistency part of it, but he's definitely a guy who can make plays."