Some debuts go under the radar thanks to ACC's performance
Look On The Bright Side ...
By Ivan Maisel, ESPN.com
In the Big East, where No. 25 Pittsburgh and Syracuse collapsed in the fourth quarter and lost their games, they are saying it.
In College Station, where Texas A&M fans are still trying to figure out who that team from Arkansas was and why they didn't call them the Hogs, they are saying it.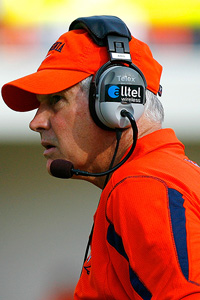 Kevin C. Cox/Getty Images
Much like most of the ACC, Al Groh had no answers this weekend.
And at the other Arkansas, where they do call them the Hogs -- and what they called them Saturday night when they nearly lost to Western Illinois, you don't want to know -- they are saying it.
The refrain of every team that had a bad opening week: Thank God for the ACC.
The Absent Credibility Conference had the worst opening since "Moose Murders," the legendary 1983 one-nighter by which all Broadway flops are measured. Investors in the ACC don't have the option of closing the football season, so fans must take solace in the coaching bromide that video shows that you're never as good or as bad as it seemed at the time.
The ACC went 2-4 against FBS opponents, with the wins by Wake Forest (41-13 over Baylor) and Boston College (21-0 over Kent State in Cleveland). The league went 5-0 over FCS opponents, which is good news if you don't look too closely. North Carolina hung on to defeat McNeese State 35-27, and Maryland defeated Delaware 14-7.
There is no pattern to the ACC's losses. The league lost at home, on the road and at neutral sites (twice). Three of the four losses came to teams that played in bowls last season. However, more than half the schools in the FBS play in bowls. The four winning teams had combined records of 32-19, and that includes USC, which went 11-2.
At Pittsburgh, the Panthers lost to Bowling Green 27-17 after spotting the Falcons a 14-0 lead. It is the Panthers' ninth upset loss in coach Dave Wannstedt's four seasons. Pitt's game Saturday against Buffalo, like Bowling Green a contender in the Mid-American Conference, carries more import than it did before Saturday.
Two coaches attempting drastic change lost their openers at their respective schools. Texas A&M, transitioning to a pro-set offense, lost at home to Arkansas State, 18-14. It might make new coach Mike Sherman feel better if he knew that the last two head coaches to lose their Aggies debuts, Jackie Sherrill and Gene Stallings, own national championship rings.
On the other hand, neither Sherrill nor Stallings won his ring at Texas A&M.
Michigan, debuting in head coach Rich Rodriguez's spread option offense, fell to Utah, 25-23. After Wolverines quarterback Steven Threet rallied the team with two touchdowns to pull within two points, he looked young and indecisive on Michigan's final three possessions. He competed 2 of 6 passes for 11 yards and took a third-down sack that forced Michigan to use a timeout.
Threet, a redshirt freshman, started his college football career by enrolling at Georgia Tech.
That would be Georgia Tech of the ACC.
Feeling Ducky
By Ted Miller, ESPN.com
EUGENE, Ore. -- Considering Oregon's dominant 44-10 victory over Washington, the "10" might be more impressive than the "44," which is unusual for a program that has built a reputation for unstoppable offenses and bend-but-don't-(always)-break defenses.
Ducks defensive coordinator Nick Aliotti couldn't wait to read the final box score, which he was glad to do out loud.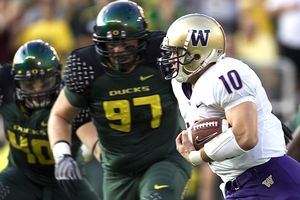 AP Photo/Don Ryan
Oregon's defense caused problems for Washington QB Jake Locker.
"Ninety-five yards rushing ... 242 total yards ... less than 50 percent completion rate," he said. "Yes, I'm very pleased."
The Ducks, who recorded their fifth consecutive victory over the Huskies for the first time in the history of the rivalry, blew Washington away 55-34 a year ago, but the Huskies eclipsed 400 yards of offense.
Not this time.
The Huskies gained just 2.2 yards per rush, and dual-threat QB Jake Locker was mostly contained, rushing for 57 yards -- he lost 26 on sacks -- and passing for 103 yards, connecting on only 12 of his 28 throws.
"I'd say the Ducky D did pretty well," DE Nick Reed said. "This year, I think the defense is going to take a bigger role."
Huskies freshman TB Chris Polk finished with 19 yards on 14 carries, his longest run going for 5 yards.
While everyone knew the Ducks' secondary was outstanding, the up-the-middle defense -- particularly with two new starting DTs -- was suspect.
Didn't seem that way against Washington, which entered the game with four returning starters on one of the most experienced offensive lines in the Pac-10.
"Everyone can quiet down about that now," Reed said.
To read the rest of Ted Miller's story, click here.
Defensive Growing Pains
By Brian Bennett, ESPN.com
MORGANTOWN, W.Va. -- West Virginia began the first game of its season with three players on defense who started last year.
That trio did not include last year's returning tackler, Reed Williams. The middle linebacker was expected to start Saturday but did not play as he continues to work back from offseason double-shoulder surgery.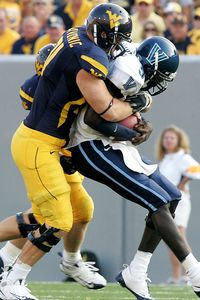 Charles LeClaire/Getty Images
Even with plenty of new faces, West Virginia was able to lock down Villanova.
So the Mountaineers should have been expected to incur some growing pains. Luckily for them, they made enough plays for it not to matter in their 48-21 win over Villanova. But they now they must improve in a hurry, with a road trip at East Carolina looming Saturday.
"We've got a long way to go," linebacker J.T. Thomas said. "This will be a good film for us to learn from."
Villanova's offense didn't look that different from the classic Rich Rodriguez-coached West Virginia attack, as quarterback Antwon Young ran the option and threw on the run. The Wildcats moved the chains early and at halftime had more first downs (15 to 12) and total yards (211 to 193) than the Mountaineers. They controlled the ball for more than 20 minutes in the first half.
The only reason the game wasn't closer than the 21-7 score was because Young fumbled deep in West Virginia territory and Joe Marcoux botched a field goal.
"I wasn't alarmed," head coach Bill Stewart said of the halftime situation. "But I was a little frustrated. We missed a lot of open-field tackles."
The second half proved much better for the West Virginia defense. Villanova gained only 70 yards of offense in the third quarter. The Wildcats' two fourth-quarter touchdowns came after an interception deep in Mountaineers territory and against reserves in the final seconds.
"We made a lot of critical mistakes [in the first half]," linebacker Mortty Ivy said. "We had a couple of young guys in there that really don't know what to do. But we got better as the game went on."
To read the rest of Brian Bennett's story, click here.
A Frosh Look
By Tim Griffin, ESPN.com
AUSTIN, Texas -- Roy Miller saw some wide eyes in the Texas huddle after some early mishaps in the secondary.
First-game jitters being what they are, the Longhorns' struggles weren't surprising.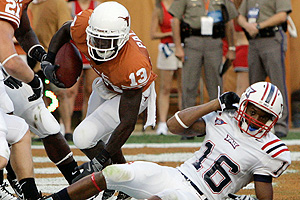 AP Photo/Harry Cabluck
Ryan Palmer, one of the few veterans in the Horns' secondary, helped keep FAU in check.
"We always get mad when they were converting those plays," said Miller, a senior defensive tackle. "But their efforts were great. I think they did really well for a first game."
But the resiliency that the young Texas secondary showed throughout the game was one of the most impressive signs in the Longhorns' 52-10 victory over Florida Atlantic. The Longhorns started a pair of freshman safeties -- Blake Gideon and Earl Thomas -- for the first time under Mack Brown.
After being torched for 151 passing yards in the first quarter, the Longhorns allowed 102 yards through the air during the rest of the game. Their performance was particularly strong in the second half, when they allowed the Owls to produce only 53 total yards on 26 snaps.
"We obviously made some mistakes in the first half that were very visible," new Texas defensive coordinator Will Muschamp said. "We came out in the second half and we played a little better and they just kind of shut it down."
It wasn't easy, particularly early. The Longhorns allowed Florida Atlantic to march into the red zone on its first two possessions. The Longhorns stymied the Owls with no points, getting a fumble recovery by linebacker Sergio Kindle on the first possession and forcing a punt on the second drive.
"We were just kind of getting the feel of it in our first game," Thomas said. "Just kind of getting our feet wet. And in the second half, we had a better understanding of what we were doing."
To read the rest of Tim Griffin's story, click here.
Role Reversal
By Brett Edgerton, ESPN.com
Virginia Tech lost on a blocked punt? Say what?!? Beamerball got a little taste of its own medicine Saturday in Charlotte, N.C. After the Hokies blocked a PAT and returned it for two points in the third quarter against East Carolina, a Virginia Tech victory looked as certain as an ACC loss in a BCS bowl game. After all, the Hokies had won 17 straight games in which they'd blocked a kick. But not Saturday. Not against the Pirates.
ECU's T.J. Lee blocked a punt and returned it 27 yards to the end zone with under two minutes to go in the game, giving his Pirates the lead in a historic win for Conference USA. East Carolina's win over Tech was the first for a C-USA school over a nationally ranked BCS conference team since 2002.
ECU is also the first team in the 13-year history of Conference USA to win back-to-back games over Top 25 teams. The Pirates closed out last season with a 41-38 victory over No. 22 Boise State in the Hawaii Bowl. But hey, at least they'll get a break now. All they have to do is host No. 8 West Virginia on Saturday.
Three Weekend Observations
By Ivan Maisel, ESPN.com

Mike Stoops
1.
It's hard to imagine that another pair of coaching brothers ever had a better Saturday than Bob and Mike Stoops did. Oklahoma and Arizona won their respective games by a combined score of 127-2. Their combined lead at halftime: 99-0. If Arizona beats Toledo and Oklahoma beats Cincinnati, the Stoops brothers will start a collective 4-0 for the first time. The Wildcats, in four seasons under Mike, never won their first two games.

2.
Clemson has two talented veteran tailbacks in
James Davis
and
C.J. Spiller
, yet the Tigers' first carry of the season went to true freshman
Jamie Harper
, a recruiting promise by coach Tommy Bowden. Alabama linebacker Cory Reamer stripped Harper, the Tide recovered at the Clemson 31 and converted the fumble into three points. "If he's here for three years, that's a thousand plays a year," Bowden said. "If he's here for 3,000 plays and I offer him one, that's a pretty good tradeoff."

3.
Stanford last won its Pacific-10 Conference opener in 2001, Ty Willingham's last season as head coach. That's also the last season the Cardinal led the conference at any point and the last time the Cardinal finished with a winning record in the Pac-10 and overall. Not that anyone on the Farm is excited about the 36-28 defeat of Oregon State on Thursday or anything.
GameDay Crew Recap
Blog Network: Helmet Stickers
Every week our bloggers will hand out helmet stickers to the week's top players, coaches, teams or anything else worth this honor.
Highlights: Virginia Tech-East Carolina
Blog Network: What We Learned

Wow. It was a tough day at the office for a few ACC coaches this weekend. But Jim Grobe should be happy.
ACC

That's a bad start for Mike Sherman. The defenses at Texas Tech and Nebraska still need some work.
Big 12

Pittsburgh's offense isn't explosive yet, but West Virginia's is. Plus South Florida could be scary good.
Big East

The first round of Big Ten games is in the books and the conference landscape hasn't changed much, which could be a bad thing.
Big Ten

USC is a title contender (again). Oregon's got a defense and Tyrone Willingham is in trouble.
Pac-10

Alabama is for real, LSU could repeat but the jury's still out on Auburn's passing game.
SEC

Non-BCS:
Time to watch out for Utah and East Carolina after their wins, but the Sun Belt had a rough weekend.
Around the nation
Highlights: Alabama-Clemson
Back On Top
By Brett Edgerton, ESPN.com

Paterno
In Penn State's 66-7 win over Coastal Carolina, the Nittany Lions not only scored their most points in eight years, but also quietly moved Joe Paterno into a tie with Bobby Bowden for the most career wins among major college coaches (Florida State doesn't open its season until Saturday). The two legends had not been even since Bowden passed JoePa on Oct. 25, 2003.
Highlights: Missouri-Illinois
Road Warriors
By Brett Edgerton, ESPN.com
USC won 52-7 at Virginia on Saturday. Now gee, there's a shock. If you haven't noticed, the Trojans are a fairly decent little squad when leaving the Pac-10 and hitting the road. USC has now won nine straight nonconference road games, blitzing its opponents 396-124 along the way. That's an average winning margin of more than 30 points a game.
Highlights: USC-Virginia