November is here but races are still up in the air
Unknowns Remain
By Mark Schlabach, ESPN.com

The calendar turned to November this weekend, and the country returned to standard time.

Two-thirds of the 2008 college football season is behind us, and we still know nothing about how the Big 12 South and the entire ACC will shake out.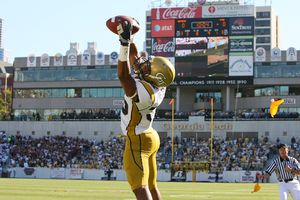 Icon SMI

After beating Florida State, Georgia Tech is in front of the ACC Coastal ... for now.
With five weeks to go in the regular season, half of the BCS conference races are nearly complete. Top-ranked Alabama and Florida are headed toward a collision in the Dec. 6 SEC championship game in Atlanta's Georgia Dome, where a spot in the BCS Championship Game might be at stake.
Penn State, barring upset losses in two of its last three regular-season games (at Iowa and home against Indiana and Michigan State), will win the Big Ten.
Southern California seems poised to win at least a share of its seventh consecutive Pac-10 title -- as long as the Trojans beat California on Saturday night and aren't upset by Stanford or UCLA in their final two conference games.
The Big 12 and ACC? Wide open.
Texas Tech moved into the driver's seat in the Big 12 South after upsetting then-No. 1 Texas 39-33 on Saturday night. But the Red Raiders have to handle success, something they have traditionally struggled to do. The schedule only gets tougher for Texas Tech, too, with Oklahoma State traveling to Lubbock on Saturday. Tech still plays at Oklahoma and hosts Baylor in its regular-season finale.
The Longhorns' most difficult stretch is finally in their rearview mirror, after playing four ranked opponents in as many weeks. After losing to the Red Raiders, Texas is left hoping for some sort of complicated multiteam tie in the division.
The Longhorns own tiebreakers over Oklahoma and Oklahoma State, but the Red Raiders would have to lose at least once for Texas to win a share of the division.
Each of the ACC's two divisions is equally complicated. Three of the league's top teams -- Boston College, Florida State and Virginia -- fell Saturday. Maryland leads the Atlantic Division by a half-game over Florida State and Wake Forest, which needed overtime to beat Duke 33-30 on Saturday.
The Terrapins, who have won five of six games since losing at Middle Tennessee 24-14 on Sept. 6, play at Virginia Tech on Thursday night (ESPN, 7:30 ET). Maryland then hosts North Carolina and FSU and finishes the regular season at Boston College.
Five of the six teams in the ACC's Coastal Division have a .500 or better conference record. Georgia Tech leads the pack with a 4-2 mark against conference foes, after beating Florida State 31-28 in Atlanta on Saturday. The Yellow Jackets still face major tests at North Carolina on Saturday and against Miami on Nov. 20.
Dreamweaver
By Tim Griffin, ESPN.com
LUBBOCK, Texas -- Before taking the field for the final time Saturday night, Texas Tech receiver Michael Crabtree paused for a few seconds to visualize a few pleasant thoughts before the biggest possession of his college career.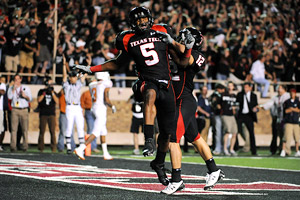 Brendan Maloney/US Presswire
Michael Crabtree had a premonition that he would snag the game-winning score.
"On the sidelines, I kind of dreamed I would catch a pass and go into the end zone for the winning touchdown," Crabtree said, still a little awe-inspired by the reality of what transpired. "I do that in every game, but tonight it happened. It kind of shocked me."
His game-winning 28-yard touchdown grab from Graham Harrell with only one second remaining punctuated a wild 39-33 victory over Texas. Many are already calling it the greatest game in the history of the Big 12.
It enabled Tech to claim its first victory over a No. 1 team and also boosted the Red Raiders into legitimate contention for a BCS bowl berth. It may have boosted an even bigger dream for Crabtree: the Red Raiders' first national championship.
But after the touchdown, as Tech fans charged onto the field, Crabtree was more concerned about his personal safety than anything else.
"After the celebration, I fell to the ground and I couldn't breathe," Crabtree said. "I was telling everybody to get off of me. But it was great."
To read the rest of Tim Griffin's story, click here.
Tebow Leads Charge
By Chris Low, ESPN.com
JACKSONVILLE, Fla. -- Tim Tebow left Jacksonville Municipal Stadium a year ago hurting, both literally and figuratively.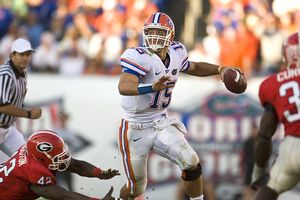 Paul Abell/US Presswire
It was a vintage Tim Tebow performance against the Bulldogs on Saturday.
On Saturday, he and the Florida Gators were the ones who put a hurting on Georgia.
Tebow only had to throw the ball 13 times, but he accounted for five touchdowns in Florida's 49-10 battering of Georgia. He rushed for three, breaking Emmitt Smith's career record at Florida for rushing touchdowns, and also threw for a pair of scores.
Tebow suffered a mild sprain to his left foot and had a protective walking boot on following the game. However, he felt well enough in the minutes following the victory to take a lap around the stadium, slapping hands and thanking Florida fans.
They ought to be thanking him.
His numbers aren't as outlandish as they were a year ago when he won the Heisman Trophy, but he's probably a better quarterback right now.
More importantly to Tebow, he still has a chance to win a championship.
"Tim has been terrific all year," Florida coach Urban Meyer said. "He's relaxed and having fun. He's contagious. When he is like he is, our whole offense is like that."
To read the rest of Chris Low's story, click here.
Pysched Out?
By Graham Watson, ESPN.com
SOUTH BEND, Ind. -- Charlie Weis is worried about the psyche of his team.
After Pittsburgh overcame a 17-3 halftime deficit to beat the Irish 36-33 in four overtimes, Weis said he's wondering how his team will bounce back.
"I think the next 24 to 48 hours, you know, it's a trying time when you come off a disheartening loss," Weis said. "You got to bounce right back. Get treatment tomorrow, and Monday morning come in and watch the tape, move on to Boston College. I think more than closing the game, I'm just worried about getting their psyche right for this week."
Weis' concern is understandable. This is the second game Notre Dame has lost late after giving up a double-digit lead. The Irish led North Carolina 17-6 before the Tar Heels marched back to win 29-24 in Chapel Hill, N.C.
The Tar Heels outscored Notre Dame 20-7 in the second half. On Saturday, Pittsburgh outscored the Irish 21-7 in the second half before hitting four consecutive field goals in overtime.
Weis made similar comments after the Irish's loss to North Carolina, but his team had a bye the following week. He even said in his news conference after the game that he was happy his team didn't have to play the following week because he thought it might be too difficult a loss to overcome in such a short amount of time.
Now, the Irish have to prepare to play a 5-3 Boston College team on the road. Notre Dame is 1-2 on the road this season.
To read the rest of Graham Watson's story, click here.
The Metamorphosis Of Kafka
By Adam Rittenberg, ESPN.com
MINNEAPOLIS -- Pat Fitzgerald's first significant decision as Northwestern's head coach came on Aug. 28, 2006, when he named Mike Kafka the team's starting quarterback.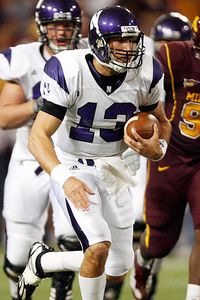 Harry How/Getty Images
Mike Kafka ran all over Minnesota, to the tune of 217 yards.
Kafka went on to start the first four games of a star-crossed season for Northwestern. The team struggled to bounce back after the sudden death of head coach Randy Walker earlier in the summer. The Wildcats went 2-2 with Kafka at the helm, but a hamstring injury against Nevada sent the freshman to the sidelines.
He remained backstage until Saturday.
Starting quarterback C.J. Bacher had injured his hamstring a week earlier at Indiana, and though Bacher was available for the game against No. 17 Minnesota, Fitzgerald and his staff decided after Wednesday's practice that Kafka would get the start.
Kafka was ready Saturday, and his performance helped Northwestern to a 24-17 upset of Minnesota. The 6-foot-3, 210-pound junior shattered a school record for quarterback rushing with 217 yards and also threw two touchdown passes to go along with two interceptions.
Kafka had runs of 53, 38 and 30 yards in the victory.
"He does it every week in practice," freshman wideout Jeremy Ebert said, "so it doesn't really impress us too much."
To read the rest of Adam Rittenberg's story, click here.
Thinking Big
By Heather Dinich, ESPN.com
ATLANTA -- Georgia Tech defensive end Michael Johnson trudged into the interview room after his team's dramatic, last-minute 31-28 win over Florida State with a scowl on his face. All 6-foot-7 of him looked miserable.
"We gave up 28 points," he mumbled.
The standards at Georgia Tech have changed under first-year coach Paul Johnson.
Yes, with its seven wins Georgia Tech has officially surpassed preseason expectations so low you could trip over them. And yes, the Yellow Jackets became bowl eligible on Saturday for the 12th straight season.
But c'mon, going to bowl games?
"That's old news, going to a bowl," Michael Johnson said. "We're trying to compete for championships around here now."
With a little help from Miami this weekend, they're still able to. And they're looking way ahead of schedule in the process.
To read the rest of Heather Dinich's story, click here.
Holding Strong
By Brian Bennett, ESPN.com
Second-Half Stuff
WVU scores, last three games
1st Half
2nd Half
Final Score
vs. Syracuse
7-6
10-0
17-6
vs. Auburn
10-17
24-0
34-17
at UConn
7-13
28-0
35-13
-- Brett Edgerton
EAST HARTFORD, Conn. -- West Virginia defensive line coach Bill Kirelawich told his players he had a nightmare this week. He envisioned Connecticut running a sweep to Donald Brown, who then cut back across the field for a touchdown.
Kirelawich needn't have worried about that dream coming true. If the Mountaineers have counted on one thing this season, it's their defense.
The latest example of that came in Saturday's 35-13 win over UConn. They held Brown to a season-low 82 yards, the first time all year the nation's leading rusher failed to surpass the 100-yard mark. They came up with five turnovers and pitched a shutout in the second half for the fifth time in their past six games.
To read the rest of Brian Bennett's story, click here.
Three Weekend Observations
By Mark Schlabach, ESPN.com

1.
We learned two things about Texas Tech in Saturday night's 39-33 victory over No. 1 Texas: There is always plenty of time for the Red Raiders to score or for their opponents to score. We'll see if Texas Tech's revamped defense can keep its head above water against Oklahoma State and Oklahoma.

2.
Revenge is a you-know-what, and Georgia certainly got its share in Saturday's 49-10 loss to Florida. Gators coach Urban Meyer made sure the Bulldogs remembered the beating, calling two timeouts in the game's final seconds. Meyer would have looked better letting the score speak for itself.

3.
Utah and Boise State might be ranked higher, but the best team from a non-BCS conference resides in Fort Worth, Texas. Since losing to then-No. 2 Oklahoma 35-10 on Sept. 27, the Horned Frogs have blasted five opponents by a total score of 184-42. I'm guessing the Sooners would have done the same thing to the Utes and Broncos.
GameDay Weekend Recap
GameDay Crew Final Thoughts
RECE DAVIS
What a day of finishes in college football. Was that great or what? Even with all the craziness last season, I don't recall a Saturday that had so many down-to-the-wire endings.
Helmet Stickers Go To:
• QB
Justin Siller
, Purdue
343 total yards, 4 TDs vs. Michigan
• QB Graham Harrell/WR Michael Crabtree, Texas Tech
Game-winning TD with 0:01 left vs. Texas
---
LOU HOLTZ

Crabtree
I know it's not breaking news, but what a receiver
Michael Crabtree
is. He'll catch pretty much anything you throw to him. If I were a quarterback, I would have no hesitation throwing his way, regardless of whether he's open or not.
Helmet Stickers Go To:
• RB
Jake Sharp
, Kansas
257 total yards, 4 TDs vs. Kansas State
• CB Alphonso Smith, Wake Forest
2 Ints, blocked punt for safety vs. Duke
---
MARK MAY

One can argue about whether Texas Tech should now be in the top two -- I think they should be -- but one thing is crystal clear: The Red Raiders are not going to be Texas' little brother for at least a year.
Helmet Stickers Go To:
• QB
Mike Kafka
, Northwestern
2 pass TDs, 217 rush yards vs. Minnesota
• RB LeSean McCoy, Pitt
169 rush yards, TD vs. Notre Dame
Blog Network: Helmet Stickers
Every week, our bloggers will hand out helmet stickers to the week's top players, coaches, teams or anything else worth this honor.
• ACC: Alphonso Smith, Jacory Harris
More ACC Stickers
• Big 12: James Holt, Jake Sharp
More Big 12 Stickers
• Big East: Tony Pike, LeSean McCoy
More Big East Stickers
• Big Ten: Justin Siller, Brett Swenson
More Big Ten Stickers
• Pac-10: California's defense, Sean Canfield
More Pac-10 Stickers
• SEC: Tim Tebow, Arkansas' defense
More SEC Stickers
• Non-BCS: Brian Brunner, Bruce Francis
More Non-BCS Stickers
Highlights: Texas-Texas Tech
Blog Network: What We Learned

Maryland is in the driver's seat in the Atlantic but the Coastal is pure chaos.
ACC

Michael Crabtree's game-winning touchdown grab was simply the greatest play in the history of the Big 12 Conference.
Big 12

Saturday gave us wild (Syracuse over Louisville -- again), wonderful (four overtimes in South Bend) and West Virginia (still on top).
Big East

Michigan State has turned the corner, but Michigan coach Rich Rodriguez hasn't delivered.
Big Ten

Sometimes conventional wisdom is wrong. But just when we didn't think it could get any worse in the state of Washington, it did.
Pac-10

Texas Tech's upset of Texas further cleared the way for a one-loss Florida team to play its way into the BCS National Championship Game, if the Gators can win out.
SEC

Non-BCS:
Tulsa had one chance to prove that it belonged in the BCS bowl talk and it fell short.
Around the nation
Highlights: Georgia-Florida
Not The Same Ole
By Brett Edgerton, ESPN.com
Against an Auburn team that had won seven straight in Oxford, Ole Miss picked up its third SEC win of the season Saturday by beating the Tigers, 17-7. No big deal, you say? Well, those three conference wins by first-year coach Houston Nutt match the amount won by the Rebels during the previous three seasons under Ed Orgeron. Those Coach O teams were 3-21 in league play, including 0-8 last season. This year's squad is 3-3 and sits behind only Alabama and LSU in the West. And let's not forget one of those wins came at The Swamp against the powerful Florida Gators.
What's even more remarkable is that the current two-game win streak by the Rebs is the first time they've won back-to-back games since David Cutcliffe was head coach back in October 2004. Four straight years of following up every victory with a loss! That was easily the longest such drought in the nation.
Highlights: Northwestern-Minnesota
Did You Realize ...
By Brett Edgerton, ESPN.com
Oregon State and Michigan State both control their own destiny in their respective conferences. Because of their win over USC, the Beavers can guarantee a trip to the Rose Bowl by winning their last four games. And as long as they take care of Purdue at home this week, the Spartans can actually clinch a trip to Pasadena if they upset what would need to be an unbeaten Penn State team in the finale. MSU would win a three-way tiebreaker with Penn State and Ohio State because of a Big Ten rule that penalizes teams that schedule an FCS opponent. Both the Nittany Lions and Buckeyes played one. The Spartans did not.
• The two current division leaders in the ACC, Maryland and Georgia Tech, weren't even ranked in last week's AP poll and were nowhere to be found in the BCS standings.
• Since its supposed program-turning win over West Virginia in September 2007, South Florida is just 4-6 in the Big East.
• At 1-5, Tennessee has the worst record in the SEC. The Vols haven't been 1-5 in league play since 1977.