Nobody likely to get past Big 12 or SEC
No Cut-Ins
By Ivan Maisel, ESPN.com

It's not unusual that Alabama and Texas Tech have a clear path to the BCS Championship Game: Win all their games and they will reprise their Cotton Bowl matchup of three seasons ago. After all, if a team from an automatic-bid conference wins all its games -- and it isn't Auburn in 2004 -- then it plays for the BCS title.
But what is unusual is that the teams first in line behind the Crimson Tide and Red Raiders are from their own conferences. Check out the new BCS standings.

Florida, Alabama's last obstacle on the road to Dolphins Stadium, is, at No. 4, the Tide's biggest obstacle, too. They will play for the SEC championship on Dec. 6.

In the Big 12, No. 5 Oklahoma plays Texas Tech on Nov. 22. If the Sooners defeat the Red Raiders, will the computers and voters vault the Sooners past No. 3 Texas, which defeated Oklahoma 45-35 on Oct. 11? The Big 12 South championship depends upon the answer. If the Red Raiders, Longhorns and Sooners finish 11-1 (7-1 in the Big 12), the team with the highest BCS standing will advance to the Big 12 championship game.

That's not how it has worked in past years in the BCS. In a typical season, the teams in the two best conferences in the nation beat each other into submission, and the champion or champions of other, less arduous conferences waltzed past the brawls and into the BCS Championship Game.

Ohio State has taken a lot of heat for using this formula in each of the past two seasons. But the Buckeyes aren't the only program to do so. In 2001, Nebraska bulked up on such a diet of weak teams that the Huskers survived a regular-season rout by Colorado and made it in to the Rose Bowl to play for the national title. Oregon, which won a Pacific-10 Conference that had four teams in the top 15 of the final BCS standing, finished fourth.

The BCS commissioners have changed the BCS formula a couple of times since then, and in the past three seasons, there have been few complaints about the final pairing. Still, none of this bodes well for the other three undefeated teams -- No. 7 Utah, No. 9 Boise State and No. 14 Ball State -- as well as No. 8 Penn State, which fell from No. 3 after losing at Iowa 24-23 on Saturday.

In more trouble is No. 6 USC, despite a defense displaying a stinginess that hearkens to an earlier era. The Trojans have allowed 60 points this season, an average of 6.7 points per game, and only one touchdown in their past five games. No team has allowed less than seven points per game since the 1986 Oklahoma Sooners. Yet, in this offense-crazed season, USC is having trouble gaining traction in the BCS standings. The Trojans' past three opponents -- Stanford (5-5), Notre Dame (5-4) and UCLA (3-6) -- won't help.
Calm Before The Storm
By Tim Griffin, ESPN.com
LUBBOCK, Texas -- Graham Harrell had a few early jitters. But he didn't have the meltdown that many observers expected.
His early fumble and the resulting Oklahoma State touchdown sparked a few groans about how Texas Tech would respond after last week's upset over Texas.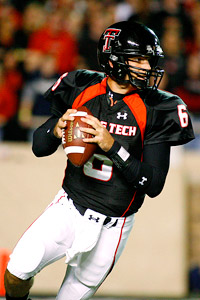 Sam Adams/US Presswire
Graham Harrell had no problems after the game's first series.
"I just wanted to stay calm," Harrell said. "It was only two minutes in the game and there was no reason to worry about it. We gave them the ball and they scored. But it was no reason to panic because we still had 58 minutes of football to play."
Harrell and the Red Raiders proceeded to erupt with a vintage offensive performance that even had Mike Leach smiling at the end of the game.
"Yeah, [the fumble] wasn't good," Leach said. "But if anything, it was beneficial. It settled us down and we had better tempo after that."
Tech charged ahead with touchdowns on seven straight possessions as they cruised to a resounding 56-20 victory over Oklahoma State.
"Seven straight was good," Harrell said. "That's what it's all about: putting the last drive behind as you are scoring the next one."
The length of the drives were equally impressive. Tech marched for touchdowns on drives of 80, 70, 97, 72, 48, 80 and 96 yards. Only another fumble by Harrell on his final play of the game ended the streak.
"That's probably as good of a whole game as we've put together," said Eric Morris, who led Tech with 10 catches for 97 yards and a touchdown. "We were clicking on all cylinders."
To read the rest of Tim Griffin's story, click here.
Special Delivery
By Chris Low, ESPN.com
BATON ROUGE, La. -- Alabama coach Nick Saban didn't want to waste any time.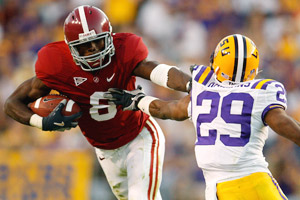 Chris Graythen/Getty Images
Julio Jones is the go-to guy for the Crimson Tide.
He told offensive coordinator Jim McElwain and quarterback John Parker Wilson that he wanted to take a shot on the Crimson Tide's first play in overtime.
It's no coincidence that first shot went to freshman receiver Julio Jones, whose catch down on the goal line was the kind of play Alabama fans salivated about when he signed with the Crimson Tide back in February.
"He's a special guy. He works so hard. He's a tremendous athlete, the best I've ever seen," Wilson said. "The way he carries himself and makes plays and doesn't let anything affect him … he's really good and going to be really good for a long time."
Jones' body control on his 24-yard catch to set up Wilson's game-winning touchdown plunge in overtime was amazing enough. He came out of his route, went high in the air and made a tough adjustment on the ball look routine in Alabama's 27-21 win over LSU.
It's the kind of play Alabama players have become accustomed to seeing from the 6-foot-4, 210-pound Jones.
"He's been doing that since the first day he got here," Alabama senior center Antoine Caldwell said. "If the ball's thrown around him, he's going to go get it."
Here's the other thing about Jones: He's a bull after the catch. He's so strong and rarely goes down with the first hit.
He also uses his size to his advantage when smaller cornerbacks try to match up one-on-one against him.
To read the rest of Chris Low's story, click here.
Style Points Not Needed
By Ted Miller, ESPN.com
LOS ANGELES -- With Penn State's tumble from the list of unbeaten teams, a whiff of possibility wafted into the Coliseum before USC played host to California: The Trojans still might be able to work their way back into the national title race.
All they needed to do was stage a song and dance routine for pollsters, with the Golden Bears underfoot.
USC Defense This Season
| | | |
| --- | --- | --- |
| | | Best Since ... |
| PPG Allowed | 6.7 | 1986 Oklahoma (6.6) |
| YPG Allowed | 206.4 | 1992 Alabama (194.2) |
| Pass YPG Allowed | 128.7 | 2004 Alabama (113.1) |
They needed to post a few style points.
After his Trojans dominated Cal but only won 17-3, Carroll announced that he has a new least-favorite term.
Style points.
"That ain't going on around here," he said, speaking even faster than his normal 100 mph pace.
"We don't do that crap around here. We don't think that way. That's not ever the way we think. I don't think about style points. I never have."
USC took over on downs on the Cal 21-yard line with two minutes left. It seemed like a perfect time to pad the winning margin with the game in hand.
But Carroll just ran the ball four consecutive times up the middle.
Carroll didn't see a need to put lipstick on this pigskin, though he admitted that with another touchdown, "It would have felt a lot different."
To read the rest of Ted Miller's story, click here.
When It Counts ...
By Adam Rittenberg, ESPN.com
IOWA CITY, Iowa -- From his shoulder-length dirty blond hair to his quick first step to his mammoth frame, Iowa defensive tackle Mitch King is pretty easy to spot on the football field.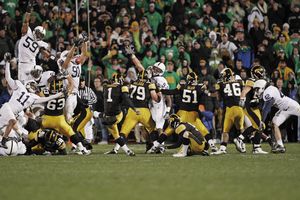 Jerry Lai/US Presswire
Andy Murray connected on the game winner with two seconds left.
But as Daniel Murray lined up a 31-yard field goal with six seconds left in Saturday's game, King tried to make himself disappear.
"I was hiding," King said. "I was hiding behind a few guys with my eyes closed 'cause I didn't want to see it either way. I was listening for the [crowd]."
King had faith in Murray, but you couldn't blame him from shielding his eyes. Given Iowa's recent track record in close games, the natural tendency is not to watch.
Entering Saturday's game, Iowa had lost nine consecutive games decided by three points or fewer, a stretch of futility going back to 2005, the end of the glory years under head coach Kirk Ferentz. Three of those losses had come this season, most recently the week before at Illinois.
Iowa's other loss came by a whopping five points to Northwestern, in a game the Hawkeyes led 17-3 late in the first half. And here they were again, within two points of No. 3 Penn State, a make-or-break situation.
"It's real tough," said running back Shonn Greene, who eclipsed 100 rushing yards for the 10th consecutive game. "It almost seemed like déjà vu again."
Almost.
To read the rest of Adam Rittenberg's story, click here.
Standing Strong
By Brian Bennett, ESPN.com
MORGANTOWN, W.Va. -- All week, Mardy Gilyard predicted to his Cincinnati teammates that they were going to break a kickoff return for a touchdown. Gilyard saw the haphazard ways that West Virginia covered kicks -- the Mountaineers rank last out of 119 teams in the nation in that area -- and told his blockers, "I'll run until I puke."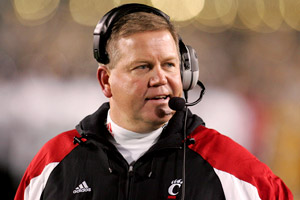 Charles LeClaire/Getty Images
Brian Kelly's Cincinnati squad showed great resiliency against West Virginia.
And that's exactly what happened, right down to the gory details. Gilyard fielded the game's opening kickoff 4 yards deep in his own end zone and ran it back for a score. He missed his team's opening offensive series because he was evacuating his stomach on the sidelines from the long journey.
Hey, it takes guts to beat the Mountaineers in a night game on their home field. That's what the Bearcats showed, in more ways than one. The kickoff was the first sign that they could do it.
"I think it set the tone for the whole game," defensive tackle Terrill Byrd said. "That we're here, and y'all are going to have to play your A-plus game against us."
For a while, Cincinnati thought it might cruise to the victory. A 20-7 first-half lead held up until the final two minutes. Then disaster nearly struck.
Head coach Brian Kelly opted to take a safety rather than risk a punt from his own goal line with 1:11 left. West Virginia then drove down against a prevent defense and scored a touchdown with 18 seconds left. After a successful onside kick, the Mountaineers hit one big pass play and got a 52-yard field goal from Pat McAfee to tie the score.
West Virginia players danced on the field while the Bearcats huddled up in shock.
"A lesser team would have folded under those circumstances," Kelly said.
To read the rest of Brian Bennett's story, click here.
All Hail The Horns
By Brett Edgerton, ESPN.com
The ho-hum 45-21 win by Texas over Baylor might not have seemed like a historic victory, but indeed it was -- on two different levels.
All-Time Wins (FBS Teams)
| | |
| --- | --- |
| Michigan | 872 |
| Notre Dame | 829 |
| Texas | 829 |
| Nebraska | 814 |
| Ohio State | 806 |
Let's tackle the ancient history first. With the Longhorns' victory over the Bears and Notre Dame's inability to beat Boston College on Saturday, Texas has tied Notre Dame for second in all-time victories at 829. Michigan remains comfortably in first with 872. Why is the tie for second significant? Among current FBS schools, Michigan and Notre Dame had been alone in the top two since Oct. 15, 1932! At that time, Herbert Hoover was President of the United States, Babe Ruth was the Sultan of Swat and Joe Paterno was 5 years old. Coming into that October day, Notre Dame and Navy were tied with 259 victories. The Irish won, the Midshipmen lost and no major college since had pierced that Michigan-Notre Dame stranglehold … until now.
Most Consecutive 9-Win Seasons
| | | |
| --- | --- | --- |
| 33 | Nebraska | 1969-2001 |
| 14 | Florida State | 1987-2000 |
| 12 | Florida | 1990-2001 |
| 11 | Texas | 1998-present |
| 11 | Alabama | 1971-81 |
| 10 | Miami | 1985-94 |
Texas also clinched its 11th straight nine-win season, a streak that covers the entire Mack Brown era. Only three teams in major college football history have ever strung together a longer streak. And with a victory at Kansas this week, the Horns will have their eighth straight 10-win season, which would tie them with Miami (1985-1992) for the second-longest streak of all time. Florida State had 14 straight 10-win seasons from 1987-2000.
Three Weekend Observations
By Ivan Maisel, ESPN.com

1.
Here's the secret to Iowa 24, No. 3 Penn State 23: The Hawkeyes didn't stop the Nittany Lions as much as they slowed them down. Penn State, which in nine games had 52 plays of 20 yards or more, had only one such play in cold, wet Kinnick Stadium. Also, Penn State had scored 33 touchdowns in 47 trips inside the red zone, a rate of 70.2 percent. The JoePas scored two touchdowns in five such trips Saturday. That's how nearly 36 minutes of possession and one turnover (excluding the squib kick on the last play of the game) added up to only 23 points.

2.
Florida State coach Bobby Bowden made a reputation with his "barnyard plays." Bowden used to say he called them because he had to. In the 1990s, when the Seminoles had more talent than their opponents, Bowden's teams didn't run trick plays. That came to mind when
Louis Givens
ran that double reverse for 27 yards Saturday in Florida State's 41-27 victory over Clemson. The Seminoles may be 7-2 and tied for the ACC Atlantic lead, but they haven't separated themselves from anyone just yet.

3.
What if they gave a bowl and nobody qualified? The Pac-10 has deals with seven bowls and has a real chance of coming up short. The Pac-10 needs a Stanford victory over No. 6 USC or Cal just to get a sixth team into the postseason. And if USC makes it to the BCS Championship Game, the Pac-10 could leave three from among the Las Vegas, Poinsettia, Emerald and Hawaii bowls scrambling for replacements.
GameDay Recaps Alabama's Win
GameDay Crew Final Thoughts
RECE DAVIS

Penn State's loss to Iowa reminds us once again the golden rule of the BCS: Never complain about the system until the regular season is complete. Note to fans: Stop worrying about getting left out and start worrying about winning out.
Helmet Stickers Go To:
• NT Ndamukong Suh, Nebraska
12 tackles, 2½ sacks, receiving TD vs. Kansas
• RB Jacquizz Rodgers, Oregon State
144 yards, 2 TDs vs. UCLA
---
LOU HOLTZ

I don't know if anyone is playing better than Oklahoma, at least offensively. Those guys score pretty much whenever they want. I cannot wait to see OU and Texas Tech butt heads in Norman.
Helmet Stickers Go To:
• WR
Jamarko Simmons
, Western Michigan
11 rec, 174 yards, TD vs. Illinois
• FS Rashad Johnson, Alabama
3 Ints (one for TD, one in OT) vs. LSU
---
MARK MAY

How can you not be impressed with Alabama receiver Julio Jones? He's physical and has a nose for the football, and I love the yards after contact he gets. He doesn't play like a freshman. He plays like a senior.
Helmet Stickers Go To:
• PK Daniel Murray, Iowa
Game-winning FG vs. Penn State
• QB Graham Harrell, Texas Tech
40-50, 456 yards, 6 TDs vs. Oklahoma State
Blog Network: Helmet Stickers
Every week, our bloggers will hand out helmet stickers to the week's top players, coaches, teams or anything else worth this honor.
• ACC: Wake Forest defense, Darren Evans
More ACC Stickers
• Big 12: Graham Harrell, Ryan Palmer
More Big 12 Stickers
• Big East: Cincinnati's defense, Kordell Young
More Big East Stickers
• Big Ten: Terrelle Pryor, Michigan defense
More Big Ten Stickers
• Pac-10: Sean Canfield, California's defense
More Pac-10 Stickers
• SEC: Rashad Johnson, Tim Tebow
More SEC Stickers
• Non-BCS: Vai Taua, James Starks
More Non-BCS Stickers
Highlights: Oklahoma State-Texas Tech
Blog Network: What We Learned

It'd be easier to discuss what we didn't learn as Saturday's game revealed little in terms of the ACC championship race.
ACC

Nebraska offensive coordinator Shawn Watson might be the conference's most underrated playcaller.
Big 12

Pittsburgh can win -- and win big -- without LeSean McCoy, and Cincinnati is the most resilient team in the Big East.
Big East

If you don't go for the kill on the road, you become roadkill. Still, three teams remain alive for the conference title.
Big Ten

USC's offensive inconsistency is consistent, while Oregon State appears ready to face the meat of its schedule with the Rose Bowl on the line.
Pac-10

Never has the SEC Championship Game matchup been set this early. Alabama and Florida have taken all the drama out of the final three weeks.
SEC

Non-BCS:
Utah, Boise State and Ball State have dug their heels into the BCS ground and are not going to be easy to move.
Around the nation
Highlights: Cal-USC
Nick Of Time
By Brett Edgerton, ESPN.com
On Saturday, Nick Saban became the fifth person to go as an opposing head coach into the stadium of a team he previously led to a national title. With a 27-21 OT victory at LSU, Saban became the first of the group to win. This week in Gainesville, South Carolina coach Steve Spurrier will give it a second shot at The Swamp.
Visiting coaches vs. schools they won title with
Led to Nat'l Title
Result of Visit
2008 Nick Saban, Ala.
LSU (2003)
won 27-21 (OT)
2006 Steve Spurrier, S. Car.
Florida (1996)
lost 17-16
1985 Howard Schnellenberger, L'ville
Miami (1983)
lost 45-7
1966 Paul Dietzel, S. Car.
LSU (1958)
lost 28-12
1957 Jim Tatum, UNC
Maryland (1953)
lost 21-7
Highlights: Ohio State-Northwestern
Quick Hitters ...
By Brett Edgerton, ESPN.com
With Western Michigan's win over Illinois, Mid-American Conference teams now have four regular-season wins over the Big Ten this year (Ball State over Indiana, Central Michigan over Indiana and Toledo over Michigan are the others). That's the most-ever by the MAC over its Midwestern Big Brother.
• In a victory at Kentucky on Saturday, Georgia sophomore Knowshon Moreno joined the legendary Herschel Walker as the only UGA backs to ever post back-to-back 1,000-yard seasons.
• Oklahoma State WR Dez Bryant has 15 TD receptions on the season. The breakdown? Bryant has 15 at home in Stillwater and zero on the road.
• With a pair of picks Saturday, Rutgers QB Mike Teel moved into third all-time on the Big East list for career interceptions thrown (he now has 46). The top two on the list? Fellow Scarlet Knights, of course. Ryan Hart and Mike McMahon both threw 52.
• Over its past three games, Oklahoma has averaged 47.3 points -- in the first half!