Gators ready to stay focused for stretch run
Gators On Fire
By Mark Schlabach, ESPN.com

Florida coach Urban Meyer checked the messages on his cell phone late Saturday night and was surprised by one in particular.

New England Patriots coach Bill Belichick had called Meyer shortly after the No. 4 Gators blasted No. 25 South Carolina 56-6 on Saturday.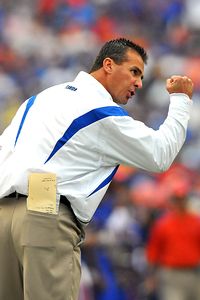 Steve Mitchell/US Presswire

Urban Meyer doesn't think his team will look ahead.
"Just make sure you stay on top of them," Belichick advised Meyer. "They're going to be hearing a lot."
What haven't the Gators heard during their six-game winning streak? That they're playing better than any other team in the country? Even better than No. 1 Alabama, which they'll meet in the Dec. 6 SEC championship game in Atlanta's Georgia Dome?
Florida has dominated SEC opponents like never before, becoming the first team in league history to win six consecutive games by 28 points or more.
Since losing to unranked Ole Miss 31-30 in The Swamp on Sept. 27, the Gators have outscored their past six opponents 299-63. They outscored those opponents -- including then-No. 4 LSU, No. 6 Georgia and No. 25 South Carolina -- by a whopping 101-0 in the first quarter.
"I think it's one of the most impressive stats I've seen," Meyer said. "The momentum our players think about, and our coaches stress to our players, is very important, whether it's a blocked punt or great defense. That's why we ran a reverse on the first play of the game. I always feel like early momentum is worth at least 14 points."
And once the Gators get rolling, they've been nearly impossible to slow down. Florida scored three touchdowns in 135 seconds against South Carolina, which came into the game ranked No. 1 in the SEC in total defense. Seven Florida players produced plays of 20 yards or longer, and the Gators had 519 total yards, including 346 rushing.
The Gators will play FCS opponent The Citadel at home Saturday, and then will play at rival Florida State on Nov. 29.
Meyer said he is confident his team will stay focused until the showdown against the Crimson Tide in three weeks.
"I have a lot of trust in the maturity of our team," Meyer said. "We have a great core group of guys I have a lot of trust in."
Firing On All Cylinders
By Chris Low, ESPN.com
GAINESVILLE, Fla. -- A tearful Tim Tebow promised the Florida fans this back on Sept. 27.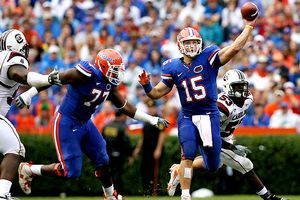 Doug Benc/Getty Images
Since the loss against Ole Miss, Florida has been on fire.
Ole Miss had just come into the Swamp and shocked the Gators, and Tebow and the rest of his teammates were struggling to find answers.
The Gators' Heisman Trophy winner didn't vow that they would win the rest of their games. He didn't guarantee that they would average 49.5 points along the way. He didn't promise that the Gators would put themselves in a position where they control their own destiny as far as getting to the BCS National Championship Game.
But he did promise that fans would see a different Florida football team the rest of the way.
"What I said was something I could control, and that was that we were going to play with a passion, an enthusiasm and love for the game like this university has never seen before," Tebow said. "I knew I could control beyond a shadow of a doubt my effort, our team's effort and the kind of intensity we play with.
"I said what I said to give our fans confidence and our team confidence that we were going to come out and play with the kind of effort and passion that we're playing with right now."
Call Tebow a prophet, because since that disappointing September day, there hasn't been a better or more complete team in college football.
To read the rest of Chris Low's story, click here.
Finding An Identity
By Adam Rittenberg, ESPN.com
CHAMPAIGN, Ill. -- Handshakes had been exchanged, the postgame prayer had been recited at midfield and Ohio State head coach Jim Tressel was ready to get out of the cold.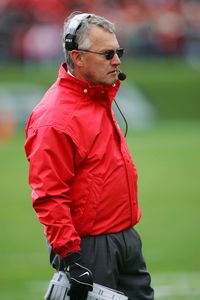 Paul Jasienski/Getty Images
Jim Tressel and the Buckeyes savored their victory at Illinois.
His players had other ideas.
As Tressel began to move toward the locker room, the Buckeyes took off running toward a large contingent of their fans in the southeast corner of Memorial Stadium.
"They've got a flair for the dramatic," a smiling Tressel said, before joining the players.
Tressel doesn't mind this kind of drama: singing Carmen Ohio, slapping hands with supporters, acknowledging signs in the stands. OK, he might not have liked Terrelle Pryor's taunting Illinois fans after Saturday's 30-20 win, but, as Pryor explained, it's all in fun.
If this is as dramatic as it gets for the Buckeyes, they'll be thrilled. They've been through plenty of plot twists this season, and they're hoping the script stays the same the rest of the way.
"Thank God, it feels a little more calm now," wide receiver Brian Hartline said. "Unfortunately, it's the end of the season. It will be talked about -- did we waste time dealing with that kind of stuff? Maybe, but the facts are the facts and this is where we're sitting."
To read the rest of Adam Rittenberg's story, click here.
All Aboard
By Ted Miller, ESPN.com
CORVALLIS, Ore. -- Oregon State is two wins away from "The Event That Shall Not Be Spoken Of."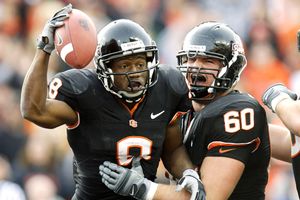 AP Photo/Rick Bowmer
USC might have the national attention, but it's Oregon State that's in the Rose Bowl driver's seat.
So, coach Mike Riley, what about that thing? You know. That THING!
"What thing?" Riley said, not even trying to keep a straight face.
Please, just ignore that massive bouquet of red flowers sitting in the corner. The one Oregon State hasn't held since 1965.
Oregon State's impressive 34-21 victory over California made its Rose Bowl dreams suddenly seem far more attainable.
Since the Beavers beat USC, they had won four consecutive Pac-10 games over the conference's bottom-feeders. Cal, at 6-3, was supposed to be a major test.
If so, the Beavers got an "A" on both sides of the ball.
And it's getting harder to completely ignore that big, red, beautiful flower.
"The thing about having that in the back of our minds is we get hungry for it," quarterback Lyle Moevao said. "We want it so bad and we know what we have to do to get there."
To read the rest of Ted Miller's story, click here.
Bringing Back The D
By Graham Watson, ESPN.com
COLORADO SPRINGS, Colo. -- BYU believes in the old adage that defense wins championships.
But for BYU to win its third consecutive Mountain West championship, the Cougars knew they would need a strong effort against a quality opponent on the road.
Cue Air Force.
The Falcons, just like the Cougars, were looking for a victory to stay in the Mountain West title hunt, and knew that the loser of Saturday's game would be eliminated from the race.
BYU coach Bronco Mendenhall said he challenged his defense to hold Air Force's offense, which came into the game averaging 28.6 points per game, to 24 or fewer points, a challenge only four other teams had conquered.
But BYU held strong and earned a 38-24 win at Falcon Stadium, proving the team that allowed 10.2 points per game through the first six games of the season was still lurking somewhere.
To read the rest of Graham Watson's story, click here.
The Ups And Downs
By Heather Dinich, ESPN.com
COLLEGE PARK, Md. -- Maryland coach Ralph Friedgen considered making his team practice at 5 a.m. the day after the Terps' embarrassing loss at Virginia Tech last week. He thought about giving them what he called "the Wrath of Ralph."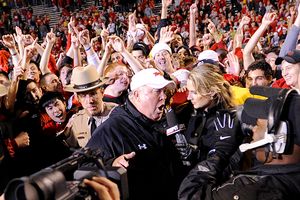 AP Photo/Nick Wass
Ralph Friedgen's Terps have had a roller-coaster season.
"After last week I was upset," Friedgen said, "very upset."
This week, after his team's win over North Carolina, Friedgen got choked up, his eyes welling when he talked about "the affection" he has for this team.
As the Terps' unpredictable roller coaster of a season has gone, so have the emotions of their head coach.
"It's been up-and-down," Friedgen said. "I have such affection for these kids. I'm very, very proud of them. It's like when you see your children don't do well and you want them to do well. Sometimes you don't know whether to scold them or cuddle them. It's kind of that type of deal with these guys."
To read the rest of Heather Dinich's story, click here.
The Bad And The Ugly
By Brian Bennett, ESPN.com
SYRACUSE, N.Y. -- Mark Beckel sat in Carrier Dome section 333, way up in the corner of the end zone, alone among rows of empty bleachers.
A few feet above him hung banners celebrating Syracuse's 1959 national championship team, the great Ernie Davis and eight of the school's members of the College Football Hall of Fame. Beckel saw some pretty great Syracuse players during his undergraduate days at the school: He cheered on guys like Donovan McNabb and Marvin Harrison before earning his degree in 1995. He even attended the team's 1993 Fiesta Bowl win over Colorado.
Beckel, who wore a No. 44 jersey Saturday, only makes it to about one home football game per season from his home in Washington, D.C. Memories and traditions are about all that bring him back these days. It sure isn't the promise of more Orange victories.
"This is painful," the 35-year-old said as he stuck through the closing minutes of a 39-14 loss to Connecticut. "I look down at the student section, which used to be such a great atmosphere, and now it's just sad because none of those kids get to see any good football."
To read the rest of Brian Bennett's story, click here.
Hoops Season At Wazzu
By Brett Edgerton, ESPN.com
Strange times in Pullman.
A Washington State team was involved in a game with a 51-point differential this weekend and it wasn't in a losing effort. That alone should let you know we're not talking about the football team here. No, the men's basketball team at Wazzu beat Mississippi Valley State 76-25 in its season opener Saturday night. It was 15 more points than the football team has combined for in eight Pac-10 games this year.
In those eight games, the Cougars have lost by more than 51 on four occasions ... and by 49 in another. So they know a little bit about blowouts on the Palouse. And shutouts, too. The visitors from Mississippi Valley State found themselves trailing 28-0 before getting on the scoreboard.
In three of its past four losses, the losing scores of the Washington State football team have been 69-0, 58-0 and then 31-0 on Saturday at Arizona State. This coming from a program that, coming into the season, had not been shut out since 1984, the second-longest streak in major college football.
Three Weekend Observations
By Mark Schlabach, ESPN.com

1.
Because of quarterback problems and other personnel losses, LSU is a shell of the team that won the BCS National Championship last season. But give the Tigers credit for coming back from a 31-3 deficit against Troy to earn a 40-31 win at Tiger Stadium. Because of its resolve, LSU avoided the worst loss ever by a defending national champion.

2.
Does any team want to win the ACC? The league had three teams in last week's BCS rankings, and each of them -- No. 16 North Carolina, No. 19 Florida State and No. 24 Wake Forest -- lost on Saturday. Miami, which lost its first two ACC games, is now in the driver's seat in the Coastal Division.

3.
One of the best coaching jobs in the country has gone largely unnoticed. Rutgers lost five of its first six games, but has somehow rebounded to win four games in a row, including a 49-16 rout at South Florida on Saturday. If the Scarlet Knights beat Army and Louisville to finish 7-5, Rutgers coach Greg Schiano will have to get serious consideration for jobs at larger schools.
GameDay Previews Texas Tech-Oklahoma
GameDay Crew Final Thoughts
RECE DAVIS

The term "student-athlete" has always meant something at Vanderbilt -- and we can all respect that. Now, for the first time in 26 years, the term "bowl-eligible" means something at Vanderbilt. How cool is that?
Helmet Stickers Go To:
• QB
Jeremiah Masoli
, Oregon
21-26, 387 total yards, 5 TDs vs. Arizona
• CB D.J. Moore, Vanderbilt
2 rec TDs, 2 Ints vs. Kentucky
---
LOU HOLTZ

If anyone tells you he knows how the ACC is going to turn out, he's lying. What a crazy conference. But the competitive balance sure makes it fun.
Helmet Stickers Go To:
• RB
Shonn Greene
, Iowa
211 rush yards, 2 TDs vs. Purdue
• QB Case Keenum, Houston
402 pass yards, 7 total TDs vs. Tulsa
---
MARK MAY

Right now Florida is playing the best football in America. It's not only that phenomenal offense, but defense and special teams as well.
Helmet Stickers Go To:
• CB Jason McCourty, Rutgers
2 Ints, TD, fumble rec vs. USF
• WR Percy Harvin, Florida
167 rush yards, 2 TDs vs. South Carolina
Blog Network: Helmet Stickers
Every week, our bloggers will hand out helmet stickers to the week's top players, coaches, teams or anything else worth this honor.
• ACC: Miami's defensive line, C.J. Spiller
More ACC Stickers
• Big 12: Joe Ganz, Will Muschamp
More Big 12 Stickers
• Big East: Dustin Grutza, Kenny Britt
More Big East Stickers
• Big Ten: Shonn Greene, Corey Wootton
More Big Ten Stickers
• Pac-10: Jacquizz Rodgers, Stanford's offense
More Pac-10 Stickers
• SEC: Percy Harvin, D.J. Moore
More SEC Stickers
• Non-BCS: Deshawn Richard, James Starks
More Non-BCS Stickers
Highlights: South Carolina-Florida
Blog Network: What We Learned

Mathematically, Maryland has the best shot at winning the Atlantic Division, and Miami controls its destiny in the Coastal.
ACC

Texas has come full circle this season, and Baylor LB Joe Pawelek might be the most underrated player in the conference.
Big 12

Nippert Stadium is about to have its biggest game ever, and Rutgers is going bowling.
Big East

At long last, Ohio State has figured it out, and Shonn Greene is the best running back in the country.
Big Ten

USC's defense showed it, much like USC, can look average at times, and Oregon State is for real.
Pac-10

Nope, this isn't the way anybody envisioned it would go this year in the SEC.
SEC

Non-BCS:
You can't anything for granted, and Notre Dame becomes bowl-eligible.
Around the nation
Highlights: Texas-Kansas
My Little Ponies
By Brett Edgerton, ESPN.com
How long ago was 1982? Well, for one, SMU finished unbeaten and No. 2 in the final AP poll. That should tell you all you need to know about how long it has been since Vandy went bowling. What a mess in Dallas. After showing signs of progress with a 6-6 season in 2006 -- tied for the most wins in the 20 years since the NCAA death penalty -- the Mustangs are 2-21 over the past two seasons. The lone win over an FBS team came on Sept. 8, 2007, against moribund North Texas, which is 3-19 in the same stretch. SMU's only win in 2008 is a 47-36 victory over FCS opponent Texas State.
Highlights: Georgia-Auburn
Quick Hitters ...
By Brett Edgerton, ESPN.com
With a season-high 10 catches Saturday, Clemson WR Aaron Kelly became the ACC's career leader in receptions (217), passing Wake Forest's Desmond Clark.
• Iowa RB Shonn Greene put together another stellar performance (211 yards, 2 TDs) as his team held off Purdue, 22-17. He's the only running back in the country (and has been for awhile now) who has rushed for 100-plus yards in every game. Greene has not only pulled that off for the improved 7-4 Hawkeyes -- who have missed the postseason in each of the past two seasons -- but he also has a TD in all but one game (15 total) and ranks second nationally in rushing (144.1 yards per game).
• With a win at Auburn on Saturday, Georgia coach Mark Richt is now a ridiculous 30-4 in true road games, including 24-4 in the SEC.