After latest inept effort, Weis' time has come
Cut The Cord
By Pat Forde, ESPN.com

LOS ANGELES -- Even in retirement, Joe Montana still can feel the rush and evade it.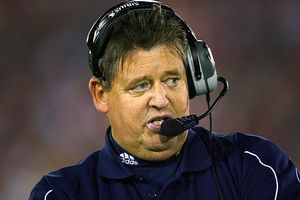 Gary A. Vasquez/US Presswire

Will this be Charlie Weis' last game against USC?
When he saw me coming in the Los Angeles Memorial Coliseum tunnel outside the Notre Dame locker room Saturday night, notepad in hand, Montana politely gave me the Heisman.
"Don't ask me about it," Montana said, holding up his palm before I even asked a question.
There was no need to define "it."
"It" is the job security of Charlie Weis, the Notre Dame football coach who surely ran out of real estate, rope and rational defenses in a humiliating 38-3 loss to relentless USC. What Syracuse began last week in South Bend, the Trojans finished here.
Whatever was left of Weis' worthless offensive genius facade crumbled on a night when the Fighting Irish were held without a first down until the final play of the third quarter. They had four first downs and 91 total yards in an utterly feeble performance that should be Weis' last as head coach.
No amount of pretzel logic should save Weis now, no amount of finger-pointing at the previous regime, no amount of blue-skying about how recruiting rankings could beget future greatness. Unless the Fighting Irish brass refuses to spend what ESPN has reported is an outrageous sum to buy Weis out of his massive, millstone contract, he's done in South Bend.
To read the rest of Pat Forde's story, click here.
Bradford Shows Moxie
By Tim Griffin, ESPN.com
STILLWATER, Okla. -- Sometimes, one play remains ingrained in the psyche of Heisman voters.
Think of Charles Woodson's punt return. Or Anthony Davis' kick return for the old timers. Or Tim Tebow's charge into the end zone with several tacklers attached to him.
Most TD Passes Through Sophomore Year
With four TD passes Saturday, Oklahoma QB Sam Bradford extended his absurd all-time FBS lead in touchdown passes through a sophomore season. After setting an FBS freshman record with 36, he's raised the bar by throwing 46 in his second year -- seven more than Chad Pennington's previous record in a sophomore season. Bradford now has 82 and counting, which is already 27 more than the second-most.
| | |
| --- | --- |
| Sam Bradford, Oklahoma | 82 |
| Rex Grossman, Florida | 55 |
| Timmy Chang, Hawaii | 50 |
Oklahoma quarterback Sam Bradford might have produced one of those memory-grabbing plays Saturday night, one that resonates with voters for several weeks.
Bradford's wild somersault in the third quarter didn't get him into the end zone. But his flip showed his toughness as he landed hard but still jumped up to score on the next play, finishing another scoring drive that helped the Sooners claim a 61-41 victory over Oklahoma State.
"I wish I would have gotten in, but it did get us into position to score," Bradford said with a sheepish smile. "That's all that matters."
Not scoring on the play was one of the few things that didn't end up positively for Bradford, who led the Sooners on eight scoring drives to finish the game. Included in the binge were seven drives that culminated in touchdowns.
At one point, Bradford directed the Sooners to nine straight third-down conversions. The Sooners have scored at least 60 points in four straight games.
"Sam Bradford, the way he played was just out of this world," Oklahoma coach Bob Stoops said. "It's just incredible the way we played with him."
To read the rest of Tim Griffin's story, click here.
Oregon Steals Civil War Spotlight
By Ted Miller, ESPN.com
CORVALLIS, Ore. -- What came out of the Oregon locker room minutes after the Ducks rumbled through Oregon State's Rose Bowl plans was mostly predictable: It was about us, not them.
One way to make the predictable postgame locker room chatter resonate, however, is to actually make it about you and not them. And the Ducks made it all about their super-special selves by putting on an extraordinary offensive show in a 65-38 track meet in which they were a lot faster than their opponent.
They rolled up 694 total yards against the nation's 15th-ranked defense by posting 10 plays of more than 20 yards and eight of more than 35 yards.
"Our offense, obviously, could not be stopped," Oregon coach Mike Bellotti explained.
And that doesn't include defensive touchdowns of 40 and 70 yards.
The Ducks rushed for 385 yards against a defense that previously yielded just 112 yards per game on the ground. The Ducks passed for 309 yards against a defense that previously yielded just 178 yards per game through the air.
And as fancy as the Ducks were, they didn't turn the ball over.
"I don't know how they make these impossible plays," Oregon strong safety Patrick Chung said. "One pass, T-Scott is gone. One block, Jeremiah is gone. It's an explosive offense."
"T-Scott" is receiver Terence Scott, who hauled in a 76-yard touchdown pass that made the score 51-31 early in the fourth quarter.
"Jeremiah" is running back Jeremiah Johnson, whose 83-yard touchdown run overshadowed his 79-yard run that didn't go for a touchdown. Johnson needed just 17 carries to net 219 yards, the biggest individual rushing total in the 112-year history of the Civil War.
To read the rest of Ted Miller's story, click here.
Relishing The Role
By Chris Low, ESPN.com
TUSCALOOSA, Ala. -- Not long after Alabama had put the finishing touches on a 36-0 battering of Auburn on Saturday night, somebody asked Alabama quarterback John Parker Wilson about being the nation's No. 1 team and still being an underdog this coming Saturday in the SEC championship game.
Not that the Vegas line had come out by that time, but it's the assumption college football has made for the past several weeks.
Florida is the team to beat.
"It doesn't matter to us," Wilson said, his smile widening. "It's about the guys in the locker room. It's about our attitude. Underdog or favored, it's not going to affect the outcome of the game at all. The whole season, people have not expected us to do the things that we've done.
"We'll just keep taking it that way, and we've seemed to handle it pretty well."
Nobody on Alabama's team was coming right out and saying it, but you could tell they're reveling in the whole notion that Florida is a cut above.
To read the rest of Chris Low's story, click here.
A Team Effort
By Heather Dinich, ESPN.com
CHESTNUT HILL, Mass. -- Not only isn't this Matt Ryan's team, it's not even Chris Crane's team anymore.
What Boston College doesn't have, though, has never mattered this season, and it didn't matter in Saturday's 28-21 win over Maryland.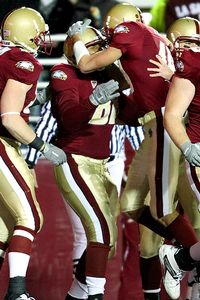 Elsa/Getty Images
Even though there's a Flutie on the team (Billy), there are no stars on Boston College's roster.
Boston College won the Atlantic Division without Ryan, without a veteran running back, and with its backup quarterback. The Eagles did it with one of the nation's stingiest defenses and a group effort on the day it mattered most. For the second straight season, the Eagles will face Virginia Tech in the ACC championship game.
It's the same result, but this year is much different.
There are no Ryan-esque superstars on this Boston College roster, which is why those within the program agreed this year's trip to the ACC title game is even more gratifying than last year's.
It's also why nobody outside the Yawkey Athletic Center expected Boston College to be here.
"That's the best part of it," said coach Jeff Jagodzinski, who is in his second season. "The guys believed they could. That's the whole thing about coaching, getting your guys to believe they can do it. It doesn't matter who's on the field. They're all wearing gold helmets. We had four starters out and it didn't matter. They didn't flinch, they just kept playing.
"When they believe, and the coaches believe, you've got a chance," Jagodzinski said. "Our kids fought. We didn't have to count on anybody this year to help us get into the game. They kept earning themselves into the championship game by winning."
To read the rest of Heather Dinich's story, click here.
From Basement To BCS
By Brian Bennett, ESPN.com
CINCINNATI -- As his team finished its 30-10 win over Syracuse on Saturday, Cincinnati receiver Mardy Gilyard lay on his back on the Nippert Stadium turf. He held an orange in each hand and balanced another fruit on his chest.
"I was just taking everything in and playing the last four years over in my mind," Gilyard said. "We've done been through the struggle together, and now we're here at the peak of everything. We went from being the worst team in the Big East to the best in just three years."
Scenes that unfolded at Saturday's game would have been unfathomable at this place just a few short years ago.
There was Big East senior associate commissioner John Marinatto handing the Bearcats the league trophy, and defensive end Connor Barwin attempting to carry it over his head through a sea of fans on the field. There were Orange Bowl representatives in their blazers signing autographs during the fourth quarter. There was even a message on the scoreboard at one point that declared the Bearcats as "Ohio's only BCS team."
When the Big East added Cincinnati in 2005 after the ACC raid of Miami, Boston College and Virginia Tech, league officials did so mostly based on the Bearcats' proud basketball tradition. The school had never accomplished much in football, played in the conference's smallest stadium and was an afterthought in a city with two pro sports teams.
Now the Bearcats are heading to a BCS game, likely the Orange Bowl, and can finish the regular season 11-2 by beating Hawaii next week.
To read the rest of Brian Bennett's story, click here.
Light Up The Scoreboard
By Brett Edgerton, ESPN.com
Points were aplenty in Saturday night's two biggest games. So much so that no one had ever seen anything like it in the two ancient rivalries at hand: The Bedlam Series (Oklahoma-Oklahoma St) and the Civil War (Oregon-Oregon State).
The 102 points scored in OU's 61-41 victory in Stillwater were the most in the 103-game history of the Sooners-Cowboys rivalry. Those two have been playing since 1904.
The 103 points scored in Oregon's 65-38 victory in Corvallis were the most in the 112-game history of the Ducks-Beavers rivalry. Those two have been playing since 1894, the year Oregon State started playing football. In all the mostly bad years since, the Pac-10's least-successful program had never given up 65 points. So naturally, the Beavers waited for the night when they could clinch their first Rose Bowl trip in 44 years to do so.
By the way, two other rivalry games earlier in the day also turned into shootouts -- and also provided the element of drama at the end. The 40-37 thriller won by Kansas over Missouri was the highest-scoring game in that bitter rivalry since 1991. And the 87 points scored in Georgia Tech's streak-snapping 45-42 win at Georgia -- the Yellow Jackets had been 0-7 against UGA coach Mark Richt -- were the second-most ever in that in-state battle, eclipsed only by Tech's 51-48 overtime win in 1999.
Three Weekend Observations
By Mark Schlabach, ESPN.com

1.
Florida and Alabama are both capable of winning the BCS Championship, which would give SEC schools the past three national titles. But outside of the Crimson Tide and Gators, it wasn't a banner season for the SEC. On Saturday, SEC schools went 1-3 against ACC schools. Georgia Tech beat Georgia. Clemson drilled South Carolina. Vanderbilt lost to Wake Forest.

Croom
2.
Mississippi State coach Sylvester Croom resigned Saturday, leaving only three African-American coaches at BCS schools (Miami's Randy Shannon, Buffalo's Turner Gill and Houston's Kevin Sumlin). Two other African-American coaches were fired this season: Washington's Tyrone Willingham and Kansas State's Ron Prince. Three black coaches among 119 FCS opponents isn't enough.

3.
Auburn's Tommy Tuberville and Notre Dame's Charlie Weis went into Saturday needing to keep games close to save their jobs. Now, both coaches are on the hot seat after their teams lost badly. Auburn lost to rival Alabama 36-0, its worst loss in the Iron Bowl since a 38-0 defeat in 1962. Notre Dame lost to USC 38-3 and didn't pick up a first down until the last play of the third quarter.
Behind The BCS
GameDay Crew Final Thoughts
RECE DAVIS

McCoy
Sam Bradford might be the best pro prospect and Tim Tebow might be the best all-around player, but it's my opinion that Colt McCoy is the most Heisman-worthy candidate this year.
Helmet Stickers Go To:
• WR
James Casey
, Rice
12 rec, 172 yards, 5 total TDs vs. Houston
• TE Jermaine Gresham, Oklahoma
9 rec, 158 yards, 2 TDs vs. OK St.
---
LOU HOLTZ

I only kid, but it's a shame we can't have the Big 12 commissioner step in and make his conference title game an All-South Division affair.
Helmet Stickers Go To:
• WR
Kerry Meier
, Kansas
14 rec, 106 yards, 2 TDs vs. Missouri
• RB Jeremiah Johnson, Oregon
219 rush yards, TD vs. Oregon St.
---
MARK MAY

It's always next year with Notre Dame. Charlie Weis now has a worse win percentage than Bob Davie and Tyrone Willingham. It's time to go.
Helmet Stickers Go To:
• RB
Roddy Jones
, Georgia Tech
214 rush yards, 2 TDs vs. Georgia
• LB Robert Francois, BC
10 tackles, 3 TFLs, Int for TD vs. Maryland
Highlights: Oklahoma-Oklahoma State
Blog Network: What We Learned

Well, the regular season is over and it took all 14 weeks to figure a few things out.
ACC

There's a reason why Texas athletic director DeLoss Dodds' move of hiring Will Muschamp as the Longhorns' head-coach designate was so smart.
Big 12

Only two games in the Big East this weekend, so our education hasn't substantially improved.
Big East

Oregon's offense may have found itself just in time for a Holiday Bowl showdown, and Oregon State wonders what if.
Pac-10

At last, we can all turn our attention to the most anticipated SEC football game since, well ... who knows?
SEC

Non-BCS:
A few years ago, the BCS started rewarding non-BCS teams for undefeated seasons. But now, the BCS is kind of going back on its word.
Around the nation
Highlights: Auburn-Alabama
Quick Hitters
By Brett Edgerton, ESPN.com
How dominant have Oklahoma and Florida been? With a 61-41 win at Oklahoma State, the Sooners have now scored 60-plus in four straight games (and scored 58 in the game before that). In its long and storied history, OU had never pulled that off more than twice in a row. As for the Gators, since their loss to Ole Miss, they've rolled off eight straight wins -- and we do mean rolled. Including Saturday's 48-18 beatdown of Florida State, all eight wins have come by at least 28 points.
• In his final college game, SMU's Jessie Henderson broke the FBS career record for kickoff return yardage. The new mark to beat is 2,931.
Highlights: Kansas-Missouri