Some big-school transitions aren't gaining traction
Conversion Problems
By Mark Schlabach, ESPN.com
Coaching transitions are never easy.
Players are unfamiliar with new faces on the sideline, and coaches are unsure of their new players' strengths and weaknesses.
Ask Arkansas and West Virginia. Or Texas A&M and Michigan.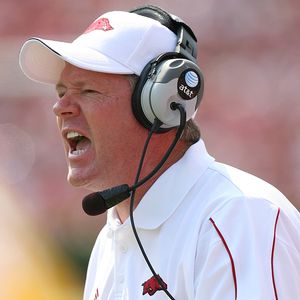 Nelson Chenault-US PRESSWIRE
Bobby Petrino had plenty to yell about after Alabama dismantled the Hogs.
Those four squads are among the most disappointing teams in the country as college football reaches the quarter-point of the 2008 season.
Here's a closer look at those teams and others that have struggled with new coaches:
• Arkansas: Bobby Petrino left the NFL for this? The Razorbacks had to come from behind to beat FCS opponent Western Illinois and Louisiana-Monroe in their first two games, and then were routed 49-14 by Alabama on Saturday.
It's going to get worse at Arkansas before it gets better. The Razorbacks play three straight games against nationally ranked teams: at No. 7 Texas on Saturday, at home against No. 4 Florida on Oct. 4 and at No. 15 Auburn on Oct. 11.
• Florida State: The transition from Bobby Bowden to Jimbo Fisher still isn't complete, but FSU fans have to wonder exactly where their team is headed after Saturday night's 12-3 loss to Wake Forest at Doak Campbell Stadium.
After scoring 115 points in routs of FCS opponents Western Carolina and Chattanooga, FSU's offense looked exactly like it did a year ago -- or worse -- against the Demon Deacons: FSU had seven turnovers, including five interceptions.
• Michigan: The Wolverines had to know it wouldn't be easy in coach Rich Rodriguez's first season. Rodriguez installed a spread offense and didn't have a quarterback to run it.
Three games into the season, the Wolverines are the only Big Ten squad with a losing record. Michigan lost at home to Utah 25-23 in the opener and then had six turnovers in a 35-17 loss at Notre Dame. At least the Wolverines know things will eventually get better, especially if Rodriguez keeps signing skill players like Sam McGuffie.
• Texas A&M: Former Green Bay Packers coach Mike Sherman lost to Arkansas State 18-14 in his Texas A&M debut Aug. 30. Then the Aggies were routed 41-23 by Miami at Kyle Field on Saturday.
Who knew the Aggies would already be missing Dennis Franchione?
Texas A&M has started the season with an 0-2 home record for the first time in 36 years. The Aggies still play No. 10 Texas Tech and No. 2 Oklahoma at Kyle Field; A losing home record seems very possible.
• West Virginia: Bill Stewart led the Mountaineers to a 48-28 rout of Oklahoma in the Fiesta Bowl as the team's interim coach. Stewart is still seeking his first big victory as full-time coach.
The Mountaineers look too one-dimensional on offense, relying on the running of quarterback Pat White and tailback Noel Devine. White hasn't improved his passing, which is something Stewart promised he would do.
All Business
By Adam Rittenberg, ESPN.com
EAST LANSING, Mich. -- To put it bluntly, Saturday's game was boring. It was a 60-minute grind defined by durable defense, field position and trench combat. Sure, it had intensity, but no flash, no pizzazz.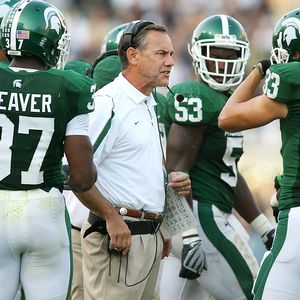 AP Photo/Al Goldis
Mark Dantonio's intense approach has paid off in East Lansing.
Mark Dantonio loved every minute of it. He didn't see a dull game. He saw tremendous intensity, solid fundamentals, power vs. power. He saw the way he wants Michigan State to play.
He saw himself.
As Dantonio often points out, Michigan State is still in the foundation phase after seven mostly underachieving seasons under Bobby Williams and John L. Smith. But teams usually turn a corner when they start to reflect their head coach, and if Saturday's 23-7 win against Notre Dame is any indication, Michigan State seems to be getting there.
"When you come out and play with emotion, play physical, that's because Coach Dantonio's the one getting us fired up," middle linebacker Adam Decker said. "Him and his staff are the ones preaching being physical all week and all camp and all offseason. It's ingrained into us, and when we come out on a big stage like this, it's what we go back to."
To read the rest of Adam Rittenberg's story, click here.
The Road Is Paved
By Chris Low, ESPN.com
KNOXVILLE, Tenn. -- It's premature to say that the hard part is over for No. 4-ranked Florida.
But if you look down the Gators' schedule, they won't leave the state of Florida the rest of the regular season to play a game in which they're not favored.
Here's something else to like about this Florida club if you're handicapping the Eastern Division race: The Gators beat Tennessee 30-6 with very little offense Saturday, but their defense and special teams were in championship form.
"That just gives us a little bit more of an edge," Florida quarterback Tim Tebow said.
The Gators (3-0, 1-0 SEC) may also have an edge in the schedule. They get Ole Miss at home and then travel to Arkansas on Oct. 4 before LSU comes to Gainesville on Oct. 11. Florida then gets a week off before facing Kentucky at home on Oct. 25, which precedes the big showdown with Georgia on Nov. 1 in Jacksonville.
To read the rest of Chris Low's story, click here.
Seminoles Still Left Empty
By Heather Dinich, ESPN.com
TALLAHASSEE, Fla. -- It was supposed to be a statement game, a convincing win that proved Florida State deserved its Top 25 ranking, and that the first two drubbings of I-AA schools were a sign of change, not just easy wins. All week leading up to this game the Seminoles oozed confidence, and talked about their desire to prove Florida State was indeed "back."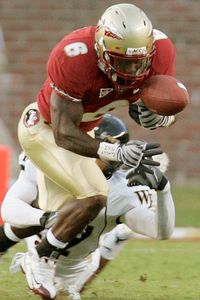 AP Photo/Phil Coale
Florida State had all kinds of problems getting its offense in synch.
After an unimpressive, undisciplined 12-3 loss to Wake Forest, though, the Seminoles still have much to prove. Florida State's youth and inexperience were exposed, and a turnaround in Tallahassee is going to take a little longer than expected.
"We're not where I hoped we were because it's very evident," Florida State coach Bobby Bowden said. "We self-destructed. We wouldn't give ourselves a chance to win it, we wouldn't ever give ourselves a chance."
Florida State defensive coordinator Mickey Andrews was about the only person who could quantify just how far away the Seminoles are from reverting to the proud, tradition-laden program of the past.
"Let's see," he said. "What was it, 12-3? About 10 points."
"It's up to us to get there," Andrews said. "Nobody's going to give it to us."
Certainly not the Wake Forest defense.
To read the rest of Heather Dinich's story, click here.
Don't Look Now, But ...
By Graham Watson, ESPN.com
EUGENE, Ore. -- If Boise State wanted to be mentioned in the same breath as the program-defining 2006 team, the Broncos took steps in that direction with Saturday's 37-32 win over No. 17 Oregon.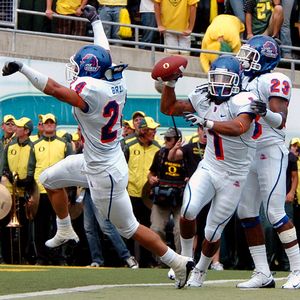 AP Photo/Greg Wahl-Stephens
Boise State is thinking about 2006 after beating Oregon on the road Saturday.
It was the Broncos' first win over a BCS opponent in a true road game and the biggest win for the program since capping that 2006 season with an overtime win over Oklahoma in the Fiesta Bowl. It's the biggest regular-season win since the Broncos defeated a ranked and undefeated Fresno State team in 2001, the first year the Broncos joined the WAC.
"This is big," Boise State coach Chris Petersen said. "I know Oregon had some quarterback issues and stuff that helped us, but even with that you can see how explosive they are. So it was great for our guys to be able to hang on and get this done."
In 2006, Boise State went undefeated and had a dramatic come-from-behind win against Oklahoma. It had some thinking that the Broncos should have gotten a shot at the national championship. Although the Broncos are a long way from the end of the season, they are the only undefeated team remaining in the WAC and one of only six undefeated teams remaining in the non-BCS.
To read the rest of Graham Watson's story, click here.
The Details Of The Devils
By Ted Miller, ESPN.com
TEMPE, Ariz. -- It's fair to draw two conclusions from Arizona State's 2-2 start.
First, the Sun Devils are not an elite team.
Second, they might be good enough to compete at the top of the Pac-10 because they might not need to be elite to finish in the top third of the conference.
"I told the team in the locker room: We've got eight games left in the conference," coach Dennis Erickson said.
And the Sun Devils are 1-0 in the Pac-10, where only one team, No. 1 USC, will probably be ranked this week.
So all is not lost after a 27-10 defeat to No. 3 Georgia.
To read the rest of Ted Miller's story, click here.
Thinking Man's Game
By Brett Edgerton, ESPN.com
Northwestern and Vanderbilt are two excellent academic institutions not exactly known for their prowess on the football field. The Wildcats haven't won a bowl game since 1949 and the Commodores haven't even been to one since 1982. The two hapless programs have met only twice, with one game ending in a tie and the other ending with a 3-0 score. Yep, that sounds about right.
Vandy 4-0 since WWII
| | | |
| --- | --- | --- |
| Year | Started | Rest Of Season |
| 2008 | 4-0 | ? |
| 2005 | 4-0 | 1-6 (no bowl) |
| 1984 | 4-0 | 1-6 (no bowl) |
| 1950 | 4-0 | 3-4 (no bowl) |
But how about both teams being 4-0? Does that sound right? Of course it doesn't. Unless you're collecting social security checks, you probably don't remember the last time it happened. Well, the year was 1950: Harry Truman was president, John McCain was 14 years old and Barack Obama was still 11 years away from his first breath. Thanks to Northwestern's win over Ohio and Vandy's victory at Ole Miss, those days are here again.
While Jay Cutler led Vandy to a 4-0 start just three seasons ago, before this year, Northwestern hadn't won its first four since 1962. But it's probably the Dores who should be worried about how to handle prosperity. That 1950 team ended the season losing four of its last seven. From that year until this one, Vandy started 4-0 just two other times: 1984 and 2005. In both instances, the Commodores finished the season on a 1-6 slide that cost them a bowl bid. The '84 team -- the school's last Top 25 squad until this week -- began the collapse with a loss to a bad Tulane team. The '05 team began it with a loss to a bad Middle Tennessee team.
Three Weekend Observations
By Mark Schlabach, ESPN.com

Pryor
1.
It used to be that coaches would stick with a senior quarterback no matter what. Not anymore. Virginia Tech ditched
Sean Glennon
for
Tyrod Taylor
, and the sophomore has delivered back-to-back victories over Georgia Tech and North Carolina. Ohio State seems to be blaming quarterback
Todd Boeckman
for last week's ugly 35-3 loss at USC. Buckeyes freshman phenom
Terrelle Pryor
took nearly all the snaps against Troy on Saturday and figures to do so the rest of the season.

2.
Central Michigan's Butch Jones and Toledo's Tom Amstutz on Saturday did what MAC coaches are supposed to do: Playing superior opponents, both MAC teams were in position for upsets and their coaches played to win, rather than lose. The Chippewas converted a two-point conversion pass to pull ahead of Purdue 25-24 with 1:18 to go. Boilermakers tailback
Kory Sheets
ran for a 46-yard touchdown only 18 seconds later. Sensing his Rockets were out of fuel, Amstutz went for two points and failed in a 55-54 loss to Fresno State in double overtime.

Green
3.
Alabama's
Julio Jones
and Georgia's
A.J. Green
are as good as any freshman receivers who have played in the SEC in two decades. Green caught eight passes for 159 yards with one touchdown in a 27-10 win at Arizona State. Jones caught a 25-yard touchdown pass in a 49-14 win at Arkansas. Each gives their team a much-needed deep threat.
GameDay Crew Recap
GameDay Crew Final Thoughts
RECE DAVIS

It's way too early to begin talking about it and it probably won't play out this way, but here's something intriguing to think about: If USC and Oklahoma plow through their schedules unbeaten, are pollsters ever going to move them from their current 1-2 slots? And if not, does that mean a 13-0 team from the acknowledged best conference in the country will be left out of the title game?
Helmet Stickers Go To:
• QB
Kellen Moore
, Boise State
24-36, 386 yards, 3 TDs vs. Oregon
• FS Ryan Hamilton, Vanderbilt
3 Int, TD, fumble rec, TD-saving tackle vs. Mississippi
---
LOU HOLTZ

I think Florida has the playmakers, but on offense I'm not real impressed by them because they don't establish anything. Defense and special teams are very good and with Urban Meyer they always have a chance. But I wouldn't look at them and say, "Boy, that's really a team I'd be scared to play."
Helmet Stickers Go To:
• QB
David Johnson
, Tulsa
24-39, 469 yards, 6 TDs vs. New Mexico
• DE Vince Browne, Northwestern
3 sacks, forced fumble, blocked FG vs. Ohio
---
MARK MAY

Lee
I thought going into this game
Andrew Hatch
should be the LSU quarterback, but give all the credit in the world to
Jarrett Lee
. After looking awful in the first half, he took total control of that LSU offense and made plays when he had to. He took the hits and still put on a show.
Helmet Stickers Go To:
• KR
Brandon James
, Florida
52-yard KO return, 78-yard punt return TD vs. Tennessee
• QB
Jarrett Lee
, LSU
11-17, 182 yards, 2 TDs in 2nd half vs. Auburn
Blog Network: Helmet Stickers
Every week our bloggers will hand out helmet stickers to the week's top players, coaches, teams or anything else worth this honor.
Highlights: LSU-Auburn
Blog Network: What We Learned

After a rough few weeks to start the season, the ACC put it together in Week 4.
ACC

The only team that can stop Missouri is Missouri, and Texas is developing some defensive confidence.
Big 12

Rutgers is in full meltdown mode, but Cincinnati looks just fine with Tony Pike.
Big East

The Big Ten had more image-shaping games in Week 3, but Saturday revealed plenty about the league.
Big Ten

It was another painful week for the Pac-10. On the bright side, the battle for No. 2 is wide open.
Pac-10

Florida is not a two-man show, and Alabama is stout up front.
SEC

Non-BCS:
BYU is
the
team while Boise State showed it always needs Moore.
Around the nation
Highlights: Georgia-Arizona State
Party Like It's 1985
By Brett Edgerton, ESPN.com
It's beginning to look a lot like 1985 again in Provo, Utah. Not only is BYU re-establishing itself as a national player (the Cougs were the defending national champs in '85), but even the scores are starting to look alike. Since that controversial celebration call on Washington QB Jake Locker in BYU's 28-27 win in Seattle, Bronco Mendenhall's bunch has scored 103 unanswered points! The two victories -- a 59-0 win over UCLA and Saturday's 44-0 win over Wyoming -- are the first consecutive shutouts pitched by BYU since 1985. In those two games 23 years ago, the Cougs beat Wyoming 59-0 and Utah State 44-0.
Highlights: Florida-Tennessee
Fun With Standings
By Brett Edgerton, ESPN.com
Of the 27 remaining unbeatens, nearly half (13) are from the Big 12 (seven) and SEC (six). ... Rutgers and Washington are the only two winless teams left from the BCS conferences. ... Michigan is the only team with a losing record in the Big Ten. Same for Texas A&M in the Big 12. ... Four of the six teams in the SEC East have a perfect record. The two that do not are coached by Steve Spurrier and Phillip Fulmer, the two coaches who combined to represent the East in each of the first 10 SEC championship games. ... At 1-0, Utah State -- a team that's gone 4-24 since 2006 -- is alone atop the WAC standings. ... A whopping 17 bowl teams from last season will enter Week 5 with a losing record. ... The Mountain West has a national-best 7-3 nonconference record against BCS conference teams (5-0 against the Pac-10). The SEC, at 5-3, is the only other league in the country that can even claim a winning record in such games.