Just another wild Saturday in college football
Step Right Up …
By Ivan Maisel, ESPN.com
It's one of those Sundays when you feel as if you spent all of Saturday watching a foreign film without subtitles. You think you figured out what happened, but you're not sure you understood all of it.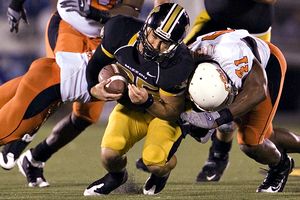 Jonathan Brownfield/US Presswire
Chase Daniel and Missouri could not stay unbeaten and fell to Oklahoma State.
Anyone who needs order is granted permission to look forward to college basketball season. The 2005 season, when USC and Texas began and ended the regular season ranked first and second, is a long-ago memory.
But if it makes you feel any better, Texas is back. Hang on to that palliative while we recap the rest of the carnival ride of a college football Saturday.
Three of the top four teams lost and gave up an average of more than 41 points per game while losing. Oklahoma began Saturday No. 1. The Sooners ended it tied for fourth in the Big 12 South with Baylor.
Missouri quarterback Chase Daniel threw three interceptions in the second half of the second-ranked Tigers' 28-23 home loss to Oklahoma State. Daniel had thrown only one in Missouri's previous five games this season.
Northwestern and Vanderbilt are no longer unbeaten. That doesn't necessarily surprise anyone, but it's not a sentence you get to write very often.
Michigan lost to Toledo 13-10. Repeat the last sentence of the previous paragraph. The Wolverines, at 2-4, have three games against ranked teams remaining on their schedule: against Penn State, Michigan State and Ohio State. Michigan will have to defeat one of them to extend the sport's longest bowl streak of 33 seasons that began during the Ford administration.
Penn State and USC are the only teams in the top 10 that won by dominant margins. The Trojans defeated Arizona State 28-0. The Nittany Lions played their best game of the season at Wisconsin, winning 48-7.
But Penn State and USC are the exceptions. On this kind of Saturday, it made more sense not to play. Alabama, by remaining idle, stands as the last unbeaten team in the SEC.
California, by remaining idle, took over sole possession of the Pacific-10 Conference lead after Arizona lost 24-23 to a Stanford team that was playing a third-string quarterback.
Georgia Tech, by remaining idle … oh, wait a minute. Turns out the Yellow Jackets actually played a game Saturday. But it was hard to tell whether they knew about it. Georgia Tech's Derrick Morgan tipped a 43-yard field-goal attempt on the final play of the game to preserve a 10-7 victory over FCS squad Gardner-Webb. A week earlier, Gardner-Webb lost by the same margin to Charleston Southern.
If you can make sense of that, please share.
What Lies Ahead
By Tim Griffin, ESPN.com
DALLAS -- Texas will have little time to celebrate after toppling No. 1 Oklahoma.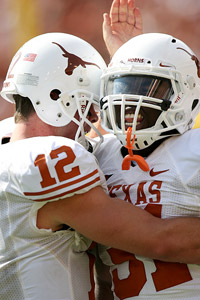 Nelson Chenault/US Presswire
Colt McCoy and Texas see a tough road ahead.
Texas will have to do it again -- and again -- and again. The Longhorns will face No. 3 Missouri next week, then Texas Tech and Kansas. All are ranked in the top 16 this week.
There are gauntlets. And then, there is Texas' schedule.
"We have the most ridiculous schedule ever," Texas quarterback Colt McCoy said. "We play good football teams week in and week out. We can't slip up. We want to face what we're doing and love the challenge of what's in front of us."
It started Saturday with the upset of the top-ranked Sooners, a significant win because it was the first true upset victory for Texas in the teams' rivalry since 1992.
But the Longhorns exhibited many of the ingredients that constitute championship teams. They employed a steady defense that improved as the game progressed even though it yielded 35 points. And the Horns' running game made the Sooners wilt as the game continued.
"Not many people expected us to be able to do what we did today," McCoy said. "But we played smart football, we didn't turn the ball over and we made plays when we needed them. It was a great team win."
The game against Missouri next week in Austin could have all of the elements of a potential No. 1 vs. No. 2 battle. Missouri quarterback Chase Daniel will return to his home state. The Tigers haven't won in Austin since 1896 and will be itching for another statement victory to prove themselves as legitimate BCS title contenders.
To read the rest of Tim Griffin's story, click here.
Badgers Bottom Out
By Adam Rittenberg, ESPN.com
MADISON, Wis. -- DeAndre Levy stood in the darkness outside the McClain Center on Saturday night, trying to make sense of a three-week nightmare.
Wisconsin was the first team ever to open Big Ten play with games against traditional powers Michigan, Ohio State and Penn State. The Badgers entered the stretch with a top-10 national ranking, an extra week of rest and confidence on both sides of the ball.
They left it with their BCS title hopes dashed, their Big Ten title hopes effectively dashed and their dominance at Camp Randall Stadium a distant memory. Each loss brought its own breed of disappointment.
An inexcusable second-half collapse at Michigan, which fell to Toledo on Saturday.
A hard-fought heartbreaker against Ohio State, which snapped Wisconsin's 16-game home win streak.
Then came Saturday night's disaster, a thorough beating at the hands of a national title contender that cleared out Camp Randall Stadium halfway through the fourth quarter. The 48-7 pounding marked Wisconsin's worst loss since 1989. The Badgers fell to 0-3 in Big Ten play.
To read the rest of Adam Rittenberg's story, click here.
Gator Chomp
By Chris Low, ESPN.com
GAINESVILLE, Fla. -- Brandon Spikes, Florida's All-SEC middle linebacker and emotional leader, put LSU out of its misery on the first play of the fourth quarter Saturday night.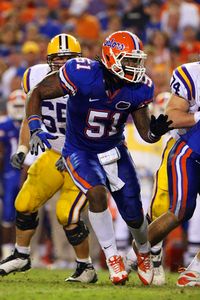 Icon SMI
Brandon Spikes and the Florida defense caused all kinds of problems for LSU on Saturday.
Spikes intercepted a Jarrett Lee pass and returned it for a 52-yard touchdown, giving the Gators a 41-14 lead and turning the Swamp into one deafening party. For good measure, a pumped-up Spikes punted the ball into the stands, drawing a 15-yard unsportsmanlike conduct penalty. In reality, though, the Florida defense had punted LSU's offense into oblivion long before that.
"That might have been one of the best defensive performances in recent history," said Florida coach Urban Meyer, who saw his Gators slam the door shut on LSU's running game and force the Tigers to throw the ball 41 times.
LSU tailback Charles Scott, who'd run for more than 100 yards in each of the Tigers' first four games, was held to 35 yards on 12 carries. At the end of the first quarter, the Tigers trailed 17-0 and had 4 total yards to their name.
"When guys hit their gap, there's nowhere to run," said Spikes, who had two interceptions.
"Guys were running to the ball, and people were able to make plays."
The Florida defenders said Spikes had set the tone all week. He didn't play as well as he wanted to the week before against Arkansas and called a meeting for defensive players Monday. His message to his teammates: He wouldn't play like that again, and they would see the real Brandon Spikes all week in practice and against LSU in the game.
To read the rest of Chris Low's story, click here.
Heels' Big Step
By Graham Watson, ESPN.com
CHAPEL HILL, N.C. -- The first step was a Top 25 ranking, the second was validation. Less than a week after North Carolina appeared at No. 22 in the Associated Press rankings, the Tar Heels took that second step Saturday with a dramatic 29-24 come-from-behind win over Notre Dame.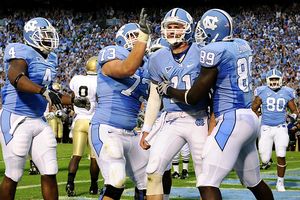 Bob Donnan/US Presswire
A win over Notre Dame certainly helps validate Butch Davis' rebuilding job at UNC.
It didn't matter that it wasn't one of the storied Notre Dame teams. It didn't matter that this was the first time the two schools had met when the Tar Heels were ranked and the Irish were not. What mattered was that North Carolina validated its ranking with a win over a big-name foe and gave further credibility to the program that coach Butch Davis is building.
"We are excited and thrilled to have won this game," Davis said afterward. "I don't know if I have ever been involved in as bizarre a football game as what transpired tonight.
"It was two teams that fought hard, and you've got to give Notre Dame an awful lot of credit. I know they hate coming out on the short end. It's two programs scratching and fighting and trying to find a way to re-establish themselves as football programs."
This game was a chance for both teams to make their marks on the national scene. But for a North Carolina team that many thought would be a force in the ACC this year, this win likely will open some eyes and give the Tar Heels some of the credit for which they were looking.
To read the rest of Graham Watson's story, click here.
Not So Elite Company
By Brett Edgerton, ESPN.com
During the past seven seasons, 63 of the 65 BCS conference teams have beaten a team ranked higher than 20th in the AP poll. Indiana and Syracuse have done it. Iowa State and Washington State have done it. Stanford, Vanderbilt and even Baylor have done it. Just two teams have not.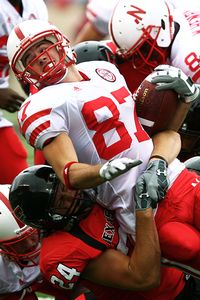 Karl Anderson/Icon SMI
You know Nebraska is no longer what it used to be when it's mentioned with Duke.
One of them is the Duke Blue Devils, and that should come as no surprise to anyone who has followed college football at any point in the past 70 years. But the other? Oh, the other is a whole different story altogether. That second team is the mighty Nebraska Cornhuskers, a program that is steeped in tradition and ruled most of the 1990s with an iron fist. Unless you're a faithful reader of the Omaha World-Herald, it's unlikely you guessed that one.
But it's true. Since beating old rival Oklahoma in a No. 2 vs. No. 3 showdown in October 2001, Nebraska's highest-ranked victim has been No. 20 Michigan in the 2005 Alamo Bowl. So, starting with a 62-36 wipeout at the hands of Colorado on Thanksgiving weekend seven years ago, the Huskers are 0-19 against the top 19. Let that one sink in for a second: Nebraska and Duke are the only two major conference teams that can't beat a team ranked higher than 20th.
Some (Oregon and Colorado fans come to mind) might argue that karma is coming back to get the Huskers after they sneaked into the 2001 national title game even though they didn't reach the Big 12 title game. Whatever the case may be, the streak -- one that spans the tenures of three different head coaches -- is no fluke. Saturday's close loss at Texas Tech was more the exception than the rule. In those 19 losses, the average score has been 37-19.
Three Weekend Observations
By Ivan Maisel, ESPN.com

Groh
1.
Virginia coach Al Groh might be the first coach ever to win the comeback coach of the year award after going 9-4 the previous season. The Cavaliers, after losing three of their first four games by at least 28 points, have won their past two games by margins of 31 and 15 points. The alumni who were calling for the head of Groh, their fellow alum, have been shouted down.

2.
In the other game in Dallas on Saturday, Tulsa came back in the fourth quarter to survive against one-win SMU 37-31. The Golden Hurricane are the only unbeaten team in Conference USA, but they're the only team in the league that has a winning record. Five teams are 3-3, including East Carolina. The Pirates were America's darling after beginning the season with victories over Virginia Tech and West Virginia, but they appear to have fattened up on all those compliments.

Hoyer
3.
Javon Ringer
averaged nearly 5 yards per carry and more than 37 carries per game in Michigan State's first five games. In the past two weeks, however, Ringer has averaged 3.5 yards per carry on only 30 carries per game. The Spartans beat Iowa and Northwestern because senior QB
Brian Hoyer
has begun to take advantage of defenses' keying on Ringer. That's how offense is supposed to work, but it took half a season for Hoyer's light to come on.
GameDay Recaps Texas-OU
GameDay Crew Final Thoughts
RECE DAVIS
For the second time in three weeks, three of the top five teams went down. If anybody tells you he knows what will happen next in college football, he's crazy.
Helmet Stickers Go To:
• QB
Alex Loukas
, Stanford
Led game-winning drive versus Arizona
• QB
Tim Tebow
, Florida
14 completions on 21 attempts, 210 yards, 3 total TDs versus LSU
---
LOU HOLTZ

I don't think you can give the Texas offensive line enough credit. To win a game like that, you have to have balance, and that O-line was the key Saturday. Hats off to the Longhorns.
Helmet Stickers Go To:
• WR
Nick Moore
, Toledo
20 catches, 162 yards versus Michigan
• LB Andre Sexton, Oklahoma State
13 tackles, interception versus Missouri
---
MARK MAY

I look at the level of competition Penn State has played, and the bottom line is that I still have to see more out of this team before I put it with the top echelon. I want to see it play a great team.
Helmet Stickers Go To:
• DE William VanDeSteeg, Minnesota
3 sacks, forced fumble, key pass breakup versus Illinois
• WR
Jordan Shipley
, Texas
11 receptions, 112 yards, 96-yard KO return TD versus Oklahoma
Blog Network: Helmet Stickers
Every week, our bloggers will hand out helmet stickers to the week's top players, coaches, teams or anything else worth this honor.
Highlights: Texas-Oklahoma
Blog Network: What We Learned

The ACC is definitely defensive, and Virginia is to be taken seriously.
ACC

The success of this season's Texas team might be the ultimate vindication of Mack Brown's coaching acumen.
Big 12

With only three games this weekend, our Big East body of knowledge increased just slightly.
Big East

Week 7 had a bit of everything: surprise, shock, disappointment and domination.
Big Ten

Arizona still isn't ready for prime time, and Oregon needs more from its passing game to contend.
Pac-10

And then there was one. That's right. We're through seven weeks, and only Alabama remains unbeaten in the SEC.
SEC

Non-BCS:
It's hard to believe, but FIU could be a legit threat this season.
Around the nation
Highlights: LSU-Florida
Back To Old Ways?
By Brett Edgerton, ESPN.com
Remember when Rutgers was on the rise and all things seemed possible? Remember when the Scarlet Knights beat third-ranked Louisville in a Thursday night thriller two years ago and rose to No. 7 in the poll at 9-0? At the time, it was called a program-changing victory -- even the Empire State Building was lit up in red that evening. But we have a sneaky feeling that wasn't the kind of change RU fans were hoping for their program. Rutgers actually has a losing record (11-12) since that dramatic win, and it's only getting worse. The Knights are just 1-5 this year and are still searching for that elusive first win against the Football Bowl Subdivision teams. Overall, they're just 6-10 in their past 16 games.
Highlights: Oklahoma State-Missouri
Fun With Standings
By Brett Edgerton, ESPN.com
Ten unbeatens are left -- five from the BCS conferences (Alabama, Oklahoma State, Penn State, Texas and Texas Tech) and five from the non-BCS conferences (Ball State, Boise State, BYU, Tulsa and Utah). … Nebraska is 0-2 in conference play for the first time since dropping its first two Big 8 games in 1968. … Kansas State is somehow 4-2, even though winless North Texas is the only FBS team that hasn't scored at least 30 points against the Wildcats this season. … The top four teams in the Big 12 South are a combined 23-1, with the only loss coming in the Texas-OU Big 12 South battle. … After losing 48-7 to Penn State -- its worst loss since the dark days of 1989 -- Wisconsin finds itself 0-3 in the Big Ten. That same team was in the top 10 just three weeks ago.