Don't let the headlines distract: BYU and Boise State deserve credit
Give Them Their Due
By Pat Forde, ESPN.com
LeGarrette Blount's right fist. Sam Bradford's right shoulder. The calamities caused by those two body parts conspired to overshadow the two biggest victories of college football's opening week.
Because Oregon running back Blount blew up in Boise and Oklahoma quarterback Bradford broke down in Dallas, Boise State and Brigham Young didn't get full credit for knocking off high-profile teams from big-six conferences.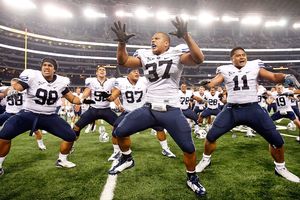 Ronald Martinez/Getty Images
BYU got a chance to show off its victory dance after beating Oklahoma.
Today it's time to rectify that -- and to surmise how high the victors might fly.
It's time to salute the defenses of two programs better known for lighting up scoreboards.
Boise totally dominated Oregon's spread offense, holding it without a first down until the third quarter. BYU flustered Oklahoma into a blizzard of penalties and jarred loose two fumbles from a team that lost only one all of last season.
A Ducks team that averaged 42 points and 485 yards per game last year produced just eight points and 152 yards on the Broncos. A Sooners team that averaged 51 points and 548 yards per game last year managed just 13 points and 265 yards on the Cougars. Might be time to revise the old stereotype about teams from the Rocky Mountains not playing any defense.
Those victories open a vast array of possibilities for two teams trying to fight their way into college football's most exclusive party.
The BCS has room for 10 teams in its bowls. Six of those spots are guaranteed to the winners of the SEC, Big 12, Pac-10, Big Ten, ACC and Big East. Boise and BYU now find themselves in the thick of contention for the remaining four spots.
Throw in a possible BCS bid for Notre Dame and the power conferences could find even more competition for the elite bowl bids.
The Broncos seem assured of being a season-long presence in the BCS debate. Their schedule features a few moderately intriguing road games -- at Fresno State on Sept. 18, at Bowling Green on Sept. 26, at Tulsa on Oct. 14 -- but Boise could be a strong favorite in all its remaining games. So be prepared for a lot of howling about whether the Broncos have beaten anybody on their way to a gaudy record.
Truth is, Boise's best hope is that Oregon regroups and has a respectable season (even without Blount, the 1,000-yard rusher suspended for the year by the school). That would strengthen the Broncos' argument more than beating up on the Western Athletic Conference and an otherwise uninspiring bunch of nonleague opponents.
BYU has fewer strength-of-schedule concerns. In addition to beating a top-five opponent in a de facto road game, the Cougars get a chance to play Florida State in Provo on Sept. 19 and should have quality Mountain West Conference competition from TCU (in Provo on Oct. 24) and Utah (in Provo on Nov. 28).
Run that table and BYU will get a BCS bid, count on it. Even with one loss, the Cougars could have a stronger résumé than Boise.
But the exercise today is not to choose between the two schools that scored the biggest victories of opening week. It's to give both their due, after being overshadowed by misfortune.
Everyone Is A Winner
By Ivan Maisel, ESPN.com
SEATTLE -- No. 11 LSU beat Washington 31-23 in a football game that morphed into a kids' soccer tournament, the kind where everyone gets a trophy.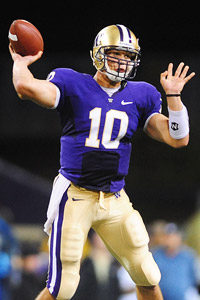 Mark J. Rebilas/US Presswire
Washington QB Jake Locker had 372 yards of total offense on Saturday against LSU.
The Tigers proved that they will have something to say about the SEC West race. And a new coach and a renewed quarterback have infused the Huskies with new life. The Hurt Locker is no longer showing at Husky Stadium.
Junior quarterback Jake Locker threw for 321 yards and two touchdowns, and Washington looked nothing at all like a program losing its 15th consecutive game.
Mighty LSU didn't take a lead of more than 11 points until the 59th minute. The Huskies, unwilling to go easily, responded with a touchdown as time expired, Locker throwing a 9-yard pass to tight end Kavario Middleton.
"I think the initial goal, as I said earlier in the week, was that when this game is done, that other football team respected us," coach Steve Sarkisian said. "I think they respected the Washington Husky football team."
Locker broke his thumb in the fourth game of last season, and his absence sent the Huskies' season into a death spiral. With the help of 14 pins, three screws and a plate, Locker got a rebuilt thumb. With the help of Sarkisian, his career is being rebuilt, too.
"It was great to be back out there," Locker said. "It's a sport that I love playing. I've loved it ever since the first time I played it. … Some people describe it as being kind of like a high. You're in a different world when you're out there, and it's great."
Imagine how he'll feel when Washington wins.
What Greg Paulus and Syracuse performed on Saturday, 2,750 miles to the east, Locker and Washington reprised. A traditional power trying to escape the worst stretch of football in its history lost again, but not before providing its fans with hope.
Sinking To New Lows
By Heather Dinich, ESPN.com
WINSTON-SALEM, N.C. -- Last year was a bad start for the ACC, but somehow, this weekend seemed even worse.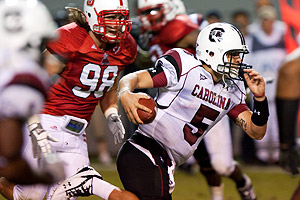 Tim Steadman/Icon SMI
It wasn't pretty, but South Carolina was able to keep NC State at bay.
Duke lost to Richmond, not Northwestern, and Virginia lost to William & Mary, not USC. And that's just for starters.
Every opportunity the conference had to boost its image on the national stage -- against the Pac-10, against the Big 12 and against the SEC -- the ACC lost. Instead of taking a step forward, as many expected, it seemed like the ACC took six steps back -- one for each loss.
The saving grace was that Virginia Tech's loss to Alabama was nowhere near as embarrassing as Clemson's loss to the Crimson Tide a year ago. The Hokies put up a respectable performance in an entertaining, seesaw game, but when the ACC is measured against the SEC, there won't be any gauge for the Hokies' effort, only the final score.
While it's only the first week of a long season, it's still an early indication that the ACC isn't ready to make a move in the BCS pecking order. Not when Wake Forest turned the ball over four times against Baylor, or when NC State has mustered just three points in eight quarters against South Carolina, a middle-of-the-pack SEC team. And not when Virginia Tech failed to come up with a win when the ACC needed it most.
The ACC was facing much higher expectations this season, with the majority of quarterbacks returning and loaded backfields finally able to complement traditionally stout defenses. But two of the best quarterbacks the ACC has to offer -- NC State's Russell Wilson and Wake's Riley Skinner -- couldn't orchestrate enough offense to make a difference. Wilson, the ACC's reigning rookie of the year, looked pedestrian with just 74 yards on 12-of-23 passing.
It's not over yet -- Florida State will host Miami on Monday night for the early lead in the conference race. But considering how poorly the ACC played in Week 1, odds are it's a race fewer people will be watching.
SEC-Style Pounding
By Tim Griffin, ESPN.com
STILLWATER, Okla. -- When he went back home to Florida the past few months, Oklahoma State safety Lucien Antoine heard a lot of doubters about Big 12 football.
It was understandable. After all, the Big 12 had the reputation for big passing games and pillow-soft defenses.
And considering the way the Southeastern Conference had statement victories in bowl games, few would have thought the Cowboys or any team from their conference could have matched their rival's defensive intensity.
"People were telling me they think the SEC has all the good teams," Antoine said. "We get tired of people saying their conference is better than [ours] just because people think they are more aggressive."
The Cowboys lived up to Antoine's claims with a punishing defensive performance, beating the Georgia Bulldogs in an impressive 24-10 statement victory.
In a sense, they went out and beat the Bulldogs at their own game.
"The game was played very much like what you see in the SEC," Oklahoma State coach Mike Gundy said. "I don't think anybody would have predicted that."
To read the rest of Tim Griffin's story, click here.
Barkley's Rep Grows
By Ted Miller, ESPN.com
LOS ANGELES -- Matt Barkley stood near midfield, surrounded by television cameras and tape recorders and breathless questions, a toothy, matinee-idol grin stretched across his face. He seemed completely comfortable, devoid of the nervousness one would expect from an 18-year-old making his "hello world" moment on the big stage that is annually reserved for the USC quarterback.
Over the next hour or so he would be asked about 47 times if he had been nervous before his first start. Each time he patiently said no.
"This was what I was made to do," Barkley explained, sounding more humble than pompous, if that can be believed.
He then slowly walked -- floated really -- toward the tunnel at the Coliseum, a scrum of backpedaling photographers clicking away in front of him.
"Matt Barkley!" the Trojans fans bellowed at him without accompanying words or phrases -- the name was enough -- as the next Big Thing ambled into the tunnel and onto the college football landscape.
To read the rest of Ted Miller's story, click here.

Three Weekend Observations
By Mark Schlabach, ESPN.com

Clausen
1.
It's too early to pencil Notre Dame into the BCS Championship Game, but it was hard not to be impressed by the Fighting Irish's 35-0 rout of Nevada. Quarterback
Jimmy Clausen
was terrific, and
Michael Floyd
is a legitimate superstar. Even more impressive was the job Jon Tenuta's defense did against Wolf Pack quarterback
Colin Kaepernick
. We'll know how good the Irish are after stiff tests against Michigan and Michigan State the next two weeks.

2.
Former Alabama running back Shaun Alexander was a fly on the wall in the No. 5 Crimson Tide's locker room at halftime of Saturday night's game against No. 7 Virginia Tech. The Tide trailed the Hokies at the half, but punished them in the fourth quarter of a 34-24 victory. "We're still Alabama," Alexander said. "We're still going to play nasty defense." Alabama's defense and its bruising running game gives it a chance to win the SEC.

Kiffin
3.
Tennessee and Auburn fans are still buzzing about the debuts of their new coaches, Lane Kiffin and Gene Chizik, respectively. The Volunteers routed Western Kentucky 63-7, and the Tigers beat up a pretty good Louisiana Tech team 37-13. We'll know more about both teams in coming weeks. The Vols host UCLA on Saturday and then travel to No. 1 Florida on Sept. 19. Auburn opens its SEC schedule against Mississippi State on Saturday and hosts West Virginia the next week.
GameDay Crew Recap
GameDay Crew Final Thoughts
RECE DAVIS

The season is very fragile. Nothing is a sure thing. One play in one game impacted the BCS National Championship picture, the Heisman race and the perception of the Mountain West Conference. You just never know what can happen.
Helmet Stickers Go To:
• WR
Michael Floyd
, Notre Dame
4 rec., 189 yards, 3 TDs in 35-0 win vs. Nevada
• LB Joe Pawelek, Baylor
7 tackles, sack, Int. in 24-21 win at Wake Forest
---
LOU HOLTZ

The ACC better stay away from the CAA. No more talk about Virginia versus Duke. The real game people should talk about is William & Mary versus Richmond.
Helmet Stickers Go To:
• RB
Mark Ingram
, Alabama
26 rushes, 150 yards, TD; 3 rec., 35 yards, TD in 34-24 win vs. Virginia Tech
• QB
Max Hall
, BYU
26-for-38, 329 pass yards, 2 TDs in 14-13 win vs. Oklahoma
---
MARK MAY

Never take a good offensive line for granted. Upper-echelon teams like Oklahoma and Ohio State showed flaws on the offensive line on Saturday.
Helmet Stickers Go To:
• RB
Ralph Bolden
, Purdue
21 rushes, 234 yards, 2 TDs in 52-31 win vs. Toledo
• QB
Blaine Gabbert
, Missouri
25-for-33, 319 pass yards, 3 TDs; 10 rushes, 39 yards, TD in 37-9 win vs. Illinois
Highlights: Alabama-Virginia Tech
Blog Network: What We Learned

The ACC isn't ready to move up the ranks in the BCS ladder of success. But BC loves doubters.
ACC

Red River Rivalry has lost steam. And who was that guy who quarterbacked Missouri before Blaine Gabbert?
Big 12

West Virginia needs work, UConn is still a running team and Syracuse can be competitive.
Big East

The Big Ten really needs a lift in Week 2. But it looks like Michigan is on its way back.
Big Ten

The transition won't be seamless at Oregon, but Washington is different under Steve Sarkisian.
Pac-10

The opening weekend in the SEC was one big Cream Puff Party for most of the teams.
SEC

Non-AQ:
The Mountain West is still making headlines, and new non-AQ coaches were hit and miss.
Around the nation
Highlights: BYU-Oklahoma
Blog Network: Helmet Stickers
Every week our bloggers will hand out helmet stickers to the week's top players, coaches, teams or anything else worth this honor.
Highlights: Georgia-Oklahoma State